The Child Madeline
30 Monday Apr 2012
By Natalie Ehalt
"In an old house in Paris that was covered in vines, lived twelve little girls in two straight lines…" Ludwig Bemelmans' simple rhymes and charming imagery lulled me to sleep as a young girl. Now, as a teacher, I appreciate the Madeline books doubly; for their creative rhyme and inclusion of unlikely vocabulary, and for their whimsical ability to transport children to a different time and place. But mainly, I love Madeline the child—brave, as the books reiterate; kind, in her befriending of the Spanish Ambassador's son, Pepito; and generally adorable: "…the smallest one was Madeline."
In her introduction to Mad About Madeline: The Complete Tales, Anna Quindlen defines just why Bemelmans' books stay with so many of us into adulthood. We are, mind you, "now-grown children," and, in reading Bemelmans' verse, may remember how good it feels to be a child. Quindlen distinguishes the Madeline books as members of an elite category, "…written for real children by people who manage, however they do it, to maintain an utterly childlike part of their minds." And it's true, Bemelmans obviously held onto a childlike mischievousness and imagination into his adulthood; a crack in the ceiling above his hospital bed morphed in from a rabbit to a sardine, and made it onto the pages of his first Madeline book, published in 1939.
Bemelmans' essay, "The Isle of God," recounts a beautiful summer spent in France with his wife, Madeleine, and two-year-old daughter, Barbara. One day on bicycle, with four lobsters in a sack on his back, Bemelmans pedaled, hands in his pockets, and naturally collided with "the Island's only automobile" at a tricky bend in the road. He walked himself to the hospital and finally met his muse: a young girl who had just had her appendix out.
While the Madeline books bring me joy still as an adult, the elements of sadness in their stories allow me an outlet for the mourning of my own childhood. In the first book, the girls visit Hotel des Invalides. Twelve little somber faces watch a uniformed man on crutches limping through the snow, while Bemelmans writes, "They smiled at the good and frowned at the bad and sometimes they were very sad." As a girl, I was always troubled by Madeline's distance from her parents. The concept of a boarding school was foreign to me, and at first I assumed Madeline was an orphan. Bemelmans scatters hints indicating the existence of Madeline's parents and those of the other girls throughout the story, but their presence is less that of characters, and more of a factor in the environment. When Madeline is hospitalized for appendicitis, her eleven sisterly companions visit her room, "Tiptoeing with solemn face, with some flowers and a vase, in they walked and then said, 'Ahhh,' when they saw the toys and candy and the dollhouse from Papa." It soon becomes apparent that Miss Clavel is the girls' real mother, albeit not biological, complete with a mother's intuition and protective nature. In nearly every story, Miss Clavel wakes up in the middle of the night sensing that "Something is not right!" Comforted by the fact that Madeline does have family, however untraditional, we read on, delighted by Madeline's immortal antics.
At the nonprofit bilingual preschool where I teach, we are in the midst of our annual Día del Niño celebrations. Face painting, balloons, bubble-blowing, and a parade to the park with painted banners and home-made instruments complement our celebration. The children are honored and recognized for the joy they bring to our world. Children's Day is celebrated by many countries around the world at different times of the year. Madeline's gig with the circus gypsies come to mind when I imagine how she would partake in this day honoring her and all the children she represents. In front of the Château de Fontainebleau, the Gypsy Mama proclaims to Madeline and Pepito, "All this, dear children, belongs to you." Madeline demands a deserved respect for girls and children, and creates a standard for the young Parisienne to be charismatic, confident, and compassionate. The predominance of female characters in the Madeline books is significant; Miss Clavel, the Gypsy Mama, Mrs. Murphy (the girls' jolly cook) are refreshingly self-reliant and ensure that, in some future, the twelve little girls in two straight lines surely will make Paris their own.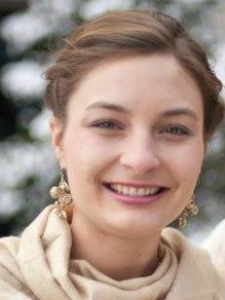 Natalie Ehalt is an editorial consultant for A Woman's Paris®. She studied English with an emphasis in creative writing at the University of Iowa. In Iowa City, she participated for two years in the undergraduate Writing Fellows program and worked for three years with writers from around the world at the university's acclaimed International Writing Program. Natalie spent her final semester in Buenos Aires and graduated Phi Beta Kappa with degrees in Spanish and English. Currently, Natalie serves as Lead Teacher at Joyce Bilingual Preschool in Minneapolis. She and her husband, an Argentine, enjoy living in Uptown with their two pet frogs, Pepe and Boss.
You may also enjoy A Woman's Paris® post, Children fashionistas: Why French children dress better than you do. French au pair Alyssa Glawe tells that a child's clothes in France are more than just something to cover the body. "It's safe to say that, French parents would never put an item of clothing on their child that they would not wear themselves," she writes "Comfort is important, but in all truth, it's really about the fashion." Including a list of children's labels and websites. 
A behind-the-scenes look at French parenting, by au pair Alyssa Glawe who asks, "How do the French have such polite and courteous children without lifting a finger?" For Alyssa, every day leads to new cultural shocks and humorous situations. 
Colette: Gigi meets Anne of Green Gables, by Canadian writer Philippa Campsie who contemplates French novels and their heroines, and wonders if French fiction may well be the important key to the mystery of what makes Frenchwomen the way they are. Including a recommendation of books by Louisa May Alcott, Jane Austen, L.M. Montgomery, and Colette.
A Fairy-tale Weekend in the French Countryside, by Parisian Abby Rodgers who writes: "Cars rolled in, guests suited up in white, delicious cuisine, divine choux pastry tower, sparklers, dancing till dawn…" 
A French Girl in Greece: On Teenagers, the Sea, and Raisins, by French woman Flore Der Agopian. "In Greece, all foods are natural and we noticed it when we had one mouthful," Flore comments about her adventures in Greece. "You feel the real taste of the dishes. In France we have some exceptional restaurants, but it can be really expensive when you want to have the same sensation of taste."
A French girl dreaming of a white Christmas. Parisienne Flore der Agopian writes about her most magical time of the year and how it represents the innocence of childhood. Christmas in Paris is even more wonderful. 
Text copyright ©2012 Natalie Ehalt-Bove. All rights reserved
Illustration copyright ©2012 Barbara Redmond. All rights reserved.
barbara@awomansparis.com