The African Queen of Parisian Cuisine
19 Saturday May 2012
Tags
Alex Petrossian, Beluga caviar, Black destinations in Paris, chef Rougui Dia, Chez Jean, France, Iranian shrimp, Kiratiana's Travel Guide to Black Paris, Le Petrossian 144 Paris, Michelin Guide, Middle Eastern yagouline lamb, Paris, restaurants Paris, Senegalese, smoked salmon
Share it
By Kiratiana Freelon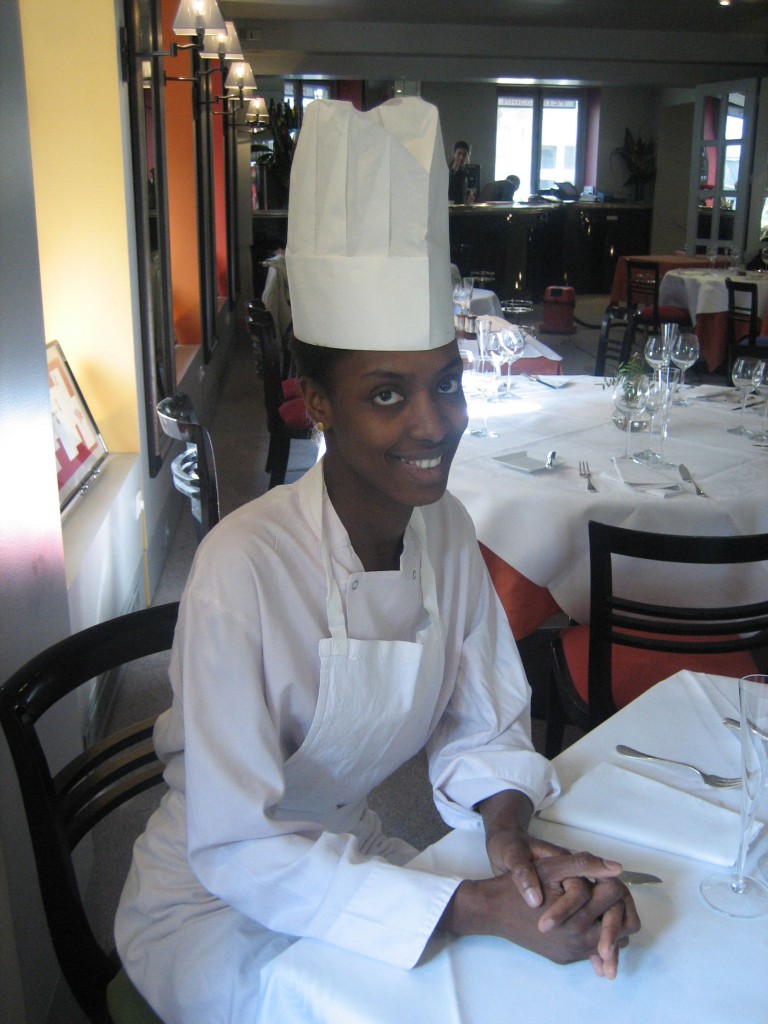 "The African Queen of Parisian Cuisine" is 'haute' and rose quickly through the echelons of Parisian cuisine, eventually attaining a postion as head chef at Le Petrossian 144, Paris, from the book Kiratiana's Travel Guide to BLACK PARIS: Get lost and get found by Kiratiana Freelon (used by permission).
There are more than 2,000 French restaurants in Paris. Of the 400 that the Michelin Guide found worth of a listing, only 77 received one of their coveted stars. And of those starred restaurants, only one has a black, female head chef: Le Petrossian 144.
Located right off the Les Invalides in the très chic 7th arrondissement, Le Petrossian 144 is best known for the fine Beluga caviar and smoked salmon it has sold since 1920. Owner Alex Petrossian entered the world of fine dining in 1999, opening a French contemporary restaurant upstairs. Le 144, as it is commonly known, quickly became popular for its seafood entrées and creative desserts.
When the head chef position opened in 2005, Alex wanted someone who could maintain the high standards of the restaurant, but bring a new energy and creativity to its menu. He found that person right in the restaurant's kitchen: Rougui Dia, a French woman of Senegalese descent who was already second chef.
"From the beginning we asked Rougui to think about taking this position," Alex explained. "We knew it would be a challenge because she is a woman and she's in a world of men."
Dia also reached the top as an outsider, with no familial ties to the good-ole-boys network of high-end dining and cooking. When asked how she, a 33-year-old woman, rose to such a prestigious position so quickly, she responded simply, "I didn't have any fear to work."
Dia completed her first cooking internship at the age of 15. By the age of 21, she was working at Chez Jean in the 9th arrondissement. She quickly rose through the glittering echelons of Parisian cuisine, eventually landing the prestigious job at Le Petrossian 144, where she worked for 5 years before being offered the head chef position.
Despite her hefty title, Rougui Dia doesn't have a pretentious air. She's humble, unwilling to boast about herself. Her youthful face shows no wear from the hectic pace of running a restaurant. The baggy white chef outfit hides her slim figure, a gift from her Senegalese Peul genes.
Over the course of a year, Dia worked with the Petrossian staff and owners to create the dishes for her new menu. Rather than forcing her to suppress her ethnic background, the Petrossian management encouraged her to embrace it along with other cultures. She serves a "yagouline lamb," cooked for 7 hours with plantains; monkfish flavored with mahaleb, a Middle Eastern spice; and for dessert, a mango tart. Her most popular dish is Iranian shrimp steamed with citronella.
For aspiring chefs, she offers the following advice: "One must never give up. Surround yourself with the best people who will support you teach you and give you a ray of light."
Will Rougui open her own restaurant in the future? Not soon, since she feels she still has much to learn. But as the French say, "Il faut jeter à l'eau (We'll see)."
Le Petrossian 144
8 boulevard La Tour-Maubourg, 7th
Tel: 01 44 11 32 32
Métro: La Tour-Maubourg
Hours: Mon–Sat noon–2:30 pm,8 pm–10:45 pm
Lunch €35 dinner €80 and up
Kiratiana Freelon is a Harvard graduate who has traveled to more than 25 countries and appeared on the Travel Channel as an expert on Paris. The Chicago native's passion for travel, sports, and culture led her to work on Chicago's bid for the 2016 Olympic and Paralympic Games.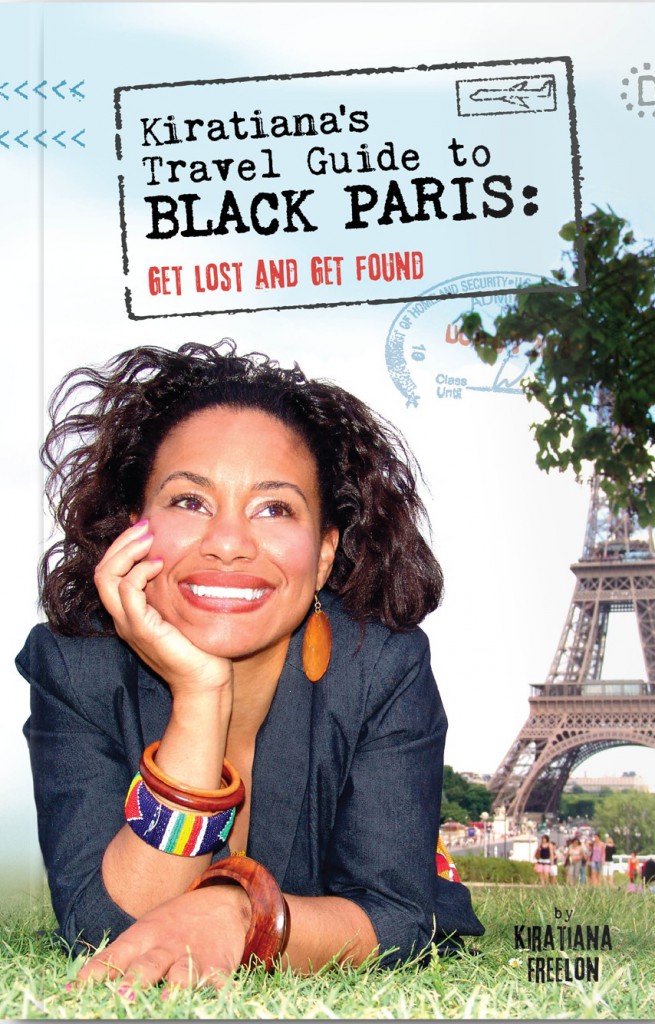 She is now launching a series of "Black" destination travel guides and hopes to inspire people to "lose" themselves in travel.
Kiratiana Freelon author of Kiratiana's Travel Guide to Black Paris: Get Lost and Get Found.
Visit: (Website)(Facebook)(Twitter)(Purchase)
You may also enjoy A Woman's Paris® post, Eating: Afro and French (in Paris), excerpts from Kiratiana's Travel Guide to BLACK PARIS: Get Lost and Get Found, by Kiratiana Freelon. Although you must sample the highlights of traditional French cuisine, visitors on a quest for black Paris will also be drawn into the city's eclectic ethnic eateries. Kiratiana shares where to go for Antillean and Sénégalese cuisine in Paris.
French Women Chefs: les mères lyonnaise, by French writer Laurence Haxaire who tells the stories of former house cooks of affluent families in Lyon who set up their own businesses after the French revolution in the 19th century. And later, when their reputation reached beyond the edge of Lyon, the most famous of them even welcomed such well-known people as General de Gaulle as a VIP at their table. 
French Cuisine: Cooking schools in Paris founded by women, by Barbara Redmond who writes about extraordinary women who cook: from Anne Willan, Marthe Distel, and Elisabeth Brassart, to "Les trios gourmands," Julia Child, Simone Beck, and Louisette Bertholle. Including a directory of cooking schools in Paris.
The Veuve Barbe-Nicole Clicquot and other Widowed women entrepreneurs, by Canadian writer Philippa Campsie who tells about the fast track to business independence or indeed, any kind of independence. Two hundred years ago, for many women, this independence was gained through widowhood. The story of Barbe-Nicole Clicquot, better known as Veuve (Widow) Clicquot, was a story that also happened to Louise Pommery, Lily Bollinger, and Mathilde Laurent-Perrier, and a few others.
Le Cordon Bleu Paris: Another "Sabrina" story, by Karen Cope who writes about her experiences at the famous Cordon Bleu cooking school, where she was a student. She shares with readers the recipes and methods of the famous school as she experienced them through classes: two Basic Pastry classes, Basic Cuisine and Intermediate Pastry. Including a list of cooking schools in Paris.
Text copyright ©2012 Kiratiana Freelon. All rights reserved.
Illustration copyright ©Barbara Redmond. All rights reserved.
barbara@awomansparis.com