The Left Bank: La Rive Gauche and the Land of Plenty
28 Thursday Jun 2012
Tags
Alice B. Toklas, Brasserie Lipp, Cafe de Flore, Delacroix Museum, Ecole Nationale Superieure des Beaux-Arts, F. Scott Fitgerald, France, Galerie Documents, Gertrude Stien, Hemingway, Hotel de Chimay, l'Eglise Saint-Germain-des Pres, La Palette, La Rive Gauche, Laduree, Left Bank, Les Deux Magots, Lost Generation, Luxembourg Garden, old town Saint-Germain, open air markets, Oscar Wolde, Paris, Paris from the Heart, Paris travel guides, Picasso, Right Bank, rue du Bac, Sartre, Simone de Beauvoir, Sylvia Beach, The Lost Generation
Share it
By Jan Dolphin
"The Left Bank: La Rive Gauche and the Land of Plenty" brings us to the Left Bank to mingle with authors and artists, of the "Lost Generation" who appeared in Paris in the aftermath of WWI making the 1920s an era to be remembered from the book Paris from the Heart: Ultimate Walking Tours to Fun, Fashion, and Freedom by Jan Dolphin (used by permission).

Our tour starts at the corner of Quai Malaquais and rue de Seine. Coming from the Right Bank, enter into the Left Bank from any bridge in the Louvre vicinity. You are now in the historic Paris of the "Lost Generation."
The "Lost Generation" is used to describe the authors and artists, many well-known, that appeared in Paris in the aftermath of WWI—a glamorous era when artists, writers, sculptors, and philosophers adopted this part of Paris as their home away from home, making the 1920s an era to be remembered. They could also live cheaply here because of the devaluation of the franc. Many of these creative people were Americans seeking sanctuary in Paris.
During this time, Paris became the artistic capital of the world, fueled by the discontent of American intellectuals who arrived en masse, rejecting the materialism and moral values in America and seeking to find a more tolerant bohemian lifestyle. They headed for the Left Bank to mingle with other French artists and intellectuals. Many of the establishments they made successful are still booming today. In fact, the restaurant I have suggested for dinner, Les Deux Magots, is just one of these establishments where the ghosts of the Lost Generation probably roam. Some of the more well known are Ernest Hemingway, Pablo Picasso, Jean-Paul Sartre, Alice B. Toklas, Sylvia Beach, Gertrude Stein, Oscar Wilde, Simone de Beauvoir, and F. Scott Fitzgerald.
The neighborhood of the "Lost Generation"
Continue your walk on rue de Seine until you reach rue des Beaux-Arts where you'll turn right. You'll see the École Nationale Supérieure des Beaux-Arts, which occupies a seventeenth century convent and the eighteenth century Hôtel de Chimay. This is one of the most famous and influential fine art schools in France. It has trained many of the great artists in Europe for over 350 years. When you reach rue Bonaparte, turn left—another historic street. When you walk the narrow street of rue Bonaparte, keep in mind that you're seeing some of the most expensive real estate in Paris; it is highly sought-after and often stays within families for generations. Don't be fooled by the outward appearance; though charming, this bustling neighborhood is humble in appearance. However, behind most of the doors lie beautiful atriums, gardens, or fountains—sometimes all of these. Often times the doors are open and you can get a glimpse of the hidden beauty.
When you reach rue Visconti, turn left again. Turn right at rue de Seine, and shortly you'll happen upon La Palette at 43, rue de Seine, a great place to stop for a café and immerse yourself in the moment. When you walk in, you will be surrounded by used paint-palettes, of both known and unknown artists, hanging on the walls. For that matter, the sign outside is also a palette. The theme of this café is perfect for the many art galleries in the surrounding area. There is no shortage of prospective artists who hang out with the gallery owners at this café. If you have time, also stop at Galerie Documents on 53, rue de Seine (phone: 01 43 54 50 68); if they're open, this is a wonderful source for old antique prints and posters. I am a proud owner of several finds—I love things that can transport me back to Paris!
The old town of Saint-Germain
This area is originally the old town of Saint-Germain. By the eighteenth century, it was a popular place to live, as the rue du Bac led to rue de Vaugirard (on the edge of Jardin du Luxembourg), which led straight to the castle of Versailles. This provided easy access to the king and his generosity. It remains a very expensive place for real estate, and the area is known for its bohemian street life, galleries, antique shops, cafés, restaurants, and narrow streets. It just happens also to be the dueling grounds for d'Artagnan of The Three Musketeers, written by Alexandre Dumas. Imagine duelers fighting to the death in the same space that you're merrily shopping. Or perhaps dueling to defend your lady's honor (perhaps women did have it made in the eighteenth century)!
Continue south on rue de Seine to the open-air market in the area of rue de Buci, rue de Seine, and boulevard Saint-Germain. This is open daily except for Monday. Take time to explore. After the market, you will head to boulevard Saint-Germain and turn right as you walk by the oldest church in Paris, l'Église Saint-Germain-des-Prés. Most of the present structure is from the twelfth century, while some of the carved capitols and the tower still exist from the eleventh century. This tower houses one of France's oldest belfries. Food for thought: Columbus had not yet been born and America would not be discovered for almost four more centuries when this cathedral was constructed! Older still, small parts of the original church still exist. The original structure was a monastery built by the Merovingian king Childebert in 452 A.D. Now, that is old — think of the stories those stones could tell.
Turn right onto rue Bonaparte and go past the church, l'Église Saint-Germain-des-Prés (don't neglect to go inside), and take a right at rue de l'Abbaye. Outside the church, there is a Picasso sculpture in a small garden. Continue left onto rue de l'Échaudé. When you reach rue Jacob, turn left to again visit many of the wonderful shops. When you see rue Furstenberg, turn left and enter one of the most charming and hidden spots in Paris! Ferdinand Victor Eugène Delacroix, known as one of the greatest Romantic painters, lived and worked in this area. The small Delacroix Museum is at 6, rue Furstenberg. In this area there are also antique stores to explore, as well as famous fabric and accessory stores (such as Pierre Frey).
Out on rue Jacob again, turn left and walk to the corner of rue Jacob and rue Bonaparte. Watch for the sign at the corner for the famous tea salon, Ladurée. As you step inside, you'll be surrounded by pastry heaven! The candies and cookies are wrapped up in an array of beautiful boxes with satin ribbons. They are famous for their macarons, but I am sold on religieuse à la rose. Just writing the name makes my mouth water! If you're like me, you'll want to bring everything home with you. When I'm back in the U.S., this is one of the places I daydream about.
The tearoom is also a good place to have lunch. My favorite entrée here is the salade ladurée, although I must say that the salade réginia runs a close race. Trust me, this is one place that will haunt your memories as well as your taste buds. I often purchase little boxes of sugared almonds to bring home for gifts. There are several locations of this tearoom in Paris, so don't be surprised when I mention it on another tour.
I guess it's time to move out of this fascinating area, so take a left on rue Bonaparte and explore the shops as you make your way down boulevard Saint-Germain. You'll come to the store, Paris American Art, at 2, rue Bonaparte. It holds an amazing selection of fabulous antique frames — I always find something to cherish (usually too much). When you reach boulevard Saint-Germain, you'll know you're there. Paris is a boutique city, and this is the heart of it. Unfortunately, you'll cross over boulevard Saint-Germain now, but you'll be back to this area later. I know how hard it is to be patient when these fabulous windows are beckoning you!
Historic restaurants on boulevard Saint-Germain
I'm sure you're feeling more than ready to sit down, have some wine or a Kir Royale, and relax. To your right at 6 Place Saint-Germain is your reward: Les Deux Magots. You can't miss it, as you will see all the tables spilling onto the sidewalk (unless, of course, you are traveling in Paris during the winter). In this immediate area there are two more famous restaurants, all haunted by philosophers, writers, and artists. Brasserie Lipp is across the street at 151, boulevard Saint-Germain and Café de Flore at 172, boulevard Saint-Germain. At Les Duex Magots or Café de Flore, you can sit for hours watching the unending parade of shoppers. This is better than sitting in your room watching television! You may pay a little extra, but it's worth it. Save room for the fabulous hot chocolate (at either location). Hemingway wrote here, dined here, and made this area this home, along with Sartre, de Beauvoir, and André Breton. You're in good company with some very interesting and famous ghosts. Soak up the ambiance; time hasn't changed these restaurants, only the people change. I love the club sandwich at Les Deux Magots. Also, I highly recommend that you have dessert; you deserve it after your long, hard day of shopping. If the shopping fever has not yet abated, there are shops in Les Deux Magots and Café de Flore selling great souvenirs and kitchenware stamped with their name. Ahh, the fun never ends!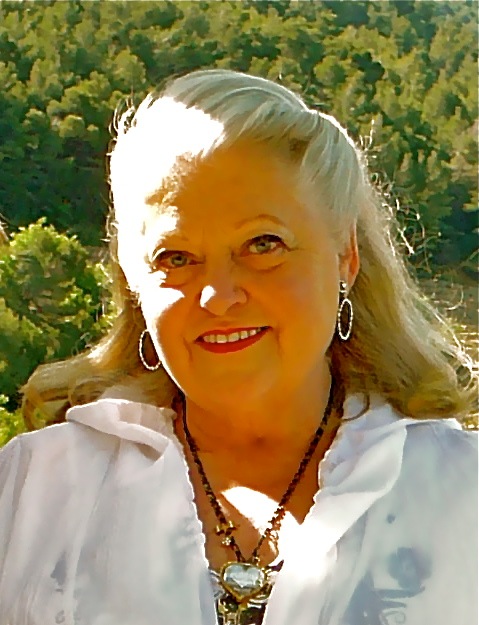 Jan Dolphin, author and interior designer, is a graduate of the University of Minnesota and has spent her life as an interior designer. She has visited Paris many times over the years, and each time she has added to her personal travel journals. For Jan, dreams happen when the stars and planets align to spell, "Go for it!" Thus, Paris from the Heart was born!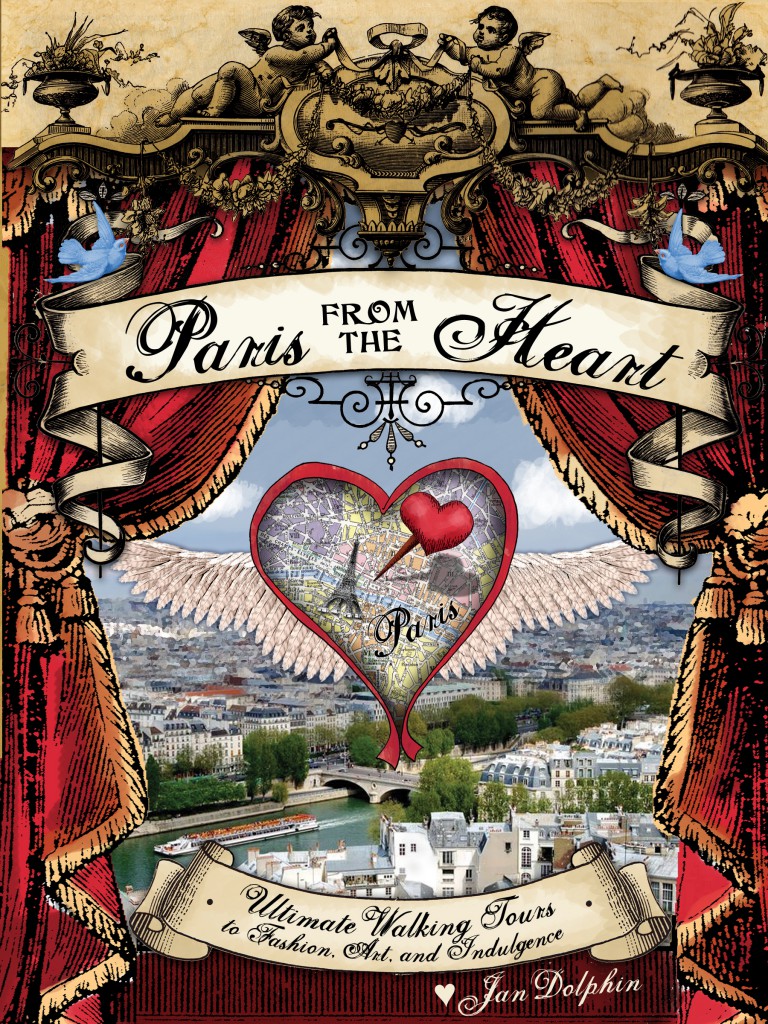 Jan's book is available though Amazon or Barnes & Noble, or it can be purchased directly from Jan at jandolphin@comcast.net if you'd like an autographed copy.
Paris from the Heart: Ultimate Walking Tours to Fun, Fashion, and Freedom. Used by permission. Beaver's Pond Press (2011).
You may also enjoy A Woman's Paris® post, The world of aristocratic Paris, by author Jan Dolphin. Enter the gates of the eighteenth century parc Monçeau and from there discover two historic townhouses: Musée Nissim de Camondo and Musée Jacquemart-André.
Stars, Stripes and Seine: Americans in occupied Paris 1940-1944, by Alan Davidge. 5,000 Americans refused to leave Paris after war broke out in September 1939. Who were they? Read the stories of how Josephine Baker, Sylvia Beach, Arthur Briggs, Drue Leyton, and others lived and breathed Paris during the war.
McLain's "Paris Wife" will have you head over heels for the Hemingways. Bethany Olson was drawn to McLain's writing, detailed and thoughtful, that artfully captures Hadley's voice and Ernest's character in McLain's fictionalized rendering of Hadley and Ernest's relationship and their life in Paris. As did Hadley, Bethany found herself falling for for Ernest Hemingway, drawn to his exuberance, quick wit, and verve for life. Included are vimeos featuring interviews with Paula McLain by WHSmithDirect and BookLounge.
African-American Expatriates in Paris, by writer Kristin Wood who shares a few of our favorite books written by and/or about African-Americans in Paris and France. Some are novels; some are histories; all are fantastic reads.
L'heure bleue: the moment I fell in love with Paris, by Barbara Redmond who shares her unexpected first experiences with Paris. She was met with noise and hot and humid air; it was not the beautiful Paris she had imagined. Barbara discusses how there was moment when she found the true Paris and fell in love.
How to find a (suitable) place in Paris, and other miscellaneous information, by French woman from Brittany, Bénédicte Mahé, who is in her mastère-spécialisé final trimester doing an internship in Paris.  Bénédicte shares with students how to find a place in Paris. (French)
Text copyright ©2012 Jan Dolphin. All rights reserved.
Illustration copyright ©2012 Barbara Redmond All rights reserved.
barbara@awomansparis.com