Joan DeJean's "How Paris Became Paris" – Capital of the Universe (excerpt)
06 Thursday Mar 2014
Tags
17th-century Bourbon monarchs, 19th century Paris, A New Description of Paris by Germain Brice 1684, Addresses in the City of Paris Nicolas de Blégny, Adresses de la ville de Paris Nicolas de Blégny, Andrea Palladio, Baron Haussmann Paris, Blégny insider guide to a city, Bloomsbury publishing, Booklist Joan DeJean, Champs-Élysées Paris, Father Jacques Du Breul, France, François Bernier, Germain Brice's Description nouvelle de ce qu'il y a de plus intéressant et de plus remarquable dans la ville de Paris, guidebooks Paris, How Paris Became Paris: The Invention of the Modern City by Joan DeJean, Joan DeJean Trustee Professor at the University of Pennsylvania, John Stow 1598 A Survey of London, Kirkus Reviews Joan DeJean, Le Livre commode, Louis Liger, Marquis de Caraccioli, Martin Lister, Michel Félibien, Nicolas de Blégny, Paris, Paris boulevards, Pierre Carlet de Marivaux, Publishers Weekly Joan DeJean, Seine River Paris, The Age of Comfort Joan DeJean, The Useful Book Nicolas de Blégny, Thomas De Laune 1681 The Present State of London, Urban Planning Paris 17th century, Urban Planning Paris 19th century
Share it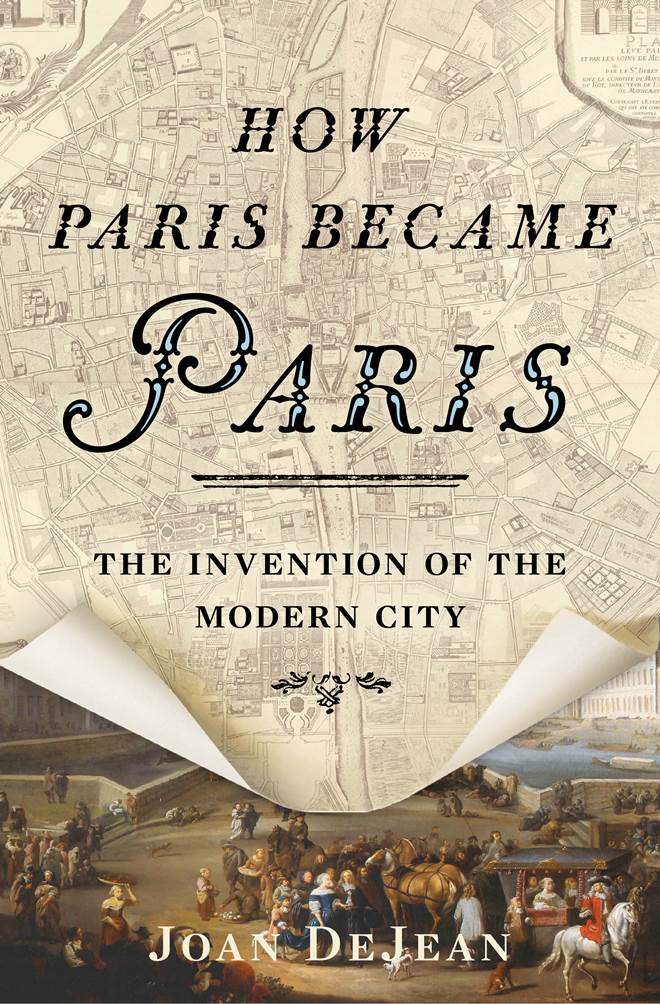 How Paris Became Paris: The Invention of the Modern City by Jean DeJean (March 4, 2014 release by Bloomsbury USA); excerpt from Bloomsbury.
At the start of the seventeenth century, Paris was known for a few monuments, but it had not yet put its brand on urban space. Like many European cities, it was still emerging from its medieval past. But within a century, Paris would be transformed into the modern and mythic city we now know.
Most people associate the signature characteristics of Paris with the nineteenth century. Joan DeJean demonstrates that the Parisian model for urban space was in fact invented two centuries earlier, when the first full design for the French capital was implemented. During this period, Paris saw many changes: it became the first city to tear down its fortifications. A large-scale urban plan was created and executed, with organized streets and boulevards, modern bridges, sidewalks, and public parks. Venues opened for urban entertainment, from opera and ballet to another pastime invented in Paris, recreational shopping. Parisians enjoyed the earliest street lighting and public transportation, even as theirs became Europe's first great walking city.
A century of planned development made Paris beautiful and exciting. It gave people reasons to be out in public as never before and as nowhere else. It gave Paris its modern identity as a place that people dreamed of seeing. As Joan DeJean shows us in this compelling portrait of a city in transition, by 1700 Paris had become the capital that would transform forever our conception of the city and of urban life.
INTRODUCTION: "Capital of the Universe"
What makes a city great?
Prior to the seventeenth century, the most celebrated European city was one famous for its past. Visitors made pilgrimages to Rome to tour its ancient monuments or its historic churches: they were seeking artistic inspiration and indulgences rather than novelty and excitement. Then, in the seventeenth century, a new model for urban space and urban life was invented, a blueprint for all great cities to come. The modern city as it came to be defined was designed to hold a visitor's attention with quite different splendors: contemporary residential architecture and unprecedented urban infrastructure rather than grand palaces and churches. And this remade the urban experience for both the city's inhabitants and its visitors alike. The modern city was oriented to the future rather than the past: speed and movement were its hallmarks.
And, as many Europeans quickly recognized, only one city was truly modern: Paris.
Interview: Joan DeJean on Paris through the Ages: 400 years of Parisian living, published on A Woman's Paris®.
Near the end of the seventeenth century, a new kind of publication began to appear: pocket guidebooks and maps specifically designed for visitors who planned to explore a city on foot. These ancestors of today's guidebooks were created to introduce Europeans to Paris. It was a city that, their authors felt, had become such a revolutionary kind of place that it needed to be seen in this way to be understood. The genre began in 1684 with the first edition of Germain Brice's Description nouvelle de ce qu'il y a de plus intéressant et de plus remarquable dans la ville de Paris, soon translated into English as A New Description of Paris, destined to become the best- selling guide to any city until the 1750s.
Brice presented information street by street, neighborhood by neighborhood, so that, as he explained in his preface, "in one walk, people can see a number of beautiful things." His guidebook's organization al principle indicates that Brice—a native Parisian and longtime professional guide for foreign visitors—had taken stock of the fact that tourism had spread beyond the happy few who traveled in private vehicles from one monument to the next, paying little attention to the surrounding areas since the urban landscape itself was of no particular interest. By the 1680s a new infrastructure had made walking easy, and there were sights aplenty all along the way. The city itself was the monument.
With the 1698 edition, Brice's guidebook also included a handy new feature: a fold- out map to guide visitors during their walks. As soon as Paris' infrastructure began to evolve at a rapid pace, a golden age began for French cartography. And since the cityscape was in constant flux all during the seventeenth century, new maps were continually issued. Each mapmaker told the story of Paris in a different way, with topographic maps, bird's-eye views, portraits.
The first map aimed specifically at the growing numbers of foreigners in the city was published by Nicolas de Fer in 1692. A contemporary periodical described it as especially useful to "those who know nothing about the city," and de Fer's organization is still being followed in today's tourist maps. On its left side, the map lists the streets of Paris in alphabetical order, and on its right points of interest: churches and palaces, but also bridges and embankments. The map is laid out in squares, numbered 1 to 14 horizontally and A to L vertically, each measured in steps, "so that someone can see in a glance how many he'll have to take to get from one place to another." De Fer was offering in effect a combined map and guidebook for tourists on foot—and in 1694, he published a small- format map (nine by twelve inches) that was easily carried about in one's pocket. This detail from that 1694 map shows how convenient it would have been for exploring the new Champs-Élysées neighborhood, just then becoming part of the fabric of Paris. No one saw the potential of de Fer's innovations more clearly than Brice—hence his decision to reissue his own guide in 1698 with a fold- out map and a listing, in alphabetical order, of the streets of the city.
There had been earlier books about Paris: Father Jacques Du Breul's 1612 work on its antiquities, for example. But these volumes—like works such as Andrea Palladio's 1554 introductions to ancient Roman monuments and medieval pilgrimage churches—were destined for visitors who measured a city's greatness by its history, and they focus on civic and religious monuments. John Stow's 1598 A Survey of London and Thomas De Laune's 1681 The Present State of London also have an antiquarian slant; they evoke modern- day London mainly as a center of commerce and the nation's financial hub. In contrast, guidebooks to Paris present a city bristling with creative energy, a cultural magnet, an incubator of the kind of ideas that could revolutionize urban life.
Recent research indicates that once a city acquires a reputation—as an exciting place or as one where nothing ever happens—that image tends to survive unchanged for long periods of time. The original guidebooks to Paris help explain how one of the most powerful urban images of all time was put into place.
Both Brice and de Fer had the same idea of why modern tourists might choose to visit a city. In Brice's opinion, visitors no longer wanted detailed historical information. Visitors now preferred a guidebook that included "an account of the latest trends in modern residential architecture, rather than the translation of [Latin] epitaphs in a cemetery." Thus, Brice, like de Fer, included recent architectural achievements—both private homes and innovative public works such as avenues—that in the course of the seventeenth century had become central to the experience of Paris.
What attracts visitors to a city? A guidebook such as Brice's, a map such as de Fer's, and other novel publications that were introduced in the 1690s all offered new answers to that question. Take the example of Nicolas de Blégny's volumes from the early 1690s, the first-ever insider's guide to a city. In Adresses de la ville de Paris and Le Livre commode, Addresses in the City of Paris and The Useful Book, Blégny includes information never before considered noteworthy, such as where to find the best Brie cheese or the most buttery brioches, the names of tailors who outfitted court notables, the addresses of caterers for "your special events," and the right source for every kind of luxury merchandise.
All these publications indicate that a new model for the city had been put into place in the course of the seventeenth century. According to that model, a great city should be more than a collection of major buildings or a monumental capital. A city was worthy of a visit because it was great in the here and now, because of its contemporary architecture, because its economic life, its cultural activities, and the range of entertainments it offered made it vibrant. Visitors who wanted to contemplate ancient monuments still went to Rome, but those in search of the novel and the cutting edge—in the arts and architecture, in technology, in commerce, in fashion, and in cuisine—were traveling to Paris to discover a very different experience. And they were doing so in new ways: they walked its streets with Brice's guidebook in hand, as English physician Martin Lister did in 1698, and as Louis Liger was still advising readers of his guidebook to do in 1714. They spent less time in churches and more in cafés and public gardens, less time touring cemeteries and more visiting shops. They wanted to eat well and be well outfitted as much as to tour a famous cathedral.
Paris had not always been a magnet for visitors. During the second half of the sixteenth century, France had been ravaged by de cades of war between Catholics and Protestants. By the century's end its capital had been reduced to a state succinctly summed up by the first great historian of the city's development, Michel Félibien: "In 1597, there was nothing splendid about Paris. It was in deplorable shape and lacked everything." In fact, at the turn of the seventeenth century, wolves roamed freely in the streets of the French capital.
Between 1597 and 1700, that urban disaster was rebuilt and transformed. For the first time, rulers asked professionals—from architects to engineers—to study the city's layout, and they followed the professionals' suggestions to plan the capital's development. Because of the revolutionary public works that resulted from these collaborations and the manner in which these public works were woven into their surroundings, Paris became known as technologically advanced, the European leader in city planning and modern architecture.
Breakthrough projects only become origins, the inspiration for those who live elsewhere and for subsequent generations, when someone draws them to the attention of a broad public. As soon as urban planning began to remake Paris, a second transformation began: for the first time ever, a city was instantly elevated to legendary status—almost before the mortar was dry on the public works being celebrated.
All through the seventeenth century, every time its cityscape was redesigned in an important way, Paris benefitted from what would now be called a rebranding campaign. In a continuous stream of publications and images, writers and artists publicized the city's transformation from urban ruin to urban wonder and advertised the city as a destination, the epitome of a sophisticated, cosmopolitan place. In the Paris represented by playwrights and novelists, by historians of the city and the authors of guidebooks, by painters and cartographers and engravers, both the city and its inhabitants had a special glow: it and they were more elegant and more seductive than anywhere or anyone else. A mythic idea destined to survive for centuries thus took root.
The numerous visions of Paris then created reflect simultaneously the reality of a city being transformed and the fantasies about urban life of those who celebrated it. Many also surely served to some extent as propaganda. The stories they tell may not always be as completely factual as they claim to be, but they provide something very rare: a city's sense of itself. The vast and varied literature of Paris then produced shows us how the city represented itself to itself. These books and images also helped produce a new kind of city. They made Parisians proud and thereby created a sense of community. They also taught people how to use revolutionary public works and services—how to mingle in public gardens, how to take advantage of street lighting and public transportation to negotiate an expanding urban footprint. All these works combined show us the original vision of Paris as the key capital of modernity.
Paris' many admirers turned to hyperbole to give a sense of the excitement it now inspired: "a city that has no equal," "a microcosm of the world," "a world unto itself," "everyone's homeland." World traveler François Bernier declared that "all the most creative ideas originate in Paris." Playwright Pierre Carlet de Marivaux had a character categorically affirm: "Paris is the world. Next to it, all other cities seem mere suburbs." And one of the first true Europeans, the Marquis de Caraccioli, proclaimed it both "the capital of the universe" and "the metropolis of the universe."
What had been an urban wreck was now a legendary city.
Praise for How Paris Became Paris: The Invention of the Modern City
"Although 19th-century Baron Haussmann often receives credit for Paris's iconic features, this witty and engaging work shows that it was the 17th-century Bourbon monarchs who first transformed Paris into the prototype of the modern city that would inspire the world… With panache and examples from primary sources, guidebooks, maps, and paintings, she illustrates how Paris changed people's conception of a city's potential." — Publishers Weekly
"Illuminating… DeJean obviously knows and loves Paris, and she provides coherent history that effectively explains the evolution of a city built by a few prescient men." — Kirkus Reviews (starred review)
"[An] engaging history of the growth of Paris into a modern city." — Booklist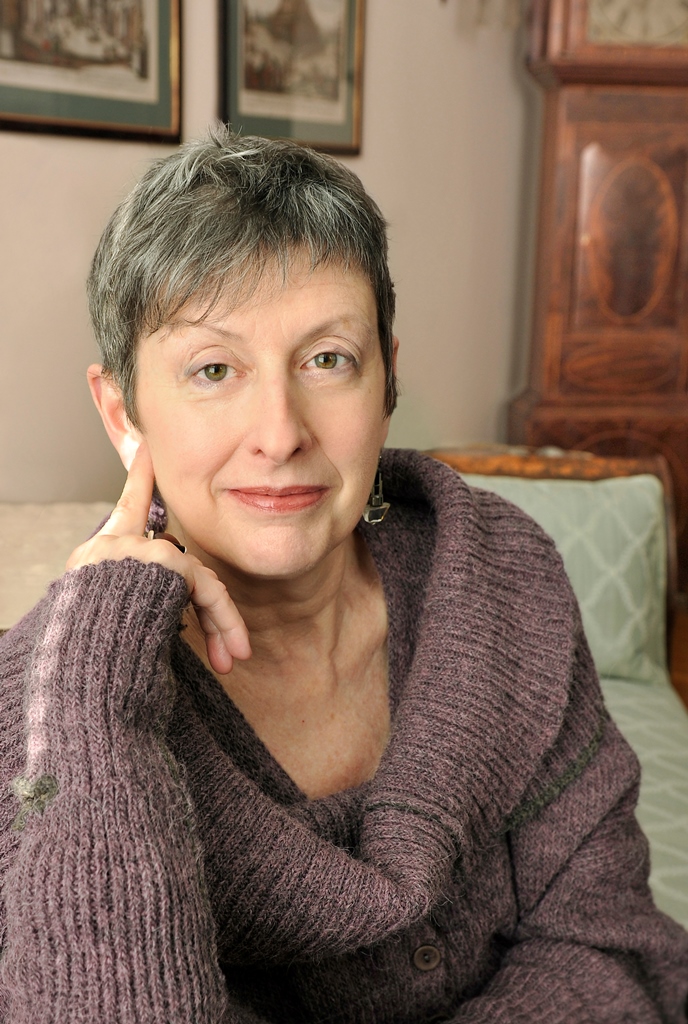 Joan DeJean is Trustee Professor at the University of Pennsylvania, Joan DeJean is the author of nine books on French literature, history, and material culture, including most recently The Age of Comfort: When Paris Discovered Casual and the Modern Home Began and The Essence of Style: How the French Invented High Fashion, Fine Food, Chic Cafés, Style, Sophistication, and Glamour. She lives in Philadelphia and, when in Paris, on the street where the number 4 bus began service on July 5, 1662. For more information about Joan DeJean, visit: (Bloomsbury)(Purchase)(A Woman's Paris Interview with Joan DeJean)
Photo: Candace diCarlo
SELECTED BOOKS BY JOAN DEJEAN
The Age of Comfort: When Paris Discovered Casual—and the Modern Home Began (2010)
The Essence of Style: How the French Invented High Fashion, Fine Food, Chic Cafes, Style, Sophistication, and Glamour (2006)
Literary Fortifications: Rousseau, Laclos, Sade (1984)
Tender Geographies: Women and the Origins of the Novel in France (Gender and Culture) (1993)
Ancients against Moderns: Culture Wars and the Making of a Fin de Siecle (1997)
Fictions of Sappho, 1546-1937 (Women in Culture and Society) (1989)
The Reinvention of Obscenity: Sex, Lies, and Tabloids in Early Modern France (2002)
Libertine Strategies: Freedom and the Novel in Seventeenth-Century France (1981)
Text copyright ©2014 Joan DeJean. All rights reserved.
Illustrations copyright ©Barbara Redmond. All rights reserved.
barbara@awomansparis.com