Alexander Lobrano's "Hungry for France" – My appetite for France (excerpt & recipe)
27 Thursday Mar 2014
Tags
David Lebovitz My Paris Kitchen, Dorie Greenspan Around My French Table, Entrez: The Signs of France and French Dreams Steven Rothfeld, France, French food, French regional cooking, French regional food, French regional produce, Hungry for France Adventures for the Cook & Food Lover Alexander Lobrano, Jane Sigal, Layered Ratatouille Gratin Hungry for France Alexander Lobrano, Paris, Parisian food, Rizzoli New York, Ruth Reichl Delicious!: A Novel, Steven Rothfeld
Share it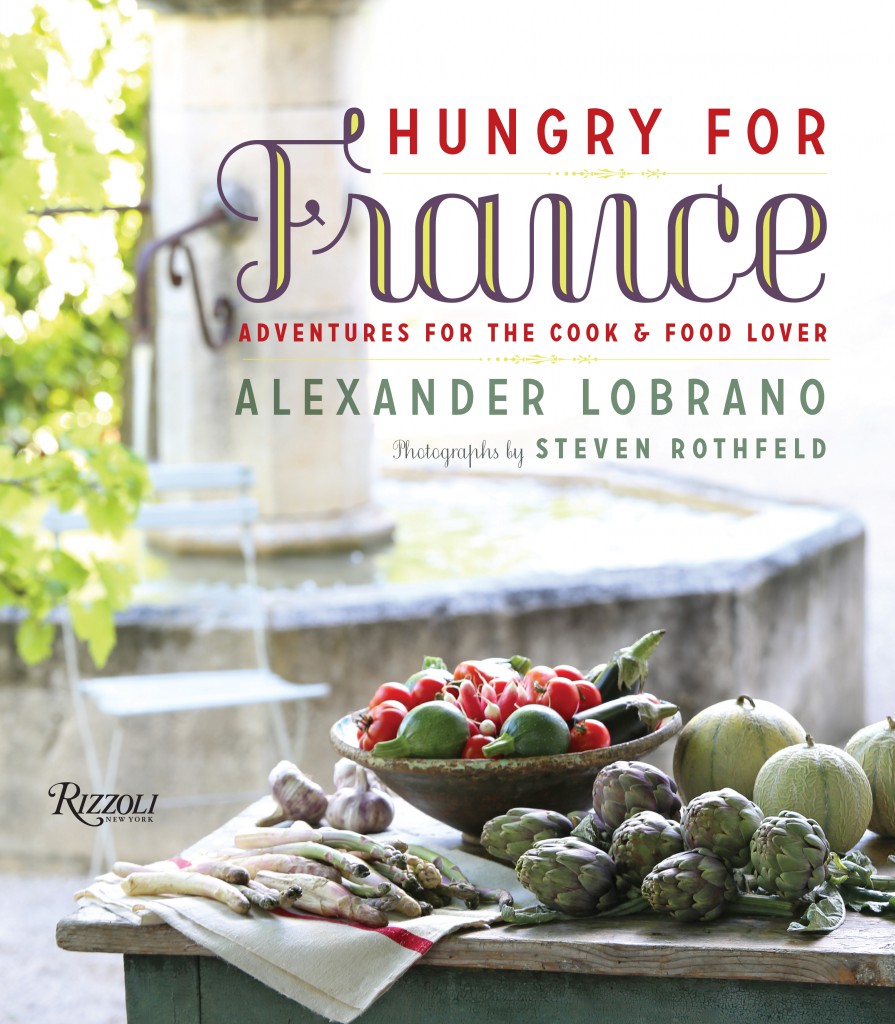 Hungry for France: Adventures for the Cook & Food Lover by Alexander Lobrano (Rizzoli New York, April 2014) excerpt from Rizzoli New York, including recipe for Layered Ratatouille Gratin.
Every food lover's ultimate dream is to tour the countryside of France, stopping off at luxurious inns with world-class restaurants and sampling fresh produce and regional specialties from local markets. Imagine having veteran food writer Alexander Lobrano as your guide—savvy bon vivant, someone who lives for the pleasures of the French table and knows just where to ferret out all the delicacies in each town. Lobrano shares thirty-plus years of exploring every corner of this gastronomically rich country with readers.
Beautifully photographed, the book's thirteen chapters each cover a different region, from Normandy to Provence, and includes recommendations for a handful of the area's most excellent, off-the-beaten-path restaurants, along with recipes. Hungry for France offers a delicious tour of some of the most alluring inns, food producers, and restaurants of France, with more than seventy-five recipes updating classic regional dishes. A complete list of addresses is provided to make trip planning easy. Hungry for France will inspire you to transform your cooking at home, as well as to help plan a culinary trip of a lifetime.
Interview: Alexander Lobrano on eating well in France: a culinary tour of alluring inns, food producers, restaurants and winemakers, published on A Woman's Paris®.
INTRODUCTION: "My appetite for France" by Alexander Lobrano
What I liked best about the small triangular-shaped hotel room with faded cabbage-rose wallpaper were the smells of cooking—baking bread, roasting meat, sautéing shallots—that came from the restaurant in the neighboring building when I opened the window. This temptation of scents was like reading an invisible menu, and since I was hungry after the long train ride from Paris, I went to dinner there.
The small room was packed when I stepped through the door, but the pretty older blonde woman behind the service counter smiled across the room and nodded, as if to say, Don't worry, we'll find a place for you. And she did, at a tiny table for one next to a radiator, which suited me just fine. When she came to take my order, I told her I wanted what I'd smelled cooking ever since I'd checked in at the neighboring hotel, and she grinned: "Poulet au vinaigre, mais une petite salade d'abord, ça vous va?" Mais, oui! I loved the salad of curly endive with big, hot chunks of bacon and a coddled egg, but the chicken—tender fowl in a smooth but ruddy terra-cotta sauce that was brilliant for being complex and simple at the same time—brought on true rapture. On that long-ago night, it was one of the best things I've ever eaten and remains so after all these years (see page 144 for a recipe of the poulet au vinaigre served at Chez Hugon).
"Vous êtes bien? Ça vous a plu?" said the nice lady, Arlette—she told me her name when she cleared my plate—and I knew that she was teasing, because I must have been radiant with the enormity of my well-being that night. I didn't realize it at the time, of course, but this meal in a Lyonnais bouchon was a sort of celebration that foreshadowed my life to come, one in which I'd travel to every corner of France to become educated about its cuisines, eat in its restaurants—from train station buffets to three-star tables—and learn to cook its food.
What I know now, you see, is that when I moved to Paris almost thirty years ago, it was the beginning of an incessantly exhilarating learning curve that hasn't ended and hopefully never will. The more I learn about France, its language, its history, and its food, the more I need and want to learn. Still, one of the most delicious and valuable lessons I unexpectedly mastered during those first few fumbling months in a city where I knew almost no one and barely spoke the language is that some of the most delicious and valuable lessons in life are the most obvious ones. Let me explain.
Walking home from work on a cool October night, I was stopped in my tracks on the footbridge from the Tuileries Gardens over the Seine to the Left Bank in front of the Musée d'Orsay. Just before sundown, a low-slung barge piled high with shiny black coal was churning through the quicksilver waters of the river and leaving a rippling amber and mauve wake. Mesmerized by the beauty of the broken light on the water, I was lost in thought when it came to me: Go alone.
With a holiday weekend impending, I'd been listening to colleagues in the cliquish office where I worked talk about their plans, and it had made me melancholy. I didn't have any plans, because I hadn't made any friends yet. But in the middle of that bridge from one place to another, I understood the obvious: I could go somewhere by myself. Sure, it would be nice to travel with someone else, but it wasn't necessary. So I decided to return to Lyon, a city I've always loved but hadn't been to in many years, alone. And as the train left the Gare de Lyon and picked up speed, a quiet elation overcame me as I realized something else that was as obvious as the nose on my face. I'd been so excited by the idea of moving to Paris that I'd overlooked the fact that I was getting France in the bargain, and as much as I loved the city, now I had a whole new country to explore and eat my way through.
Thus I became a man who travels to eat, sometimes alone, sometimes with Bruno, my partner, and sometimes with friends. Six years ago I wrote a book about my life in Paris and its best restaurants, Hungry for Paris, so now, after eating my way through France for all of these years, it's a pleasure for me to share what I've learned with others who have the same passion for France and its food. Some people look at a map of France and see cities, rivers, and mountain ranges. Well, I do too, but when I eyeball Gaul, I see menus and markets more than anything else. Why? Because France still has the finest and most deeply rooted culinary culture of any country in the western world, and can also stand up to challenges from any other place on the compass.
To be sure, some people have been kicking France's ankles in a double-decade-long take-down of Gallic gastronomic superiority. But the wonderful news today is that they're all more wrong than right. I'd defy you to find another country anywhere in the world where you can so reliably find a spectacular meal—at all levels of the food chain—in its most remote and forgotten villages. The explanation for this wonderfully pervasive and deepening epicurean revival is that a new generation of brilliant cooks and passionate food producers actually prefer the French countryside to its cities, which doesn't, of course, mean that the cities are deprived of talent.
Au contraire, in fact, since today the talent pool in urban France is deeper and more cosmopolitan than it's ever been in the country's history. Hundreds of ambitious young cooks from all over the world, but especially Japan, arrive in France every year with the generally infallible logic that "If I can make it there, I can make it anywhere." Chat with them, and the reasons they're dead set on France recur constantly, too—it has the most pervasive and proudly lived man- (or woman-) in-the-street gastronomic culture of any place in the world, French professional culinary training is still the world's highest quality, and no other country has such spectacular produce. So faced with the daunting challenge of which restaurants to include in this book, I weighed my choices in favor of this new generation of cooks, since many of them are still little known and their cooking is so spectacular.
Thanks to the patience and generosity of the hundreds of good Gauls who've allowed me to be their student through the years, I've found a place at the French table. This book, then, is an act of gratitude, since I can't think of a better way of repaying these chefs, bakers, charcutiers, cheese makers, and others than by sharing what I know with you. Eh bien, bon voyage, et bon appétit!
Praise for Hungry for France: Adventures for the Cook & Food Lover
"I can't think of anyone better than Alec Lobrano to brilliantly capture what makes France such a beloved culinary destination. Bravo for this tour de France, from one of the most talented food writers of our time." —David Lebovitz, author of My Paris Kitchen
"Leafing through the pages of this book makes me so hungry! I want to get on the next plane and fly right to France. Alec is the best kind of connoisseur—he loves the food and the people—and his book reflects that. The pictures are gorgeous, the recipes appealing." —Ruth Reichl, author of Delicious!: A Novel
"For years, Alec has been my most charming, most literate, most amusing, and trustiest guide to all things delicious in all parts of France. Now he's yours, too. Hungry for France is a go-to whether you're searching for an elegant dinner, a roadside snack, or even a recipe that will bring the flavors of France to your own home." —Dorie Greenspan, author of Around My French Table 
Layered Ratatouille Gratin
Hungry for France by Alexander Lobrano. Rizzoli International Publications, Inc.
Recipes ©Jane Sigal
Chef Ronan Kervarrec of La Chèvre d'Or in the village of Eze alternates slices of zucchini and eggplant with homemade tomato sauce (in place of fresh tomatoes) beneath an herb-rich bread crumb topping. This late-summer tian is a remarkable make-ahead dish; the flavors just keep getting better. To make a vegetarian entrée, layer in sliced mozzarella cheese or dollops of fresh ricotta.
Tomato Sauce
– 1/4 cup (60 ml) extra-virgin olive oil
– 1/2 large onion, chopped
– 2 garlic cloves, sliced
– 1/2 pint (250 g) cherry tomatoes, halved
– 8 oz. (250 g) vine-ripened tomatoes, chopped
– 1 14.5-oz. (411-g) can diced tomatoes with juices
– 2 large basil sprigs with stems
– Kosher salt and freshly ground pepper
Gratin
– Extra-virgin olive oil, for brushing and drizzling
– 1 lb. (500 g) zucchini, sliced crosswise 1/4 inch (6 mm) thick
– 1 lb. (500 g) eggplant, quartered length wise and sliced crosswise 1/4 inch (1 cm) thick
– Kosher salt and freshly ground pepper
– 1 slice sourdough bread, about 1/2 inch (1 cm) thick, crust removed, toasted
– 2 garlic cloves, sliced
– 1/4 cup (8 g) packed mixed parsley, thyme, and rosemary leaves
1. Tomato sauce: In a large saucepan, heat oil until hot. Add onion and garlic and cook over medium heat, stirring occasionally, until softened, about 5 minutes. Add cherry tomatoes, vine-ripened tomatoes, diced tomatoes, and basil and season with salt and pepper. Bring to a simmer, then cook over medium heat until sauce thickens, 20 to 30 minutes. Discard basil. Using an immersion blender, puree sauce until smooth.
2. Gratin: Meanwhile, heat oven to 425°F (220°C). Brush 2 large rimed baking sheets with oil. Spread zucchini slices on one sheet and eggplant on other. Brush slices with oil and season with salt and pepper. Bake, rotating sheets halfway through, until tender, 15 to 20 minutes.
3. Tear bread into pieces. In a food processor, pulse bread into large crumbs. Add garlic and herbs and pulse until blended.
4. Brush a medium terrine or casserole with oil. Arrange half of eggplant slices in terrine, slightly overlapping. Spoon 1/2 cup (125 ml) tomato sauce on top. Layer half of zucchini slices on top, slightly overlapping, followed by another 1/2 cup (125 ml) tomato sauce; repeat layers. Sprinkle bread crumbs on top, season with salt and pepper, and drizzle with oil. Transfer to oven and bake, rotating terrine halfway through, until bubbling and crisp, about 20 minutes. Let stand for 5 minutes, then serve hot, warm, or at room temperature. Do ahead: Gratin can be refrigerated for up to 2 days.
8 side servings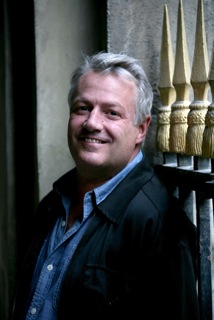 About the authors: Alexander Lobrano grew up in Connecticut, and lived in Boston, New York and London before moving to Paris, his home today, in 1986. He was European Correspondent for Gourmet magazine from 1999 until it's closing, and has written about food and travel for Saveur, Bon Appétit, Food & Wine, the New York Times, Wall Street Journal, Guardian, Travel & Leisure, Departures, Condé Nast Traveler, and many other publications in the United States and the United Kingdom. He is contributing editor at Saveur magazine and the author of Hungry for Paris. For more information, please visit: www.alexanderlobrano.com. (A Woman's Paris Interview with Alexander Lobrano) (Purchase)
Steven Rothfeld is a celebrated travel photographer whose work includes the books Entrez: The Signs of France and French Dreams. His images have illustrated numerous books by many authors, including Marcel Marceau, Frances Mayes, and Patricia Wells.
Selected books by Alexander Lobrano
Hungry for France: Adventures for the Cook & Food Lover (April 1, 2014, Rizzoli New York)
Hungry for Paris (second edition): The Ultimate Guide to the City's 109 Best Restaurants (April 15, 2014, Random House Trade Paperbacks)
Text copyright ©2014 Alexander Lobrano. All rights reserved.
Photography ©2014 Steven Rothfeld. All rights reserved.
Illustrations copyright ©Barbara Redmond. All rights reserved.
barbara@awomansparis.com