Travel Diaries: Two for the Road – Paris's Line 2 (small-scale adventures on the Right Bank, part one)
24 Wednesday Sep 2014
Tags
1855 Exposition Universelle Paris, Aux Champs-Elysees joe Dassin, Barbès-Rochechouart Paris, Baron Haussmann Paris, Bois de Boulogne, boulevard de Clichy Paris, boulevard Saint-Germain Paris, Champs-Élysées Paris, Charles de Gaulle-Etoile, City of Light, Eiffel Tower Paris, France, Jardin de l'Observatoire, La Défense Paris, Luxembourg Gardens Paris, Minneapolis Minnesota, Monceau Paris, Montmartre Paris, Montparnasse Paris, Moulin Rouge cabaret Paris, Palais de Chaillot, Parc Monceau Paris, Paris, Paris Metro, Paris metro line 2, Paris Right Bank, Parisians, Père-Lachaise Paris, Philippe d'Orléans Duke of Chartres, Pigalle Paris, Place Dauphine Paris, Place de l'Etoile, Place de la Nation Paris, Place du Maréchal de Lattre de Tassigny Paris, Porte Dauphine Paris, Porte Maillot Paris, Sacré-Cœur Paris, Saint-Michel Paris, travel in Paris, Trocadéro Paris
Share it
Reprinted with permission from Rachel-in-Paris. © Rachel Rixen. All rights reserved.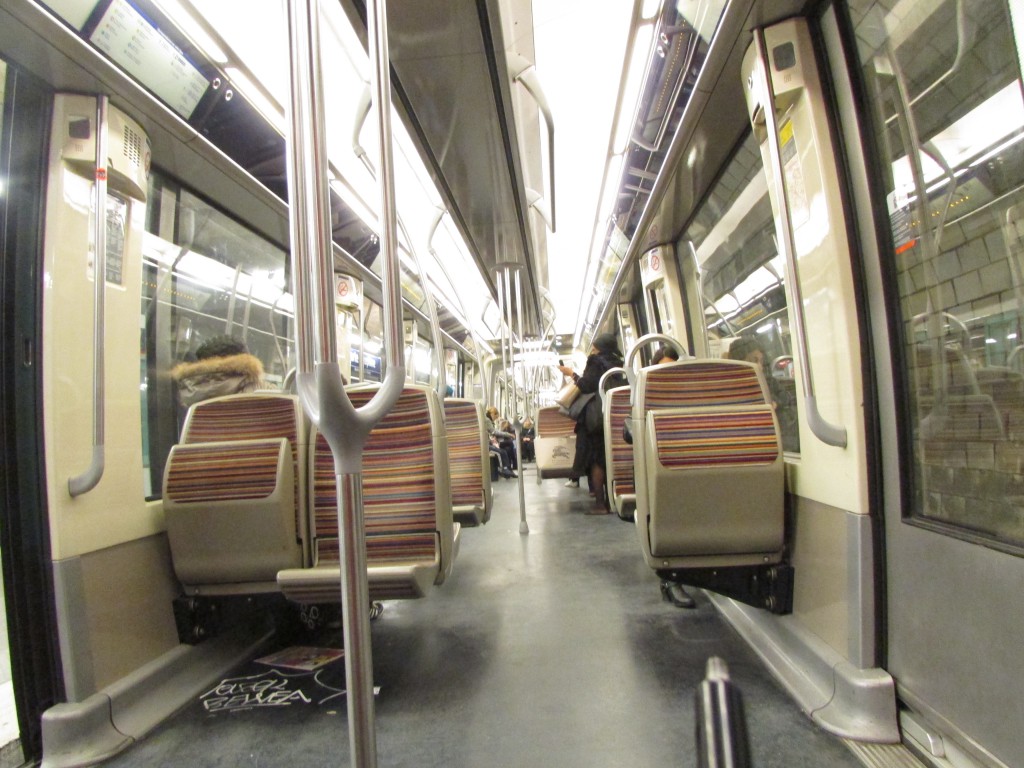 (Part Two) I've always lived on the Left Bank. Other than an apartment in the Marais during my first visit to Paris when I was fifteen, I've always been a left-dweller. I lived in the friendly fourteenth during a semester of study abroad in 2012 and now I've switched to its swankier sister to the north, the sixth, in a decidedly un-swanky studio above the Jardin de l'Observatoire. When I'm away from the city, my heart warms at the mention of places like Saint-Michel, the Luxembourg Gardens and Montparnasse. It's here where I feel a semblance of belonging, where non-Parisians mistake me for a local, asking for directions to the boulevard Saint-Germain in timid French, where I can't help but smile—even when my feet are sopping wet from the constant rain—and where I come out of the Port-Royal station feeling exactly as I do when I get out of my car in my garage in Minnesota. Home.
So what about the Right Bank, where the other million or so Parisians live? Where do they feel at home? By following the arc of the métro's line two that cuts through the heart of the right side from west to east, I'm setting out to catch a coup d'œil of my northern neighbors in the places that make them feel at home.
On sunny, cloudless days like today in Paris, il faut profiter du soleil. The sun is hard to come by in Paris's fall and winter months and any occasion to conveniently forget my beat-up umbrella is reason enough to go on a small-scale adventure. At Raspail, I study the stops listed on the wall. I'm at the center of line six, equal distance from either end of line two. I squeeze onto the train and head west for Porte Dauphine.
Porte Dauphine, 2:23 P.M. – An empty bench sits along the avenue Foch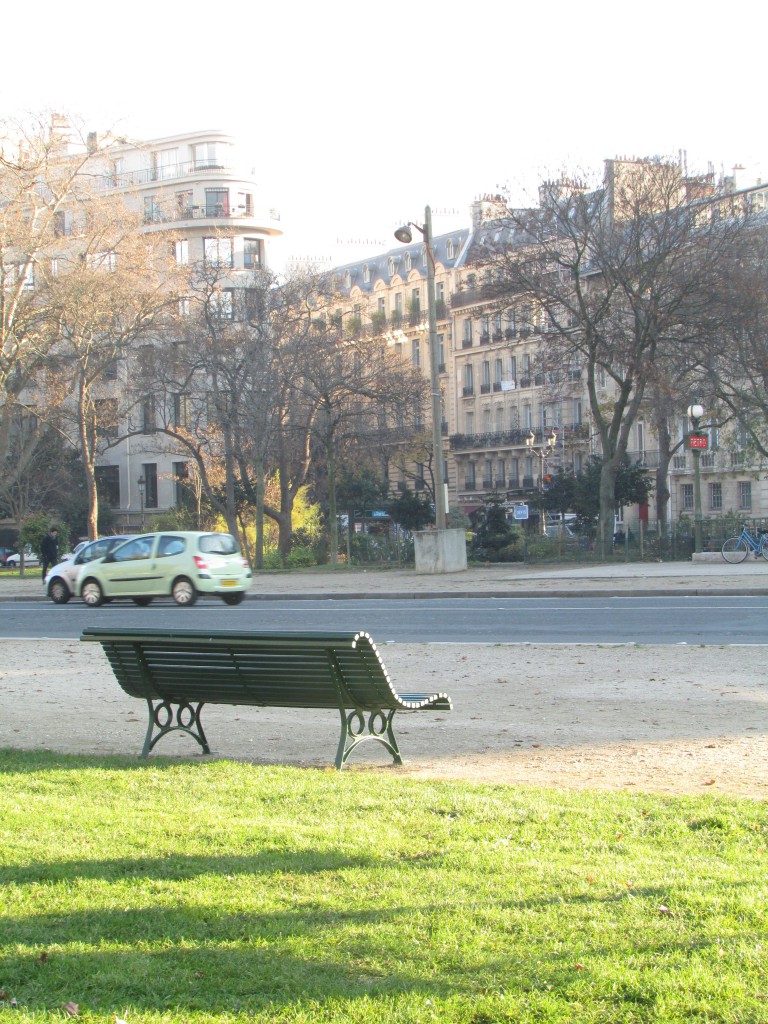 "Bonjour, madame," One woman says, greeting another with a smile and kisses on the cheek. I follow them up the concrete steps, heading for the second sortie, which will take me out to the avenue Foch. The métro station is empty this Wednesday afternoon, save for a few well-coiffed, white-haired women keeping pace with children, presumably grandchildren. It's fitting that the first thing I hear is politeness, for here in the sixteenth arrondissement, my impression has always been that order and refinement reign supreme in one of Paris's upper-class haunts.
For a long time, the sixteenth has remained for me a piece of the Parisian mystery that I haven't had much desire to investigate. Coupled with the seventeenth, I've somehow managed to avoid dipping my toes into the west of Paris much at all, except for visits along its outskirts to the Palais de Chaillot terrace at Trocadéro for photos of the Eiffel Tower and a sprint to catch a Beauvais Airport shuttle at Porte Maillot.
Perhaps my disinterest stems from its reputation as a place full of money—even saying la seizième carries that connotation—signifying a lack of general joie de vivre. The district is fourth in terms of average household income, after the eighth, seventh and sixth. I've clung to the idea and heard myself repeating that the sixteenth is "new money" and just across the Seine is "old money" in the seventh, a sort of West and East Egg for the Paris crowd.
One night recently, atop the nearby Arc de Triomphe, I braved some unpleasantly harsh winds and took in the city's panorama through watering eyes. This is the City of Light, they say, but the lights themselves cast subtle, soft yellows on the architecture, making Paris glow discreetly—quite different from the retina-burning quality of places like New York's Times Square. Through the pink, light-polluted vista, I peered southwest at a long, tree-lined boulevard with few lights dotting the blackness, contrasting with the red and white stripes of the traffic flowing down the Champs-Élysées. I took note of how peculiarly empty and quiet it looked, emanating out from the star of traffic towards the darkness of the Bois de Boulogne. The panoramic map told me it was the avenue Foch.
Emerging out of the Art Nouveau métro exit onto the avenue—Paris's widest—it feels brighter than most of the city during the daytime. The chestnut trees lining the avenue are tucked closely to the buildings, leaving broad expanses of gravel sidewalks out in the sunlight. It's a desert for tourists, and really anyone, for that matter. The avenue lists some of the most expensive real estate in the world, home to mansions and palaces of wealthy international families.
I go west to the Place du Maréchal de Lattre de Tassigny—an easy enough name to remember—and cross the boulevard Périphérique, the major ring-road that separates Paris proper from its suburbs, to enter the Bois de Boulogne. I dart dangerously across each road, always with the thought that one surprise car could be my end. The noise of the freeway, the frost-kissed grass, the skyscrapers of the business district La Défense looming over the trees in the hazy distance and the sidewalk giving way to a dirt path peppered with dead leaves give me a sudden pang of nostalgic familiarity. Even the children playing soccer next to the highway remind me of my childhood years before I realize that there are no girls playing and that they're playing le football. No, I remind myself, this isn't West River Parkway in Minneapolis. I pass a docking station with neat rows of public bikes with their handlebars turned to the right, a man to my left urinating out of his white delivery truck and I stand, watching clusters of smiling, retired men tossing heavy silver balls during a game of pétanque. While this is the edge of Paris—the edge of the world, it seems—this is still as Paris as Paris can be.
Charles de Gaulle-Étoile, 2:54 P.M. – A tourist poses for a photo in front of the Arc de Triomphe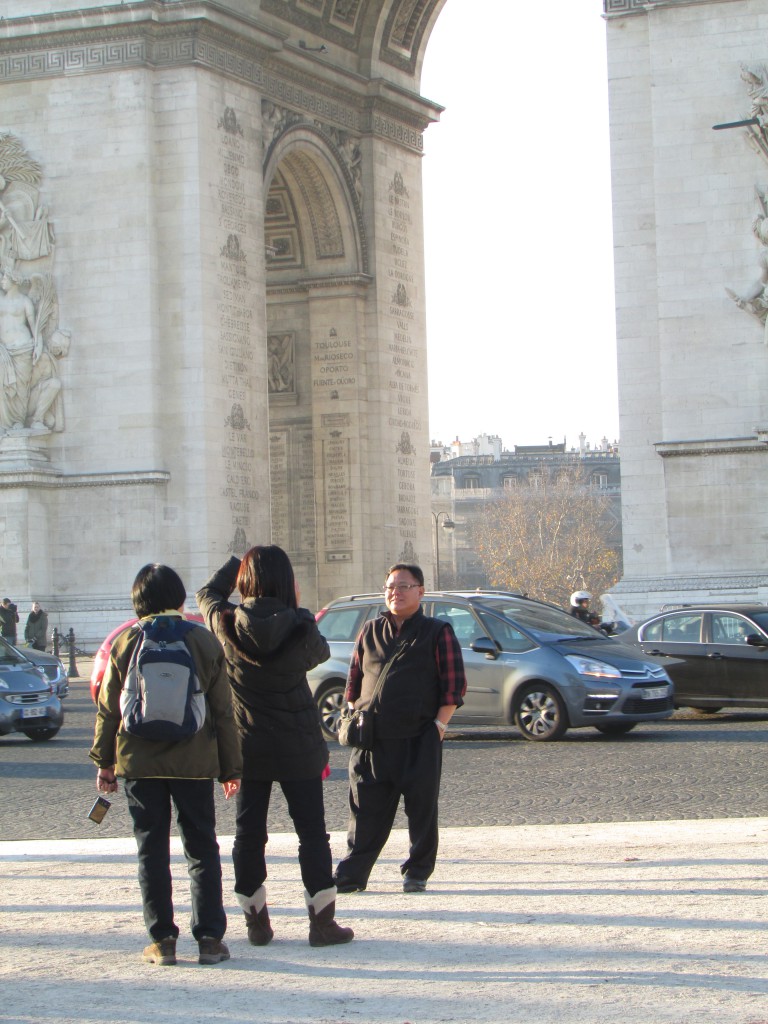 My eyes flick over the yellowed wall tiles as the escalator pulls me up from the platform at Charles de Gaulle-Étoile. Are the tiles intentionally yellow or is the sickly scent of urine clouding my judgment? These are the types of things I wonder about on public transportation. The station has both a Bonne Journée chain bakery and a Souvenirs de Paris shop, two tip-offs that I've entered a tourist-catering zone. With my camera strap around my neck and a notepad in my hand, I blend in with the passersby, speeding between lines one, two and six, the RER A and the exits. You're more likely to find a group of tourists at the turnstiles, unsure of how to insert their tickets and blocking the flow of passengers than to find Parisians swiping their Navigo passes and disappearing out of sight.
Charles de Gaulle-Étoile, located at what was once the Place de l'Étoile and is now the Place Charles de Gaulle (named after the former general and president of France) brings me to perhaps the most strikingly evident spot of globalization in all of Paris—and arguably the furthest from the local culture—the Champs-Élysées. With origins dating back to the seventeenth century, it has been long revered as "the most beautiful avenue in the world." Even today, it remains an aesthetically beautiful place—for tourists to flock to for photo opportunities and shop at internationally recognizable luxury and commercial brands. What was once a grandiose symbol of Paris and a favorite strolling spot with the locals with its ten lanes of traffic, pruned, rectangular chestnut trees and its vista of the Place de la Concorde and the Louvre, the avenue now bears the footprints of a commodified promenade of foreign visitors.
"There is everything that you want on the Champs-Élysées,"[1] French-American singer Joe Dassin once claimed in his song "Aux Champs-Élysées," frequently sung by accordionists on the métro and cardboard music boxes in tourist shops (I'm shamelessly guilty of owning one myself). If by "everything that you want," Dassin meant perusing through what is now a global, brand-driven mélange of stores like Abercrombie & Fitch (American), Disney (American), Zara (Spanish) and H&M (Swedish), then his lyrics would be quite faithful to the typical experience on the avenue today. It's really no wonder that the avenue is home to such brands who can afford the average €13,255 per square meter it costs in annual rent for retail space on what is the world's third most expensive shopping street[2]—nothing to exactly sing about.
Standing at the edge of the eight-lane traffic circle around the Arc de Triomphe, I'm more of a compatriot than I am an expatriate. The photo-snapping crowd speaks more English—specifically American-accented English—than anything else I can hear. The coupling of English and the conglomeration of shops equates to little more than a Gallicized version of the Mall of America, my hometown landmark of over-the-top materialism. I bear virtually no self-consciousness as I join my fellow countrymen in the excitement of taking photos of the famous neoclassical Napoléon-commissioned arch.
I'm also targeted by young girls who pretend to be deaf and mute, hoping I'll sign their petition and donate money—or distract me enough to rifle through my bag. "Non," I say sharply before walking away. I'm confronted three more times, with the volume of my voice raising each time. I lean up against a fence and watch them walk by, speaking amongst themselves.
This is the reality of the Champs-Élysées today; visitors fly in from faraway countries to shop at familiar megastores, order their meals from pricy English language menus, get a few snapshots of the area, donate money to scam artists and then duck back down into the métro. The French are few and far between, and perhaps for good reason.
These are not the paradisaical Elysian Fields that they once were. Pas du tout.
Monceau, 3:17 P.M. – Men stand near the gilded gate and rotunda of Parc Monceau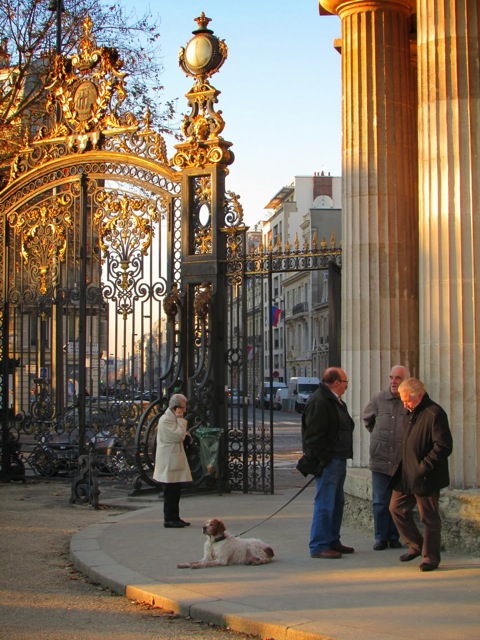 The train is noticeably fuller than it was six stops ago. As we travel east, I assume the influx of passengers is headed for the station Anvers to get off in Montmartre. "Monceau," the recorded woman's voice says over the loudspeaker, phrasing it like a question. "Monceau," She confirms. I'm getting off in the eighth arrondissement.
The sun is lowering in the sky, cutting dramatic shadows through the thick haze. I pass under the sumptuous, gilded gate of Parc Monceau and past the rotunda, small by French standards. On the rare occasion that I think of Monceau, I think in gold. Maybe it's the golden sunlight touching the buildings, the golden fences surrounding the park or even the apparent wealth that permeates the area. Perhaps telling of the eighth's privilege, the few residences located on the park have twenty-four hour access, despite it's closing at sundown for non-residents.
Upon entering the park, I take a left, passing green benches of teenagers and twenty-somethings flicking through their iPhones. I meet faux Corinthian columns surrounding a small pond where seagulls squawk angrily after one another. A few children go giggling by on scooters, trailed by their smartly dressed mothers. Windows of stately façades peer over the treetops like a neighbor's eyes over a fence. Large stretches of green grass are empty, forbidden to walkers—something I may never get used to about this city—and the landscape is swathed in golden light despite being only just past three. Strollers in the park are reduced to silhouettes against the lowering afternoon sun, but its cinematic quality gets lost in my photos.
I climb a short bridge over a stream and take in the view of the whole park. Parc Monceau was planned in 1769 by Philippe d'Orléans, Duke of Chartres who wanted to create a public park in an Anglo-Chinese style that would surprise and amuse visitors, as the park contains various follies, such as an Egyptian pyramid and a Dutch windmill.[3] The park was revamped during Baron Haussmann's transformation of Paris in the 1860s and has changed little since.
As I leave, camera still firmly around my neck for the occasional photo, I write illegible notes because the cold is slowing the muscles in my fingers. A group of older gentlemen cluster around the rotunda, laughing. I think they see me take their picture. Monceau is like a private party that I've snuck into and I know that I'm being watched. I follow a man with a Dalmatian out and down into the métro.
Visit: Two for the Road: Paris' Line 2 – small-scale adventures on the Right Bank (Part Two)
[
1
] Original French:
 Il y a tout ce que vous voulez aux Champs-Élysées
[
2
] Sarah Krouse, "Rents Escalate Along Paris's Champs Élysées." 
The Wall Street Journal
, November 12, 2013. http://online.wsj.com/news/articles/SB10001424052702303460004579193720360371800 [
3
] "Un peu d'histoire sur le Parc Monceau,"
Paris Connect
. http://equipement.paris.fr/parc-monceau-1804 [
4
] Michel Pinçon and Monique Pinçon-Charlot, 
Paris : Quinze promenades sociologiques 
(Paris : Payot & Rivages, 2013), page 251. [
5
] Michel Pinçon and Monique Pinçon-Charlot,
 Paris : Quinze promenades sociologiques
, page 254. [
6
] Emmanuelle Lallement, "Tati
et Barbès : Différence et égalité à tous les étages,'' 
Ethnologie française, vol. 35
(2005). [
7
] file://localhost/C:/Users/Rachel/Downloads/Ligne%202%20(1).docx – _ftnref1 "Place de la Nation,"
Travel France Online
, Last modified: 27 May 2013, http://www.travelfranceonline.com/place-de-la-nation-cours-de-vincennes-paris/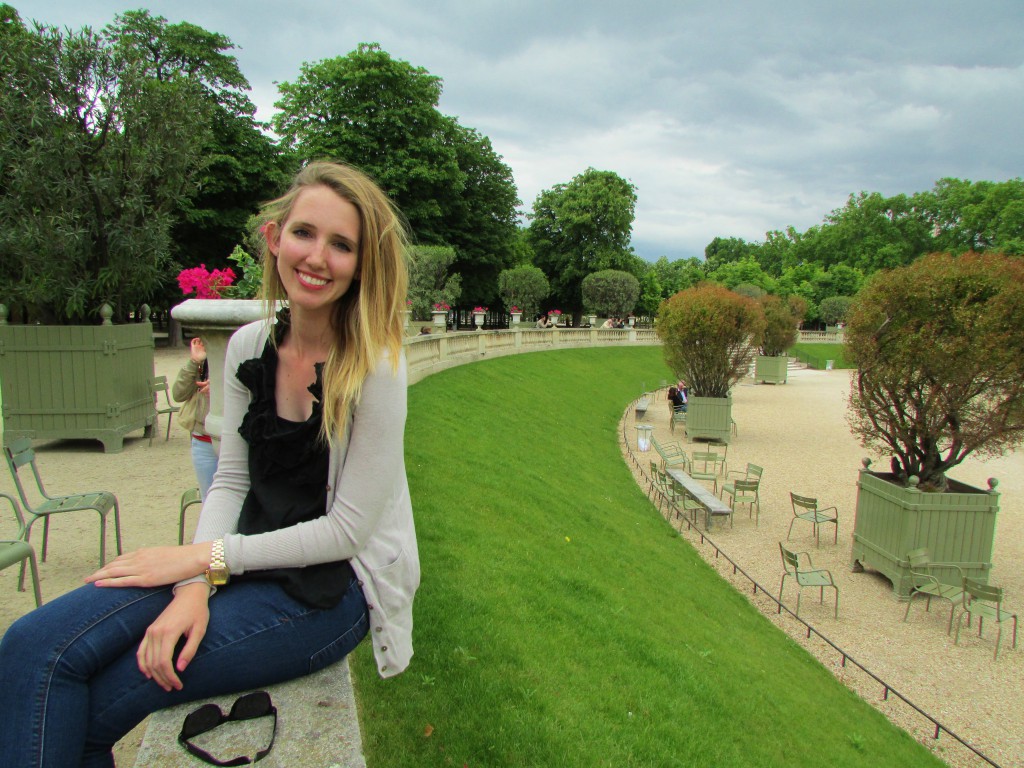 Rachel Rixen is a Minnesota native who studied in Paris for a semester before earning her B.A. in French and cross-cultural studies from Augsburg College in 2013. She returned to the Paris to enroll in the M.A. in cultural translation program at the American University of Paris following graduation. Since 2011, Rachel has chronicled her experiences in Paris on her blog, Rachel in Paris. In her free time, she enjoys playing the piano, drinking wine, shopping excessively, painting and making a dent in her endless to-read list (most of which are books on France). (Blog: Rachel-in-Paris)
You may also enjoy A Woman's Paris® post Whistle Stop Coffees: Flore der Agopian on Cafés in Train Stations in Paris. "When I walk inside a train station in Paris," writes Parisianne Flore, I always feel like I'm taking a journey back in time; an out-of-reality experience immortalized in countless French and American films: Nikita, Les Poupées Russes, Mr. Bean's Holiday, and Ocean's Twelve, to name a few." Flore writes about Gare Montparnasse, Gare de Lyon and Gar du Nord and the cafés and restaurants you will find there––from the famous Le Train Bleu and Terminus Nord to Paul, the boulangerie café founded in the late 19th century, and now a worldwide success.
 A literary feast – Cafés and culture in Paris' 9th arrondissement by Parisian Flore der Agopian. Paris has always been an inspiration for writers and painters, both from France and all over the world. Flore explores how cafés in nineteenth century Paris inspired literary figures Emile Zola, Alexandre Dumas, George Sand, Guy de Maupassant, Marcel Proust and French painters Edgar Degas, Eugène Delacroix, Camille Pissaro, and Edouard Manet. Including a list of current cafés in Paris' 9th arrondissement.
Café Culture in Paris, by Parisienne Flore der Agopian. The café, writes Flore, is a pleasurable way of sitting unbothered for hours on end with a book, with friends, or jut watching all sorts of people coming and going. Le Café de Flore, one of the oldest and most prestigious in Paris, where you can meet or observe its famous clientele among the Parisians, tourists and waiters dressed in their black and white uniforms as if they were still in the 1920s. To Flore, Café de Flore is almost mythical, legendary—a real institution. (French)
How to find a (suitable) place in Paris, and other miscellaneous information, by French woman from Brittany, Bénédicte Mahé, who is in her mastère-spécialisé final trimester doing an internship in Paris. Bénédicte shares with students how to find a place in Paris. (French)
My suitable place in Paris, and how I discovered my new arrondissement, by Frenchwoman Bénédicte Mahé who writes about her new apartment in Paris and her new neighborhood; a foreign place waiting to be discovered.
Missing your train (in Paris): C'est la vie by Parisienne Bénédicte Mahé who shares stories of missing your train as a result of accidents on the railway due to animals, strikes or the weather––plus other practical ways of getting around France. Including websites to travel by trains in France.
Text copyright ©2014 Rachel Rixen. All rights reserved.
Illustration copyright ©2014 Barbara Redmond. All rights reserved.
barbara@awomansparis.com