Anne Morgan's war: American Women Rebuilding France, 1917-1924
28 Tuesday Oct 2014
Tags
100th anniversary of World War I France, Alliance Francaise Minneapolis St Paul, Allied troups France World War I, American Committee for Devastated France Anne Morgan World War I, American Friends of Blerancourt France, American Red Cross World War I France, American Women Rebuilding France 1917-1925 Anne Morgan, American Women's Hospital World War I France, Andrew Carnegie library, Anne Morgan J Pierpont Morgan daughter, Brooklyn Navy Yard, Charlie Chaplin The Kid, Chateau de Blerancourt France, Colony Club New York, Elisabeth Marbury, Elsie de Wolfe, Florence Nightingale School Bordeaux France, Ford trucks World War I France, France, Franco-American Museum Chateau de Blerancourt Picardy France, General Petain, Isabel Lathrop the American Fund for French Wounded AFFW, James Addams Hull House Chicago, Le Palais Versailles, Marne battlefields France, Newberry Library Chicago, Paris, Picardy France World War I, Ronald C Rosbottom When Paris Went Dark, World War I France
Share it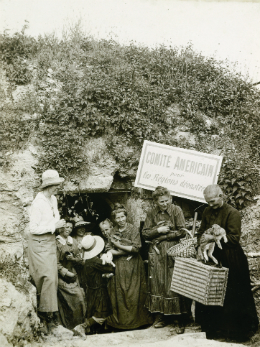 (Republished with permission by the American Friends of Blérancourt. (C) 2014 American Friends of Blérancourt. All rights reserved.)
An exhibit entitled "American Women Rebuilding France, 1917-1924" showcases the extraordinary work undertaken by 350 American Women—all volunteers—who left comfortable lives in the United States to devote themselves to humanitarian aid in France. Barred from voting or serving in active social combat, these women instead directed their considerable energy toward international relief work to counter the devastation of war.
The dynamic leader of this group was Anne Morgan, born 1873, youngest daughter of the prominent financier J. Pierpont Morgan, who collected private funds and founded the American Committee for Devastated France.
This group of women lied alongside the rural people of Picardy, a region of northern France that had been ravaged during World War I, in wooden barracks at the Château de Blérancourt.
At the wheels of their Ford trucks, they directed the reconstruction of buildings and agricultural production, creating a network of visiting nurses, libraries, social centers, and kindergartens; encouraging sports and scouting; and organzing festive events designed to rebuild social ties.
"American Women Rebuilding France" illustrates how Anne Morgan and her colleageus cannily employed film and photography to publicize their work and instigate social action. The exhibition draws from collecitons of the Franco-American Museum, Château de Blérancourt, in Picardy, France, which was created by Anne Morgan and is today a national French museum devoted to the history of friendship and collaboration between the United States and France.
American Women Rebuilding France 1917-1924, an exhibition of photographs and silent films from the Franco-American Museum in Picardy, France, showcased in the U.S.A. (Chicago, IL, Newberry Library in Chicago, 17 September 2014 to 3 January 2015 Visit: newberry.org; Minneapolis/St Paul, MN, Alliance Française – Minneapolis/St Paul, November 7, 2014 Visit: afmsp.org.)
"History can be boring; how we remember, reconstruct, protect our histories is not. That is what fascinates me. Freudianism has taught us how we trick ourselves into remembering and forgetting. I am interested in how societies as a whole do the same thing… to show what happened, and then show how it has been remembered, or forgotten, or recreated." Ronald C. Rosbottom, French Impressions: Ronald C. Rosbottom's "When Paris Went Dark" –Marking the 70th anniversary of the Liberation of Paris, A Woman's Paris®
Visit: French Impressions: Elaine Uzan Leary on the American Women Volunteers in Wartime France, A Woman's Paris®
 Anne Morgan's own life in New York revolved around the conviction that women could organize as well as men. In 1902, when she was not yet thirty, the New York Times reported her visit to Jane Addams' Hull House in Chicago, the first of the American settlement houses; it is not by chance that many essential elements of that experience were later incorporated into the relief operations in Picardy. Hull House was almost exclusively run by women who lived amongst the people they aimed to help. One of her first projects was a lunchroom for workers in the Brooklyn Navy Yard. Her committee hoped to convince the Navy that providing an economical but substantial mid-day meal at low cost could break even, but the Navy was not convinced. Another project was a residence for young women without family working in New York. The Colony Club, which she helped found, was to be not only a club for women—equivalent to those already available for men—but a women's project, organized and executed by women. It was during this project that Anne met Elsie de Wolfe and Elisabeth Marbury who would later be instrumental in her fundraising efforts for aid to the French.
In 1905, while in Paris, Anne had what must have been a turning-point conversation with her father, which closed the chapter in her life as his traveling companion. He left the following morning for Aix with his usual entourage, but without Anne. We can only guess his mood.
In 1906 she did not go abroad with him but did so later with her mother, and then did not return to New York, staying on instead with her two new friends in Versailles at Villa Trianon, which belonged to Elisabeth. It was the beginning of independence.
In 1914, when Germany invaded Belgium and Luxembourg, the women were vacationing in the Savoie; Elisabeth returned to New York, but Elsie and Anne remained in Paris and, after a horrifying visit in September to the Marne battlefields, decided to dedicate themselves to the Allied cause. For the next few years Anne sailed back and forth across the Atlantic for new reasons: to exercise her recognized capacity to raise money and organize support.
In 1915, after studying British women's organizations, she established with Isabel Lathrop the American Fund for French Wounded (AFFW) to provide medical supplies to French hospitals and send parcels to wounded soldiers. It was composed mostly of women, all volunteers. Returning to France, Anne and Elsie converted the Villa Trianon into a convalescent home for soldiers and the following July traveled to the Somme and Verdun to personally check on the delivery of American donations to the front-line hospitals. They were beginning to attract a cadre of women who felt themselves too confined by society to philanthropic roles and wanted to take a more active part in the war. In the fall, back in New York, Anne was joined by Anne Murray Dike, a doctor, in the establishment of a Civilian Division of the AFFW to assist the civil population in the front-line areas. This group was officially recognized by the French government along with the American Red Cross and an office in Paris was established for it. General Pétain's headquarters were in Compiègne, and, believing it was imperative that Picardy be repopulated and rebuilt as quickly as possible, he placed the hundreds of women volunteers under Army jurisdiction and housed them in barracks set up among the remains of the Château of Blérancourt.
Philippe Pétain, was a French general who achieved the distinction of Marshal of France, and was later Chief of State of Vichy France (chef de l'État Français), from 1940 to 1944. Because of his outstanding military leadership in World War I, particularly during the Battle of Verdun, he was viewed as a national hero in France. With the imminent fall of France in June 1940, Pétain was appointed Premier of France by President Lebrun at Bordeaux. His government voted to transform the discredited French Third Republic into the French State, an authoritarian regime. He was afterwards tried and convicted of treason.
The women set to work immediately to assist local families and returning refugees, who were horrified by the almost total destruction of the region but amazed to see these ladies in uniform, driving their own cars. The Division imported and distributed food, clothing, medicine and the utensils of daily living, followed by agricultural equipment and even domestic animals. Cows were housed in one of the pavilions of the Château to provide a supply of fresh milk; incubators were set up to raise chickens. Volunteers continued to arrive and began to train adults and children for the future. Boys learned carpentry, women and girls food canning and basic hygiene, taught by the nurses from the dispensaries they had created. In January 1918 a second center was opened in Soissons and two months later they had resettled 2300 people in some 60 communities, living at least partly autonomously.
In March, however, a new German offensive aimed at dividing the allied forces before the expected arrival of the US troops wiped out the reconstruction effort, and the Army had to ask the AFFW to use their trucks to again evacuate the civilian population.
By this time it was clear that care of the wounded and reconstruction were different operations, and the Civilian Wing of AFFW was divided, forming a new organization, the Committee for Devastated France (CARD), which would have offices in New York, chapters across the US and a solid money-raising operation to support the work in France. Anne Morgan, a strong believer in communication, was instrumental in the publication of a weekly bulletin, "Under Two Flags," to keep the supporters at home informed. She also commissioned photographs and films now deposited in the Museum at Blérancourt that brought to life the numerous activities undertaken during the war by the AFFW and CARD.
With Picardy still occupied, the volunteers moved progressively to the west into the Aisne, relocating several times, finally as far away as Senlis. They now had a new agreement with the American Women's Hospital to supply doctors for a medical unit to serve the population, and in the end, also those wounded in war. On July 14, for the first time, CARD canteens were serving American soldiers. By the end of summer, with the advance of the U.S. troops, they were back in Picardy. On November 4, CARD became an association d'utilité publique, and on November 11 the Armistice was signed. The next phase was ready to begin.
In 1917-18 there had been only some 17 volunteers in the Civilian Division of AFFW. By 1923 over 350 women had served with CARD, usually for periods of about six months. With the funds raised it was now possible to employ needed professionala: doctors, nurses, construction workers (both French and American), then later, librarians and sports directors.
After the allied offensive liberated Château-Thierry in August 1918, CARD established a center there near a unit of the American Women's Hospital (AWH) with whom they collaborated in sending mobile medical units into any parts of the Aisne to the north that they could reach. It was the time of the typhoid outbreak and the 1918 influenza; there was much to do. By the beginning of February 1919 both CARD and the Hospital #1 of the AWH were preparing to return to Blérancourt.
Now everything began operating on a new scale. The program of visiting nurses was expanded creating five centers from which many smaller villages could be served. The Committee's nurses were largely recruited from the Florence Nightingale School in Bordeaux, ensuring that they had an academic background as well as practical experience. The goal was to make of each of these centers a complete social organism with low cost stores, clinics, and libraries. Children's programs with lessons in domestic skills as well as carpentry and construction were combined with sports programs.
Many of these efforts were based on ideas already developed in America. Some of these adapted well to the French situation, some less easily. However, the cooperation with the local administrations and other relief organizations was generally excellent. To assist with the formation of agricultural cooperatives, the Committee purchased 25 Ford tractors, which were lent or rented to the Committee and eventually either sold or distributed to individual farmers. The same was true for the cooperative formed to rebuild houses to which the Committee loaned funds; these debts were repaid as more government subsidies became available. The rapidity and success of the fundraising in the U.S. was clearly of paramount importance, frequently allowing projects to begin before any war reparation funds were available from Paris. The Blérancourt workshop eventually became a private construction company under French-American management, which continued to function into the fifties. By 1920 a public relations office was part of the organization, including photographers and a film unit; the following year two films were shown at the Paris premiere of Charlie Chaplin's The Kid with Chaplin himself present.
Some projects left permanent traces, others faded. The visiting nurse services throughout Picardy are active today under local administration but still are remembered as a contribution initiated by CARD. The children's library model in Picardy was repeated in Paris and has exerted a significant influence throughout the country. Public lending libraries in France today reflect the energy of CARD's efforts in Picardy. American librarians in the tradition of Andrew Carnegie were brought in and French librarians sent to study in the U.S. The French tradition of libraries as resources for scholars was considerably enhanced by this exchange. Scout camps were less successful. The Anglo-Saxon tradition of scouting did not sit well with the French personality, nor did it take into account the religious divisions within France. And, Miss Morgan and her collaborators did not always tread lightly.
In 1919, Anne Morgan bought the estate of Blérancourt. Only two pavilions remained of the original chateau built in 1612 by architect Salomon de Brosse, and Anne Morgan lived in one. The other was transformed into a museum dedicated to French-American history and inaugurated in 1930, one year after the death of Ann Murray Dike. Anne Morgan bequeathed the entire estate to the French people and it became the Musée national de la coopération franco-américain, Château de Blérancourt.
Yet Blérancourt remained Anne Morgan's place to the end. In 1938, she financed the renovation of the small museum devoted to the life of the American volunteers during World War I. When the Second World War broke out, Anne Morgan was there. In 1940, as Germany invaded Belgium, Blérancourt became a center for the refugees. Thanks to the intervention of Anne Morgan, Blérancourt was transformed once more into a regional center providing medical care. In 1948 Eleanor Roosevelt came to visit Blérancourt and was impressed by what she saw and heard about the work of the American women.
After 1948, Anne Morgan remained in America; she died from a heart attack on January 29, 1952 at Mount Kisco in New York State. However, in Picardy the memory of CARD and the American women in their cars is still very alive, and the figure of Anne Morgan looms considerably larger there today than it probably does at home in the U.S.
The Château de Blérancourt and its Franco-American museum remain Anne Morgan's great legacy.
Acknowledgements: Natalie Ehalt, contributing editor at A Woman's Paris, and Spanish teacher at Hiawatha Academies in South Minneapolis, MN.
The Franco-American museum of the Château of Blérancourt

New York Office
20 West 44th Street, Room 506, New York, NY, 10036
Tel: 212 725.5380
Email: blerancourt@ren.com
Elaine Uzan Leary, Executive Director 
Paris Office
7, place de Madeleine 75008 Paris
Tel: +33 1 47 20 22 28
Email: afb.paris@free.fr
For information contact: AmericanFriendsofBlerancourt.org /  US.RendezvousenFrance.com/Blerancourt
American Women Rebuilding France, 1917-1924

 
An exhibition of photographs and silent films from the Franco-American Museum in Picardy, France
Alliance Française de Minneapolis/St Paul
7 to 26 November 2014
$10 AF members / $15 general public
113 North First Street, Minneapolis, MN, 55401 USA
Tel: 612.332.0436
Email: bonjour@afmsp.org
The Newberry Library
17 September 2014 to 3 January 2015
60 West Walton Street, Chicago, IL, 60610
Tel: 312.943.9090
programs@newberry.org
Email: programs@newberry.org
You may also enjoy A Woman's Paris® post John Baxter's "Paris at the End of the World" – Patriotism transforming fashion (excerpt). Preeminent writer on Paris, John Baxter brilliantly brings to life one of the most dramatic and fascinating periods in the city's history. Uncovering a thrilling chapter in Paris' history, John Baxter's revelatory new book, Paris at the End of the World: The City of Light During the Great War, 1914-1918, shows how this extraordinary period was essential in forging the spirit of the city we love today.
The City of Light Under German Occupation, 1940-1944 – Excerpt from Ronald C. Rosbottom's "When Paris Went Dark" (Part One). June 14, 1940, German tanks entered a silent and deserted Paris and The City of Light was occupied by the Third Reich for the next four years. Rosbottom illuminates the unforgettable history of both the important and minor challenges of day-to-day life under Nazi occupation, and of the myriad forms of resistance that took shape during that period. August 2014 marks the 70th anniversary of the Liberation of Paris, perfect timing for Ronald C. Rosbottom's riveting history of the period.
Tilar J. Mazzeo's "The Hotel on Place Vendôme" – Hôtel Ritz in Paris: June 1940 (excerpt). Tilar J. Mazzeo, author of the New York Times bestseller The Widow Clicquot, and The Secret of Chanel No. 5. This riveting account uncovers the remarkable experiences of those who lived in the hotel during the German occupation of Paris, revealing how what happened in the Ritz's corridors, palatial suites, and basement kitchens shaped the fate of those who met there by chance or assignation, the future of France, and the course of history.
African American Music and French Popular Culture, 1920-1960 – Excerpt from Andy Fry's "Paris Blues". The Jazz Age. The phrase conjures images of Louis Armstrong holding court at the Sunset Cafe in Chicago, Duke Ellington dazzling crowds at the Cotton Club in Harlem, and stars like Bessie Smith and Ma Rainey wailing the blues away. But the Jazz Age was every bit as much of a phenomenon in Paris, where the French public found their own heroes and heroines at the Folies-Bergère and Casino de Paris.
Proud, Sad and Angry: Normandy still stirs the emotions, by Alan Davidge. We can all be forgiven for thinking that history is all about dates and facts, although it is true that a day spent exploring the Normandy beaches will certainly add many of these to our memory banks. The real memories that we take away from Normandy, however, are the kind that go much deeper and touch parts of our soul, ensuring that we are never quite the same again.
Normandy never forgets: WWII monuments and memorials in France (part one), by Alan Davidge, D-Day historian for tours in Normandy. Alan shares a number of places of significance and remembrance. Guides included.
Text copyright ©2014 American Friends of Blerancourt. All rights reserved.
Photography copyright ©2014 American Friends of Blerancourt. All rights reserved.
Illustration copyright ©2014 Barbara Redmond. All rights reserved.
barbara@awomansparis.com