Tags
17th-century Bourbon monarchs, 19th century Paris, A New Description of Paris by Germain Brice 1684, Addresses in the City of Paris Nicolas de Blégny, Adresses de la ville de Paris Nicolas de Blégny, Andrea Palladio, Baron Haussmann Paris, Blégny insider guide to a city, Bloomsbury publishing, Booklist Joan DeJean, Champs-Élysées Paris, Father Jacques Du Breul, France, François Bernier, Germain Brice's Description nouvelle de ce qu'il y a de plus intéressant et de plus remarquable dans la ville de Paris, guidebooks Paris, How Paris Became Paris: The Invention of the Modern City by Joan DeJean, Joan DeJean Trustee Professor at the University of Pennsylvania, John Stow 1598 A Survey of London, Kirkus Reviews Joan DeJean, Le Livre commode, Louis Liger, Marquis de Caraccioli, Martin Lister, Michel Félibien, Nicolas de Blégny, Paris, Paris boulevards, Pierre Carlet de Marivaux, Publishers Weekly Joan DeJean, Seine River Paris, The Age of Comfort Joan DeJean, The Useful Book Nicolas de Blégny, Thomas De Laune 1681 The Present State of London, Urban Planning Paris 17th century, Urban Planning Paris 19th century
Share it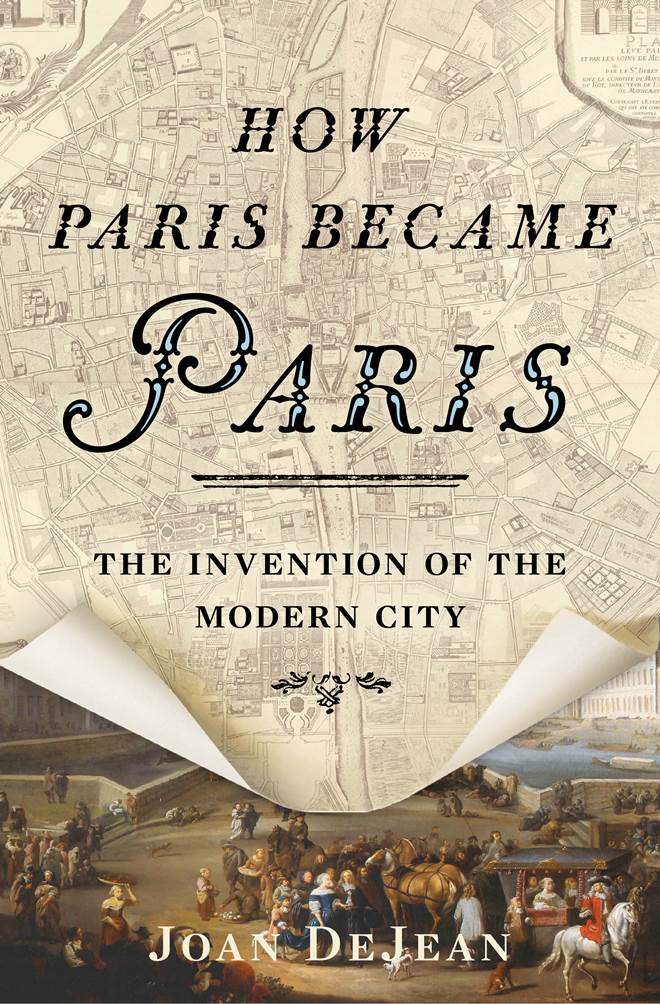 How Paris Became Paris: The Invention of the Modern City by Jean DeJean (March 4, 2014 release by Bloomsbury USA); excerpt from Bloomsbury.
Subscribers, signed-copies of How Paris Became Paris by acclaimed author Joan DeJean. Free book giveaway to two subscribers ends March 11, 2014. Visit: How Paris Became Paris signed-copy giveaway.
At the start of the seventeenth century, Paris was known for a few monuments, but it had not yet put its brand on urban space. Like many European cities, it was still emerging from its medieval past. But within a century, Paris would be transformed into the modern and mythic city we now know.
Most people associate the signature characteristics of Paris with the nineteenth century. Joan DeJean demonstrates that the Parisian model for urban space was in fact invented two centuries earlier, when the first full design for the French capital was implemented. During this period, Paris saw many changes: it became the first city to tear down its fortifications. A large-scale urban plan was created and executed, with organized streets and boulevards, modern bridges, sidewalks, and public parks. Venues opened for urban entertainment, from opera and ballet to another pastime invented in Paris, recreational shopping. Parisians enjoyed the earliest street lighting and public transportation, even as theirs became Europe's first great walking city.
A century of planned development made Paris beautiful and exciting. It gave people reasons to be out in public as never before and as nowhere else. It gave Paris its modern identity as a place that people dreamed of seeing. As Joan DeJean shows us in this compelling portrait of a city in transition, by 1700 Paris had become the capital that would transform forever our conception of the city and of urban life.
INTRODUCTION: "Capital of the Universe"
What makes a city great?
Prior to the seventeenth century, the most celebrated European city was one famous for its past. Visitors made pilgrimages to Rome to tour its ancient monuments or its historic churches: they were seeking artistic inspiration and indulgences rather than novelty and excitement. Then, in the seventeenth century, a new model for urban space and urban life was invented, a blueprint for all great cities to come. The modern city as it came to be defined was designed to hold a visitor's attention with quite different splendors: contemporary residential architecture and unprecedented urban infrastructure rather than grand palaces and churches. And this remade the urban experience for both the city's inhabitants and its visitors alike. The modern city was oriented to the future rather than the past: speed and movement were its hallmarks.
And, as many Europeans quickly recognized, only one city was truly modern: Paris. Continue reading »