Tags
African American music in France, African American musicians in France, Andy Fry King's College London, Bessie Smith jazz, Casino de Paris, Cotton Club Harlem jazz, Django Reinhardt Paris jazz, Duke Ellington, Folies-Bergère Paris, France, Guthrie P Ramsey Jr The Amazing Bud Powell: Black Genius Jazz History and the Challenge of Bebop, jazz age France, Jazz Age Paris, Josephine Baker Paris, Louis Armstrong, Ma Rainey jazz, Oxford London, Paris, Paris Blues: African American Music and French Popular Culture 1920-1960 Andy Fry, Ronald Radano University of Wisconsin-Madison, Sidney Bechet Paris jazz, Sunset Cafe in Chicago Jazz, The University of Chicago Press, Universities of Lancaster Berkeley Calaifornia, University of Berkeley, University of California San Diego, University of Pennsylvania
Share it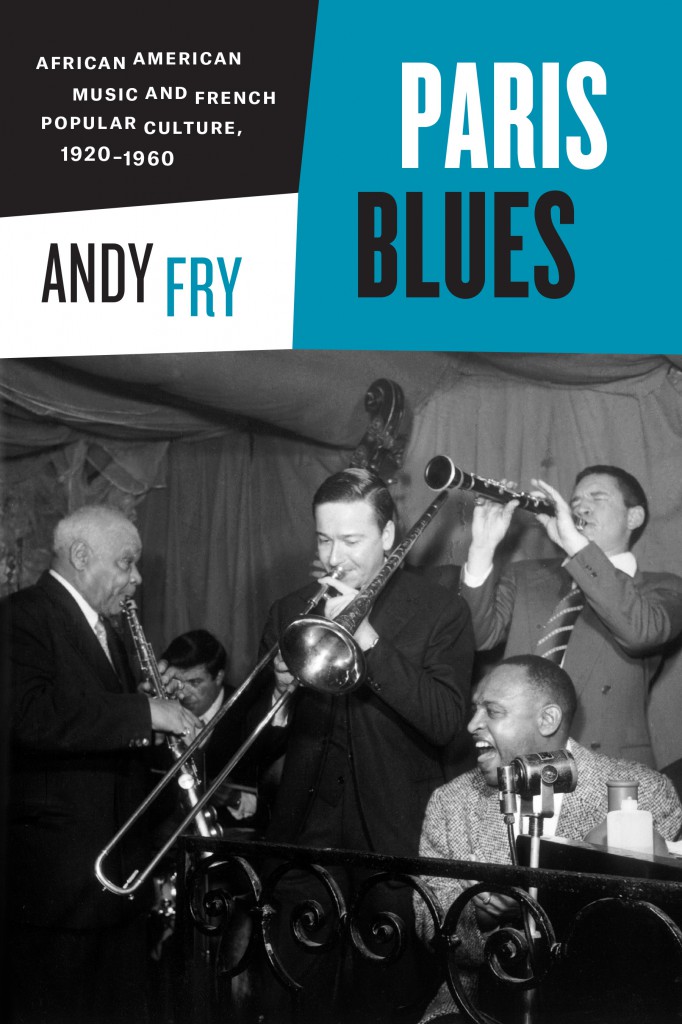 Subscribers, Paris Blues: African American Music and French Popular Culture, 1920-1960 by Andy Fry, who teaches in the Music Department at King's College London. Free book giveaway to two subscribers ends August 5, 2014. A $30 U.S. value.
Subscribe free. Once subscribed, you will be eligible to win—no matter where you live worldwide—no matter how long you've been a subscriber. You can unsubscribe at anytime. We never sell or share member information.
The Jazz Age. The phrase conjures images of Louis Armstrong holding court at the Sunset Cafe in Chicago, Duke Ellington dazzling crowds at the Cotton Club in Harlem, and stars like Bessie Smith and Ma Rainey wailing the blues away. But the Jazz Age was every bit as much of a phenomenon in Paris, where the French public found their own heroes and heroines at the Folies-Bergère and Casino de Paris.
In Paris Blues, Andy Fry provides an alternative history of African American music and musicians in France, one that looks beyond familiar personalities and well-rehearsed stories. He pinpoints key issues of race and nation in France's complicated relationship with jazz from the 1920s through the 1950s. While he deals with many of the traditional icons—such as Josephine Baker, Django Reinhardt, and Sidney Bechet—he asks how they came to be so iconic, and what their stories hide as well as what they preserve. Fry focuses throughout on early jazz and swing but includes its re-creation—reinvention—in the 1950s. Along the way, he pays tribute to forgotten traditions such as black musical theater, white show bands, and French wartime swing. Paris Blues provides a nuanced account of the French reception of African Americans and their music and marks an important intervention in the growing literature on jazz, race, and nation in France. (Purchase)
"What a pleasure to encounter this astute rethinking of the first forty years of jazz in France. Fry's perceptive reading of the complex discourse network shaping the reception and practice of a broadly construed Parisian jazz is informed by an equally impressive command of a wide and deep historiography. The author's engagingly written portrait not only upends some of the familiar narrations of Parisian jazz and its place in a wider jazz history; it also urges us to be a little smarter about how we talk and write about the place of jazz in the world today." —Ronald Radano, University of Wisconsin-Madison
"Paris Blues is a rich, thoughtful and diligently argued account of the African American muse's great adventures in France during the twentieth century. Fry's illuminating case studies—including from Josephine Baker, Django Reinhardt, Sidney Bechet, and more—revisit many of our preciously held views about modernism, black music, and French culture and teases out the complexities and pleasures that have made this intercontinental dance such a delight to revisit again and again." —Guthrie P. Ramsey Jr., author of The Amazing Bud Powell: Black Genius, Jazz History, and the Challenge of Bebop Continue reading »