Tags
1855 Exposition Universelle Paris, Aux Champs-Elysees joe Dassin, Barbès-Rochechouart Paris, Baron Haussmann Paris, Bois de Boulogne Paris, boulevard de Clichy Paris, boulevard Saint-Germain Paris, Champs-Élysées Paris, Charles de Gaulle-Etoile, City of Light, Eiffel Tower Paris, France, Jardin de l'Observatoire, La Défense Paris, Luxembourg Gardens Paris, Minneapolis Minnesota, Monceau Paris, Montmartre Paris, Montparnasse Paris, Moulin Rouge cabaret Paris, Palais de Chaillot, Parc Monceau Paris, Paris, Paris Metro, Paris metro line 2, Paris Right Bank, Parisians, Père-Lachaise Paris, Philippe d'Orléans Duke of Chartres, Pigalle Paris, Place Dauphine Paris, Place de l'Etoile, Place de la Nation Paris, Place du Maréchal de Lattre de Tassigny Paris, Porte Dauphine Paris, Porte Maillot Paris, Sacré-Cœur Paris, Saint-Michel Paris, travel in Paris, Trocadéro Paris
Share it
By Rachel Rixen
(Part One) (Reprinted with permission from Rachel-in-Paris. © Rachel Rixen. All rights reserved.) As I leave, the sumptuous gilded, gate of Parc Monceau with my camera still firmly around my neck for the occasional photo, I write illegible notes because the cold is slowing the muscles in my fingers. A group of older gentlemen cluster around the rotunda, laughing. I think they see me take their picture. Monceau is like a private party that I've snuck into and I know that I'm being watched. I follow a man with a Dalmatian out and down into the métro, slipping out on my way to Pigalle and boulevard de Clichy.
Pigalle, 3:37 P.M. – Sex shops line the boulevard de Clichy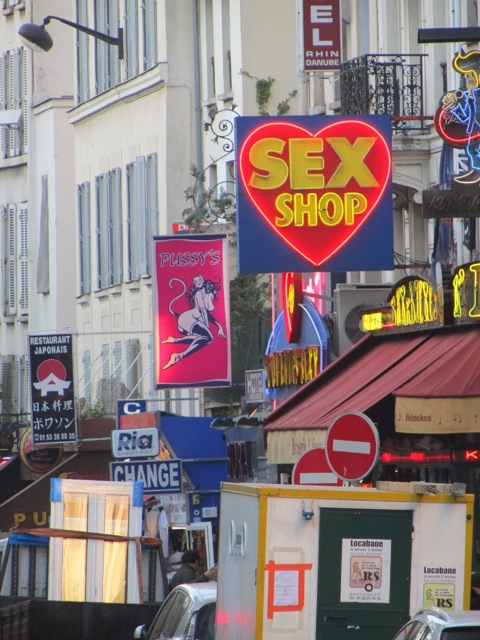 "Excusez-moi, madame," an African man in traditional attire passing out fliers prompts me at the top of the stairs. I shake my head, turning around him as I take in my first breaths of Pigalle: weed. I've been here many times before, but I look around me. I mean, really look. Five stops northeast from Monceau, the air is casual here, louder and less occupied with self-importance. Maybe it's the weed.
Gone are the grandmothers of Place Dauphine, the tourists of Étoile and the privileged scooter children of Monceau. On the boulevard de Clichy, each person who passes by is a character: a twenty-something man with a sandy-colored beard and a guitar case slung over his back, another man shoving the last bite of a Quick burger into his mouth, girls with ripped tights laughing their way out of the métro station. Workers converse mid-street and a group of RATP Sureté men cluster, flicking their cigarette ashes onto the street corner. People stare curiously as I take pictures. Continue reading »