Tags
Bombata in Otto et Mezzo in Hong Kong, Bruno Paillard Champagne, Charles-Erwan Savary Champagne Ambassador to France, Château Coutet, Château Haut-Bailly, Château Smith Haut-Lafitte, Christian LeSquer from Le Cinq, Coqueret Reims France, Cristal 2005, Dewey Markham Jr 1855 A History of the Bourdeaux Classification, Dom Perignon 2004, Dom Ruinart 2002, Dom Ruinart Rosé 2004, Duval-Leroy Champagne, First World War Joseph Krug II, France, French Champagnes, French luxury, French wines, Guy Savoy Las Vegas, Harvard University, House of Krug Champagne, Jeanne Krug House of Krug Champagne, Joseph Krug House of Krug Champagne, Krug 2000, Krug 2003, Krug Champagne collection, Krug Clos D'Ambonnay, Krug CLos d'Ambonnay 1996, Krug Clos d'Ambonnay 1998, Krug Clos du Mesnil 1998, Krug Clos du Mesnil 2000, Krug Collection 1989, Krug Grande Cuvée, Krug Grande Cuvée Champagne, Krug Rosé, Krug Vintage, Krug Vintage 1998, Krug Vintage 2000, Krug Vintage 2003, La Grande Dame 2004, Luxury Champagne, LVMH Krug Champagne, Maggie Henriquez CEO Champagne Krug, Margareth Henriquez CEO Champagne Krug, Moët & Chandon, Moët Hennessy, Murakami in Kinoshita in Brazil, Paris, Seagram's, Sommelier, Sparkling Wine France, Tim Rawe Berline, Uwe Opocensky Krug Room in Mandarin Hotel in Hong Kong, Wine Vision
Share it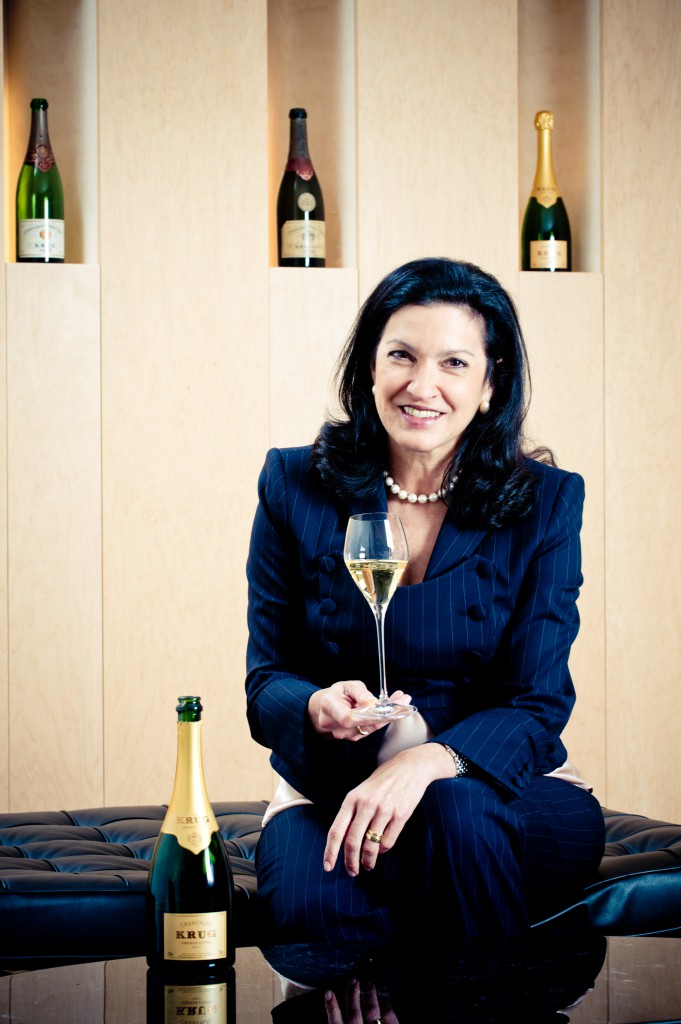 Margareth Henriquez, President and CEO of Champagne Krug, has spent more than two decades of her professional career as the President and/or CEO of multinational companies in Venezuela, Mexico, Argentina, and now in France. In 1991, she was appointed as president of what would become the Venezuelan arm of Seagram's, at the time a large importer and local producer of wines and spirits. Moët Hennessy came calling and Margareth took charge of all their brands in Argentina, which led to her being offered her current position at the House of Krug in October 2008. A Harvard graduate, Margareth was brought on board at Champagne Krug to share with the world the vision of ultimate luxury. She is responsible for defining and maintaining the sophistication of the House of Krug.
"Real luxury is always in front, is always the trend, so luxury can never be at the behest of what is increasingly demanding. It goes the opposite way—real luxury creates demand. Luxury will always be leading the way. It demands more than innovation and quality, yes. Luxury is the result of an emotional connection with the brand that comes from the way a brand behaves."—Margareth Henriquez, Wine Vision.
The House of Krug illustrates the amazing adventure of a visionary, Joseph Krug, a determined man with an uncompromising philosophy, who understood that the essence of Champagne is pleasure itself. He wanted to offer his clients the ultimate pleasure experience in Champagne every year, regardless of the annual changes in climate. Joseph Krug founded the first and only House with Champagnes that are all of equal, undisputed quality and distinction.
In 1848, with his son still too young to take over the Champagne House, Joseph Krug consigned the founding principles of the House for posterity in a deep cherry-red notebook. This notebook symbolizes the act of recollection, but above all it represents the generous legacy made by a visionary to his family and to Champagne itself. It is a unique token that is now presented to guests at Krug's historic home in rue Coquebert, Reims.
Krug is the only House to offer five Prestige Cuvêes that are all different, while also remaining equal and undisputed in quality and distinction. Each Cuvee conveys a particular interpretation of nature, offering an inimitable experience the moment it is tasted, overwhelming the senses with exceptional pleasure.
For more information about Champagne Krug, visit: (Website)
Champagne Krug 
5 Rue Coquebert
51100 Reims, France
Tél: +33 3 26 84 44 20
 Margareth Henriquez, CEO Champagne Krug Continue reading »