Tags
A Moveable Feast Ernest Hemingway, A Pound of Paper John Baxter, Belle Époque Paris, Bidding Thomas Atkins John Baxter, Boulevard St Germain Paris, Brassaï Paris la Nuit, Chronicles of Old Paris John Baxter, City of Light, Cole Porter, Crazy Horse Cabaret Paris, Ernest Hemingway, Federico Fellini, Five Nights in Paris John Baxter Harper Perennial, France, Fumée d'Opium Claude Farrère John Baxter translator, George Balanchine, George Lucas, Gertrude Stein, Grand Palais Paris, Henry Miller Paris, Hollins College in Virginia USA, Hotel George Cinq Paris, Immoveable Feast John Baxter, J.G. Ballard, jazz Paris, Josef von Sternberg, La Boheme, La Traviata, Lost Generation Paris, Luis Bunuel, Midnight in Paris Woody Allen, Morphine Jean-Louis Dubut de la Forest John Baxter translator, Moulin Rouge Paris, My Lady Opium Claude Farrère John Baxter translator, Naughty Paris Pigalle Paris, New York City Ballet Toni Bentley, Opera Bastille Paris, Paris, Paris at the End of the World John Baxter, Paris travel guide, Paris Writers Workshop, Philippe Soupault Last Nights of Paris, Place de l'Odéon Paris, Place de la Bastille Paris, Pont Alexandre III Paris, Quiet Days in Clichy Henry Miller, Robert De Niro, rue Mouffetard Paris, Salvador Dali, Scott Zelda Fitzgerald, Stanley Kubrick, Steven Spielberg, Surrealists, Sylvia Beach Shakespeare and Company Paris, The Golden Moments of Paris John Baxter, The Great Gatsby F Scott Fitzgerald, The hermes Fall Thomas Atkins John Baxter, The Making of the Americans, The Most Beautiful Walk in the World John Baxter, The Paris Men's Salon John Baxter, The Perfect Meal John Baxter, Thomas Atkins The Fire Came By, Ulysses, We'll Always Have Paris John Baxter, William Faulkner Sanctuary, Woody Allen
Share it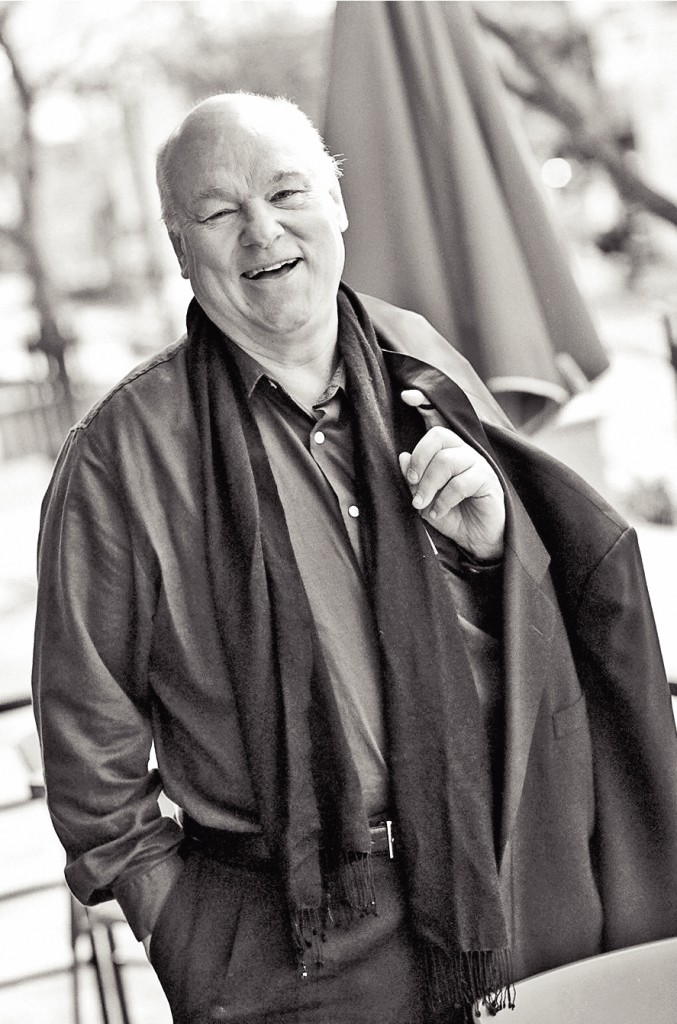 John Baxter is an acclaimed memoirist, film critic, and biographer. He is the author of the memoirs: The Most Beautiful Walk in the World, Immoveable Feast: A Paris Christmas, We'll Always Have Paris, The Perfect Meal: In Search of the Lost Tastes of France, The Golden Moments of Paris: A Guide to the Paris of the 1920s, and Paris at the End of the World: The City of Light During the Great War, 1914-1918. A native of Australia, he currently lives with his wife and daughter in Paris—in the same building Sylvia Beach once called home.
Since moving to France, John has published biographies of Federico Fellini, Luis Bunuel, Steven Spielberg, Woody Allen, Stanley Kubrick, George Lucas, Josef von Sternberg, Robert De Niro, and the author J.G. Ballard. He has also written five books of autobiographies, including A Pound of Paper: Confessions of a Book Addict. His most recent books are Chronicles of Old Paris and The Paris Men's Salon, a selection from his uncollected prose pieces. John's translations of Morphine, by Jean-Louis Dubut de la Forest and Fumée d'Opium, by Claude Farrère, have also been published by HarperCollins, the latter as My Lady Opium.
John has co-directed the annual Paris Writers Workshop and is a frequent lecturer and public speaker at universities and writers workshops. His hobbies are cooking and book collecting (he has a major collection of modern first editions). When not writing, he can be found prowling the bouquinistes along the Seine or cruising the Internet in search of new acquisitions.
In 1974, John was invited to become a visiting professor of film at Hollins College in Virginia, U.S.A. While in the United States, he collaborated with Thomas Atkins on The Fire Came By: The Great Siberian Explosion of 1908, a highly successful book of scientific speculation, and wrote a study of director King Vidor, as well as completing two novels, The Hermes Fall and Bidding. For more information about John Baxter, visit: (Facebook) (Website)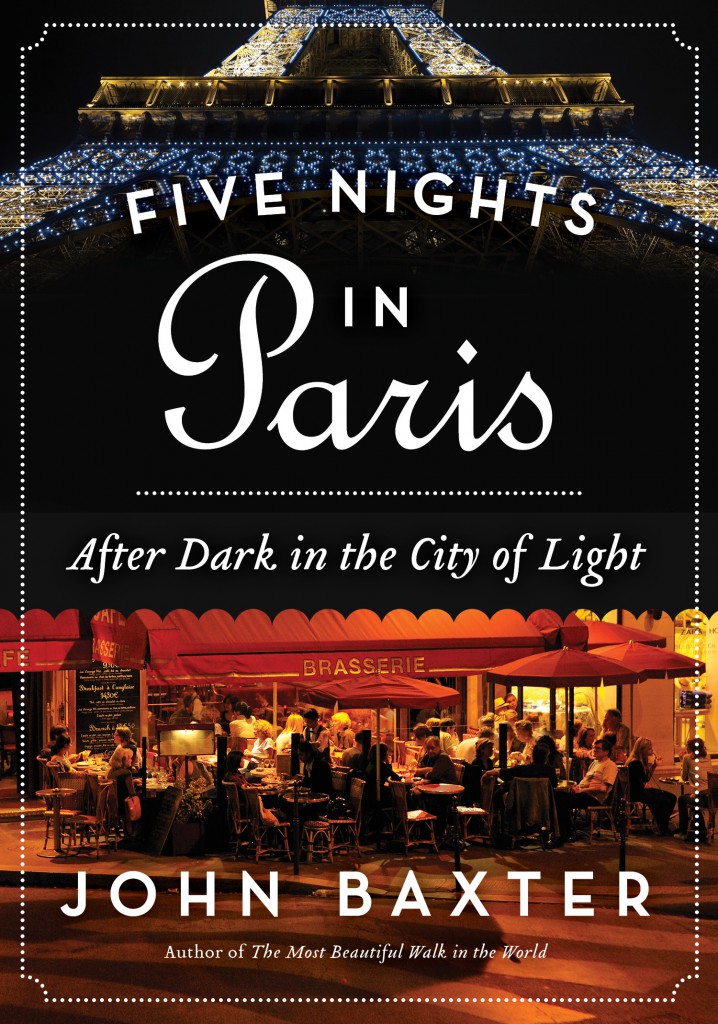 Any guidebook can tell you what to see and do in Paris during the day: Museums and monuments, cathedrals and croissants—the checklist of Parisian clichés is enough to keep any tourist busy until closing time. But what about when darkness falls on the City of Light? John Baxter wondered the same thing. Inspired by the literary tours he gave during the day, Baxter developed his dazzling sensory tour of Paris's greatest neighborhoods.
Five Nights in Paris is enriched by anecdotes from Baxter's own life in France and written with the alluring, authoritative voice only he can provide. From the late-night haunts of the city's most storied artists and writers, to the scenes of its most infamous crimes, this unique travel memoir whisks its readers off to places you won't find in your average guidebook.
For jetsetters and armchair travelers alike, Five Nights in Paris: After Dark in the City of Light is sure to become an instant classic and will make even the most dedicated home-bodies yearn for the land of cafés and literary greats. (April 14, 2015, Harper Perennial) (Purchase)
Praise for Five Nights in Paris
"The joy of his writing is to realize that, even after living there for two decades, Paris still provides him with new avenues to explore…No one can successfully write about Paris unless they truly love every nuance, oddity, and secret of her life; here, the author shines. Baxter's knowledge of those who have written about Paris—for years, he has collected such work—will lead readers to all sorts of corners that do not show up in any tourist guides."—Kirkus
"An entertaining mix of amusing autobiography and fluent expertise. … Baxter makes after-dark visits to the sites of once fashionable brothels and jazz clubs, follows the scent of perfume, and sumptuously indulges his passion for food, writing, at each turn, with wit and rapture." —Booklist
Photo: Rudy Gelenter
Excerpt: John Baxter's "Five Nights in Paris" – a dazzling sensory tour of Paris's greatest neighborhoods published on A Woman's Paris®.
Continue reading »