Tags
Alsace France 1940-1944, Ardennes France, Belgium World War II, Bordeaux France World War II, Calude Auzello, Carl-Heinrich von Stülpnagel, Cesar Ritz, Charles de Gaulle, Clara C Piper Associate Professor of English Colby College Tilar J Mazzeo, Coco Chanel, Ernest Hemingway, First World War, France, France in Second World War, Frank Meier, Georges Mandel, German Rhineland World War II, Hanz Franz Elminger, Harper's Bazaar, HarperCollins Publishers, Hermann Göring, Holland World War II, Lost Generation, Luxembourg World War II, Maginot Line, Maine, Manhattan, Marie-Louise Ritz, Nazi occupation World War II, New York Times, New York Times bestseller list, Operation Valkyrie, Paris, Paul Reynaud, The Hotel on Place Vendôme Life Death and Betrayal at the Hotel Ritz in Paris Tilar J Mazzeo, The Hotel Ritz in Paris, The Occupation of Paris 1940-1944 Ritz Hotel, The Secret of Chanel No 5 by Tilar J Mazzeo, The Widow Clicquot by Tilar J Mazzeo, Third Reich, Vancouver Island British Columbia, Vichy regime France World War Two, Winston Churchill, World War II
Share it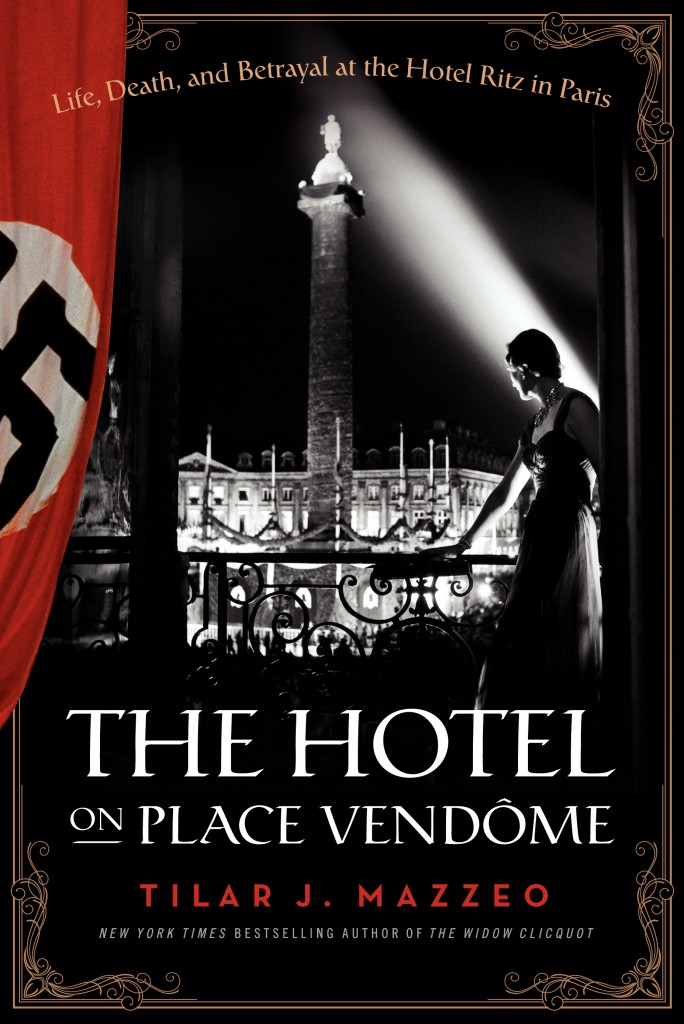 Excerpt from The Hotel on Place Vendôme: Life, Death, and Betrayal at the Hôtel Ritz in Paris by Tilar J. Mazzeo ©2014 Tilar J. Mazzeo. Reprinted courtesy of Harper, an imprint of HarperCollins Publishers.
Subscribers, The Hotel on Place Vendôme: Life, Death, and Betrayal at the Hôtel Ritz in Paris by cultural historian and biographer Tilar J. Mazzeo, author of the New York Times bestseller The Widow Clicquot, and The Secret of Chanel No. 5. Free book giveaway to two subscribers ends April 29, 2014.
Subscribe free. Once subscribed, you will be eligible to win—no matter where you live worldwide—no matter how long you've been a subscriber. You can unsubscribe at anytime. We never sell or share member information.
Since opening its doors in 1898, Paris' Hôtel Ritz has epitomized world-class luxury and incomparable glamour while serving as a favorite destination for royalty, statesmen, movie stars, and Lost Generation writers among others. But what is less known about this lavish establishment is the high-stakes drama that played out within its fabled walls during the German occupation of France in the Second World War.
When France fell in June of 1940, Berlin decreed that unlike other plush properties, which were simply commandeered by the Germans, the extremely symbolic Ritz would remain operational. So, the French capital's most iconic hotel was divided in half and began housing the Nazi elite alongside its usual rich, famous, and infamous clientele. This legendary landmark quickly became the city's epicenter of intrigue—both in its grand public spaces and in its secret areas—and a place where some lives were saved, others were betrayed, and many were forever changed.
Told in vivid detail and with gripping immediacy, The Hotel on Place Vendôme introduces a sprawling cast of characters that includes actors, intellectuals, artists, aristocrats, socialites, Vichy politicians, spies, double agents, and Germans officials as well as the hotel's staff and owners. Chronicling the lifespan of the occupation, Mazzeo produces a thrilling narrative that spotlights the activities of notable residents such as Hermann Göring, the obese, drug-addled air force general who spent countless hours amassing a priceless collection of looted art when not running Hitler's war machine, and Coco Chanel, who closed her fashion house and lived with her German lover for the duration of the war, and influential figures like Frank Meier, the one-quarter Jewish bartender who was involved in the resistance, and Carl-Heinrich von Stülpnagel, the military commander of occupied Paris and a key player in the failed Operation Valkyrie. Continue reading »