French Impressions: Thirza Vallois on the creative inspiration of cinema, literature, music and art
18 Wednesday Apr 2012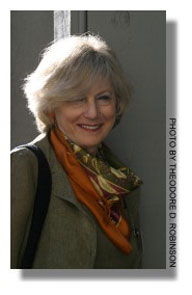 Thirza Vallois, author and Sorbonne post-graduate, holds the Agrégation degree (a doctoral-level title) from the University of Paris. After starting her professional life in Paris as a teacher, she was "grabbed" by the city and set out to write about it. This led to a full-time commitment and to a 3-volume series of books Around and About Paris, walking guides for the very savvy which double as in-depth cultural companions to the city. Two other books followed: Romantic Paris and Aveyron, A Bridge to French Arcadia, a journey to the last corner of hidden, rural, France.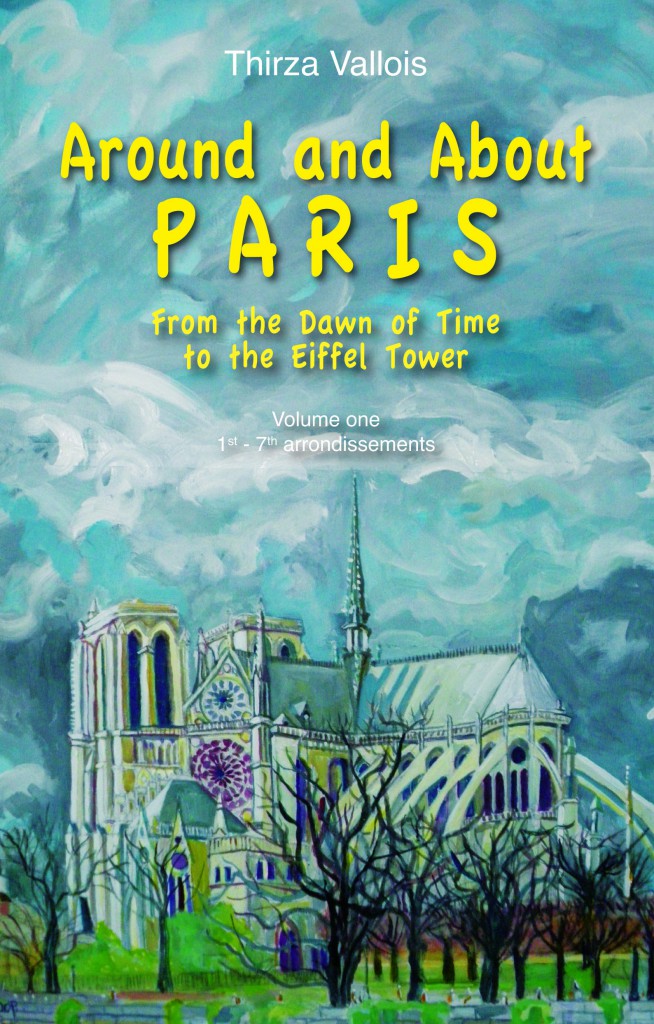 Thirza is also the author of the Paris entry of the Encarta Encyclopaedia and writes regularly for the international press. She is a contributor to television and radio both in the US and the UK and has appeared on PBS, the BBC, CNN, the Travel Channel and others.
Thirza Vallois is the author of the book series, Around and About Paris, Volumes One, Two, and Three; and Aveyron, A Bridge to French Acadia. All books are available on Amazon.com in hard copy and Kindle versions. (Website)
INTERVIEW
AWP: Name the book or movie, work of art or music, fashion or cuisine that have inspired you.
TV: What an impossible question! But since I have to trim down, I'll include Hitchcock's, Le maître; and Charlie Chaplin's masterpieces; Marcel Carné's Les Enfants du Paradis and Les Visiteurs du Soir; Jean Renoir's La Grande Illusion; Ingmar Bergman's The Seventh Seal and Wild Strawberries; Citizen Kane; Fellini's La Strada and The Nights of Cabiria; Vittorio de Sica's Miracle in Milano; Charles Laughton's The Night of the Hunter; An American in Paris; West Side Story; Max Reinhardt's A Midsummer Night's Dream; Mitzogushi's Ugetsu Monogatari; Satyajit Rey's Music Room; Kubrick's Space Odyssey and Barry Lyndon; Huston's The Dead; Sergio Leone's Once Upon a Time in the West; and Terrence Malick's The Thin Red Line. Of course, there are so many others I am forgetting. It's nonetheless interesting to see which ones come to mind first, off the top of one's head.
Music, once more, all the greats: Bach, Beethoven, Mozart, Schubert, Brahms' chamber music in particular, and 20th century music too. I love folk songs. I love French songs, (I mean chansons à texte). Brassens being top of the league, but all of them: Brel, Jean Ferrat, Reggiani, Montand, Aznavour, Léo Ferré Mouloudji, Bécaud, Gainsbourg, Juliette Gréco, Barbara, and Piaf. Not least jazz, and all our favourites from the 60s: the Beatles, Simon and Garfunkel, Leonard Cohen, Bob Dylan, and Joan Baez.
Literature—again, all the greats of English, Irish, American, French and Russian literature, since those are the ones I've read the most.
The same applies to art—Rembrandt and Goya come to mind. I think, in general, that the works that inspire me the most are those that are timeless and universal and touch on our deepest feelings. A few years ago, everyone was rushing and crashing into a hyped exhibition at the Grand Palais. I chose to step across the street into the Petit Palais where I was privileged to see an exhibition of Goya's engravings in pretty much empty halls. Each was a masterpiece, but engravings don't get any hype. Last summer, in a tiny village in Lot, France, I discovered a museum dedicated to the sculptor Zadkine, and had one of those magical moments when everything combines—light, beauty, silence and fragrance—to make it very special. The most moving bit of the experience was Zadkine's Pieta displayed in the village church. Few people have ever heard of it, although it deserves world renown. Similarly, in the church, which in in the one-time mining town of the Aveyron, Decazeville (celebrated in Émile Zola's Germinal) are 14 wall paintings by Gustave Moreau of the Stations of the Cross. Who visits that church (or Moreau's museum in Paris for that matter)? Yet Proust mentioned them in one of his works. So much is contained and condensed in such works. That being said, I also love the decorative arts. It's a different experience and the they are not mutually exclusive. Like life, art is multi-facetted and can be all-embracing.
I love 20th century ballet, with a special soft spot for Diaghilev's Ballets russes, about which I lecture very often.
And I do love fashion, although our age has "lost it." Ours is an age of bad taste and vulgarity. And disintegration. Everything is cheap-looking (including much of what is being built in Paris). My favourite era was the 1920s, although I would not dismiss Givenchy's designs for Audrey Hepburn either! I liked the fashion of the late 50s and early 60s too.
AWP: Do you have any role models?
TV: I never had a role model, I think, but there were lots of people I admired. Colette and Madame de Sévigné come to mind. As far as women writers go: Virginia Woolf, Emily Brontë, Jane Austen, George Eliot. Again, just off the top of my head, and as far as literature goes. Above all, my mother, who was my lifeline, and who, in her younger years, did much more for the community than I ever have.
AWP: What is the last book you read?
TV: Not read but reading, and re-reading, because it's a lifetime commitment—Proust. And have re-read of late Mrs. Dalloway, by Virginia Woolf.
AWP: What handed-down wisdom did you receive from your mother or father?
TV: To go on learning 'til my last breath, from my mother, and not to dwell on negatives. Just to let go of them.
My father was not the kind of person to hand down wisdom, although, very early on, the bedtime story he told me repeatedly was Beauty and the Beast, the wisdom of it being (from my father's perspective) that material goods are not the ones that make us happy, since, unlike her sisters who ask their father for expensive gifts, Beauty only wants a rose. I couldn't have been older than three or four, but when my father died, not quite ten years ago, in my spontaneous speech by his grave, this was the story I told those present. It must have followed me subconsciously throughout my life.
AWP: In your youth, what did you imagine your adult life would hold? What influenced this vision?
TV: I am not sure, but as a young teenager, I was certainly influenced by Hollywood cinema and imagined life would be a fairy tale, complete with a Prince Charming. I forgot to mention that as a child I also loved Walt Disney's movies—the early ones of course—Bambi, Snow White, and Peter Pan.
AWP: In your early teens, what formed your romantic fantasies of adventure and love?
TV: I think the book that influenced me the most as a teenager was Emily Brontë's Wuthering Heights. I read it over and over again. Years later, when studying it in university, I discovered the literary greatness of the work, a milestone also in the art of novel writing. Aged 6, it was The Wizard of Oz that "did it" to me. As far as reading goes, it is interesting that some of the books I read as a child, I got to appreciate more as an adult, when reading them to the next generation Le Petit Prince, Alice, and Winnie the Pooh come to mind.
PERSONAL STYLE
AWP: Was being stylish important to you growing up in your teens? Is it now?
TV: Oh, yes! Very much so. It depresses me immensely to see the way young people dress and look today. I love everything to look beautiful, whether it's a person, a home, or a garden.
AWP: How do you define style or fashion?
TV: Fashion is transient, by definition. Style on the other hand, is the touch of the individual, the way one carries oneself, the way a person puts together what he or she is wearing, the way one walks, one's posture, one's hair style. It's that indefinable "package." You know when you see a stylish person. The same can apply, for example, to the way pots of plants are placed on a patio. Some people just have the knack for these things. The French more than others, though by no means all. One tends to over-stereotype the French to a point that can be absurd.
CUISINE
AWP: Tell me about your cooking and eating habits and traditions.
TV: I stopped cooking when I started writing.
When I was younger I loved going to special restaurants and having a gourmet meal. It was a real treat. Nowadays, I opt for the simple and healthy, because life treats me more kindly if I do so. So it's a lot of fresh fruit and steamed dishes. I still enjoy going to a good restaurant, but not to the same extent. Nowadays I appreciate the more simple things of life.
I have always liked comfort food, couscous being my favourite dish of them all, the one I miss the most when I am not in France (I tried a few in London, but they were pretty awful, and yet, they were run by North Africans who had moved over from France). I also love Indian and Thai, and I like anything that tastes good.
AWP: What was your most memorable meal to date?
TV: Several 3-Michelin star meals, some in Paris, some in the country, our wedding lunch for sure (outside Paris), but also some unique meals abroad, one in Oslo's then best restaurant, and one in the US, in Oregon, above the coast, facing the sea and the sunset. We had the most succulent duck with cherries I can think of, on a par with the celebrated one served in a great restaurant in Normandy that no longer exists.
ART OF LIVING
AWP: What do you live for? What do you love above all?
TV: I am not sure what I live for, but I love most my close family. Then come friends and work (which I don't really consider as work). I enjoy the pleasures of life, although I am permanently aware of the tribulations and hardships of life, its inherent flaws—mortality, the inevitable loss of dear ones, the food chain… and the unnecessary pain man inflicts upon fellow beings.
You may also enjoy A Woman's Paris® post, "Around and About Paris" – Montparnasse: Beneath its Surface (part one), is an invitation to scratch beneath its surface of dazzling vistas and imposing monuments and to probe the souls and lives of the restless people who throughout the ages have never ceased to shape it and reshape it, from the book Around and About Paris, volume one, by Thirza Vallois (used by permission). A travel and history guide through Montparnasse; including links to maps.
"Around and About Paris" – Montparnasse: Romantically Picturesque (part two), is a journey into the depths of Paris the magnificent: city of romance and drama, of triumph and tragedy, of farce and grandeur, of crime and passion, from the book Around and About Paris, volume one, by Thirza Vallois (used by permission). A travel and history guide through Montparnasse; including links to maps.
Vive La Femme: In defense of cross-cultural appreciation. Writer Kristin Wood finds Francophiles around the world divided about Paul Rudnick's piece entitled "Vive La France" in the New Yorker magazine. As is often the case with satire, there is a layer of truth to the matter that is rather unsettling. Including comments from readers worldwide. (French)

Franglais: Modern French-English words, by Canadian writer Philippa Campsie who writes that many French speakers are appalled by franglais, but there are those, like us, who find it fascinating. Included is a useful vocabulary of French to English translations for franglais, where you'll find words like, "les baskets: sneakers or trainers—literally, the shoes worn to play basket ball," which is one of our favourites. 
How to find a (suitable) place in Paris, and other miscellaneous information, by Bénédicte Mahé, a French woman from Brittany who is in her mastère-spécialisé final trimester doing an internship in Paris, shares with students how to find a place in Paris. (French)

A Woman's Paris — Elegance, Culture and Joie de Vivre

We are captivated by women and men, like you, who use their discipline, wit and resourcefulness to make their own way and who excel at what the French call joie de vivre or "the art of living." We stand in awe of what you fill into your lives. Free spirits who inspire both admiration and confidence.
Fashion is not something that exists in dresses only. Fashion is in the sky, in the street, fashion has to do with ideas, the way we live, what is happening. — Coco Chanel (1883 – 1971)
Text copyright ©2012 Thirza Vallois. All rights reserved.
Illustrations copyright ©Barbara Redmond. All rights reserved.
barbara@awomansparis.com