A Day at the Races: A formal French affair
18 Thursday Jul 2013
A Woman's Paris™ in Style
Tags
bibi, chignon banane, France, French twist, Galeries Lafayette, Gras Savoye Grand Steeple-Chase of Paris, hat fascinator, Hippodrome d'Auteuil, horse race betting, horse races Paris, Le Prix de Diane, little black dress, Miss Diane Le Prix de Diane, My Fair Lady the movie, Paris, what to wear to the races
Share it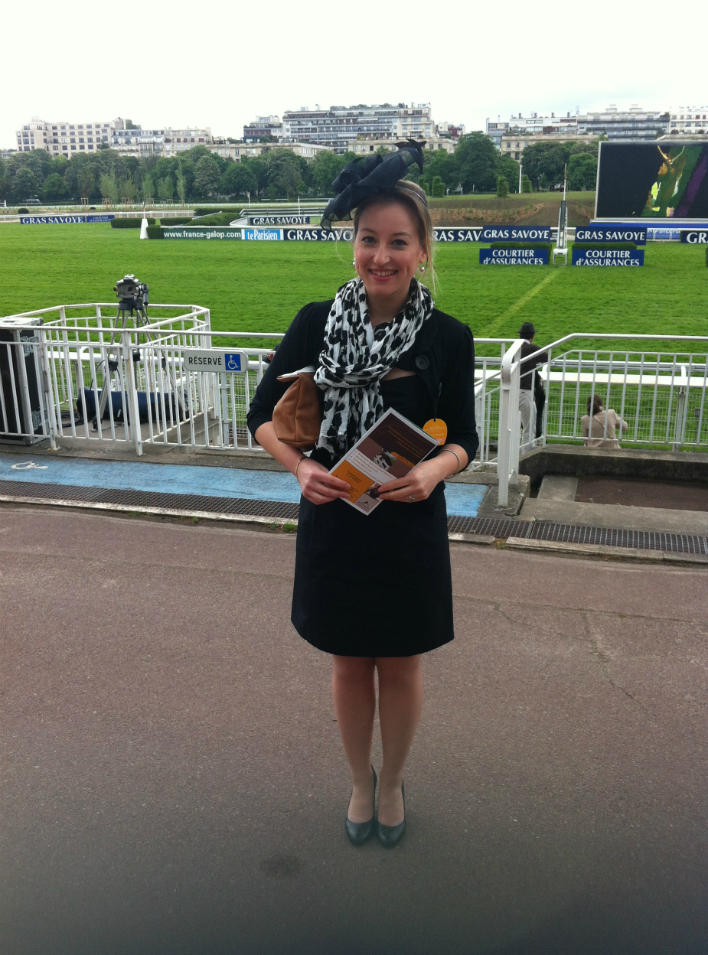 By Bénédicte Mahé
Around a month ago, I was lucky enough to be invited to the Gras Savoye Grand Steeple-Chase de Paris. I had never been to a horse race before so I was very excited to go, all the more because the invitation was VIP and it was written inside in italic that "the wearing of a hat is customary for women." A whole new world was opening itself before me and let me be honest: I was more thrilled by choosing my outfit than I was to actually watch the horses run.
The race I attended was the Grand Steeple-Chase, which is one of the biggest and most important horse races in France located at the Hippodrome d'Auteuil (West of Paris). It was created in 1873 and consists in a 5800-meter track with 23 obstacles for horses that are over 5 years-old. One of the biggest things in horse racing is obviously betting. I am not a huge fan of gambling, but since it may have been a "once in a lifetime" event, I decided I had to try it nonetheless. A friend told me how to bet on a horse by reading its past performances on other races. It is a combination of the results and if he ran, if he won, or if he was handicapped by something… You can start betting at 2€ but you can always bet more. I do not remember exactly the details of the whole betting system, but you can bet on one horse to be in the top three or two horses in the top three, etc. The Grand Steeple-Chase consists of not one, but eight races with the third being the biggest and most anticipated.
I knew it would be a very chic event and posh environment, so I put great care into what I would be wearing. I had to wear something on my head but I did not want a hat, which would have been too formal for me, and decided instead for a bibi (fascinator). Since it was the first time I was going to such an event and since I am not a part of this society I did not want to overdo it and I chose a black bibi on a headband. I went to the Galeries Lafayette where I was sure to find something, but I had no idea it would be that expensive! For the rest of my outfit I selected a little black dress with black pumps and a beige clutch. As for my hair, I put it up in a French twist (in French we say chignon banane!).
The part of the racetrack I was in was particularly select (invitation only), so all the women there had played by the rules and were sporting a hat. But what I did not expect was to see all these serious-looking people getting suddenly all excited and yelling like crazy at the horses near the end of each race. It felt like a reverse My Fair Lady moment with me watching them in astonishment. It was also funny to try spotting the accustomed spectators: they had binoculars to better watch the horses and some of them even had the badges of the previous years dangling at the strap. What an amazing day!
However, for a real horse race with hats, Le Prix de Diane is the event you need to attend. The horse race is preceded by a picnic and a Miss Diane is even elected for her style and her hat. If you like hats and fascinators, then this is definitely where your eyes would feast (Lady Gaga has nothing on them!). Le Prix de Diane is held at the Hippodrome de Chantilly, north of Paris.
More information on the Gras Savoye Grand Steeple-Chase of Paris and Le Prix de Diane visit:
http://www.grandsteeple.com/
http://www.prix-de-diane.com/
Bénédicte Mahé has studied abroad many times, speaks four languages and earned a Master of Management of cultural goods and activities, as well as a Master's degree in intercultural communications and cooperation. She works in communication and international projects management. Among her interests are drinking tea, cooking (with or without success), reading, traveling, and—of course—shopping. She started her blog Tribulations Bretonnes in 2010 and has been updating it (more or less regularly) since then.
You may also enjoy A Woman's Paris® post, Beauty Confessions from a Globe-trotting Parisienne. Parisienne Bénédicte Mahé shares a French woman's approach to beauty and makeup; and how the relationship Americans have with beauty is very different from that of the French. Including her list of Beauty Resources in Paris and a vocabulary of French to English translations. (French)
The challenge of business casual, by French woman Bénédicte Mahé who shares suggestions for business casual with those beginning their work careers in Paris. Included are fashion brands and stores that are favorites of Bénédicte and her friends. 
Scarves à la Françoise: The lingua Franca for stylish women, by Barbara Redmond who shares her experience trying on scarves and tying them at the home of her French friend in Lyon. Arriving at the famous silk manufacture in Lyon, André Claude Canova, Barbara and her friend gently tapped on the window even though the shop was closed. The shop girl let them and they all enjoyed hours of playfully draping, twisting and knotting scarves and shawls. An experience spurred by the ubiquitous nature of women and scarves: our common language.
Les grandes vacances: The grand getaway to summer's beaches, mountains and countryside, by French woman Bénédicte Mahé who explains the importance of vacation breaks to the French and why they are truly "les grandes vacances" (the big vacation). Including some of Bénédicte's film suggestions that capture the essesnce of the French vacances.
Roger Vivier shoes: of debutants and princesses, by Barbara Redmond who purchased in Paris a pair of flats, elegant and sleek, with a clean geometrical adornment as beautifully rendered as a Brancusi sculpture fashioned in greaming silver. Shoes, with that iconic Pilgrim buckle, she had seen before, but where and on whom? Could it have been Catherine Deneuve in the film "Belle de Jour," or not?
Text copyright ©2013 Bénédicte Mahé. All rights reserved.
Illustration copyright ©2013 Barbara Redmond. All rights reserved.
barbara@awomansparis.com