Scarves à la française: The lingua Franca for stylish women
27 Monday Feb 2012
A Woman's Paris™ in Style
Tags
André Claude Canova, Chanel, Dior, Fragonard, France, Hermès, Jerry Hall, Lanvin, Lyon, Princess Caroline of Monaco, scarves, shawls, silk, stoles, ties, Vera Wang, Versace
Share it
By Barbara Redmond
(French) The young French store clerk shifted with mild amusement, cocking her head slightly to one side. She listened to me, her eyebrow raised as she held the scarf I had chosen. The glass counter behind her was filled with an assortment of scarves, a mosaic of color and style in the finest of silks.
She held "Jaipur," the latest design with parades of elephants in elegant robes, elephants adorned from head to toe with floral motifs, marching up and down against a rusty background, a pageant encircling a lush garden of sheltering trees. Drivers wearing turbans of saffron or red sit astride the elephants, a grand procession of trunks andtusks—tasseled, plumed, and blanketed—scenes from a royal past."
I watched her from the center of this small shop where collections of silk scarves and ties, bracelets, stoles and shawls were displayed. I edged closer. She clenched my new scarf.
"Can you show me how to tie my scarf?" I had asked.
"Madame, it all depends," she replied, placing my scarf next to the others set aside on the glass countertop. "If you're going to the theater you may wear it one way," she said, changing her pose. "If you're having lunch with women you may wear it another way," she said, squared away and standing knowingly on both feet. "And, if you're with a guy, well, you wear it quite differently," she murmured in a low, hushed voice taking up a coquettish stance and shrugged, "Madame, it all depends!"
Not exactly what I expected to hear as she gestured without benefit of scarf in hand, around her neck or at her waist. I reached for a wool-silk shawl in shades of grey and pink and put it on. She quickly came to adjust it, shifting it on my shoulders and pulling up a little flounce toward the left of my chin. Lovely. Very chic, she added.
I was at André Claude Canova, one of the premium destinations for silk and leather goods in Lyon, France. Located in an old Carthusian residence, its entrance a handsome horseshoe-shaped Renaissance staircase, with silk walls, furbishing and pillows. There I stood among exquisite printed silks, leather goods, and the sensational Canova scarf-suspenders—favorites of supermodel Jerry Hall and Princess Caroline of Monaco. Lyon, where Dior, Lanvin, Chanel, Versace, and Vera Wang come focused on securing fine fabrics from the manufactures of Lyon, specialists in the secrets of silk-making.
When my friend Laurence and I arrived at AC Canova, the boutique was closed, but with a gentle rap on the window the shop woman invited us in. After an hour of trying on scarves and learning about the 15 to 20 different colors used by André Claude in his designs, Laurence and I left with our purchases and headed to her parents' home in Lyon to join them for dinner.
Marie-Jo, Laurence's mother, does not speak English, and my French is limited. But when Laurence insisted over an apéritif with her parents that I show Marie-Jo my new scarf the language barrier that kept us apart was no longer an obstacle, confirming the ubiquitous nature of women and scarves.
We watched as Marie-Jo put on my scarf, stopping now and again to coax it into a new look. When she draped it just so, teasing it slightly off-center in my favorite style, I was delighted, imagining I carried the same panache. She brought out several from her collection: soft lavenders and Mediterranean blues, crimsons and tawny-browns in every description from travel, history and nature. Each as light as air. I fell in love with the Fragonard silk commemorating the millennium for its whimsical floral motif in swirls of vivid pastels printed on a milky-white. We tried them on, one scarf after another, adopting a particular stance as the mood struck. Aloof. Flirty. Demure.
Not once did Marie-Jo show me how to tie a scarf. A drape of silk wrapped over itself at the neckline or hanging loosely from the shoulders seemed to fall naturally about her, fashioned to flatter her silhouette and capture the spirit of the moment. I couldn't take my eyes off her. She looked stunning, composed in her silks. We were no longer worlds apart.
My own mother and I talk endlessly about them. My daughters and I trade them circuitously. Girlfriends, whom I've known forever or have just met, refashion napkins over drinks or dinner to demonstrate a new approach. True confessions out those of us who, when it's 3:00 a.m. and we can't sleep, rush to our computers and browse the Hermès Paris website, returning late to our pillows to dream of exquisite silks and places to wear them.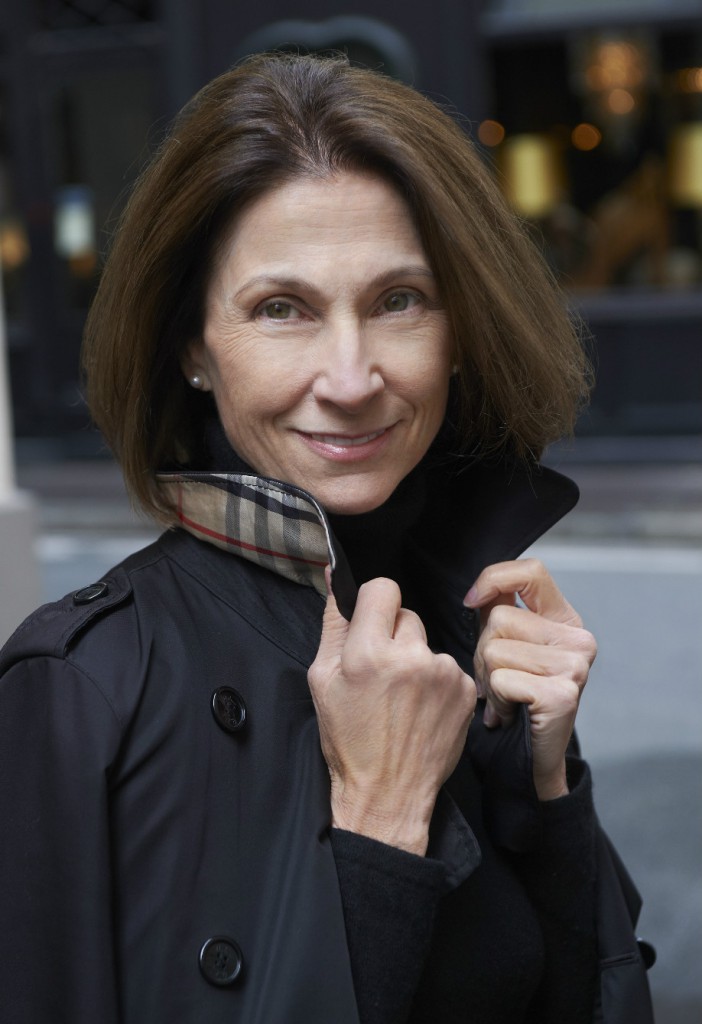 Barbara Redmond, publisher of A Woman's Paris®, is a long-time Francophile and travels to Paris every chance she gets. Her stories about Paris and France have been published in AWP® and republished, with permission, by other blogs and publications. Barbara has presented programs on French fashion and food, and has been a guest speaker for students planning their study abroad. She serves as an advisory board member at the University of Minnesota College of Design and is an active student mentor. Barbara has been recognized for excellence in art by international and national organizations and publications. Prints of her fine art paintings are in collections in Europe and North America and are available for purchase.
You may also enjoy A Woman's Paris® post, Ballet Flats in Paris: And God made Repetto, by Barbara Redmond who shares what she got from a pair of flats purchased in a ballet store in Paris; a feline, natural style from the toes up, a simple pair of shoes that transformed her whole look. Including the vimeos "Pas de Deux Coda," by Opening Ceremony and "Repetto," by Repetto, Paris. (French)

French Lingerie: Mysterious and flirty, by Barbara Redmond who shares her experience searching for the perfect lingerie in Paris boutiques and her "fitting" with the shop keeper, Madame, in a curtained room stripped to bare at Sabbia Rosa. Including a French to English vocabulary lesson for buying lingerie and a directory of Barbara's favorite lingerie shops in Paris. (French)
Beauty Confessions from a Globe-trotting Parisienne. Parisienne Bénédicte Mahé shares a French woman's approach to beauty and makeup; and how the relationship Americans have with beauty is very different from that of the French. Including her list of Beauty Resources in Paris and a vocabulary of French to English translations. (French)
l'Américaine, by Parisian Eva Izsak-Niimura who writes about the myth of the unsophisticated and pathetically naïve American where book after book and article after article there is the lament of the hopeless quest of the American woman to resemble her French counterpart. 
French women do get wrinkles, by Parisian Eva Izsak-Niimura who writes about the super French myth of the coquettish French nymph–her "je ne sais quoi"–in her ballerina shoes, hair effortlessly tied in a messy chignon blowing in the wind, large sunglasses over her naked, no make-up, nevertheless beautiful eyes, and she then continues to define how we are all measured by it.
Text copyright ©2012 Barbara Redmond. All rights reserved.
Illustration copyright ©2012 Barbara Redmond. All rights reserved.
barbara@awomansparis.com