C'est normal!: the French philosophy and their genuine politeness
01 Tuesday Oct 2013
By Dana Wielgus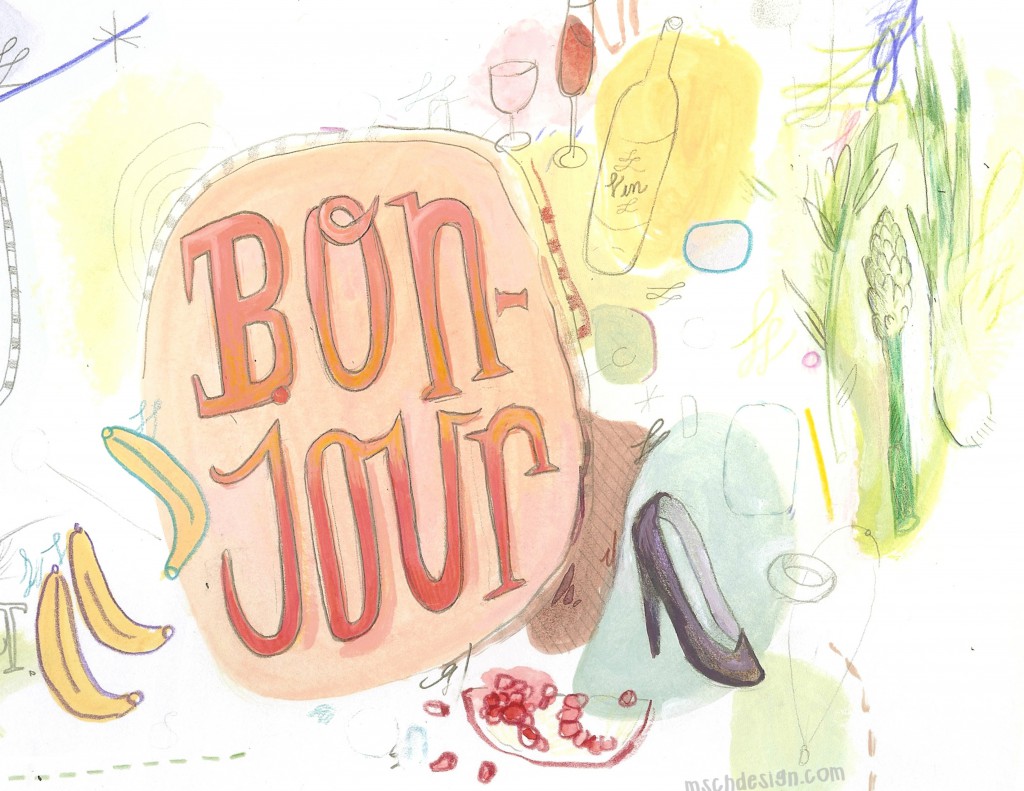 Americans are fed debatable stereotypes about people of different cultures, including the French. I have heard, "The French do not get fat; the French are chic; the French take too many vacations; the French eat baguettes and wear berets; the French are rude." That last one seems to stick with several of us from the U.S. Many people who travel to France, the most visited country in the world, carry with them the preconceived notion that "the French are rude." But are the French actually more impolite or more ill mannered than your average American? People who have spent a sufficient amount of time integrated among locals in France have been able to successfully debunk this stereotype.
In 2010, I spent four months living with a French family in Normandy. They were remarkable. They welcomed me into their home and into their family with open arms and we have kept in contact ever since.
Three weeks ago I arrived in France to be an assistante de langue anglaise in Toulon, which is located in the south of France. I arrived at Charles de Gaulle Airport in Paris with more than sixty pounds of luggage that I carried through the Paris metro and RER trains. A woman, who was a complete stranger, helped me pull all of my bags through the busy metro and guided me around the gates when my ticket was deactivated—I had too much stuff to get me through the bar in one spin. She didn't have to help me, but she did. C'est normal, she explained, it's normal to help people in need. At my metro stop, a man took my fifty-two pound suitcase and carried it up several flights of stairs. He had his own suitcase, but helped me without hesitation. A different man helped me lift my luggage into the metro car. I had thanked them both and they respectively replied It's normal to help someone struggling with her heavy suitcases.
When I emerged from the metro, I was lost in the rush of trying to find the apartment where I would stay for a few days in Paris. Pacing up and down the streets with my bags, I was stopped by a young man about my age who asked if he could help. He helped me talk on the phone with my host and lugged my large suitcase five blocks to the building where I would stay. Despite our language barrier, he had taken time from his afternoon to assist me. He could have easily taken advantage of me, but he didn't. He was willing to help and said it was normal to help someone who is lost to find the way.
The apartment were I stayed belongs to a friend of mine. I had not seen her for three years, and she was now living in another country. Nonetheless, she offered me the keys to her apartment in Paris where her boyfriend and another roommate were living. Although I had never met them, they welcomed me for my stay. They prepared delicious meals and invited me to join them for drinks. It also was not a problem for them to leave my large suitcase at their apartment for two weeks while I traveled through northern France. They even met me at the station with my suitcase upon my return. I expressed my appreciation to them many times for their hospitality and generosity…c'est normal.
In Normandy, my host family treated me like a princess. They housed me. They paid for my food. My host mother called everyone she knew, and others she didn't, with the hope of finding a nice apartment for me in Toulon. She pulled every possible string she could and provided me with a list of contacts for my personal network in France. My host brother helped me with my cell phone and my search for an apartment and, of course, that luggage! I didn't have to haul my luggage through the streets, up and down the platform stairs or onto the train. Thank you and kisses, and tu es adorable, tu es gentille, tu es agréable…c'est normal.
During my brief visit to Versailles located just outside of Paris, I stayed with the eldest daughter of my host family. We had met only once before, but she and her husband and their four young children welcomed me with a lovely dinner (on a school night!) and offered me a bed for the night. She organized my transportation back to Paris and onward to my next destination: Lille, France.
I am currently renting a great studio apartment in Toulon, thanks to my host mother who found it for me. The people in charge of the apartment invited me to lunch (twice!), in their gorgeous apartment. They helped me with the landlord and all communications between and among the appropriate people. I was a complete stranger. An American. But they wanted to help and get to know me.
Although before I was settled in my studio apartment, a French family in Toulouse whom I hadn't met worked their magic to connect me with their friends who live in Toulon. For my first days in Toulon, I stayed at an apartment that belonged to their son. My new friends drove me to look at the school where I was supposed to be an English language teaching assistant and also took me shopping. Their son's place was in the center of the city and a perfect location as I set up my studio apartment, which still needed the Internet, phone service, and lots of laundry to be cleaned. We all enjoyed our time together. I thanked them and am grateful to the friends that supported me.
All of the people who helped me were French, both men and women alike. Some were old, some were my age, and others were very young. They were of different races, orientations, ages, and ethnicities—but they were all French—and they all took the time to help me without hesitation and each carried the characteristic way of thinking…c'est normal.
I am not a special circumstance among visitors to France, although I arrived already speaking the language and make a continuous effort to do so by not automatically switching to English. Even without a language barrier, "s'il vous plait" and merci!" (if you please and thank you), go a long, long way. Some people knew me through a family member or another friend, others did not. Perhaps they helped me because I was a petite young woman carrying enormous luggage and seemed less of a threat, although that may seem sexist, or perhaps that wasn't the reason. Nonetheless, it was just the kind thing to do.
The French are not rude. Sure, they do not smile at random people who they don't know. They may not always appreciate mobs of disrespectful tourists. They are proud of their language and may not like when foreigners speak to them in English without asking. The French are much more private than American, but the French are not rude. They are genuine. They are kind. The French will go out of the way to help you if you show them that you are worth it.
Dana Wielgus received a Bachelor's of Science in Education degree from the University of Wisconsin Oshkosh and is certified to teach both French and English as a Second Language. She spent a semester studying abroad in Caen, France, where she lived with a French family, attended classes at the local university, and integrated herself into the French community. Dana taught English in southern Japan during one summer. She teaches English as a Second Language in suburban Milwaukee and someday hopes to teach abroad. When not teaching or traveling, Dana enjoys exercising, reading, socializing with friends and sorority sisters, and promoting social activism. (blog)
You may also enjoy A Woman's Paris® post, A behind-the-scenes look at French parenting, by au pair Alyssa Glawe who asks, "How do the French have such polite and courteous children without lifting a finger?" For Alyssa, every day leads to new cultural shocks and humorous situations. 
Oh, so French! Crossing to the other side. Paris-based writer Shari Leslie Segall shares her observations of becoming a little bit French and writes: "To a greater or lesser degree, whether you expected to or not, one day you realize that you're crossing to the other side." She offers a very incomplete list of how you know when you've arrived. (First published in FUSAC.FR July 5, 2013.) 
Vive La Femme: In defense of cross-cultural appreciation. Writer Kristin Wood finds Francophiles around the world divided by Paul Rudnick's piece entitled "Vive La France" in the New Yorker magazine. As is often the case with satire, there is a layer of truth to the matter that is rather unsettling. Including comments from readers worldwide. (French)
Why on earth would you want to teach French? Be practical, it's a tough job market out there, is a common saying writer Dana Wielgus heard from classmates, friends, and family. Frustrated, saddened by comments like these only made her more determined. Including a list of resources. 
Le Baisemain, a kiss of the hand, by Barbara Redmond who shares her story of the French-style kiss, considered by some out of fashion, and writes, "Gallantly, he bent down from the waist and reached for my right hand. He took my hand as though it were a fragile butterfly about to fly away. Poised, he raised it…" She wondered, was it the Chanel No.5 perfume? 
How to find a (suitable) place in Paris, and other miscellaneous information, by French woman from Brittany, Bénédicte Mahé, who is in her mastère-spécialisé final trimester doing an internship in Paris. Bénédicte shares with students how to find a place in Paris. (French)
Text copyright ©2013 Dana Wielgus. All rights reserved.
Illustrations copyright ©Michelle Schwartzbauer. All rights reserved.
Illustrations copyright ©Barbara Redmond. All rights reserved.
barbara@awomansparis.com