David Lebovitz's "My Paris Kitchen" – quirks, trials, beauty, and joys of life in Paris (excerpt & recipes)
08 Thursday May 2014
Tags
American chefs, American home cooks, Dorie Greenspan Around My French Table, Ed Anderson photographer My Paris Kitchen, France, French cheese, French chefs, French cooking, French cuisine, French desserts, French food, French home cooks, French pastries, intimate French dinners, Madeleine, market cuisine Paris, My Paris Kitchen David Lebovitz Ten Speed Press, New York Times bestseller, Paris, Parisian cooking, Parisian cuisine, Parisian food, Random House, Ready for Dessert David Lebovitz, Ripe for Dessert David Lebovitz, Room for Dessert David Lebovitz, Salted butter caramel-chocolate mousse David Lebovitz, Suzanne Goin The A O C Cookbook, The Great Book of Chocolate David Lebovitz, The Perfect Scoop David Lebovitz, The Sweet Life in Paris David Lebovitz
Share it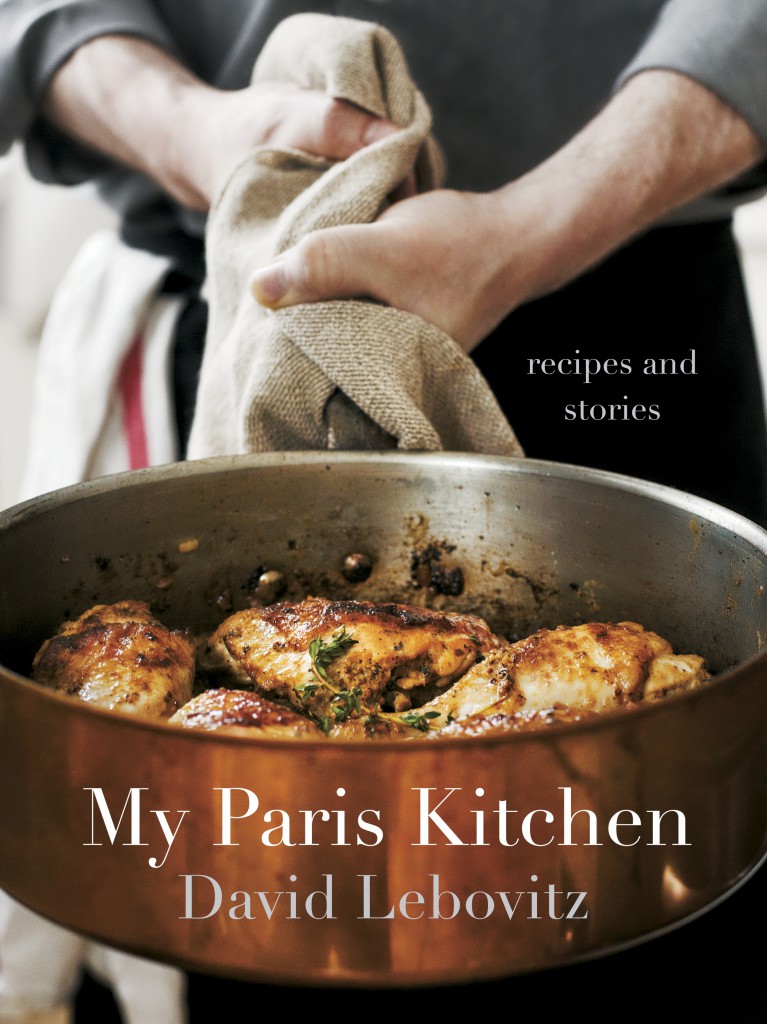 "Reprinted with permission from My Paris Kitchen by David Lebovitz, copyright © 2014. Published by Ten Speed Press, an imprint of Random House LLC." Including recipe for Salted butter caramel-chocolate mousse.
Ten years ago, David Lebovitz packed up his most treasured cookbooks, a well-worn cast-iron skillet, and his laptop and moved to Paris. In that time, culinary culture of France has shifted as a new generation of chefs and home cooks—most notably in Paris—incorporates ingredients and techniques from around the world into traditional French dishes.
In My Paris Kitchen, David remasters the classics, introduces lesser-known fare, and presents 100 sweet and savory recipes that reflect the way modern Parisians eat today. An intimate dinner party may start with little rounds of buttery Comté and ham wafers, black olive tapenade on herbed goat cheese toasts, and a platter of raw vegetables for dipping in beet hummus. When entertaining large groups, long-simmering dishes made in advance—lamb shank tagine, cassoulet, coq au vin—can be accompanied by butternut squash crumble, haricots verts with snail butter, and panisses soufflés. In Paris, no one ever says no to dessert, especially when offered a classic Madeleine, a slice of homey, simple honey-spice bread, or individual chocolate cakes with dulce de leche and fleur de sel. To purchase My Paris Kitchen visit: (Amazon.com) (BarnesandNoble.com) (Powells.com) (IndieBound.org)
Interview: What's cooking in Paris: David Lebovitz on the secrets of French cuisine, including recipe for Cherry Tomato Crostini with Homemade Herbed Goat Cheese, published on A Woman's Paris®.
 INTRODUCTION: ". . . le cuisine du marché (market cuisine) . . . " by David Lebovitz
During the last few years, a lot of silliness started happening as the new wave of Parisian chefs tried to find their footing, fueled by the popularity of cooking competition shows on television, as young chefs were trying to "top chef" each other. I breathed a sigh of relief when I found out that at a culinary festival I couldn't make it to, the main course was braised rabbit stew garnished with Fraises Tagada, lurid-pink buttons of artificially flavored strawberry marshmallows. But I wasn't so fortunate at another event designed to showcase the next generation of chefs, when I was served a whole, unpeeled orange on a skewer (to this day, I still don't know what I was supposed to do with it), as well as raw beets dipped in chocolate sauce (which I did know what to do with, courtesy of the nearest waste can). I never tried the mushrooms served in chocolate sauce at a noted restaurant, and no matter how much fawning the media did, I couldn't bring myself to drink a cup of chocolat chaud with fresh oysters floating inside, nor have tuna fish éclairs (sweet) tempted me. To me, talent isn't about using gimmicks or turning to culinary tricks to gain notoriety. It's not about carefully arranged dots of sauce or smears of foam spread across a slate plate; it's simply about knowing how good something will taste when you put the finished plate forward.
Thankfully, over the last few years things have started to change, and today there is a brigade of younger chefs in Paris quietly rebranding French cuisine and, paradoxically, updating it by taking it back to its humbler roots—to le cuisine du marché (market cuisine). You won't find thick, creamy sauces or intricately carved mushrooms (with or without chocolate) garnishing their plates. Meats aren't glazed with a thick coat of jellied aspic, but roasted on the bone and served with légumes oubliés (forgotten vegetables) like crosnes, small, corkscrew-shaped root vegetables, and poti-marron, a graceful pumpkin with a chestnut-like flavor and nutty richness.
After the self-assessment that many Americans did, Parisians have started paying more attention to organic foods, shopping in natural food stores where fruits and vegetables aren't shipped from thousands of kilometers away, but presented in wooden crates marked with the name of the local producer on the side (yes, sometimes the first name!); where you can find tomates à la ancienne in the summer—when they should be available—firm heads of smooth, violet-skinned garlic, and leafy bunches of greens in the winter months. La Ruche qui dit Oui! is a country-wide network, set up to bridge the gap between French farmers and customers, which allows Parisians to purchase fruits, vegetables, cheeses, and meats directly from local producers at public "hives" (les ruches), located right in their neighborhoods. And even less-affluent people on the outskirts of Paris, who traditionally had little choice but to shop at giant hypermarkets or overpriced convenience stores, can pick up an inexpensive bag of local produce as they step off the RER trains on their way home.
Another change that has affected Parisian dining is that cooks and customers have traveled outside of France and have seen how the rest of the world eats. And while French cuisine can be extraordinary, these travelers have learned the merits of other cuisines and have begun to take them seriously, rather than trying to "Frenchify" them, which is what is usually done. La cuisine méxicaine isn't pizza topped with strips of fresh papaya and canned corn. Le cheeseburger doesn't have to be a dried-out patty of beef with a slice of orange cheese, wedged in the opening of a cottony supermarket bun, but can (and should) be a slab of juicy Aubrac beef on a toasted bun made by a local bakery with a slice of real fromage melting on top. And tapas refers to tasty little bits of local ham, cured meat, or perhaps seafood consumed in Spanish bars; it doesn't mean anything that happens to be plopped on a small plate. 
Although there isn't a term for foodies in French (a moniker that is probably ready to be retired globally), the younger generation that eschewed the old bistros and brasseries (many of which have been taken over by corporate interests) has started seeking out better food and frequenting wine bars, where the food and style of eating are more in line with modern tastes and lifestyles: offering boards of French cheeses and charcuterie for snacking, and perhaps a few salads, along with a vast selection of French wines, often les vins naturels. The staff is invariably young, energetic, and friendly, making wine bars perfect for casual dining. So much so that many of the young chefs who have popular restaurants also have opened a bar à vin next door, serving great food in more relaxed surroundings.
Praise for My Paris Kitchen: Recipes and Stories
"Opening this beautiful book is like opening the door to David's Paris. Of course, you get great recipes, but you also get to wander the world's most delicious city with a friend who knows it well and is excited to share it with you. A treat for those of us who love French home cooking, Paris, and David's take on it all." —Dorie Greenspan, author of Around My French Table
"David Lebovitz is the ultimate American in Paris and this book is the ultimate insight into his beautiful and delicious world. I am beyond jealous!" —Suzanne Goin, author of The A.O.C. Cookbook
Salted butter caramel-chocolate mousse
Mousse au chocolat au caramel au beurre salé
My Paris Kitchen by David Lebovitz, copyright © 2014. Published by Ten Speed Press, an imprint of Random House LLC.
Recipe © David Lebovitz
Serves 6
There's not much I can say about this. One bite will leave you just as speechless.
Ingredients
1/2 cup (100g) granulated sugar
3 tablespoons salted butter, cubed
3/4 cup (180ml) heavy cream
6 ounces (170g) bittersweet or semisweet chocolate, chopped
4 large eggs, separated
Rounded 1/4 teaspoon flaky sea salt, preferably flour de sel
1  Spread the sugar evenly over the bottom of a wide saucepan. Heat the sugar over medium heat. As it begins to liquefy at the edges, use a heatproof spatula to very gently drag the liquefied sugar toward the center. Watch carefully, as once the edges start to darken, the sugar is in danger of burning. Continue to cook, stirring very gently, until all the sugar is melted and begins to caramelize.
2 When the caramel is a deep amber color and starts to smoke, wait a moment for it to smell just slightly burnt, then remove it from the heat and quickly whisk in the butter, stirring until melted. Gradually whisk in the cream  and stir until the little bits of caramel are completely melted. (A few can be stubborn, so be patient. You can strain the mixture if they simply refuse to budge.)
3 Once smooth, add the chocolate, stirring gently until it's melted and smooth. Scrape the mixture into a large bowl and let it cool to room temperature. Once it's no longer warm, whisk in the egg yolks.
4 In a separate bowl, whip the egg whites until stiff. Fold one-third of the whipped whites into the chocolate mixture, sprinkling in the flaky salt. Fold in the remaining beaten egg whites just until no streaks of white remain. Divide the mousse into serving glasses, or transfer it to a decorative serving bowl, and chill for at least 8 hours. While it might be tempting to serve this with whipped cream, I prefer to serve it pure, straight up with just a spoon.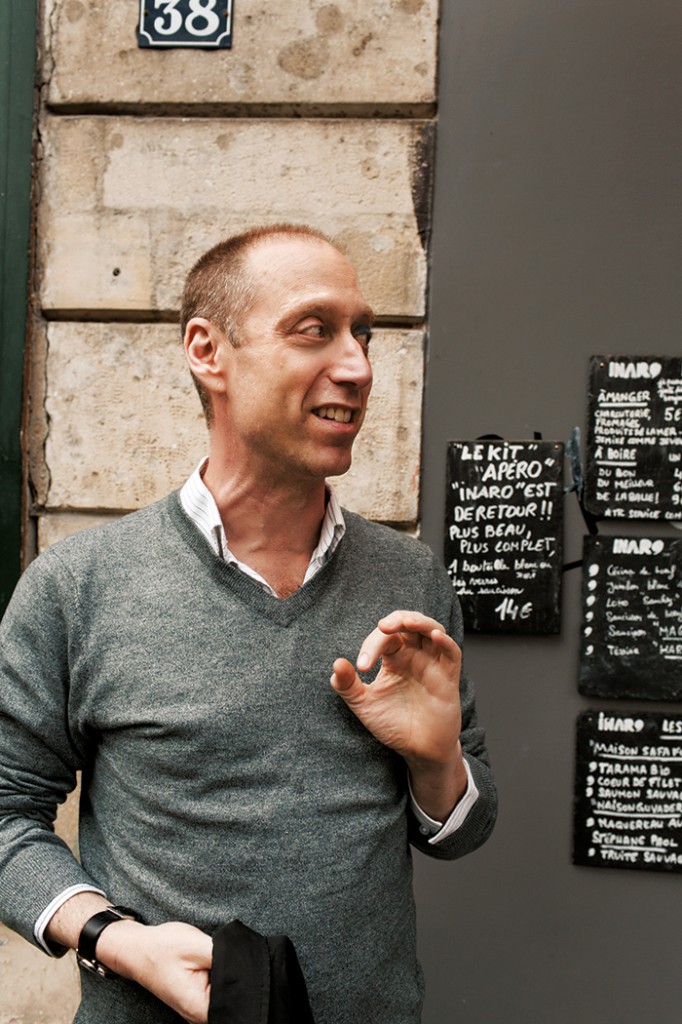 David Lebovitz has been a professional cook and baker for most of his life; he spent nearly thirteen years at Chez Panisse until he left the restaurant business to write books. He moved to Paris in 2004 and turned davidlebovitz.com into a phenomenally popular blog. He is author of six books, including The Perfect Scoop, Ready for Dessert, and a New York Times bestselling memoir called The Sweet Life in Paris. He has been featured in Bon Appétit, Cook's Illustrated, Travel + Leisure, Food & Wine, the New York Times, and more. Follow David's latest recommendations at: (Website) (Facebook) (Twitter) To purchase My Paris Kitchen visit: (Amazon.com) (BarnesandNoble.com) (Powells.com) (IndieBound.org) (A Woman's Paris interview with David Lebovitz)
Photography by Ed Anderson
Selected Books by David Lebovitz
My Paris Kitchen: Recipes and Stories (April 2014, Ten Speed Press)
Ready for Dessert: My Best Recipes (September 2012, Ten Speed Press; Updated edition)
The Sweet Life in Paris: Delicious Adventures in the World's Most Glorious – and Perplexing – City (March 2011, Broadway Books)
The Perfect Scoop: Ice Creams, Sorbets, Granitas, and Sweet Accompaniments (May 2010, Ten Speed Press)
The Great Book of Chocolate (April 2004, Ten Speed Press)
Ripe for Dessert: 100 Outstanding Desserts with Fruit-Inside, Outside, Alongside (June 2003, William Morrow Cookbooks)
Room for Dessert: 110 Recipes for Cakes, Custards, Soufflés, Tarts, Pies, Cobblers, Sorbets, Sherbets, Ice Creams, Cookies, Candies, and Cordials (November 1999, William Morrow Cookbooks)
Text copyright ©2014 David Lebovitz. All rights reserved.
Illustrations copyright ©Barbara Redmond. All rights reserved.
Photography copyright ©Ed Anderson. All rights reserved.
barbara@awomansparis.com