French Impressions: What's cooking in Paris: David Lebovitz on the secrets of French cuisine
13 Tuesday May 2014
Tags
Bon Appétit magazine, boulangerie Poilâne, Cherry tomato crostini with homemade herbed goat cheese, Chez Panisse, Cook's Illustrated magazine, cooking schools in Paris founded by women, David Lebovitz, Food & Wine magazine, French cuisine, French food, Hungry for France Alexander Lobrano, My Paris Kitchen David Levobitz, New York Times, Parisian cuisine, Parisian food, Ready for Dessert David Lebovitz, Ripe for Dessert David Lebovitz, Room for Dessert David Lebovitz, Salted butter caramel-chocolate mousse David Lebovitz, Student Cafés in Paris, Ten Speed Press Random House, The A O C Cookbook Suzanne Goin, The Great Book of Chocolate David Lebovitz, The Perfect Meal John Baxter, The Perfect Scoop David Lebovitz, The Sweet Life in Paris David Lebovitz, Travel & Leisure magazine
Share it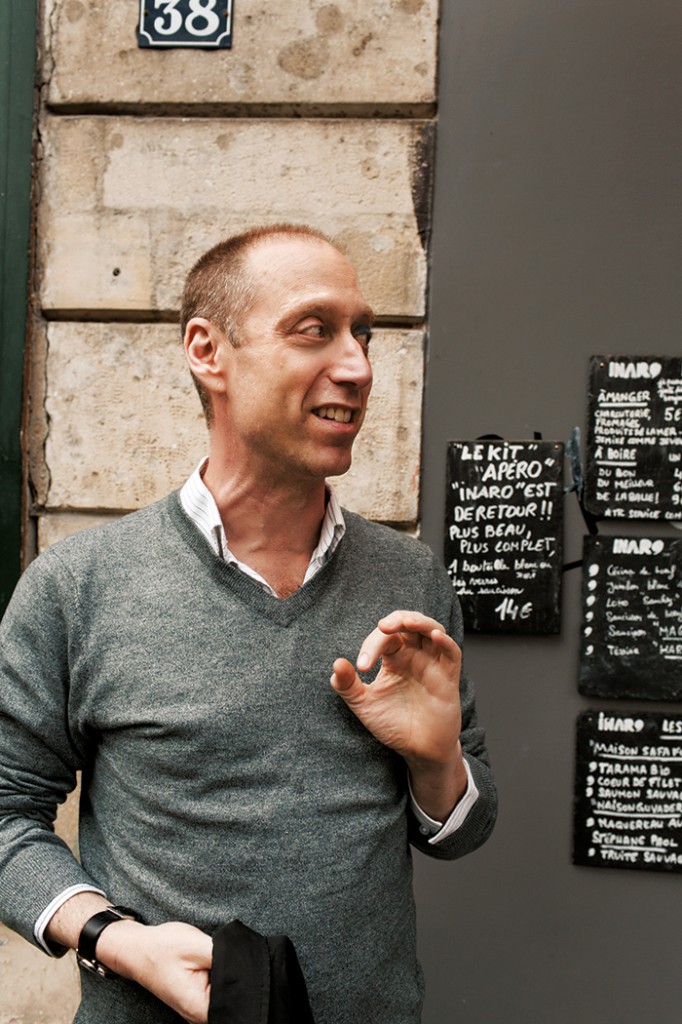 David Lebovitz has been a professional cook and baker for most of his life; he spent nearly thirteen years at Chez Panisse until he left the restaurant business to write books. He moved to Paris in 2004 and turned davidlebovitz.com into a phenomenally popular blog. He is author of six books, including The Perfect Scoop, Ready for Dessert, and a New York Times bestselling memoir called The Sweet Life in Paris. He has been featured in Bon Appétit, Cook's Illustrated, Travel + Leisure, Food & Wine, the New York Times, and more. Follow David's latest recommendations at: (Website) (Facebook) (Twitter)
Ten years ago, David Lebovitz packed up his most treasured cookbooks, a well-worn cast-iron skillet, and his laptop and moved to Paris. In that time, culinary culture of France has shifted as a new generation of chefs and home cooks—most notably in Paris—incorporates ingredients and techniques from around the world into traditional French dishes.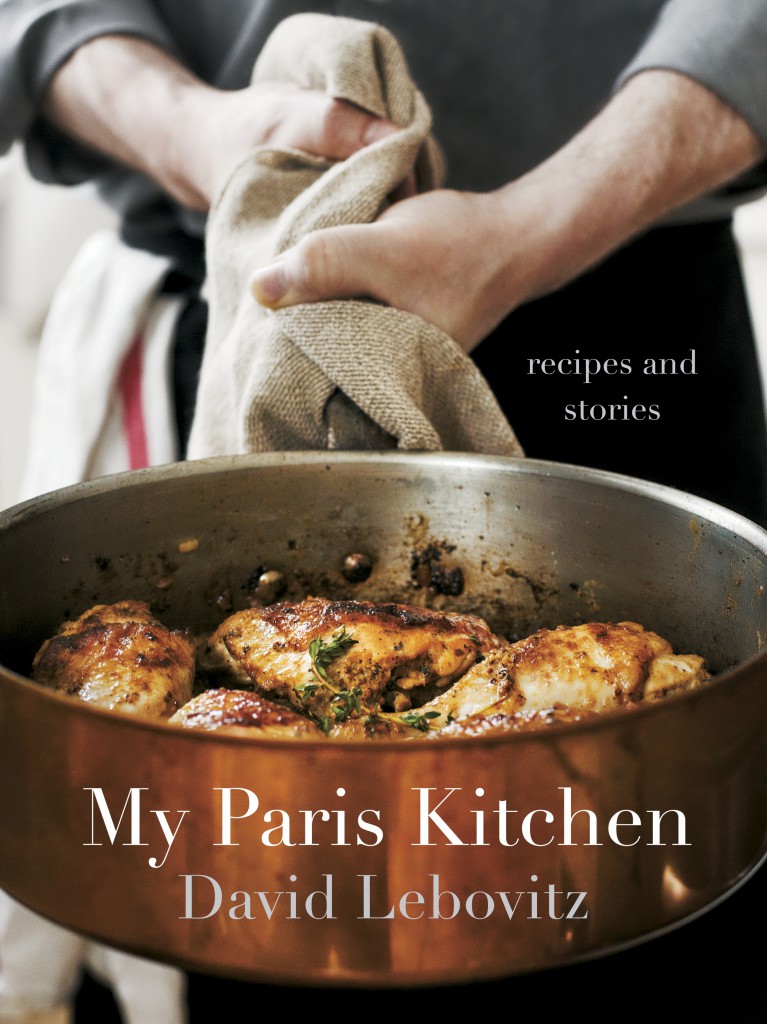 In My Paris Kitchen, David remasters the classics, introduces lesser-known fare, and presents 100 sweet and savory recipes that reflect the way modern Parisians eat today. An intimate dinner party may start with little rounds of buttery Comté and ham wafers, black olive tapenade on herbed goat cheese toasts, and a platter of raw vegetables for dipping in beet hummus. When entertaining large groups, long-simmering dishes made in advance—lamb shank tagine, cassoulet, coq au vin—can be accompanied by butternut squash crumble, haricots verts with snail butter, and panisses soufflés. In Paris, no one ever says no to dessert, especially when offered a classic Madeleine, a slice of homey, simple honey-spice bread, or individual chocolate cakes with dulce de leche and fleur de sel.
Excerpt  from My Paris Kitchen, "Reprinted with permission from My Paris Kitchen by David Lebovitz, copyright © 2014. Published by Ten Speed Press, an imprint of Random House LLC." Including recipe for Salted butter caramel-chocolate mousse. To purchase My Paris Kitchen visit: (Amazon.com) (BarnesandNoble.com) (Powells.com) (IndieBound.org)
Photo credits: Ed Anderson
"David Lebovitz is the ultimate American in Paris and this book is the ultimate insight into his beautiful and delicious world. I am beyond jealous!" —Suzanne Goin, author of The A.O.C. Cookbook
MY PARIS KITCHEN
AWP: Why did you feel that now in particular would be the right time to publish your book, My Paris Kitchen?
DL: It's something I've been working on, perhaps not consciously, for about a decade, having distilled much of what I've learned about Paris, and cooking in this city, into this book. Paris has changed a lot since I arrived and it was exciting to talk about the variety of foods and cultures that influence the food in Paris, as well as to add my own ideas and dishes (and recipes) to the mix.
AWP: Were you on a quest to remaster the last great French dishes and lesser-known fare before they disappeared forever?
DL: Since most of those great French dishes don't really need to be remastered, I didn't really do much to them. I did, however, aim to make them more accessible to people who don't live in France who can't easily get things like duck confit (so I made a "counterfeit" version, which doesn't require 10 quarts of duck fat), I took the mystery out of cassoulet, letting people know that it's a peasant dish, and therefore not necessary to buy $30 worth of dried beans to make it.
AWP: During your research for My Paris Kitchen, what cuisine wouldn't you try?
DL: I avoided Asian recipes because even though there are plenty of Asian places in Paris, few are very good. Plus they're not as integrated into the French culinary cannon as Middle Eastern and North African fare, such as tagines and eggplant dips, which the French have adopted.
AWP: Did you uncover any French chefs' culinary secrets?
DL: Yes. I've been making warm chocolate cakes for years and a chef told me his secret to dial up the chocolate flavor. I didn't believe him, but it worked.
AWP: When you started writing My Paris Kitchen, did you have a sense of what you wanted to do differently from other authors whose work you had seen?
DL: A lot of people write about France, Paris and French cuisine. And there's lot of overlap, naturally, so I wanted to add my reflections and stories – why I make a certain dish, what excites me about it, and how I serve it. I also had French friends come into my kitchen to show me their best dishes, which was a lot of fun to work on.
AWP: Which restaurant offers a perfect snap shot of modern Paris?
DL: I would say Frenchie. The founder, Gregory Marchand, is a young Frenchman who trained in New York and London (in the latter, under Jamie Oliver), so he has an open-minded approach to cooking. But uses French ingredients and ideas, and has revolutionized the idea of a small, modern restaurant in Paris. It's fun and inexpensive – and the food is always terrific.
AWP: Is there one restaurant or brasserie that channels everything you love about Paris?
DL: I have a soft spot for A la Biche au Bois, a classic that has refused to change. Big casseroles come out, piping-hot with coq au vin or venison stew. The waiters are slightly crusty, but funny and warm, and after dinner, a huge cheese platter comes out for you to take as much as you like. It takes a few days to digest it all. But I love going there for the nostalgia of it all.
AWP: Is the younger generation in Paris seeking a different kind of taste or lifestyle experience?
DL: A lot of younger people are eating lighter fare, so gravitate more toward salad places at lunch, and for dinner, wine bars are popular so folks can graze on charcuterie and cheese. Reservations usually aren't necessary, so people don't have to plan ahead, which often pleases a younger crowd. Life has become a lot more casual for the current generation of Parisians.
AWP: Are there 10 quintessentially French dishes that the Parisians love best?
DL: Duck confit, steak au poivre, leeks vinaigrette, croque monsieur, hachis Parmentier. And on the sweet side, café gourmand (espresso with a pairing of tiny pastries), warm chocolate cakes with melting centers (fondants), crème brûlée, crème caramel, and œufs à la neige.
AWP: How do you stock your Paris kitchen? Do you have staples?
DL: I always have Dijon mustard, green lentils (de Puy), fleur de sel and grey salt, good olive oil (which I buy in Sicily), lots of butter (salted and unsalted), organic flour, free-range eggs, and plenty of wine.
BOOKS RECOMMENDED by David Lebovitz
Around My French Table by Dorie Greenspan
Paris Was Ours, edited by Penelope Rowlands
Hungry for Paris by Alexander Lobrano
The Food Lover's Guide to Paris by Patricia Wells
Acknowledgement: Iona Davidson, student of French and Italian at the University of Oxford, England, and English editor for A Woman's Paris. 
Cherry tomato crostini with homemade herbed goat cheese
Tartines de Tomates Cerises, Chèvre Frais Maison aux Herbes
My Paris Kitchen by David Lebovitz, copyright © 2014. Published by Ten Speed Press, an imprint of Random House LLC.
Recipe © David Lebovitz
Serves 4
I like to roast the tomatoes ahead of time—up to 8 hours in advance—so they have time to marinate in their own savory juices, which caramelize slightly, making a nice bit of sauce to drizzle over the top.
Herbed Fresh Goat Cheese
2 cups (480g) whole goats' (or cows') milk yogurt
1 generous tablespoon very finely minced mixed fresh herbs (be sure to include chives, as well as an assortment that could include thyme, sage, basil, or flat-leaf parsley)
1 tablespoon minced shallots
1 teaspoon minced garlic
3/4 teaspoon sea salt or kosher salt
Generous pinch of cayenne pepper
Roasted Cherry Tomatoes
1 1/2 pounds (680g) cherry tomatoes, stemmed and halved
3 tablespoons olive oil
2 cloves garlic, peeled and thinly sliced
Handful of fresh herbs (any combination of rosemary or thyme sprigs, bay leaf, and basil or sage leaves)
Sea salt or kosher salt and freshly ground black pepper
Toasts
4 thick slices bread, such as ciabatta, a country bread, or a sourdough that's not too dense
Olive oil
1 clove garlic, peeled
A few leaves of fresh basil, sage, or flat-leaf parsley, for garnish
1. To make the herbed goat cheese, line a mesh strainer with a few layers of cheesecloth or muslin and set it over a bowl. Scrape the yogurt into the lined strainer, fold the cloth over the yogurt, and refrigerate the yogurt for 24 hours.
2. Put the strained yogurt into a bowl and mix in the herbs, shallots, garlic, salt, and cayenne pepper. Refrigerate until ready to use.
3. To roast the tomatoes, preheat the oven to 350ºF (180ºC). Combine the cherry tomatoes, olive oil, garlic, and herbs in a baking dish or pan that will hold them all in a snug single layer. Season with salt and pepper, mix well, and spread them out on the baking dish.
4. Roast the tomatoes for about 45 minutes, stirring once or perhaps twice during baking, until they're wilted and their juices are starting to concentrate—and perhaps brown a bit—in the bottom of the baking dish. Scrape the tomatoes and any juices into a bowl and let cool to room temperature. They can sit up to 8 hours, and they improve the longer they sit.
5. When ready to serve, make the toasts. Preheat the oven to 350ºF (180ºC). Evenly brush the bread slices with olive oil. Place them on a baking sheet and toast for about 5 minutes, until light golden brown. Remove from the oven and when just cool enough to handle, rub the slices generously with the garlic clove. Let cool to room temperature.
6. To serve, thickly smear each piece of toast with the fresh herbed cheese. Pluck out the herbs and spoon the tomatoes and their juices over the toasts. Coarsely chop the herbs for the garnish, and scatter them over the top of each portion.
Selected Books by David Lebovitz
My Paris Kitchen: Recipes and Stories (April 2014, Ten Speed Press)
Ready for Dessert: My Best Recipes (September 2012, Ten Speed Press; Updated edition)
The Sweet Life in Paris: Delicious Adventures in the World's Most Glorious – and Perplexing – City (March 2011, Broadway Books)
The Perfect Scoop: Ice Creams, Sorbets, Granitas, and Sweet Accompaniments (May 2010, Ten Speed Press)
The Great Book of Chocolate (April 2004, Ten Speed Press)
Ripe for Dessert: 100 Outstanding Desserts with Fruit-Inside, Outside, Alongside (June 2003, William Morrow Cookbooks)
Room for Dessert: 110 Recipes for Cakes, Custards, Soufflés, Tarts, Pies, Cobblers, Sorbets, Sherbets, Ice Creams, Cookies, Candies, and Cordials (November 1999, William Morrow Cookbooks)
You may also enjoy A Woman's Paris® post Patricia Wells' "The Food Lover's Guide to Paris" on Restaurants, Bistros, and Brasseries (excerpt). Patricia Wells, author of the award-winning Bistro Cooking, and for more than two decades the restaurant critic for The International Herald Tribune, takes readers, travelers and diners to the best restaurants, bistros, cafés, patisseries, charcuteries, and boulangeries that the City of Light has to offer. Including Willi's Wine Bar's Bittersweet Chocolate Terrine—the irresistible chocolate dessert that is one of Patricia's Paris favorites. (A Woman's Paris interview with Patricia Wells)
Alexander Lobrano's "Hungry for France" – My appetite for France (excerpt). Hungry for France: Adventures for the Cook & Food Lover by acclaimed food writer and Paris-based author Alexander Lobrano. Every food lover's ultimate dream is to tour the countryside of France, stopping off at luxurious inns with world-class restaurants and sampling fresh produce and regional specialties from local markets. Hungry for France offers just that with Lobrano sharing his thirty-plus years of exploring every corner of this gastronomically rich country with readers. Including a recipe for Layered Ratatouille Gratin. (A Woman's Paris interview with Alexander Lobrano)
French Impressions: John Baxter's "The Perfect Meal" and Finding the Foregone Flavors of France. In this delightful culinary travel memoir, John Baxter follows up his bestselling The Most Beautiful Walk in the World by taking readers on the hunt for some of the most delicious and bizarre endangered foods of France. (French)
Hotspots and Hot Chocolate: Student Cafés in Paris by Parisian Flore der Agopian. The Left Bank has always been "the place to be" for intellectuals, artists and students. By strolling through the famous Latin Quarter, which attracts many students from the whole of France, you can feel the lively, bustling atmosphere created by the presence of the famous universities, such as La Sorbonne. Follow Flore as she visits the seven most famous student cafés in Paris.
A literary feast – Cafés and culture in Paris' 9th arrondissement by Parisian Flore der Agopian. Paris has always been an inspiration for writers and painters, both from France and all over the world. Flore explores how cafés in nineteenth century Paris inspired literary figures Emile Zola, Alexandre Dumas, George Sand, Guy de Maupassant, Marcel Proust and French painters Edgar Degas, Eugène Delacroix, Camille Pissaro, and Edouard Manet. Including a list of current cafés in Paris' 9th arrondissement. 
Boulangerie Poilâne: A toast to French Breads, by Barbara Redmond who shares her face-to-face encounter with a French baker during her visit to the 18th century ovens of Poilâne in Paris. Could she steal a pinch from the raw, soft-white boule in its proofing basket resting close by? The penetrating aromas of bread; strong, yeasty, and hot… Recipes included for Tartine Chocolat et Poivre (tartine of melted chocolate and black pepper) and La tartine For'bon (tartine of cheeses and ham) from Boulangerie Poilâne.
French Cuisine: Cooking schools in Paris founded by women, by Barbara Redmond who writes about extraordinary women who cook: from Anne Willan, Marthe Distel, and Elisabeth Brassart, to "Les trios gourmands," Julia Child, Simone Beck, and Louisette Bertholle. Including a directory of cooking schools in Paris.
A Woman's Paris — Elegance, Culture and Joie de Vivre
We are captivated by women and men, like you, who use their discipline, wit and resourcefulness to make their own way and who excel at what the French call joie de vivre or "the art of living." We stand in awe of what you fill into your lives. Free spirits who inspire both admiration and confidence.
Fashion is not something that exists in dresses only. Fashion is in the sky, in the street, fashion has to do with ideas, the way we live, what is happening. — Coco Chanel (1883 – 1971)
Text copyright ©2014 David Lebovitz. All rights reserved.
Photography copyright ©Ed Anderson. All rights reserved.
Illustrations copyright ©Barbara Redmond. All rights reserved.
barbara@awomansparis.com