Patricia Wells' "The Food Lover's Guide to Paris" on Restaurants, Bistros, and Brasseries (excerpt & recipes)
20 Tuesday May 2014
Tags
Adam Gopnik The Table Comes First, At Home with Patricia Wells cooking school Paris Provence France, Bistro Cooking Patricia Wells, Bistros and neo-bistros Patricia Wells, Chevalier de l'Ordre des Arts et des Lettres Patricia Wells, City of Light, Credit cards in Paris restaurants Patricia Wells, Dining in Paris, Eating in Paris, Food Lovers Paris, French cuisine, French English food glossary Patricia Wells, French food, Hungry for France Alexander Lobrano, Hungry for Paris Alexander Lobrano, Ina Garten Barefoot Contessa cookbooks, L'Atelier of Joel Robuchon Patricia Wells, L'Express publication Patricia Wells, My Paris Kitchen David Lebovitz, New York Times Patricia Wells, Paris restaurant reservations Patricia Wells, Paris restaurants bistros cafes patisseries charcuteries and boulangeries, Parisian cuisine, Parisian food, Patricia Wells at Home in Provence James Beard Award, Patricia Wells' Trattoria, Restaurant bills and tipping in Paris, Salad as a Meal Patricia Wells, Simply French Patricia Wells James Beard Award, Simply Truffles Patricia Wells, The Food Lover's Guide to France Patricia Wells, The Food Lover's Guide to Paris Patricia Wells, The French Kitchen Cookbook Patricia Wells, The International Herald Tribune Patricia Wells, The Paris Cookbook Patricia Wells, The Provence Cookbook Patricia Wells James Beard Award, Vegetable Harvest Patricia Wells, Vegetarian restaurants in Paris, We've Always Had Paris and Provence Patricia Wells Walter Wells, WIlli's Wine Bar's Bittersweet Chocolate Terrine Patricia Wells Mark Williamson, Workman Publishing Company
Share it
"Reprinted with permission from The Food Lover's Guide to Paris by Patricia Wells, copyright ©2014. Published by Workman Publishing Company." Including recipe for Willi's Wine Bar's Bittersweet Chocolate Terrine.
The Food Lover's Guide to Paris is the enchanting and delicious revision of the classic bestseller with all new photos, 450 entries, 345 of which are entirely new. In this beloved culinary guide, Patricia Wells takes readers, travelers and diners to the best restaurants, bistros, cafés, patisseries, charcuteries, and boulangeries that the City of Light has to offer. Each entry includes detailed practical information, from the closest metro stop, to the best way to make a reservation, and the not-to-miss specialties of each spot—each spot is personally selected and recommended by the foremost restaurant critic and acclaimed authority of French Cuisine.
The Food Lover's Guide to Paris arms you with a handy collection of quick-reference indexes by category, such as: Open on Sundays, Vegetarian Friendly, Late Dining, Special Occasions, Good for Children, Garden or Terrace seating, Worthy Wine List, and more. In addition, the French/English food glossary will give you the tools to order perfectly every time. To purchase The Food Lover's Guide to Paris (March 2014, Workman Publishing, visit: FoodLoversParis.com
Photography: Workman Publishing/The Food Lover's Guide to Paris
Interview: Capital Fare: Patricia Wells on great French food in Paris, including recipe for Astrance's Smoky Grilled Bread Soup, published on A Woman's Paris®.
Restaurants, Bistros, and Brasseries: "Where am I, anyway?" by Patricia Wells
An American traveler once related this story: She was stopped on a street in Paris by another American visitor, who asked, in a state of sheer frustration, "What I don't understand is with all these restaurants, how do you tell which ones are French? You know, the ones that serve soufflés." Slightly less complicated, but equally frustrating for visitors, are the distinctions among bistro, brasserie, and restaurant. Although the lines between bistro and restaurant are often blurred, here are a few definitions that should clear up the matter:
BISTROS AND NEO-BISTROS
A traditional bistro is a rather small restaurant, traditionally a mom-and-pop establishment, with Mom at the cash register and Pop at the stove. Bistro menus are usually handwritten or mimeographed, and offerings are limited to a small selection of traditional home-style dishes. Wine is generally offered by the carafe, while wines available by the bottle are listed on the single-page menu. Bistro decor is usually simple, not fancy (though Paris's Belle Époque bistros have some of the city's most beautiful interiors), often with a long zinc bar, tiled floors, and sturdy, serviceable tableware. At some of the most modest establishments, diners may share long tables.
Today the definition of bistro has been widely expanded, due to an increasing appetite for restaurants that are casual and less expensive, offering contemporary decor and modernized traditional fare. So within this new crop of bistros, also called neo-bistros, one will find small, often out-of-the-way establishments, with ingredients carefully sourced and fare that's highly creative. Little attention is paid to the decor, and it may be bare-bones, but prices are generally reasonable.
BRASSERIES
Brasserie is French for "brewery," and almost all of Paris's large and lively brasseries have an Alsatian connection. That means lots of beer, Alsatian white wines such as Riesling and Gewurztraminer, and usually choucroute, that hearty blend of sauerkraut and assorted sausages. Brasseries tend to be brightly lit and full of the sounds of good times, fine places for going with a large group. Generally, snacks or full meals are available whenever the restaurant is open. Brasseries tend to keep late hours, and while a reservation is recommended, one can often get a table without one. Sadly, the quality of many Parisian brasseries has declined in recent years, and while the ambience remains uniquely Parisian, the quality of food at many establishments is dubious at best. I have of course listed the ones that I feel have been able to stay true to both their traditional charm and their menus.
RESTAURANTS
Beyond bistros and brasseries, Paris offers numerous sorts of full-fledged restaurants, establishments that usually have a more elaborate menu and wine list, and often more refined service and decor. Some serve elegant and classic cuisine; some specialize in creative, inventive modern cooking. Classifications for all the restaurants, bistros, and brasseries in the guide appear in the Ready Reference on page 427.
RESERVATIONS
Almost without exception, reservations are necessary and always helpful at all restaurants, bistros, and brasseries. For the grand restaurants, such as Taillevent, Pierre Gagnaire, Alain Ducasse au Plaza Athénée, and Astrance, reserve weeks to months in advance. For others, reservations should be made several days ahead for dinners at extremely popular restaurants, bistros, and brasseries, though for a weekday lunch, reserving the same day is often sufficient. Even so, to avoid disappointment call at least a week in advance for reservations. Some casual bistros have become so popular (particularly those open only for dinner) that it may be necessary to book weeks in advance. If you are unable to keep a reservation, call to cancel. Many restaurants now require that advance reservations be confirmed by telephone the day you plan to dine there. Another good reason for reserving: Restaurants freely, and without warning, change opening and closing times and vacation plans, particularly during summer months and holiday periods. So it is always safest to call to make sure the restaurant will be open when you plan to visit.
DINING HOURS
Set aside plenty of time for a Paris restaurant meal. In general, expect to spend anywhere from one and a half to three hours at the table for a substantial lunch or dinner. If you want to be in and out within 30 minutes to an hour, visit a café, tea salon, wine bar, or brasserie, but don't attempt to rush through a meal at a serious restaurant. Currently, most Parisians begin lunch at 12:30 or 1pm (although one can begin at noon), and most start dinner at 8:30 or 9pm (although some restaurants will accept reservations as early as 7pm). Despite the later hours, most kitchens close early, so a 2pm lunch or 10pm dinner reservation would be stretching it. On the other hand, the majority of cafés and brasseries serve at almost any hour. A few restaurants, bistros, and brasseries continue taking orders after 10pm, and a list of those can be found in the Ready Reference beginning on page 427.
PRICES
The price range of restaurants listed here goes from low to high. I have made no attempt to include restaurants serving mediocre fare simply because they are inexpensive. Today, one finds more bargains than ever, especially with the new generation of young chefs offering good-value menus. But there are always ways to cut costs, even in the most expensive restaurants. Forgo the before-dinner drink, the after-dinner cognac, and share dishes, if you like. You are not obliged to order either cheese or dessert, and if they do not suit your budget or appetite, forget them. You can often cut costs by ordering from a fixed-price menu (though it is not always cheaper than ordering à la carte), or by opting for a glass of wine or an inexpensive house wine. Most restaurants offer wine by the glass, which is generally cheaper than a bottle or half bottle.
A few restaurants, such as Chez Georges and Le Cinq Mars, allow you to order a bottle and pay for only what you drink, a practice called à la ficelle. In all cases, the prices noted with each restaurant listing represent an average meal for one person, including a first course, main course, and cheese or dessert, as well as the service charge, but not beverages. Generally, a good inexpensive meal for one person can be had for under 30€, a good moderately priced meal for 50€, while a luxury meal, in a higher class of restaurant with more expensive wines, will range from 200 to 300€. Diners looking to save money should always choose lunch over dinner for their big meal of the day. Even most of the top-rated restaurants offer well-priced lunch menus. Note that many good-value lunch menus are available on weekdays only, so plan to order à la carte on weekends.
ADVICE ON PAYING THE BILL AND TIPPING
No subject is more confusing to visitors than French restaurant bills. You need to remember only one fact: You are never required to pay more than the final "net" total on the bill. Service, which ranges from 12 to 15 percent, depending on the class of the restaurant, is already included in the price of the individual dishes, and is therefore already calculated in the price of the final bill. Etiquette does not require you to pay more than the total. If you have particularly enjoyed the meal, if you feel the maître d'hôtel or sommelier has offered exceptional service, if you are in a particularly generous mood, then you might wish to leave anywhere from a few euros to 5 percent of the total bill as an additional tip, preferably in cash.
CREDIT CARDS
Almost without exception, Paris restaurants accept credit cards. If you are sharing your bill with another person or couple and you both wish to pay by credit card, most restaurants will oblige by dividing the bill between two or more credit cards. Out of kindness to the waiters and sommelier, any tips (beyond the obligatory 12 to 15 percent service charge) should be left in cash.
PRAISE FOR THE FOOD LOVER'S GUIDE TO PARIS
"No one knows the Paris food scene better than Patricia Wells! This is the ultimate guide… I'd never go to Paris without it." —Ina Garten, Barefoot Contessa cookbooks
"Patricia Wells on Paris has always been a reference point for lovers of real French food. Her new edition reflects the real and at times radical alterations in Paris eating over the past decades, but remains a fixed point among the revolving tables." —Adam Gopnik, author of The Table Comes First
It's back, and better than ever! In this all-new edition, Patricia Wells shares her favorite addresses in Paris for luscious French chocolates, crusty breads, and cozy bistros—seasoned with tips to ensure a tasty trip." —David Lebovitz, author of My Paris Kitchen
Terrine au Chocolat de Willi's Wine Bar
Willi's Wine Bar's Bittersweet Chocolate Terrine
The Food Lover's Guide to Paris by Patricia Wells, copyright ©2014. Published by Workman Publishing Company.
Recipe ©Patricia Wells/Mark Williamson
Photo image ©Workman Publishing/The Food Lover's Guide to Paris
Serves 16
This irresistible chocolate dessert is one of my Paris favorites. Mark Williamson, owner of the popular Willi's Wine Bar, generously shared this recipe, noting alongside, "Chef François has managed to achieve a good balance between solid, dense, unforgivably rich chocolate and an almost foie gras–like texture. On a good day." He also added, "Depending upon one's level of extreme gourmandise, this will make 15 to 18 portions." While the original recipe calls for unsalted butter, I like to make it with salted butter, for it gives the terrine a bright, surprising edge. I also like a touch of vanilla in my chocolate desserts and so added a tiny dose. Note that the eggs in this recipe are not cooked.
Equipment
A double boiler; a heavyduty mixer fitted with a whisk; a 1-quart (1-l) rectangular bread pan, lined with foil
Ingredients
10 ounces (300 g) bittersweet chocolate, such as Valrhona Guanaja 70%
12 tablespoons (1½ sticks; 180 g) salted butter, at room temperature
½ teaspoon pure vanilla extract
4 large egg yolks, preferably organic and free-range
6 large egg whites, preferably organic and free-range
1. Break the chocolate into medium-size pieces. Cube the butter.
2. In the top of the double boiler set over, but not touching, simmering water, melt the chocolate, stirring from time to time. The process should take about 3 minutes. Remove the top of the double boiler from the heat and whisk in the butter, cube by cube, until it melts. Whisk in the vanilla extract. The mixture should be smooth, glossy, and shiny, not dull and oily. Let cool for 5 minutes. Whisk in the egg yolks, one by one. Transfer the mixture to a large bowl.
3. In the bowl of the mixer, whisk the egg whites at highest speed until stiff but not dry, about 1 minute.
4. Add about one third of the beaten egg whites to the chocolate mixture, thoroughly whisking until no streaks of white remain. This will lighten the chocolate mixture and make it easier to blend with the remaining egg whites. Add the remaining whites to the chocolate mixture, and with a spatula, gently fold them in until no streaks of white remain.
5. Pour the mixture into the prepared pan. Cover securely with aluminum foil and refrigerate for a minimum of 6 hours and up to 3 days. To serve, carefully remove the terrine from the pan and cut into slices.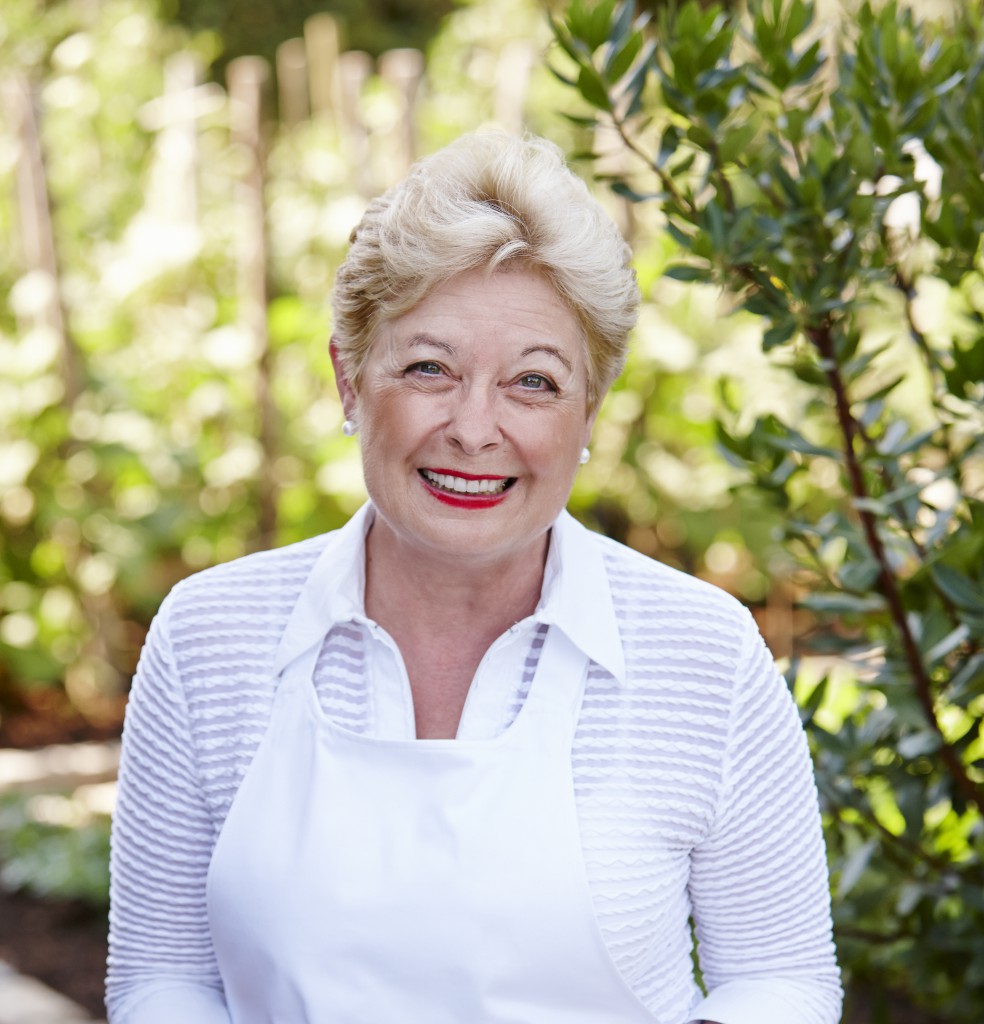 Patricia Wells, for more than two decades the restaurant critic for The International Herald Tribune, is the author of the award-winning Bistro Cooking, as well as more than a dozen other books. She also runs a successful cooking school—At Home with Patricia Wells—in Paris and Provence, where she and her husband have lived for more than 30 years.
She won the James Beard Award for The Provence Cookbook, Patricia Wells at Home in Provence, and Simply French. Also nominated for Beard Awards were Vegetable Harvest and The Paris Cookbook. With her husband, Walter, she is also the author of We've Always Had Paris . . . and Provence. The French government has honored her as a Chevalier de l'Ordre des Arts et des Lettres, recognizing her contribution to French culture. A former New York Times reporter, she is the only foreigner and only woman to serve as restaurant critic for a major French publication, L'Express. For more information about Patricia Wells, visit: (Website) (Blog) To purchase The Food Lover's Guide to Paris, visit: FoodLoversParis.com (A Woman's Paris interview with Patricia Wells)
Photo portrait by Jeff Kauck
Selected books by Patricia Wells
The Food Lover's Guide to Paris: The Best Restaurants, Bistros, Cafés, Markets, Bakeries, and More (Workman Publishing Company; 5 edition (March 2014)
The French Kitchen Cookbook: Recipes and Lessons from Paris and Provence (October 2013, William Morrow Cookbooks)
Simply Truffles: Recipes and Stories That Capture the Essence of the Black Diamond (November 2011, William Morrow Cookbooks)
Salad as a Meal: Healthy Main-Dish Salads for Every Season (April 2011, William Morrow Cookbooks)
We've Always Had Paris…and Provence: A scrapbook of our life in France by Patricia Wells, Walter Wells (May 6 2008, Harper)
Vegetable Harvest: Vegetables at the Center of the Plate (April 2007, William Morrow Cookbooks)
The Provence Cookbook (April 2004, William Morrow Cookbooks)
The Paris Cookbook (October 2001, William Morrow Cookbooks)
Patricia Wells' Trattoria: Simple and Robust Fare Inspired by the Small Family Restaurants of Italy (October 2001, William Morrow Cookbooks)
Patricia Wells At Home in Provence: Recipes Inspired By Her Farmhouse In France (October 1999, Scribner)
L'Atelier of Joël Robuchon: The Artistry of a Master Chef and His Protégés (November 1997, Houghton Mifflin Harcourt)
Simply French: Patricia Wells Presents the Cuisine of Joel Robuchon (November 1991, William Morrow & Co)
Bistro Cooking (January 1989, Workman Publishing Company)
The Food Lover's Guide to France (January 1987, Workman Publishing Company)
Text copyright ©2014 Patricia Wells. All rights reserved.
Illustrations copyright ©Barbara Redmond. All rights reserved.
Photography copyright ©Workman Publishing/The Food Lover's Guide to Paris. All rights reserved.
Portrait photography copyright ©Jeff Kauck. All rights reserved.
barbara@awomansparis.com