French Impressions: Capital Fare: Patricia Wells on great French food in Paris
22 Thursday May 2014
Tags
Adam Gopnik The Table Comes First, At Home with Patricia Wells cooking school Paris Provence France, Bistro Cooking Patricia Wells, Chevalier de l'Ordre des Arts et des Lettres Patricia Wells, City of Light, Credit cards in Paris restaurants Patricia Wells, Dining in Paris, Eating in Paris, Food Lovers Paris, French cuisine, French English food glossary Patricia Wells, French food, Hungry for France Alexander Lobrano, Hungry for Paris Alexander Lobrano, Ina Garten Barefoot Contessa cookbooks, L'Atelier of Joel Robuchon Patricia Wells, L'Express publication Patricia Wells, My Paris Kitchen David Lebovitz, New York Times Patricia Wells, Paris restaurant reservations Patricia Wells, Paris restaurants bistros cafes patisseries charcuteries and boulangeries, Parisian cuisine, Parisian food, Patricia Wells at Home in Provence James Beard Award, Patricia Wells' Trattoria, Restaurant bills and tipping in Paris, Salad as a Meal Patricia Wells, Simply French Patricia Wells James Beard Award, Simply Truffles Patricia Wells, The Food Lover's Guide to France Patricia Wells, The Food Lover's Guide to Paris Patricia Wells, The French Kitchen Cookbook Patricia Wells, The International Herald Tribune Patricia Wells, The Paris Cookbook Patricia Wells, The Provence Cookbook Patricia Wells James Beard Award, Vegetable Harvest Patricia Wells, Vegetarian restaurants in Paris, We've Always Had Paris and Provence Patricia Wells Walter Wells, WIlli's Wine Bar's Bittersweet Chocolate Terrine Patricia Wells Mark Williamson, Workman Publishing Company
Share it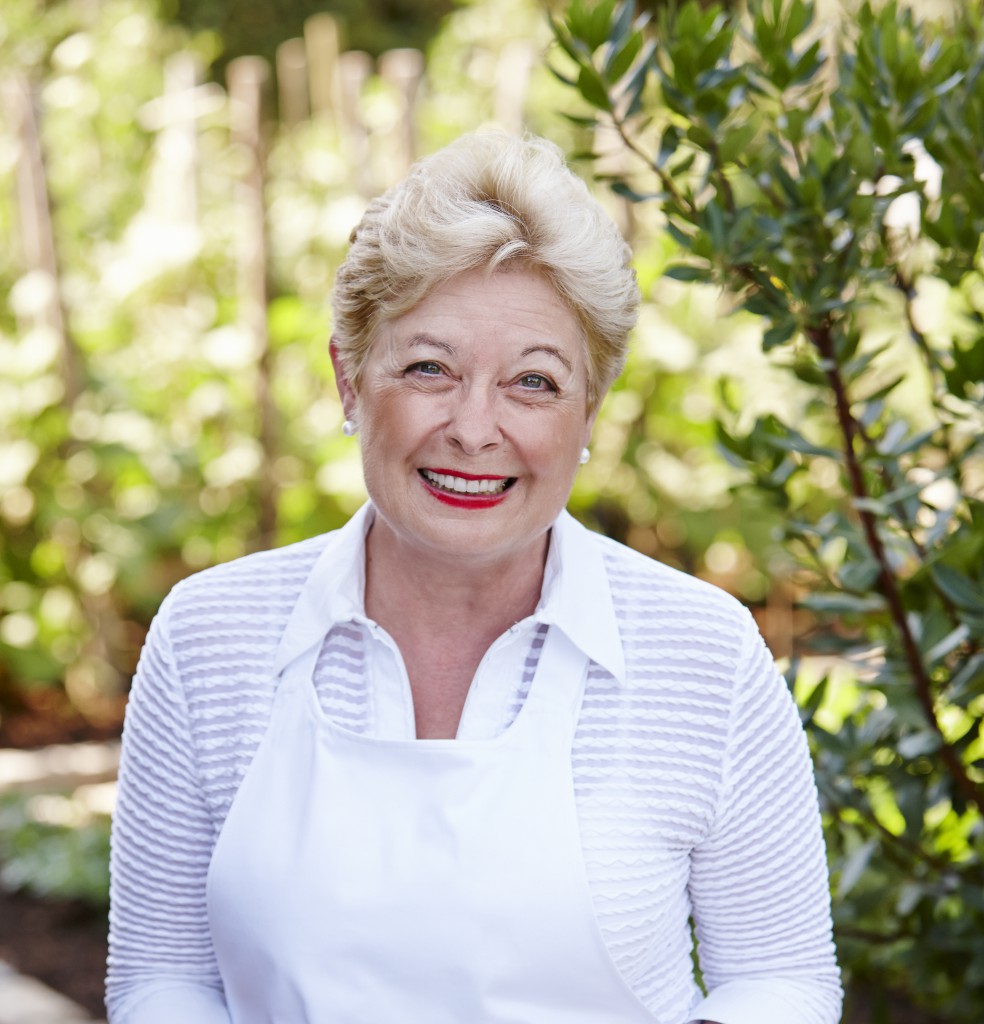 Patricia Wells, for more than two decades the restaurant critic for The International Herald Tribune, is the author of the award-winning Bistro Cooking, as well as more than a dozen other books. She also runs a successful cooking school—At Home with Patricia Wells—in Paris and Provence, where she and her husband have lived for more than 30 years.
She won the James Beard Award for The Provence Cookbook, Patricia Wells at Home in Provence, and Simply French. Also nominated for Beard Awards were Vegetable Harvest and The Paris Cookbook. With her husband, Walter, she is also the author of We've Always Had Paris . . . and Provence. The French government has honored her as a Chevalier de l'Ordre des Arts et des Lettres, recognizing her contribution to French culture. A former New York Times reporter, she is the only foreigner and only woman to serve as restaurant critic for a major French publication, L'Express. For more information about Patricia Wells, visit: (Website) (Blog) To purchase The Food Lover's Guide to Paris, visit: FoodLoversParis.com
The Food Lover's Guide to Paris (Workman; March 2014) is the enchanting and delicious revision of the classic bestseller with all new photos, 450 entries, 345 of which are entirely new. In this beloved culinary guide, Patricia Wells takes readers, travelers and diners to the best restaurants, bistros, cafés, patisseries, charcuteries, and boulangeries that the City of Light has to offer.
Whether the urge is a simple one, like satisfying a mid-afternoon sweet tooth on rue Rambuteau (try Pain de Sucre) or grander, deciding between vaunted Pierre Gagnaire or the "little jewel box" Yam'Tcha, Patricia tells us what is new and wonderful, and what is gloriously familiar and still to be treasured. Each entry includes detailed practical information, from the closest metro stop, to the best way to make a reservation, and the not-to-miss specialties of each address—each spot is personally selected and recommended by the foremost restaurant critic and acclaimed authority on French Cuisine.
The Food Lover's Guide to Paris arms you with a handy collection of quick-reference indexes by category, such as: Open on Sundays, Vegetarian Friendly, Late Dining, Special Occasions, Good for Children, Garden or Terrace seating, Worthy Wine List, and more! Written in an authoritative, engaging style, Patricia's prose is lush and elegant, providing equal delight to the armchair traveler and the hungry visitor thumbing through the pages on Paris's streets. In addition, the French/English food glossary will give you the tools to order perfectly every time. With this arsenal of information and resources at your fingertips, you will always find the perfect meal, bite, or drink for your taste and location. Visit: FoodLoversParis.com
Excerpt from The Food Lover's Guide to Paris, "Reprinted with permission from The Food Lover's Guide to Paris, by Patricia Wells, copyright ©2014. Published by Workman Publishing Company." Including recipe for Willi's Wine Bar's Bittersweet Chocolate Terrine.
Photo portrait by Jeff Kauck
"The biggest overhaul in the Book's 40 year History…" ­­—Jane Sigal, Food & Wine
"Patricia Wells on Paris has always been a reference point for lovers of real French food. Her new edition reflects the real and at time radical alterations in Paris eating over the past decades, but remains a fixed point among the revolving tables." —Adam Gopnik, author of The Table Comes First
"It's back, and better than ever! In this all-new edition, Patricia Wells shares her favorite addresses in Paris for luscious French chocolates, crusty breads, and cozy bistros—seasoned with tips to ensure a tasty trip." —David Lebovitz, author of My Paris Kitchen
INTERVIEW: The Food Lover's Guide to Paris
"I am constantly being asked to name my favorite Paris restaurant. For me that is akin to trying to name my best friend, or favorite piece of music, film, or classic novel. The answer depends on the hour, the season, my mood, the company." —Patricia Wells
AWP: Why did you feel that now in particular would be the right time to publish your book, The Food Lover's Guide to Paris?
PW: The last edition of The Food Lover's Guide to Paris was updated in 1999. After we created The New Food Lover's Guide to Paris application for the iPhone and iPad, bringing back the book seemed like the logical next move.
AWP: Where you on a quest to taste the last great French dishes before they disappeared forever—from Paris' surviving haute cuisine establishments to the tiny local restaurants that still serve regional dishes from Provence to Paris?
PW: I don't think that anything has disappeared from French cuisine….food is fashion and trends as well as dishes come and go.
AWP: Tell us about the research for the fifth edition of The Food Lover's Guide to Paris. What were the challenges, and how did you unfold the story you wanted to share?
PW: The most challenging part of creating a guide such as this is to be current and up to date. The Paris food scene is changing so rapidly, and growing so much, I could spend each day, all day, researching and never feel caught up!
AWP: During your research for The Food Lover's Guide to Paris, what restaurants, bakers, chefs or shopkeepers wouldn't you include?
PW: When Alain Ducasse took over Chez Allard last year, I re-visited and just felt that service was awful and food so-so. I also judge by the neighborhood: When there are so many great places in that area of the 6th arrondissment, why include a restaurant that is not stellar?
AWP: What was the most surprising thing you learned about French food and the intertwined culture and tradition of chefs in up-and-coming neighborhoods in Paris?
PW: I love the youthful spirit of the chefs and shops in up-and-coming neighborhoods. I love the attachment to the fresh, local, and seasonal. It's always been there, but not with such fanfare.
AWP: What was the most surprising thing you learned about French chef's culinary secrets?
PW: I think the ability to be constantly challenged to create new dishes, and to share that enthusiasm with diners.
AWP: When you started writing The Food Lover's Guide to Paris (5 edition), did you have a sense of what you wanted to do differently from other editions?
PW: I wanted to maintain the spirit of the original 1984 edition but to also be modern, highlighting vegetarian options and paying close attention to good value.
PARIS CUISINE
AWP: What makes Paris such an incomparably wonderful city to eat in?
PW: Its history, beauty, and reverence for quality, fresh ingredients.
AWP: Which restaurant offers a perfect snap shot of modern Paris?
PW: Bistro Paul Bert: It is both classic and modern at the same time.
AWP: Is there one restaurant or brasserie that channels everything you love about Paris?
PW: Semilla: It is always lively, the food is fresh and modern, the wine fabulous. I could eat there once a week!
AWP: Do certain restaurants and cafés play a significant role in culture, politics and intellectual life in Paris?
PW: Yes, certainly, cafes and restaurants such as Brasserie Lipp, Deux Magots and Café de Flore are examples.
AWP: In your research of French cuisine and encounters from friends and colleagues, and in the streets of France, what kind of diner does one find today?
PW: Diners are certainly more informed and perhaps more critical than ever. I wish that people would not dress like bums and pay a bit more respect to those around them.
AWP: Is the younger generation in Paris seeking a different kind of taste or lifestyle experience?
PW: Absolutely. More casual, for sure.
AWP: What are some of the younger chefs in Paris cooking and serving?
PW: Lots of local and seasonal ingredients, an awareness to the organic and sustainable.
AWP: What non-French cuisines are making an inroad into local Parisian dishes?
PW: The Japanese influence is everywhere, as well as anything Asian.
AWP: More than any other chef in Paris today who best knows how to unlock the emotional content of taste?
PW: Joel Robuchon.
AWP: How can North Americans experience the perfect meal in Paris? Do they bring a different set of expectations? Do you have a few pointers from the locals?
PW: Do some research, and know what kind of restaurant you will be going to. If you can, check out the restaurants web site and look at the menu, you will be a better-informed diner.
AWP: Do Parisians have a different attitude toward what they eat than do North Americans?
PW: I think somewhat. Parisians tend to be quite classic in their taste: steak and fries remain high on everyone's list.
AWP: Is there one particular cuisine that weaves throughout the history of Paris?
PW: Certainly bistro food: meaty daubes in winter. Oysters when in season. Wines such as Sancerre and Beaujolais.
AWP: French food: are there quintessentially French dishes that the Parisians love best?
PW: As the above: oysters remain popular, as does game in the winter months. Also classic desserts such as Paris-Brest, chocolate mousse, and now, macarons.
FRENCH CUISINE AND THE ART OF DINING
AWP: What was the first dish that made you fall in love with French cuisine? 
PW: Wow! That's hard to say. I do remember making a lot of classic French dishes—such as cassoulet—not ever having tasted them in France. For sure, a lot of chicken dishes, such as a simple fricassee, or a simple French potato salad.
AWP: What has influenced your own style of cooking?
PW: Fresh ingredients. I love to make a dish that has only three ingredients and make it sing!
AWP: How do you stock your Paris kitchen, your Provence kitchen? Do you have staples?
PW: In both places I always have fresh herbs growing outside, my pantry always includes ingredients to make a quick pasta dish (dried pasta, tomatoes, capers, jars of artichokes) of course my own olives, olive oil, honey. I make sure there is a selection of cheeses in the refrigerator and usually have some good things in the freezer, such as portions of a beef daube and sausages.
AWP: How do you orchestrate a meal from appetizers to dessert when entertaining in your home? What are dinner parties like for you?
PW: I make certain that almost everything is prepared in advance, leaving only a very few tasks for the last minute. I like to be a guest at my own dinner parties. I am extremely organized, and may even set the table a day in advance, open the wine in the morning, etc.
AWP: Entertaining at home in Paris: are there unspoken rules?
PW: We don't entertain very much in Paris, for we don't have the room. I guess if there is an unspoken rule it is that it's simple, seasonal, and delicious. I never try out a new dish when I entertain, I always go for recipes that I know work.
AWP: In restaurants, you dine with friends and you eat alone. How do you make dining alone into an extraordinarily pleasant experience? Is there a story behind your first time?
PW: I rarely dine alone. Except for sushi. I often go to lunch by myself and enjoy sushi. But dining is such a social experience I dine with friends and family.
AWP: August Escoffier said: "Cooking becomes genius when things taste of what they are." Which chef best understands the chimera or simplicity of this aesthetic?
PW: Guy Savoy: I recently ate there three times in a month and never had the same dish. His creative spirit and mind constantly amaze me. I have tremendous admiration for him.
AWP: Do you have a culinary mantra?
PW: Simple. Fresh. Seasonal. Healthy.
AWP: What do you feel is missing from the restaurant table? Are there dishes one finds served only at the French family table?
PW: People who visit France always complain that there are not enough salads. Green salads. I think that the French eat so much salad at home they don't think of it when dining out.
AWP: Do you think North American cooks are afraid to trust their instincts?
PW: I think, yes. It takes years and years of experience in the market and in the kitchen to trust one's instincts.
AWP: Minding our manners, sociability, conviviality—is there an art to conversation at a French table?
PW: I was once researching French etiquette of table seating. I found that one never put a married couple next to one another unless they had been married less than a year. At one festive dinner in Provence, I had invited both a Michelin 3-star chef and the local mayor and could not decide who should sit to my right. I ended up putting the chef to my right and the mayor to my left.
AWP: Is there an art to complaints if one is unhappy with a dish—with a valid reason, of course?
PW: Yes. Although I rarely complain if it is really serious—such as in one case, leg of lamb arrived almost raw—I do. But that said, I believe that in France the diner is not necessarily listened to. In the case of raw lamb, the waiter just shrugged and almost wagging his finger to me, said "Madame, that's the way we eat it in Provence." Not true.
AWP: You own a cherished item from Julia Child's kitchen when she lived in Grasse in the 1960s. What's the story?
PW: In the late 1980's and early 1990's Julia generally stopped at our house on her way to Grasse. I knew that she was going down to close up the house. I always joke that having Julia's stove is like having Freud's couch. I asked her if I could buy the stove. She said no. Then she came down the next morning and said that she had changed her mind. She would give it to me if I replaced it with a new one. And we did! We still use her sturdy La Cornue stove today!
AWP: For four years you combined talents with the internationally acclaimed French chef Joël Robuchon. In your book, L'Atelier of Joël Robuchon: The Artistry of a Master Chef and His Protégés, you were welcomed into his privileged and secret universe, and his way of expressing and marrying flavors. What was this experience like?
PW: It was like going to church every day. Then he was at Jamin, about a 30-minute walk from my apartment. I would spend the morning in the kitchen, just making notes and taking pictures and questioning the chefs. I still think of those days as some of the best in my life. It was truly like getting a PhD in food!
WRITING AND LIVING IN PARIS AND PROVENCE
AWP: Your career has taken you from restaurant critic into the world of writing and teaching about cooking and food. What inspired you toward a life and career so dependent on words and the ability to communicate?
PW: I knew from a very young age that I wanted to be a journalist: interviewing people and telling their story. I actually studied to be an art critic and had a weekly art column for The Washington Post in the 1970s. But my passion for food and cooking took over and I never looked back. I began writing about food full time when I moved to The New York Times in 1976.
AWP: Your books have had a huge impact on cooks and food lovers. What do you think it is about your books that make readers connect in such a powerful way?
PW: I hope that the recipes convey an enthusiasm for food and cooking, that the recipes work!
AWP: What do you think today's food writers bring to the travelers' experience?
PW: There is nothing greater than being able to trust and respect a certain food writer: the traveler benefits from all the research and hard work that person has put into it.
AWP: How did your interest in Paris unfold?
PW: My husband, Walter, and I were working at The New York Times. He was an editor and I was food writer. He was offered a job to come to Paris as an editor for the International Herald Tribune. We thought, perfect, we'll go for 2 years. That was 34 years ago! Walter likes to say that we came for his job and stayed for mine.
AWP: When you moved to France, how did you grapple with the cultural differences? Can you share the moment when you knew it had changed for you?
PW: I cried a lot the first six months. Walter worked long hours, and I worked out of the spare bedroom, free-lancing for The New York Times, Travel & Leisure, Food & Wine, etc. I spent an awful lot of time alone. But no matter how "bad" it was I knew that we had made the right decision.
AWP: What French cultural nuances, attitudes, ideas, or habits have you adopted? In which areas have you embraced a similar aesthetic?
PW: I think trying not to be a noisy American. To be discreet and not ask questions that are too personal. To dress up!
AWP: How did you become a "little bit" French?
PW: I think all of the above. Discretion is key.
AWP: You moved to Paris in 1980. What was Paris like nearly thirty-five years ago? How is it different today?
PW: The city is far more casual, more international, shops are open 7 days a week, and there is much greater choice everywhere.
AWP: What is the best part about living in Paris, in Provence?
PW: The beauty. The markets. The blue skies of Provence. My garden.
AWP: Describe your own "Paris."
PW: My everyday Parisian life is rich with variety. I rise very early, often before 6 am. I work in my kitchen and have a fire going almost all the time. It's my friend in the kitchen. Early mornings I catch up on little projects: writing, emails, accounts. I listen to music as I work. Drink lots of coffee. Most shops and markets are open by 8:30 so by then I try to be up and dressed and out the door. I'll do whatever shopping needs to be done, run errands, probably go to lunch with my assistant or with Walter, research a few shops, then probably go back to work, or back to the kitchen to test recipes. I sometimes wander through the open-air markets, even when I have very little to buy. The markets inspire me.
AWP: Tell us something we don't know about Paris—its style, food, culture or travel.
PW: This may be silly, but most visitors don't know how fabulous the bus system can be! I have a friend who rides a bus line from its starting point to its finish, just to get an aboveground feeling for the geography of Paris.
AWP: Your life is extraordinary. What's next?
PW: I want to continue with my cooking school, making it as rich an experience as possible for all students. I am working on more specific education on cooking techniques as well as more education on wines.
BOOKS RECOMMENDED BY Patricia Wells
I love books by my friends, such as Ina Garten, Dorie Greenspan, and Martha Rose Shulman. I devour books on bread and think that David Lebovitz's new book, My Paris Kitchen, is extraordinary. I also love Donna Hay's style.
Acknowledgements: Alyssa Noel, student of French and Italian, and Journalism at the University of Minnesota–Twin Cities and English editor for A Woman's Paris.
Soupe de pain grillé d'Astrance 
Astrance's Smoky Grilled Bread Soup
The Food Lover's Guide to Paris by Patricia Wells, copyright ©2014. Published by Workman Publishing Company.
Recipe ©Patricia Wells/Astrance
Photo image ©Workman Publishing/The Food Lover's Guide to Paris
Makes 1 ½ Cups (750 ML) or 6 demitasse servings
When chef Pascal Barbot and partner Christophe Rohat first opened the Parisian Right Bank restaurant Astrance in 2005, this intriguing soup was on the menu. To this day, they often serve the magical liquid as a first course, offering no hint of its ingredients. They don't present it as a test, really, or even a game, but it's fun to sit at the table and try to figure out what the contents might be. Over time, we've guessed mushrooms, truffles, maybe divined a bit of smoky bacon, but never thought of burnt bread.
Equipment
A fine-mesh sieve; a food processor or a blender; an immersion blender; 6 demitasse cups
Ingredients
1 thick slice trimmed, smoked bacon (about 2 ounces; 60 g), cubed
2 cups (500 ml) vegetable or chicken stock, or more if needed
3 thick slices sourdough bread
2 cups (500 ml) whole milk
1 teaspoon French mustard
Fleur de sel
Coarse, freshly ground black pepper
1. In a skillet with no added fat, brown the bacon over medium heat until crisp and golden, about 5 minutes. Drain on paper towels.
2. In a saucepan, bring the stock to a simmer. Add the bacon to the stock. Cover and simmer for 20 minutes, allowing the bacon to infuse its flavors and aromas into the stock. Strain the stock through the fine-mesh sieve set over a bowl. Discard the bacon. Return the stock to the saucepan.
3. Grill or toast the bread until very dark, almost burnt. Break the bread into small, bite-size pieces. Add the bread to the stock in the saucepan. Add the milk and mustard. Bring the liquid to a simmer, covered, and simmer for 20 minutes more. Pour the mixture into the food processor or blender and process until smooth. Taste for seasoning. (The soup can be made up to this point, 3 days in advance. Store in an airtight container in the refrigerator.)
4. At serving time, pour the soup into a saucepan and bring to a simmer. Taste for seasoning. If the soup is too thick, add additional stock to thin it out. With an immersion blender whisk the soup to create a thick foam. Pour into demitasse cups and serve warm as an appetizer.
VARIATIONS: Add a few spoonfuls of truffle juice or, better yet, the juice as well as a few thin slices of fresh black truffles.
THE SECRET: Infuse, infuse, infuse. While it may seem strange and even wasteful to cook bacon, infuse vegetable stock with its smoky flavor, and then discard the bacon, the end result is a lovely, mysterious soup base.
SELECTED BOOKS by Patricia Wells
The Food Lover's Guide to Paris: The Best Restaurants, Bistros, Cafés, Markets, Bakeries, and More (Workman Publishing Company; 5 edition (March 2014)
The French Kitchen Cookbook: Recipes and Lessons from Paris and Provence (October 2013, William Morrow Cookbooks)
Simply Truffles: Recipes and Stories That Capture the Essence of the Black Diamond (November 2011, William Morrow Cookbooks)
Salad as a Meal: Healthy Main-Dish Salads for Every Season (April 2011, William Morrow Cookbooks)
We've Always Had Paris…and Provence: A scrapbook of our life in France by Patricia Wells, Walter Wells (May 6 2008, Harper)
Vegetable Harvest: Vegetables at the Center of the Plate (April 2007, William Morrow Cookbooks)
The Provence Cookbook (April 2004, William Morrow Cookbooks)
The Paris Cookbook (October 2001, William Morrow Cookbooks)
Patricia Wells' Trattoria: Simple and Robust Fare Inspired by the Small Family Restaurants of Italy (October 2001, William Morrow Cookbooks)
Patricia Wells At Home in Provence: Recipes Inspired By Her Farmhouse In France (October 1999, Scribner)
L'Atelier of Joël Robuchon: The Artistry of a Master Chef and His Protégés (November 1997, Houghton Mifflin Harcourt)
Simply French: Patricia Wells Presents the Cuisine of Joel Robuchon (November 1991, William Morrow & Co)
Bistro Cooking (January 1989, Workman Publishing Company)
The Food Lover's Guide to France (January 1987, Workman Publishing Company)
You may also enjoy A Woman's Paris® post David Lebovitz's "My Paris Kitchen" — quirks, trials, beauty, and joys of life in Paris (excerpt). Ten years ago,David Lebovitz packed up his most treasured cookbooks, a well-worn cast-iron skillet, and his laptop and moved to Paris. In My Paris Kitchen, David remasters the classics, and introduces lesser-known fare. Through his recipes and stories we get insight into his delicious and extraordinary world. Including David's recipe for Salted butter caramel-chocolate mouse. (A Woman's Paris interview with David Lebovitz)
Alexander Lobrano's "Hungry for France" – My appetite for France (excerpt). Hungry for France: Adventures for the Cook & Food Lover by acclaimed food writer and Paris-based author Alexander Lobrano. Every food lover's ultimate dream is to tour the countryside of France, stopping off at luxurious inns with world-class restaurants and sampling fresh produce and regional specialties from local markets. Hungry for France offers just that with Lobrano sharing his thirty-plus years of exploring every corner of this gastronomically rich country with readers. Including a recipe for Layered Ratatouille Gratin. (A Woman's Paris interview with Alexander Lobrano)
French Impressions: John Baxter's "The Perfect Meal" and Finding the Foregone Flavors of France. In this delightful culinary travel memoir, John Baxter follows up his bestselling The Most Beautiful Walk in the World by taking readers on the hunt for some of the most delicious and bizarre endangered foods of France. (French)
Hotspots and Hot Chocolate: Student Cafés in Paris by Parisian Flore der Agopian. The Left Bank has always been "the place to be" for intellectuals, artists and students. By strolling through the famous Latin Quarter, which attracts many students from the whole of France, you can feel the lively, bustling atmosphere created by the presence of the famous universities, such as La Sorbonne. Follow Flore as she visits the seven most famous student cafés in Paris.
A literary feast – Cafés and culture in Paris' 9th arrondissement by Parisian Flore der Agopian. Paris has always been an inspiration for writers and painters, both from France and all over the world. Flore explores how cafés in nineteenth century Paris inspired literary figures Emile Zola, Alexandre Dumas, George Sand, Guy de Maupassant, Marcel Proust and French painters Edgar Degas, Eugène Delacroix, Camille Pissaro, and Edouard Manet. Including a list of current cafés in Paris' 9th arrondissement. 
Boulangerie Poilâne: A toast to French Breads, by Barbara Redmond who shares her face-to-face encounter with a French baker during her visit to the 18th century ovens of Poilâne in Paris. Could she steal a pinch from the raw, soft-white boule in its proofing basket resting close by? The penetrating aromas of bread; strong, yeasty, and hot… Recipes included for Tartine Chocolat et Poivre (tartine of melted chocolate and black pepper) and La tartine For'bon (tartine of cheeses and ham) from Boulangerie Poilâne.
A Woman's Paris — Elegance, Culture and Joie de Vivre
We are captivated by women and men, like you, who use their discipline, wit and resourcefulness to make their own way and who excel at what the French call joie de vivre or "the art of living." We stand in awe of what you fill into your lives. Free spirits who inspire both admiration and confidence.
Fashion is not something that exists in dresses only. Fashion is in the sky, in the street, fashion has to do with ideas, the way we live, what is happening. — Coco Chanel (1883 – 1971)
Text copyright ©2014 Patricia Wells. All rights reserved.
Illustrations copyright ©Barbara Redmond. All rights reserved.
Photography copyright ©Workman Publishing/The Food Lover's Guide to Paris. All rights reserved.
Portrait photography copyright ©Jeff Kauck. All rights reserved.
barbara@awomansparis.com