French Impressions: Ronald C. Rosbottom on the importance of remembering, reconstructing, and protecting our histories (Part Two)
02 Tuesday Sep 2014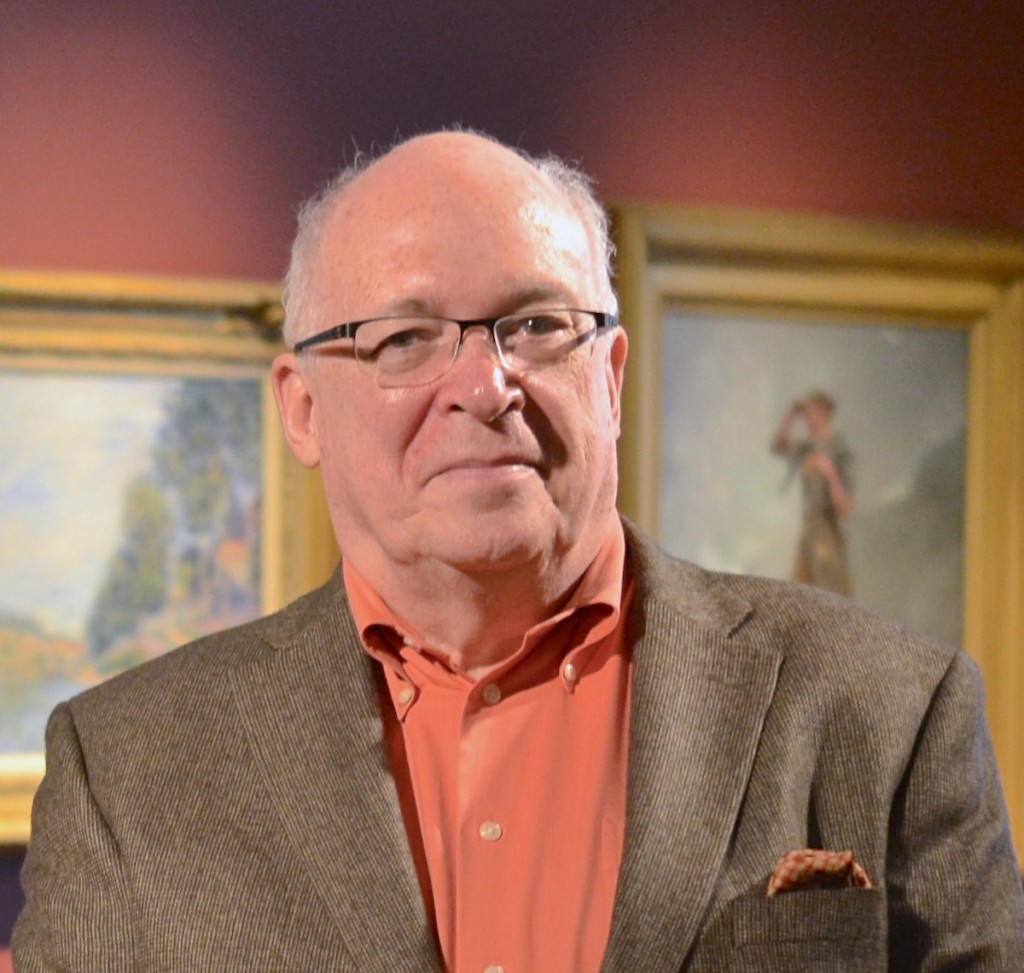 (Part One) Ronald C. Rosbottom was born in New Orleans and educated at Tulane University and Princeton University. He is the Winifred L. Arms Professor in the Arts and Humanities and a professor of French and European Studies at Amherst College, where he also served as dean of the faculty. He previously taught at the University of Pennsylvania and the Ohio State University, where he served as chair of the Department of Romance Languages. He lives in Amherst, Massachusetts, with his wife, Betty, a cookbook writer.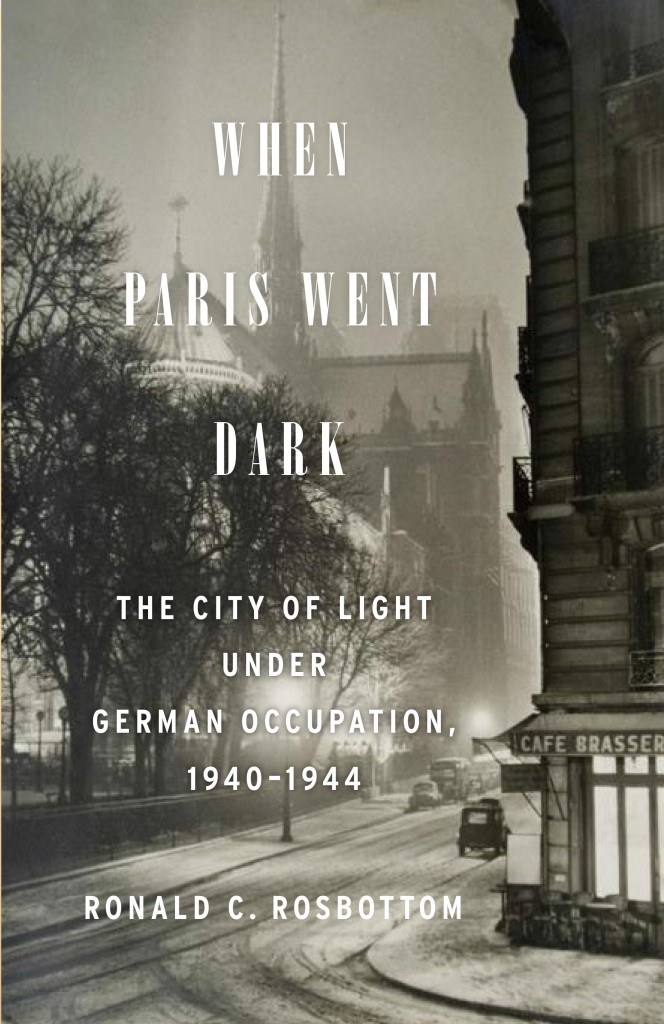 Marking the 70th anniversary of the Liberation of Paris, Ronald C. Rosbottom's When Paris Went Dark: The City of Light Under German Occupation, 1940-1944 (Little, Brown and Company) weaves a rich tapestry of stories to rediscover from the pavement up the texture of daily life in a city that looked the same but had lost much of its panache. (Purchase)
"Ronald Rosbottom has re-created the Parisian world during the dark days of the German occupation like no previous writer I know. His secret is twofold: first, exhaustive research that allows him to recover what we might call the importance of the ordinary; and second, a shrewd grasp of how memory works, often in strange ways." — Joseph J. Ellis, Ford Foundation Professor Emeritus at Mount Holyoke College, author of Founding Brothers, American Sphinx, and Revolutionary Summer
"A riveting account of one of the most resonant hostage takings in history: the 1,500 days when a swastika flew from the Eiffel Tower. Ronald Rosbottom illuminates every corner of a darkened, heartsick city, exploring the oddities, capturing the grisly humor, and weighting the prices of resistance, accommodation, collaboration. The result is an intimate, sweeping narrative, astute in its insight and chilling in its rich detail." — Stacy Schiff, author of Cleopatra, A Great Improvisation, and Véra
Excerpt from When Paris Went Dark: The City of Light Under German Occupation, 1940-1944 by Ronald C. Rosbottom. Copyright © 2014 by Ronald C. Rosbottom. Reprinted with permission of Little, Brown and Company (Part One)(Part Two).
INTERVIEW: When Paris Went Dark (Part Two) (Part One)
On June 14, 1940, German tanks entered a silent and deserted Paris. The City of Light was occupied by the Third Reich. Parisians were stunned, humiliated, and yet curious about the sudden appearance of thousands of German soldiers on their boulevards. The Germans too were curious: How do you treat a city that did not fire a shot in its own defense? Groups and individuals of all stripes — French and immigrant Jews, adolescents, communists, Gaullists, police officers, teachers, concierges, and landlords — endeavored to remind the German authorities that Parisians would never accept their presence. Cultural icons such as Josephine Baker, Picasso, Sartre, de Beauvoir, Colette, and Camus developed their own strategies to resist being overpowered by an invidious ideology.
WRITING
AWP: You have a shrewd grasp of how memory works, often in strange ways. How did you come to it?
RR: History can be boring; how we remember, reconstruct, protect our histories is not. That is what fascinates me. Freudianism has taught us how we trick ourselves into remembering and forgetting. I am interested in how societies as a whole do the same thing. I wanted to do two things in this book: show what happened, and then show how it has been remembered, or forgotten, or recreated.
AWP: How does your previous scholarship in eighteenth-century French literature and culture influence your work?
RR: It made me a sensitive reader of texts; learning what was hidden behind words that a writer might have been hesitant to reveal, or how he describes such hesitancy in his characters.
AWP: What is it about the French people that you find so appealing?
RR: "Appealing" is not exactly the term. "Respectful" is more like it. I respect a country that has endeavored through a complicated, often frustrating history, to maintain the best legacies of its great Revolution, especially of the "Rights of Man." Fighting against absolutism, slavery, racism and privilege, often clumsily, often with contradictory results, the French have provided us with a model of a nation that wants to do good, even when it fails. And, the other major quality I admire even more: a respect for the non-material life, the life of the mind and of the body.
AWP: Could you talk about your process as a writer?
RR: I write best when alone, in a darkened room, with little distraction. More importantly I write best when under pressure. I tend to procrastinate, because writing is so intimidating. But when I sit down and begin, I can't stop. It's that "sitting down and beginning" part that's difficult. Having a day job, as a professor of first-rate students, means that I have to discipline myself on the days I don't teach.
ART OF LIVING
AWP: Name the single book, movie, work of art or music that has inspired you.
RR: I read hundreds of books and articles a year, watch dozens of films, and have for over 50 years, so how can I select? If you told me that I could never have a slice of foie gras again unless I answered each of these categories, then I'd list: W. G. Sebald's novel, AUSTERLITZ, Beethoven's EROICA SYMPHONY, and, believe it or not, ET, a brilliant film about what we can learn from the frightful "other."
AWP: What is the last book you read? Would you recommend it?
RR: Thank goodness, you asked for the last book: John Doerr's ALL THE LIGHT WE CANNOT SEE. This is a marvelous story of a young blind French girl, and a young and very gifted German soldier caught up in the last months of the war. It takes palace in Paris and in Saint Malo, is beautifully written, and catches the nuances of daily life during this period much better than I could.
AWP: What's next?
RR: I want to explain this book to potential readers, continue to teach the history of Paris, of European cities, and great literature to Amherst students, and perhaps, perhaps, write a book on why adolescents were so important to the resistance of German authority in Europe at war.
BOOKS RECOMMENDED BY RONALD C. ROSBOTTOM
The books that touch most brilliantly and delicately on the subject of mine are Irène Némirovsky, SUITE FRANÇAISE (a Tolstoyian set of stories written while she was in hiding from the Germans), Hélène Berr's JOURNAL (the diary of a doomed Jewish teenager), Albert Speer, INSIDE THE THIRD REICH (still the best intimate view of a psychotic regime), Antony Beevor and Artemis Cooper, PARIS AFTER THE LIBERATION: 1944-1949 (how Paris collected itself after the humiliation of Occupation), and Marge Peircy, GONE TO FLOWERS (a rich narrative about Americans and their participation in the European war).
Acknowledgements: Alyssa Noel, student of French and Italian, and Journalism at the University of Minnesota–Twin Cities and English editor for A Woman's Paris.
You may also enjoy A Woman's Paris® post French Impressions: W. Scott Haine on the origins of Simone de Beauvoir's café life and the entry of France into WWII. "Café archives" seldom exist in any archive or museum, and library subject catalogs skim the surface. Scott Haine, who is part of a generation that is the first to explore systematically the social life of cafés and drinking establishments, takes us from the study of 18th century Parisian working class taverns to modern day cafés. A rich field because the café has for so long been so integral to French life.
Andy Fry on the Jazz Age – African American music in Paris, 1920-1960 (part one). The Jazz Age. The phrase conjures images of Louis Armstrong holding court at the Sunset Cafe in Chicago, Duke Ellington dazzling crowds at the Cotton Club in Harlem, and stars like Bessie Smith and Ma Rainey wailing the blues away. But the Jazz Age was every bit as much of a phenomenon in Paris, where the French public found their own heroes and heroines at the Folies-Bergère and Casino de Paris. (A Woman's Paris interview with Andy Fry)
Normandy never forgets: WWII monuments and memorials in France, by Alan Davidge, D-Day historian for tours in Normandy. Alan shares a number of places of significance and remembrance. Guides included. 
Stars, Stripes and Seine: Americans in occupied Paris 1940-1944, by Alan Davidge. 5,000 Americans refused to leave Paris after war broke out in September 1939. Who were they? Read the stories of how Josephine Baker, Sylvia Beach, Arthur Briggs, Drue Leyton, and others lived and breathed Paris during the war. 
A Woman's Paris: A global gateway to everything French – (Published by the "Journal"), by Eric Best (reprinted with permission from A Northeast Francophile, published by the Journal). While Barbara Redmond is far from an aristocratic jetsetter, she once thought of herself as a Francophile. A Woman's Paris readers can expect posts of French art and literature, first-person stories from Redmond and contributors about travelling and interviews with authors. 
A Woman's Paris — Elegance, Culture and Joie de Vivre
We are captivated by women and men, like you, who use their discipline, wit and resourcefulness to make their own way and who excel at what the French call joie de vivre or "the art of living." We stand in awe of what you fill into your lives. Free spirits who inspire both admiration and confidence.
Fashion is not something that exists in dresses only. Fashion is in the sky, in the street, fashion has to do with ideas, the way we live, what is happening. — Coco Chanel (1883 – 1971)
Text copyright ©2014 Ronald C. Rosbottom. All rights reserved.
Illustrations copyright ©Barbara Redmond. All rights reserved.
barbara@awomansparis.com