Proud, Sad and Angry: Normandy still stirs the emotions (Part Two)
11 Thursday Sep 2014
Tags
70th anniversary of D-Day France, Bayeux Cemetery, Colleville Draw WWII, Commonwealth War Graves Commission, D-Day WWII, Les Moulins WWII, Normandy France, Omaha Beach WWII, Ruquet Draws WWII, Trooper Harold Sykes WWII, US 1st Division WWII, World War Two, WWII
Share it
By Alan Davidge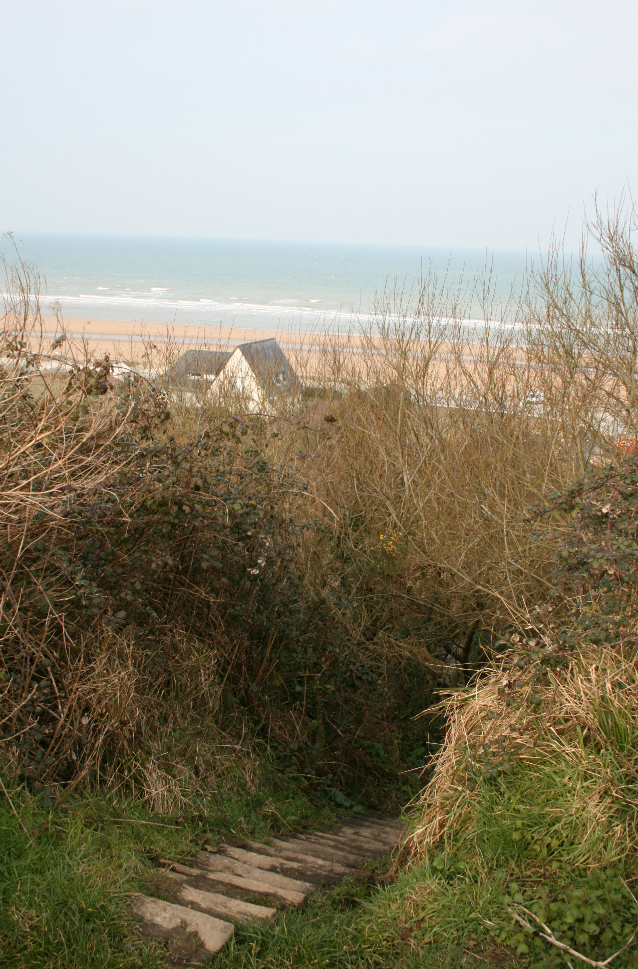 (Part One) Sometimes the memories that people take home with them are very personal. We used to run a B&B, and one summer we hosted three generations of a Yorkshire family who had lost a relative in a Sherman tank during the start of the battle for Caen in late June 1944. After an initial contact I managed to collect relevant details from the Commonwealth War Graves Commission as we attempted to trace the place where Trooper Harold Sykes was buried by the roadside near the small village of Cheux that was almost totally destroyed as the Allies tried to flush out the German soldiers who were trying to make a final stand.
We were also assisted by a local historian who had been born in October 1944 after his father was killed and his mother sought refuge in neighbouring Mayenne, only to return a month before giving birth in the ruins of her previous home.
Harold is remembered on a plaque in Bayeux Cemetery but his body was never found and re-interred. From witness accounts, we traced his resting place to a short stretch on road embankment below the church but there the story petered out until further evidence comes to light that could justify an excavation. This old photo shows the Sherman tank crew in happier times with a smiling Harold seated front centre.
Although we expect to be most moved by acts of heroism and sacrifice, it is often those acts that occur at the other end of the human spectrum that affect us most deeply. D-Day narratives often include a German soldier by the name of Hein Severloh who frequently appears under the title of " The Beast of Omaha" due to his role in the carnage at the Colleville Draw, a landing spot at the eastern end of the beach. Hein's machine gun position was perfectly placed to inflict terrible damage on soldiers from the US 1st Division as the ramps dropped and they left their landing craft. The 12,000 rounds with which he was issued ensured that he performed his duties on the day. On my last visit researching Omaha I took a photograph from the top of his bunker, looking down on the beach. The thought of what had happened on this turkey shoot ended the research. I felt I had seen enough for one day. It's hard not to feel angry, even seventy years on, when you stand on this spot, but the anger is not so much directed towards the perceived "enemy" as those who allowed a war to start in the first place among nations who have hitherto and subsequently demonstrated an ability to work together. The current estimation is that WWII cost over 50 million lives.
Visiting these sites and absorbing the atmosphere that still pervades them can at times be depressing, and whenever possible it's good to combine historical research with a little exercise. My favourite spot on Omaha Beach is a path that scales the bluffs and follows the route of many of the men who had survived the horrors of the beach and climbed elatedly out of immediate danger to begin their mission of liberating Europe. This old stepped route between the Les Moulins and Ruquet Draws (two of the five planned routes off the beach) is narrow and overgrown but suddenly opens out on to the top of a small ridge with a stunning view of the beach below. It takes very little imagination to conjour up the feelings of those men who trod the same path seventy years ago. I find this an excellent way of burning off some energy after lunch and raising the tempo of a tour. It's particularly popular with school groups and the success in getting to the top of the route makes it particularly memorable.
I have met a number of visitors this summer, many of whom have driven all the way from Paris to see the landing beaches for themselves during the 70th anniversary of D-Day and I expect many more to arrive over the next couple of months. Whether or not they take a guided tour or choose to explore the area for themselves, I would urge them not to get too caught up in the factual historical material, but to seek out the human stories that accompany the landings and subsequent liberation of the area. This is how we really understand and remember what D-Day meant to those people who took part.
Acknowledgements: Alyssa Noel, student of French and Italian, and Journalism at the University of Minnesota–Twin Cities and English editor for A Woman's Paris.
Alan Davidge was born in London two years after World War Two ended. Now after forty years of working in education, he lives with his wife, Carol in a part of Normandy that was liberated by US troops who landed on D-Day. They have recently moved out of the Norman farmhouse that took five years to renovate and are now taking on the bigger challenge of restoring an old cottage that carries a 1785 datestone above the door and sits in an acre of land.
Since 2009, Alan has been using his knowledge and experience as a historian to accompany visitors around the Normandy beaches and battlefields. His email contact is: alandavidge10647@yahoo.co.uk
You may also enjoy A Woman's Paris® post, Normandy never forgets: WWII monuments and memorials in France (part one), by Alan Davidge, D-Day historian for tours in Normandy. Alan shares a number of places of significance and remembrance. Guides included. (A Woman's Paris interview with Alan Davidge)

Normandy never forgets: WWII, a homecoming (part two), by Alan Davidge, D-Day historian for tours in Normandy. Alan shares his remembrance of a tour he created for an American WWII veteran who was returning with his daughter to visit places in France where he had served.
 The City of Light Under German Occupation, 1940-1944 – Excerpt from Ronald C. Rosbottom's "When Paris Went Dark". June 14, 1940, German tanks entered a silent and deserted Paris and The City of Light was occupied by the Third Reich for the next four years. Rosbottom illuminates the unforgettable history of both the important and minor challenges of day-to-day life under Nazi occupation, and of the myriad forms of resistance that took shape during that period. August 2014 marks the 70th anniversary of the Liberation of Paris, perfect timing for Ronald C. Rosbottom's riveting history of the period. (A Woman's Paris interview with Ronald C. Rosbottom)

Text copyright ©2014 Alan Davidge. All rights reserved.
Illustration copyright ©2014 Barbara Redmond. All rights reserved.
barbara@awomansparis.com