Boulangerie Poilâne: A Toast to French Breads
13 Saturday Aug 2011
Tags
18th century French baking ovens, Apollania Poilane, bakeries Paris, Bayonne ham, Boulangerie, boulangerie Poilâne, Boulangerie Poilâne locations in Paris, boule, brioche, croissant, France, French bread, Guérande salt, La tartine For'bon, Manufacture Poilane, miche, pains aux noix, Paris, pavés aux raisins, petits pains au chocolat, Poilane, Punitions, rue de Rennes Paris, rue de Vaugirard Paris, rye and raisin bread, rye flour bread, Smithsonian Magazine, Societe Anonyme Poilane, sourdough bread, Tartine Chocolate et Poivre, walnut bread
Share it
By Barbara Redmond
There we stood at the bottom of the steps, he in his flip-flops and bikini brief and me in shorts, skinny top and sneakers. I froze at the sight of him, unable to sketch a single line of what I saw, as he turned his head to see who had arrived.
Bonjour, Madame, he said without inflection.
Bonjour, Monsieur, I responded in kind, not wanting to disrupt the rhythms and echoes within this cavernous basement room at the bottom of a spiraling staircase below the bakers' shop. His long-handled wooden spatula scraped steadily against the hot stones, raking a finished boule across the floor of the open oven. Each thick-crusted, handmade, wood-fired, sourdough loaf landed with a hollow whump against the others settled in the waist-high wicker basket just inches from the oven's floor.
The cavern's cream-colored walls darkened as they coved to the charred ceiling. With a deft movement of his wrist, the master baker released a soft-white leavened boule, the traditional "ball-shape" of French bread, which proves in a linen-lined wicker basket, then is transferred onto his flour-dusted spatula. In a flash, the steely glint of a blade-tip slashed two long surface cuts into the boule to stave off tearing and brand the loaf. The boule released easily from the master's spatula to take its place among the others just out of reach of the raging fires within.
Could I steal a pinch from a raw, soft-white boule in its proofing basket resting close by? I wanted to know the taste of French flour. I wanted to savour the sweet, tangy sourdough yeast. As I kept to my place at the bottom of the steps, I inhaled the penetrating aromas of bread; strong, yeasty, and hot—and stood transfixed at the edge of this sweltering, extraordinary place; a bakery site since the 18th century.
Boulangerie Poilâne
Under the streetlampsat rue de Vaugirard and rue de Rennes, I checked my map. Boulangerie Poilâne was close, but still a few blocks away. I was on an early morning run with an American friend while Paris slept; save the corps of street cleaners in green overalls with their matching bright green plastic brooms who brush down the debris from Paris' streets with water that flows beneath the curb.
Boulangerie Poilâne was featured in Smithsonian Magazine's January 1995 issue, and soon after I arrived in Paris the following September, I told myself straightaway I would visit this boulangerie. By mid-afternoon I would be on a train to Dijon for wine tastings in Bourgogne, the Burgundy wine region of France.
As I turned the corner from rue d'Assas onto this narrow, poorly lit street, I saw light streaming through windows beneath a single awning onto irregular sidewalk stones. Paris was asleep; the bakers and the street cleaners we passed on our run from the hotel were not—this had to be the place. More precious than I imagined, this little jewel at No. 8 rue du Cherche-Midi in the 6th arrondissement of Paris was elegant and refined, with its glistening glass windows framed by a storefront of slim rustic bricks. The beautiful script type font announcing Poilâne was quintessential Paris! My breath was visible on the glass. I watched as two women in crisp linen smocks filled open shelves with freshly baked goods. One woman worked among the six slender shelves along the wall, leaning upright the old-style, thick-crusted, sourdough Miche Poilâne bread that carried the boule-scored signature mark P for Poilâne. The shelves had already been filled with pains de seigle, rye flour loaves, pavés aux raisins, rye and raisin bread, and pains aux noix, small walnut loaves. The other woman was positioning three boule upright and side-by-side on the top glass shelf of the storefront window display. The two shelves below, and on either side of the door, held beautifully arranged breads of different styles, brioche, croissant, petits pains au chocolat, unsymmetrical rustic apple tarts of various sizes, and Punitions® (small butter cookies of Poilâne)—all placed directly on the glass where they could be easily seen.
With the last items displayed, the two women took their places in this minuscule shop, whose floor space was no larger than five healthy stone slabs wide by four slabs deep (about eight yards wide by three yards deep). The boulangerie was now open for business. I entered holding my pocketsize sketchpad and pen.
Inside Poilâne's
I approached one of the women seated behind a small wooden chest-like cashier's counter at the back of the shop that held her receipt book, pencil and a basket full of Punitions. The second woman soon joined us. I sketched. I gestured. I did the best I knew how to let them know of Poilâne's story, their story, in the Smithsonian Magazine; how I loved every word. I sketched the magazine. I sketched the sourdough starters in my refrigerator; Nancy Silverton's recipe using unsprayed, organically grown grapes—unwashed to start the growth; Julia Child's sponge of active dry yeast, warm water and unbleached all-purpose flour; and my oldest starters of flour and water begun in a crock from an old hippie recipe book from 1974 written by Don and Myrtle Holm. I sketched breads; Poilâne's and mine.
The woman behind the cashier's counter rose to her feet. Taking my arm, she led me through the etched glass door in the back of the shop. As she closed the glass door behind us, she said quietly, Madame, and urgently gestured, no cameras! clicking her forefinger up and down.
Oui! I said. Together we stepped into the bakers' kitchen. To our left, not far from where we entered, was an old open doorway and stairwell passage to something below. She paused at the doorway, gestured me forward, and returned to her counter to join the other sales assistant.
After my spree of excitement, daring and adventure with the French master baker at his oven at the bottom of the stairs, I returned to the showroom. There, I purchased a large round, thick-crusted, handmade Miche Poilâne for my two-week wine tasting journey in Bourgogne. Several rounds of "Merci, Mesdames!" to thank them for their kindness and I was out the door into the morning light. Like a hungry child, I slipped the boule out from its paper bag and coddled the loaf. Using my free hand, I clawed at the signature "P" to tear out a jagged chunk of bread from this rustic loaf of sourdough, stone-milled flour, water and crystals of pure sea salt from Guérande. Its taste was unmistakably fruity. On my walk back to the hotel, I purchased soft cheeses, foie gras and Bayonne-type ham for a picnic train ride to Dijon. And, to get me focused on the tour, a wonderful bottle of wine from the Côte de Nuit, which starts just south of Dijon.
French breads from Paris
On my return to Paris, I stopped many times at Poilâne. Before the departure home, I purchased three beautiful Miche Poilâne, bread sacks and a box of Punitions. The rich butter cookies had been devoured before I boarded the plane. I was told by our new friends at Poilâne that the boule will freeze well and that it is exported, among other varieties of breads, to bread lovers around the world. The first boule was shared immediately with friends. The remaining two boules were destined for my freezer. The first made its passage by air and by car to Cape Cod where I celebrated Thanksgiving with my two daughters with their boyfriends in tow. The Miche Poilâne was rich and wonderful as we sopped up the juices from our day's first meal—clams and mussels steamed lightly in fine French Chablis. Clams freshly dug from the sand and mussels prodded from their rocks by my daughters and me from the Atlantic shoreline less than a half-mile away. The second boule made its short journey from my freezer to the dining room table where it was set to thaw on a wooden breadboard for our holiday feast.
Manufacture Poilâne, Bièvres, France
My next dream is to visit the woodsy little suburb of Bièvres, which lies nine-miles south of Paris. There, I will find the Manufacture Poilâne, a huge, Camembert-shaped, 24-oven manufacture that is the heart of the modern enterprise that has given the Société Anonyme Poilâne its nationwide, international scope with loaves that are exactly the same in quality as the original boule, still bearing each master baker's individual touch.
Born to a family of bakers in 1945, Lionel Poilâne began his apprenticeship in his father's boulangerie at No. 8 rue Cherche-Midi. Poilâne and his wife tragically died in a helicopter crash off the Brittany coast in 2002. Apollania Poilâne, his daughter, took over the company. She intends to follow in her grandfather and father's footsteps.
RECIPIES FROM BOULANGERIE POILÂNE

Tartine Chocolat et Poivre
Ingredients:
–  Slices of Poilâne's sourdough bread
–  Melted dark chocolate or chocolate cream
–  Ground black pepper
Directions:

Melt dark chocolate or chocolate cream. Spread over Poilâne's sourdough bread. Sprinkle with freshly ground black pepper.
La Tartine For'bon 
Ingredients:
–  2 large slices of Poilâne's sourdough loaf
–  2 'Saint Marcellin' cheeses
–  A few thin slices of Bayonne-type ham (a French, Parma-type ham)
–  Marjoram
–  Olive oil
Directions:

Slice each cheese in two, length-wise. Place two halves on a slice of bread. Top with the ham. Place in an oven at medium heat until the cheese starts to melt. Spread the cheese with a knife, add some olive oil, and sprinkle with marjoram. Serve with a salad.
Boulangerie Poilâne locations in Paris
8 rue du Cherche-Midi, Paris 6th, (0)1 45 48 42 59
49 boulevard de Grenelle, Paris 15th, (0)1 45 79 11 49
38 rue Debelleyme, Paris 3rd, (0)1 44 61 83 39
RADIO PODCAST: Boulangerie Poilâne: A Toast to French Breads
Bonjour Minnesota/KFAI Radio without boundaries 90.3 Minneapolis and 106.7 St. Paul
Podcast (live: 12 October 2010). Visit: Media Boulangerie Poilâne: A Toast to French Breads, on A Woman's Paris.
VOCABULARY: French to English Translations
Arrondissement: An administrative district of certain large French cities.
Bayonne-type ham: An air dried salted ham that takes its name from the ancient port city of Bayonne.
Bonjour: Good day. Good morning.
Boulangerie:  A bakery that specialized in baking and selling bread.
Boule: French for "ball," is a traditional shape of French bread, also called miche.
Bourgogne: The Burgundy wine region of France.
Brioche: A light, sweet yeast bread typically in the form of a small, round roll.
Camembert: A kind of rich, soft, creamy cheese with a whitish rind, flat and round in shape, originally made near Camembert in Normandy.
Chablis: A dry white burgundy wine from Chablis in eastern France.
Croissant: A crescent-shaped roll made of leavened dough or puff pastry, often eaten for breakfast.
Mesdames/Madame: Plural of Madame used as a title to refer to more than one woman simultaneously.
Miche: French for "ball," is a traditional shape of French bread, resembling a squashed ball, also called boule.
Oui: Yes.
Pains aux noix: Walnut loaves of bread.
Pains de seigle: Rye flour loaves of bread.
Pavés aux raisins: Rye and raisin loaves of bread.
Petits pains au chocolat: Croissant and chocolate-filled pastries, often eaten for breakfast.
Poivre: Pepper. Poivre blanc is white pepper and poivre gris or poivre noir is black pepper.
Puintions®:  Small butter cookies of boulangerie Poilâne, France.
Saint-Marcellin: A soft French cheese made from cow's milk. Named after the small town Saint-Marcellin (Isère).
Tartine: A French open-faced sandwich, one with a rich or fancy spread.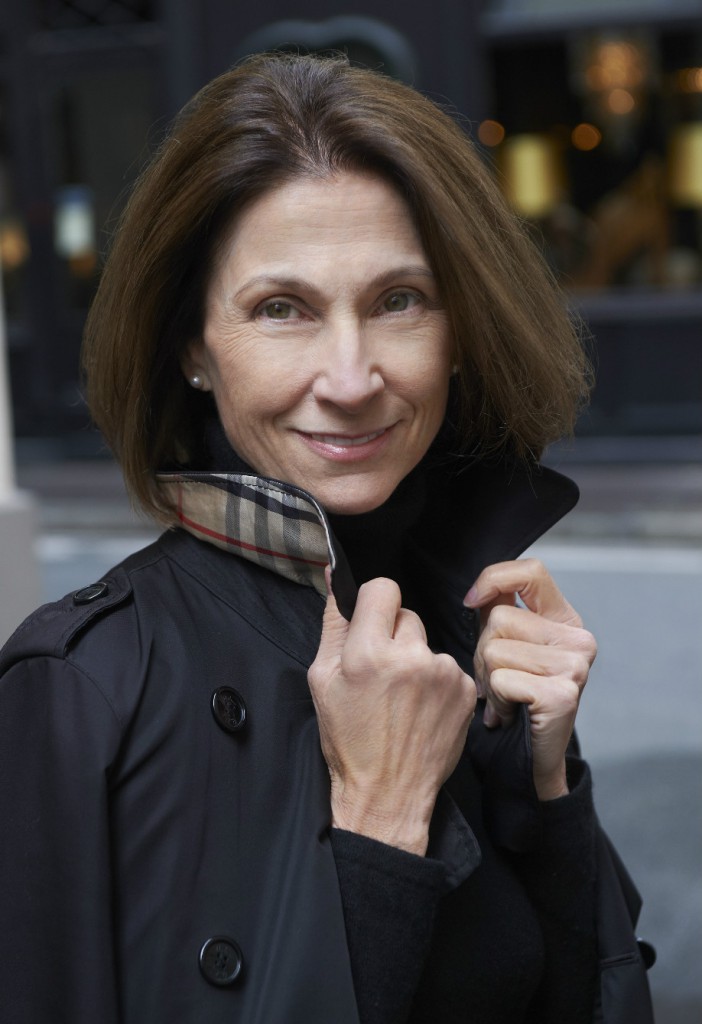 Barbara Redmond, publisher of A Woman's Paris®, is a long-time Francophile and travels to Paris every chance she gets. Her stories about Paris and France have been published in AWP® and republished, with permission, by other blogs and publications. Barbara has presented programs on French fashion and food, and has been a guest speaker for students planning their study abroad. She serves as an advisory board member at the University of Minnesota College of Design and is an active student mentor. Barbara has been recognized for excellence in art by international and national organizations and publications. Prints of her fine art paintings are in collections in Europe and North America and are available for purchase.
By Hand: Steve Horton
By Hand: Steve Horton, by Steve Niedorf – Niedorf Visuals
You may also enjoy A Woman's Paris® post, Pain Perdu: Childhood love of French custard and bread, by Barbara Redmond who shares her discovery of pain perdu (French toast), from the boulangerie pâtisserie Calixte in Île St. Louis, Paris. Barbara experiences French toast as a favorite treat eaten in the gardens of Notre Dame in an air of whimsy and childhood delight. Recipe included for "original French toast," made by Christophe Raoux of L'École de Cuisine d'Alain Ducasse for Mark Schatzker, ABC News explore. 
Chocolate Mousse — debonair, dark and irresistibly rich! by Barbara Redmond who looks into this crème de la crème of mousses and uncovers the source of the original dish.  Mousse as the supreme seducer was first known as "Mayonnaise de Chocolat," created in the 1900s by French post-impressionist artist, Henri de Toulouse-Lautrec. Recipe included for Mousseline au Chocolat (Chocolate Mousse), by Julia Child from her book, The French Chef Cookbook.
The Veuve Barbe-Nicole Clicquot and other Widowed women entrepreneurs, by Canadian writer Philippa Campsie who tells about the fast track to business independence or indeed, any kind of independence. Two hundred years ago, for many women, this independence was gained through widowhood. The story of Barbe-Nicole Clicquot, better known as Veuve (Widow) Clicquot, was a story that also happened to Louise Pommery, Lily Bollinger, and Mathilde Laurent-Perrier, and a few others. 
Le Cordon Bleu Paris: Another "Sabrina" story, by Karen Cope who writes about her experiences at the famous Cordon Bleu cooking school, where she was a student. She shares with readers the recipes and methods of the famous school as she experienced them through classes: two Basic Pastry classes, Basic Cuisine and Intermediate Pastry. Including a list of cooking schools in Paris.
French Cuisine: Cooking schools in Paris founded by women, by Barbara Redmond who writes about extraordinary women who cook: from Anne Willan, Marthe Distel, and Elisabeth Brassart, to "Les trios gourmands," Julia Child, Simone Beck, and Louisette Bertholle. Including a directory of cooking schools in Paris.
Text copyright ©2012 Barbara Redmond. All rights reserved.
Vimeo copyright ©Steve Niedorf/Niedorf Visuals. All rights reserved.
Illustration copyright ©2012 Barbara Redmond. All rights reserved.
barbara@awomansparis.com