Fashion trends from the street, Rule of Five
16 Monday Jan 2012
A Woman's Paris™ in Style
Tags
Bill Cunningham, Billy boots, Blucher boots, Goldstein Museum of Design Gallery, Gummie boots, Hunter boots, Jack Edwards, l'avant garde, la BCBG, la branchée, Maxime Simoëns, Paris Fashion Week Haute-Couture, Ray-Ban Wayfarer, Shuron's RonSir, Time's Style On the Street, Wellies
Share it
By Barbara Redmond
Wellies. Gummies. Barn boots. For mucking about the roses or following the riders astride a horse, who trail the hounds that chase the fox.
My dashing old Hunters, a radish-ing pair,—flamboyant with images of peas, carrots, cabbages and radishes,—wait for me at my daughter's home where I prune the roses, walk through the barn, or follow the fox hunt.
Muckboots indeed, but Wellingtons on the streets of Paris? Must be girls from England or Boston's North Shore, I thought.
A familiar and fashionable sight with the horsey set in New England and Northern regions, mid-calf boots worn when walking on wet or muddy ground, often made of rubber, generally just below the knee or shorter with low cut heels. These "green Wellies," introduced by Hunter in 1955, had become abbreviations for the "country life," or for those of us who wanted to be considered country denizens. Rubber boots worn by fisherman and those clamming for steamers on the fine sandy shores of the Atlantic.
In Paris, could they be Australians in their Blücher boots, New Zealanders in gummies, or Canadian girls who wear their billy boots to school or take them to summer camp?
Last January, during Paris Fashion Week's 2011 Spring/Summer Haute-Couture Collections, I saw one young woman on the stone slab sidewalk, invitation in hand, waiting to enter French fashion designer Maxime Simoëns' catwalk show. She was wearing Wellies, mid-calf in lavender plaid. Her rubber country boots out of context in Paris, but worn among the trendy la branchée of the Left Bank, adhering to le look intello (intellectual); the cutting-edge look found in the trendiest clubs—l'avant garde—with their daring hair colors and attention-getting accessories; and la BCBG, (bon chic bon genre) the woman of the Right Bank, Neuilly, the sixteenth arrondissement; and everything outrageous from around the world in between. I loved it!
Once inside Maxime's show, I seized a slot near the swarm of photographers and noticed a second young woman in green Wellies searching for a spot in my direction. I whisked to a fresh page in my red leather sketchbook scribbled with notes and marked: Note to self:  barn boots, Hunter's. Sketch 1. Sketch 2. Green. Lavender, plaid.
Rule of Five:
I was chasing the fox, in Paris, that is. Two noted. (Three Wellies to go if I'm spot-on.)
The day after Maxime's show, I walked boulevard Beaumarchais, the hip street near Le Marais in the third arrondissement, to get a café at a favorite stop. Like most Januarys in Paris, it was cold, wet and damp. Backtracking on Beaumarchais on my way to the train station, Gare de Lyon, I glanced across the puddly boulevard at a well-dressed woman clothed in a pair of glossy-black rubber country boots. Hunters? Unmistakable! I yanked open my little red book and scrawled: Three Wellies.
Waiting on a bench in Gare de Lyon, the sixth largest railway terminal in Paris, I saw a college girl in polka dot Wellies reading a text. Soon after, as I walked to my track, I passed another girl in more plaid Wellies at the far end of the station. Rule of Five…
On extended stays in Paris, I've seen trends take hold. French sailor jerseys: waves of blue and white stripes shifting in the Paris breeze; each wave like a cat-paw on the surface of the ocean, now dark, now light, now gone. Iconic frames: Ray-Ban Wayfarer from the mid-1950s; and Shuron's RonSir, worn by Malcom X and JFK, an authentic original piece from the 1960s restored by RetroSpecs & Co., and available back in Minneapolis at Specs Optical.
When I returned to Paris ten days later, Hunter boots were infiltrating through the streets in every color and print imaginable. Still, the Parisienne never tried to fit in. Daring, carrying herself confidently, with her own inbred style, she moved quickly through the city, hardly disturbing its surface, with a slight breeze that riffled through her hair. La Parisienne in Wellies; as sexy and seductive as ever.
Rule of Five: Street trends

We have our Rule of Five, my two daughters and I. Street trends.
"Mother, flip-flops in Grand Central Terminal this morning on the train ride in to work. Five. Businesswomen – no fresh pedicures… Gotta go."
"Mother, vintage rhinestone broaches. Five. Today on 'The T,' Boylston Street and in 'The Common.' Do we have Great Grandma's costume jewelry? Send it, please!"
The Rule of Five is our take from the Times Style column, "On the Street," by Bill Cunningham, a photojournalist who chronicles fashion and humanity on the streets of New York for The New York Times. A regular contributor to the Times since the 1980s, Bill has seen it all. We adore his work! ("On the Street," Cunningham's video column, can be viewed on The New York Times website.)
Fashion is not something that exists in dresses only. Fashion is in the sky, in the street, fashion has to do with ideas, the way we live, what is happening. — Coco Chanel
A WOMAN'S PARIS RECOMMENDS

Francis Klein, Opticien Créateur. A small shop on rue Bonaparte, where the family-run business offers bespoke eyeglass frames of unparalleled quality and originality. A special product in limited quantities.
Le Chameau. Established in France in 1927. Boots are handcrafted with the highest quality materials available. Worn by the Brits and a staple of the Royals. We adore the Vierzon Lady.
AIGLE Boots. Established in France in 1853 by the American Hiram Hutchinson stands for uncompromising quality combined with superb design and craftsmanship.
Hunter Boots USA. Hunter has moved from being a Scottish company with a predominantly British clientele to being a truly global brand. Hunter has receive The Royal Warrants of Appointment as suppliers of waterproof footwear to HM The Queen and HRH The Duke of Edinburgh.
Lightbox.time.com. Featuring Bill Cunningham New York.
Street-Fashion.net Street style photos, listings and news and generally awesome street fashion culture.
Street Peeper.com  Global street fashion and street style photo site featuring the best street styles from around the globe. Street fashion from cities like New York, Berlin, Paris, London, Tokyo, and more.
Street Chic on Elle.com At Elle.com you can see the hottest street styles from around the globe. Get a look at street chic fashion from New York to London.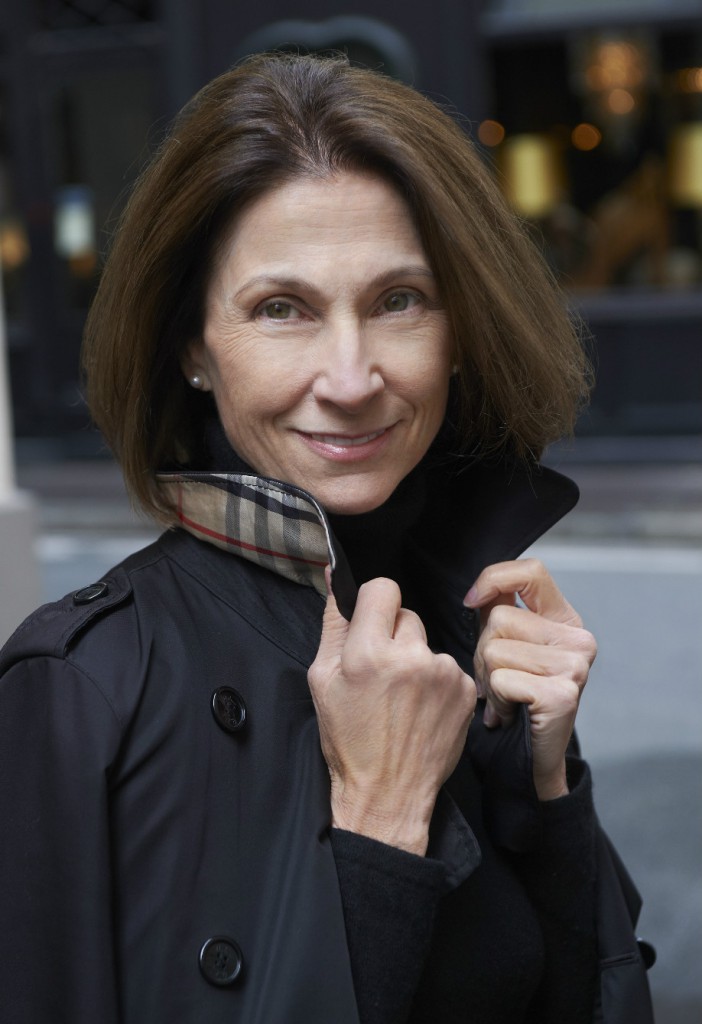 Barbara Redmond, publisher of A Woman's Paris®, is a long-time Francophile and travels to Paris every chance she gets. Her stories about Paris and France have been published in AWP® and republished, with permission, by other blogs and publications. Barbara has presented programs on French fashion and food, and has been a guest speaker for students planning their study abroad. She serves as an advisory board member at the University of Minnesota College of Design and is an active student mentor. Barbara has been recognized for excellence in art by international and national organizations and publications. Prints of her fine art paintings are in collections in Europe and North America and are available for purchase.
You may also enjoy A Woman's Paris® post, Fashion Crashing: Paris haute-couture, by Barbara Redmond who crashed Maxime Simoëns' haute-couture catwalk show during Paris Fashion Week with patience and persistence, but no invitation. The models, the show, the crème de la crème audience, and the style.
Diving into Paris Fashion: From famous to fresh, by Parisian Abby Rodgers, who asks the question, "…with veterans such as Lagerfeld making the move to the street-wear market, where is fashion headed in Paris and what influence does the newest generation have?" Included are fashion brands and stores that are favorites of Abby and her friends.
Ballet Flats in Paris: And God made Repetto, by Barbara Redmond who shares what she got from a pair of flats purchased in a ballet store in Paris; a feline, natural style from the toes up, a simple pair of shoes that transformed her whole look. Including the vimeos "Pas de Deux Coda," by Opening Ceremony and "Repetto," by Repetto, Paris. (French)

Imperfect Perfection: The new French woman, by writer Kristin Wood who reminds us of the words attributed to Henry David Thoreau, the famous American author and philosopher who eschewed material excess and extravagance… "Simplify, simplify, simplify." Kristin writes about the predicted trends of the "undone" makeup look, and the "de-blinging" of luxury items. What better place to introduce these two trends on a grand scale than in Paris?
Beauty Confessions from a Globe-trotting Parisienne. Parisienne Bénédicte Mahé shares a French woman's approach to beauty and makeup; and how the relationship Americans have with beauty is very different from that of the French. Including her list of Beauty Resources in Paris and a vocabulary of French to English translations. (French)
 The challenge of business casual, by French woman Bénédicte Mahé who shares suggestions for business casual with those beginning their work careers in Paris. Included are fashion brands and stores that are favorites of Bénédicte and her friends. 
Text copyright ©2012 Barbara Redmond. All rights reserved.
Illustrations copyright ©Barbara Redmond. All rights reserved.
barbara@awomansparis.com