Ballet Flats in Paris: And God made Repetto
28 Thursday Jun 2012
A Woman's Paris™ in Style
Tags
Annick Goutal, Barbara Stanwyck, Brigitte Bardot, Chopin, Debussy, Degas ballerina, Dior, France, French, French fashion, French women, Guerlain, Hermès, Jackie Kennedy Onassis, Kate Moss, l'Opera Garnier, magic slippers, Paris, Paris ballet, Paris Opera Ballet, Pas de Deaux Coda by Opening Ceremony, Poulenc, Repetto, Repetto BB, Rose Repetto
Share it
By Barbara Redmond
Winter 2005: (French) Kate Moss, stepping out of the glossy pages of a fashion magazine in an off-celebrity photograph about to step from the curb into city streets wearing a pair of silver-toned ballet flats. Hot off the press in early 2005, I flipped through the magazine's pages and stopped to study the ballet flats and Kate, the woman who wore them. The ballet flat, with barely a sole, was ruched at its toe and pulled tight with a drawstring. It was low-cut and sexy. I wanted Kate's look from the ankle down; how her model's foot sickled from her heel to toe elongating its outside edge as it reached toward the street, the turnout of her leg. Her feline step.
I ignored the style editor's description of Kate and scanned straightaway to the name of that flat. Repetto, Paris. It was different. It was French. And unlike the collection of flats in my closet: from the gemstone-encrusted chartreuse with upturned tip to the robins-egg blue in supple kidskin pleated from the toe, held threaded by a drawstring that tied in a bow, with classic red soles—and every style in-between—melons and pinks, plaids and patents, and black styles in suede, velvets, and Pilgrim flats for evening. I would be in Paris that July and I wanted Kate's ballet flat.
After my long-haul flight to Paris, I taxied to the apartment and dropped my luggage in the entryway. I removed the magazines from my sac, reapplied my lipstick and left in search of my ballerina flats at Repetto's, located on a side street near l'Opéra Garnier, home of the Paris Opera Ballet. I zigzagged through historical Paris from the 4th arrondissement to the 2nd arrondissement skimming along the paved and cobblestone sidewalks and streets. In a most unfeminine style, darting around pedestrians, skirting storefronts and stepping into the street to avoid the lampposts as I hurried to the boutique to claim my magic slippers, and that Kate Moss confidence, before anyone else could have them.
In my haste, I missed rue de la Paix, twice, in search of this side street that spans from avenue de l'Opéra to Place Vendôme. If you know what you want and how get it politely, style and charm succeed when maps fail. I asked.
I negotiated my way along rue de la Paix, this narrow street strewn with cars and motorcycles parked bumper-to-bumper on each side of the street both on and off the curb, darting in criss-cross patterns looking above shop doors for the small plaques that, if numbered in order, would lead me to the correct address.
From across the street, I stopped when I saw through a clear-glass storefront, two ballerina costumes in the palest shades of grays and pinks on clear plastic hangers floating in space and suspended from the ceiling on thin satin cords.
Theater floodlights from the surface below illuminated a wall of translucent wires strung tightly in rows between the windows and costumes, reflecting light like Paris rain, casting an ethereal light on layer-upon-layer of tulle netting in the tutus that flared from each satin bodice. Chandeliers hung low and glowed from the front to the back of the shop. An inside wall held towering cubbyholes, stuffed with pink satin ballet slippers. In this narrow street, which was shaded by the buildings that surrounded it, I began to understand the colors of Paris, rain-washed colors: grège, a color between grey and beige; shell-like pinks; the lavenders in its shadows; the coolest of grays and blues of Paris when it rains; and the vibrant and pastel colors of the season worn by fashionable pedestrians who crossed in front of me.
I walked through the aisle of cars to claim my sliver-toned ballet flats, which waited less than 8 meters away. At the glass windows, I paused. A ballerina was dancing en pointe, on the tips of her toes, in front of the full-length mirror near the cubbies testing her shoes. Young ballerinas, who had come straight from lessons in their leotards and tights, ballet flats, and hair pulled off their neck in a wispy chignon, pranced about in choreographed confusion, their workout bags strewn about the floor. They were there with their mothers, or alone, in search of their favorite pairs from low circular tables of ballet flats, ballet pumps and dance shoes in leathers, patents, and canvas—inspired by real ballet slippers and from an impressionist's palette of icy-pastels to vivid hues. Shoulders back with a slight tilt of the head and bending at the waist; standing or sitting on the floor, each girl reaching for the drawstrings to tighten the leather around the foot for a better fit. Ingénues. Silhouettes of charm and childlike femininity: elegant and confident.
I was inside the ballerina's world. The magic of this place caught my eye. May I sketch? I asked the store clerk. Women and girls, and men and boys; even the oldest among them as they entered the store seemed to straighten up, aware of her body and the space around her.
I had noticed this Parisian sense of elegance and confidence on the streets of Paris and wondered, has every Parisienne been instructed in the practice of ballet? This shop was home to the dancer and I was inside now watching them in contrast to pedestrians on the street I saw ambling about or walking with intention, as pedestrians do.
I left the store with a shopping bag of gorgeous black shoeboxes with the moniker, Repetto, stamped in silver foil on top of each. Once at the apartment, I opened the first box and unwrapped from its layers of tissue a pale-pink leather Repetto BB ballet flat; and from another box, a pair of BB's in sparkly bronzed-gold fabric; and from the last shoebox a pair of BB's in the softest black kidskin with black silk ruched ballet-style at the toe. I loved the ceremony, the ritual, and the new shoe smell. I sashayed through the apartment testing each pair in turn. I mimicked the ballerinas at Repetto and the dancers on stage with their long sweeping gestures and grand jetés. Straight back. Legs turned out. In the midst of a muddled pirouette, I recalled attending my first performance at l'Opéra Garnier, with its dancers from the Paris Opera Ballet, where I sat in the third row close enough to hear the hollow tap of ballerinas dancing against the wooden floor. And above me, the magnificent ceiling painted by artist Marc Chagall. The sparkle of the matinee with young ballerinas dressed in tulle, ballet flats, hair pulled tight in a chignon at the tops of their heads, wearing little girl perfumes: the scents of Dior, Guerlain and Annick Goutal; young dancers who came with their mothers and grandmothers to attend the ballet. I had stepped inside a Degas pastel.
I put on the pink flats. This simple ballet flat required an easy look. Although my style was already simple, I needed a pared-down look that began from the toes up. When I pack for Paris, I bring four pencil skirts, three long-sleeve jersey T's in black or white, and two Hermès scarves. Perfect. I freshened my lip-gloss, took another look in the mirror and toned-down my makeup. I added jewelry then took it off, but kept my watch and hoops. I left my scarves in their orange boxes, grabbed my nylon sac and sketchbook and stepped out into the streets of Paris in my new pale-pink BB flats.
I noticed, in a new way, the gait and posture of the Parisiennes around me. In particular, the Parisiennes wearing flats. How they carried their bodies, how they moved, how they stood and walked. Many had the beautiful feline movement of cats, easily accomplished in the ballet flats they wore. I saw Repettos everywhere. I could tell by the cut of the shoe, the style of the ballet flat or ballet pump, or the Zizi jazz dance shoe; I had absorbed the colors and knew their appearance in patent, leather, canvas, and suede.
January, 2012
Over cocktails with girlfriends on a snowy evening this past January, I announced to my friends, Kat and Cynthia, that I wanted to take classes to learn how to walk.
"Comportment is what we called it at Catholic school," said Kat. "We all had to take it."
Cynthia, who modeled in her teens, left her glass of wine on the counter and demonstrated the distinctive walk of Barbara Stanwyck, an American movie star. At the end of her imaginary runway, she shifted abruptly taking on the signature walks of other celebrities, then the catwalk for couture. Kat and I could hardly stand it as Cynthia hammed it up on her make-believe stage.
"Really, I'm serious," I said, hardly able to contain my laughter.
"Right," remarked Cynthia, "We've never put you and balance in the same category; you walk on our toes, you dart."
This past January, I enrolled in my first ballet class. The session is one and one-half hours every Saturday afternoon, with an hour of ballet stretch before each class. Now, five months later, I've added fundamentals of ballet class to my Saturday routine; another one and one-half hours that takes place before my ballet stretch and lesson. I dance. I listen to the sounds of French: pirouette, plié, and relevé during practice, and the tones of our soft practice shoes brushing the floor and the bar. All of us look good in leotards: women and men. When the last class before us files out, we enter the room and toss our workout bags near the piano, greet our pianist, Marianne, and stride to the center of the room or to the bar where we warm-up in silence. We dance to the mazurkas of Chopin, the arabesques of Debussy, and valses of Poulenc.
What I wanted in July of 2005 was that Kate Moss look from the ankles down, my vision of her stepping off the curb into the streets of a city, an easy French elegance.
Kate's style is different from that of the archetypal sex kitten, Brigitte Bardot. Bardot, a classically trained ballerina, in 1956, came to Rose Repetto asking her to fashion a ballet slipper she could wear on the street, a slipper that would reveal the birth of the toes, et qui dévoile la naissance des orteils, a new kind of cleavage, un genre nouveau de décolleté, for the film she was shooting, Et Dieu Créa la Femme (And God Made Woman), a film that would turn her into an overnight sensation. Bardot was looking for a gait that was liberated and sensual.
In 1957, women adopted the Bardot look—ballerina flats, Capri pants, la Marinière (the French sailor shirt), and her blond sexy, full hair—for a sophisticated French look that appealed to young sporty women, nouveau rich, and café society. Jackie Kennedy Onassis embraced the look in her bouffant hairdo, oval sunglasses, skinny ankle-length pants and flats—a brunette—her sophisticated, relaxed style, cultured in all of her Frenchness. That look still embodies panache and effortless chic, elegance and class. The ultra simple flat popularized from the world of ballet continues to suit modern life.
What I got from a pair of flats purchased in a ballet store in Paris was a feline, natural style from the toes up; a simple pair of shoes that transformed my whole look.
VIMEO "Pas de Deux Coda" by Opening Ceremony
[vimeo http://www.vimeo.com/18113728 w=400&h=225]
Pas de Deux Coda from Opening Ceremony on Vimeo.
VIMEO: Repetto
[vimeo http://www.vimeo.com/20524741 w=400&h=225]
Repetto – Vitrine interactive from Marcel on Vimeo.
A NOTE TO OUR READERS:
From documentary filmmaker and journalist, Parisienne Christine Loÿs who comments: "Every little girl in France has known about Repetto for ever as soon as she takes dancing lessons and most have done so and still do at school in their early years. Later Repetto has been clever enough to offer shoes that were not for dancing but only looking like it. Today, they are exceptionally comfortable and… expensive. We love them here in France. Barbara you are really an expert to point our specific "traits de caractère française"!!!
To learn more about Christine, visit: French Impressions: an interview with documentary filmmaker Christine Loÿs.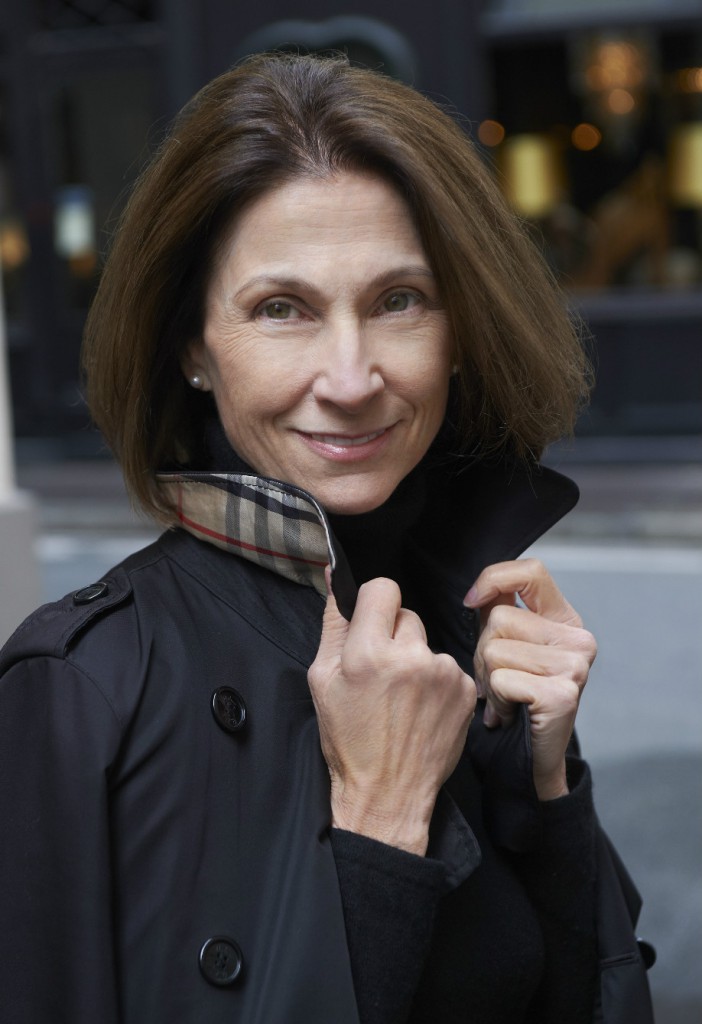 Barbara Redmond, publisher of A Woman's Paris®, is a long-time Francophile and travels to Paris every chance she gets. Her stories about Paris and France have been published in AWP® and republished, with permission, by other blogs and publications. Barbara has presented programs on French fashion and food, and has been a guest speaker for students planning their study abroad. She serves as an advisory board member at the University of Minnesota College of Design and is an active student mentor. Barbara has been recognized for excellence in art by international and national organizations and publications. Prints of her fine art paintings are in collections in Europe and North America and are available for purchase.
You may also enjoy A Woman's Paris® post, French Impressions: Brooke Desnoës on dance, the finest expression of freedom. Brooke Desnoës discovered dance as a student of Sonia Arova, a former partner of Anton Dolin of the Royal Ballet and in 1987, after graduation from high school, joined the Scottish Ballet under the direction of Alexander Bennet. In 1990, she obtained a diploma as a professor of classical dance, while dancing in the Georgetown Ballet in Washington D.C. In 1997, Brooke returned to France and founded the Académie Américaine de Danse de Paris. 
French Impressions: Johan Amselem on the joy and optimism of dance. Johan worked for five years with dancer Laura Scozzi as her choreographic assistant on tour on "Platée", an opera-ballet produced by Opéra de Paris – Palais Garnier. Johan works with Opéra de Paris on pedagogic programs for schools.
French Lingerie: Mysterious and flirty, by Barbara Redmond who shares her experience searching for the perfect lingerie in Paris boutiques and her "fitting" with the shop keeper, Madame, in a curtained room stripped to bare at Sabbia Rosa. Including a French to English vocabulary lesson for buying lingerie and a directory of Barbara's favorite lingerie shops in Paris. (French)
Scarves à la Françoise: The lingua Franca for stylish women, by Barbara Redmond who shares her experience trying on scarves and tying them at the home of her French friend in Lyon. Arriving at the famous silk manufacture in Lyon, André Claude Canova, Barbara and her friend gently tapped on the window even though the shop was closed.  The shop girl let them and they all enjoyed hours of playfully draping, twisting and knotting scarves and shawls. An experience spurred by the ubiquitous nature of women and scarves: our common language.
French women do get wrinkles, by Parisian Eva Izsak-Niimura who writes about the super French myth of the coquettish French nymph–her "je ne sais quoi"–in her ballerina shoes, hair effortlessly tied in a messy chignon blowing in the wind, large sunglasses over her naked, no make-up, nevertheless beautiful eyes, and she then continues to define how we are all measured by it.
Paris Makeover: coming home blond, by Barbara Redmond who declares, "Never question a Frenchwoman," and succumbed to the transformation of coming home blond. Barbara describes it all: the haute-coiffure, the pharamacie, and her new "French look!" Including Barbara's favorite book on spas, salons and beauty boutiques in Paris, and her personal directory of hair and makeup salons in Paris. Not to miss is her vocabulary of French to English words so "nothing" gets lost in translation!
l'Américaine, by Parisian Eva Izsak-Niimura who writes about the myth of the unsophisticated and pathetically naïve American where book after book and article after article there is the lament of the hopeless quest of the American woman to resemble her French counterpart. 

Text copyright ©2012 Barbara Redmond. All rights reserved.
Illustration copyright ©2012 Barbara Redmond. All rights reserved.
barbara@awomansparis.com