French Impressions: Kristin Adele Graves and her fascination with heroine Josephine Baker
11 Wednesday Jul 2012
Tags
African American Studies, African American Women's History, Baker Fix hair product, Beyonce, French Studies, I Have a Dream Dr. Martin Luther King Jr, Josephine Baker, la belle creole, La Sorbonne, March on Washington for Jobs and Freedom 1963, Paul Poiret, Pee Wee's Big Adventure, Princess Tam Tam, RuPaul, Tulane University, Yale Art Gallery Press, Yale University, Zou Zou
Share it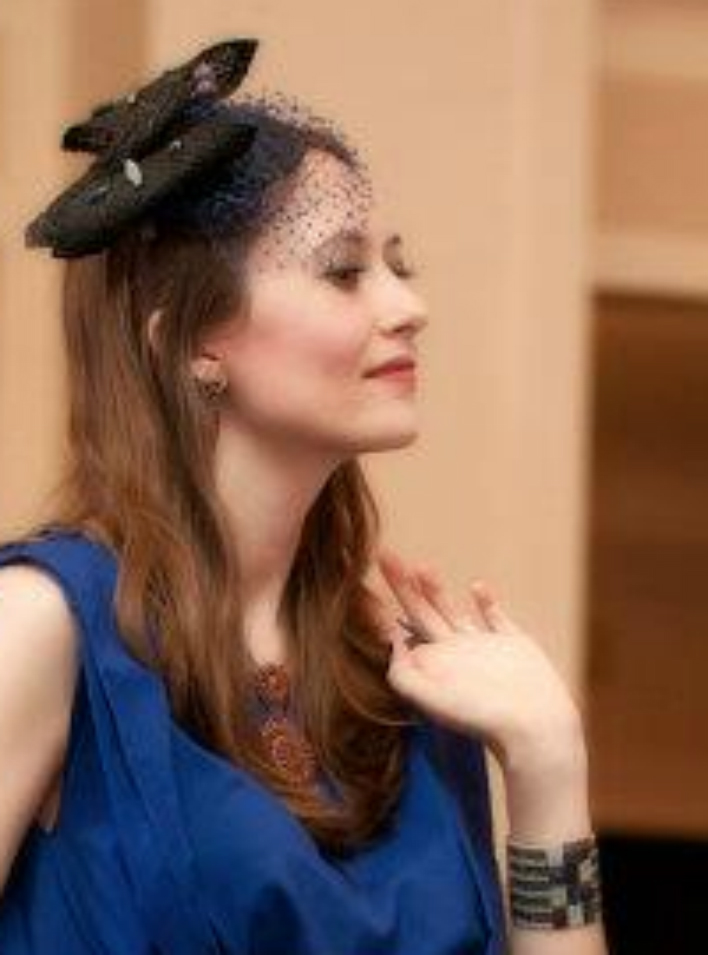 Kristin Adele Graves, doctoral candidate at Yale University, was educated at Tulane University and Yale, where she received her M.A. and M.A.Phil. in African American Studies and French in 2011. She is a joint doctoral candidate in the departments of French and African American Studies at Yale University. Her undergraduate studies have taken her to La Sorbonne (Paris IV) where she spent a year studying art history and has since returned to France for summer research and conference presentations.
Kristin's dissertation is on visual and literary representations of "la belle créole," or beautiful Creole woman, in French and Creole languages. The project tracks transmutations of the "beautiful Creole" as an aesthetic, erotic and political figure in international circulation from the late seventeenth century to contemporary times.
Kristin currently teaches African American Art History at Yale and works in the editorial department of the Yale Art Gallery Press and Publications. She has led the discussion section of a course on African American Women's History and has taught French language courses. Kristin is interested in the changing concepts of beauty in France, Louisiana and Haiti. Her favorite performance and fashion history icon is Josephine Baker.
Her scholarly work engages literature alongside popular cultural productions such as music, dance, fashion and cinema. Occasionally, Kristin models fashion on the side. Kristin can be contacted at http://french.yale.edu/graves.
INTERVIEW

AWP: What sparked your interest in Josephine Baker?
KAG: I was immediately pulled in by Baker's magnetism and screen presence when I was introduced to her films, Zou Zou and Princess Tam Tam, during a French course I took in college.
I wrote my undergraduate honors thesis on Josephine Baker, and she continues to be an important part of my work. It has come to light, though, that there is actually a photo of Josephine Baker briefly visible in the window of a kitschy-novelty shop in my favorite childhood movie, Pee Wee's Big Adventure. So, perhaps Baker has been embedded in my subconscious for most of my life!
AWP: In your research, what was the most surprising thing you learned about Josephine Baker?
KAG: Perhaps, the most surprising thing to me was the widespread and unfortunate downplaying of Baker's political activism, particularly her bold and militant advocacy for civil rights for African Americans in the United States in the 1950s and 1960s.
It is not well known that Josephine Baker was the only woman to give a fully developed speech on the stage at the "March on Washington for Jobs and Freedom" in 1963. Once Baker heard about the event, she flew in from France, uninvited, and proceeded to give an unsolicited speech on her own experiences of racism, whether anyone wanted to hear it or not. She introduced Dr. Martin Luther King, Jr.'s famous speech, "I Have a Dream," and he built on her momentum. It is hard to find documentation of her speech and even her presence through filmed footage and photos because she has, for the most part, been edited out of our history books on the event.
It is important to remember that she did it all—she was a singer, dancer, film and theater actress, political activist and author. Josephine Baker rose to unprecedented and unparalleled success as the highest paid performer in the world in the 1930s.
AWP: What contemporary cultural phenomenon(s) do you think she would be most interested in?
KAG: I think Baker would be quite interested in the careers of contemporary performers like Beyoncé, who is an heir of Baker in her international success and in her level of versatility in song and dance genres. She would be equally interested in RuPaul and so many other drag performers who often cite her personae in their performances and commentary on each other's performances. Openly bisexual and a fierce drag queen herself, Josephine Baker always aligned herself with the drag tradition and with the LGBT community.
AWP: How has Josephine Baker's personal style influenced fashion?
KAG: Many people don't know that Josephine Baker actually co-designed a lot of the most chic garments of Paul Poiret's line in the 1920s and 1930s. (There are some great images of Poiret gowns online.)
Baker was also the poster girl and spokeswoman for numerous hair products, such as "Baker Fix," to help interwar women get the range of liberating sleek looks she embodied and helped populariz—from the finger wave to the short boy-cut plastered to her head.
Bold. Eclectic. Drag. Trendsetting. Chameleon. She could morph straight from the most risqué and revealing costume, draped with outlandish feathers and beads, to the sheer sophistication of a floor-length silk designer evening gown and pumps.

AWP: What modern fashion trend do you think she would love most?
KAG: As a highly decorated military woman (she served in the French Resistance), I think she would love all the military jackets and brooches.
AWP: In your work, how do you fit in with Josephine Baker? Describe your own "Paris Years." 
KAG: I relate most to Josephine Baker's sheer audacity as a performer and public figure. She was fierce and fearless.
AWP: What is the last book you read?
KAG: Chroniques Louisianaises, by François Tujague.
AWP: How do you express your own style or fashion? What style advice do you take from Josephine?
KAG: Always dress to make an impression. Never wear an ensemble directly off the rack or in the window display. It's less about what you wear and more about how you wear it. Be bold and be yourself.
You may also enjoy A Woman's Paris® post, French Impressions: Alice Kaplan – the Paris years of Jacqueline Bouvier Kennedy, Susan Sontag, and Angela Davis, on the process of transformation. Author and professor of French at Yale University, Ms. Kaplan shares her new book, Dreaming in French: The Paris Years of Jacqueline Bouvier Kennedy, Susan Sontag, and Angela Davis, on the process of transformation. By entering into the lives of three important American women who studied in France, we learn how their year in France changed them, and how they changed the world because of it. (French)

French Impressions: Bilguissa Diallo's literary process as a second-generation immigrant living in Paris. Interview by Jen Westmoreland Bouchard. Author Bilguissa Diallo, born in France in 1975 to parents of Guinean descent. Her novel, Diasporama, provides an engaging account of the daily lives and familial expectations of the children of African immigrants living in France.
Eating: Afro and French (in Paris), excerpts from Kiratiana's Travel Guide to BLACK PARIS: Get Lost and Get Found, by Kiratiana Freeloon. Although you must sample the highlights of traditional French cuisine, visitors on a quest for black Paris will also be drawn into the city's eclectic ethnic eateries. Kiratiana shares where to go for Antillean and Sénégalese cuisine in Paris.

The African Queen of Parisian Cuisine, from Kiratiana's Travel Guide to BLACK PARIS: Get Lost and Get Found, by Kiratiana Freelon who writes about the "African Queen of Parisian Cuisine." Featuring suggestions such as Le Petrossian 144, in Paris, where the head chef is Rougui Dai, a Frenchwoman of Sénégalese decent. There are more than 2,000 French restaurants in Paris. Of the 400 that the Michelin Guide found worth listing, only 77 receive one of their coveted stars. And of those starred restaurants, only one has a black, female head chef: Le Petrossian 144.
African-American Expatriates in Paris, where we share a few of our favorite books written by and/or about African-Americans in Paris and France. Some are novels; some are histories; all are fantastic reads.
French Impressions: Johan Amselem on the joy and optimism of dance. Johan worked for five years with dancer Laura Scozzi as her choreographic assistant on tour on "Platée", an opera-ballet produced by Opéra de Paris–Palais Garnier. Johan works with Opéra de Paris on pedagogic programs for schools.
A Woman's Paris — Elegance, Culture and Joie de Vivre

We are captivated by women and men, like you, who use their discipline, wit and resourcefulness to make their own way and who excel at what the French call joie de vivre or "the art of living." We stand in awe of what you fill into your lives. Free spirits who inspire both admiration and confidence.
Fashion is not something that exists in dresses only. Fashion is in the sky, in the street, fashion has to do with ideas, the way we live, what is happening. — Coco Chanel (1883 – 1971)
Text copyright ©2012 Kristin Adele Graves. All rights reserved.
Illustrations copyright ©Barbara Redmond. All rights reserved.
barbara@awomansparis.com