French Impressions: Lilianne Milgrom and the artistic sexuality of Paris
16 Tuesday Jul 2013
Tags
19th century French painters, African-American artists in Paris, Auguste Rodin, Bonjour Paris!, Crossroads Gallery Washington DC, Edouard Vuillard, France, Great Works 50 Paintings Explored by Tom Lubbock, Gustave Courbet L'Origine du monde, Gustave Courbet The Origin of the World, Henry van Dyke, Ivry-sur-Seine, Lilianne Milgrom, Musée d'Orsay, National Portrait Gallery in Washington DC, Paris, portrait painting, The Great Nude, Van Gogh's Bad Café by Frederic Tuten, Vingt paris
Share it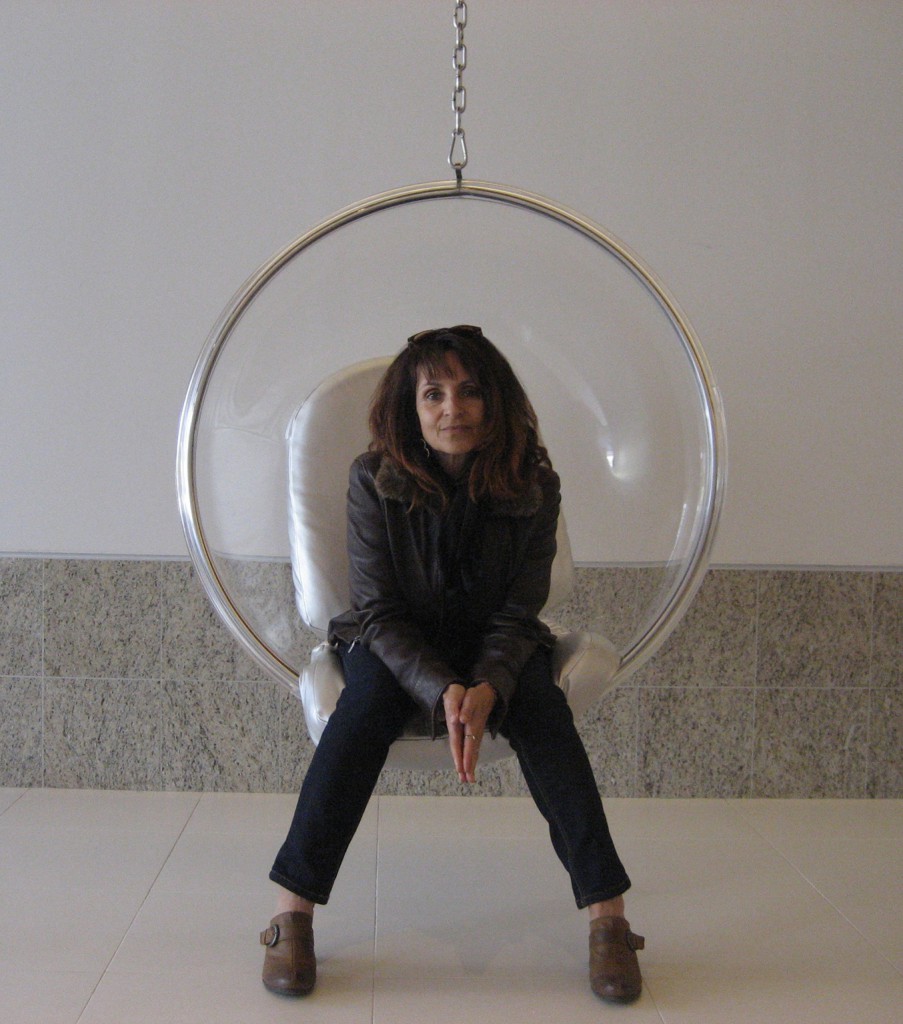 Lilianne Milgrom, a Paris-born artist and writer based in Washington DC, chose the theme of female identity, sexuality, and aging for her artist residency in Paris in the winter of 2010. Through a series of serendipitous coincidences, she found herself going back to the origin of the world and the creation of Man as her starting point.
In artistic terms that meant obtaining permission from the Musée d'Orsay in Paris to become the first authorized copyist of Gustave Courbet's notoriously erotic masterpiece entitled L'Origine du monde (The Origin of the World). Completed in 1866, Courbet's painting of realistically rendered female genitalia­—cropped to exclude limbs and face­—was not publicly exhibited until 1995 and is still considered one of the most controversial paintings of all time.
Working in the public eye, Milgrom was privy to the wildly diverse responses to this contentious painting. She obtained permission to film a day in her life as a copyist, chronicling her interactions with the museum public and exposing the social and cultural implications elicited by erotic imagery in art. The documentary, which she produced, is scheduled to be screened at the Musée Gustave Courbet in Ornans in the summer of 2014.
Upon returning to the United States, she continued to develop her focus on female sexuality, ultimately incorporating her authorized copy of l'Origine du monde into a contemporary, multi-media work. Her fascination with the Parisians she met during her extended stay culminated in a series of contemporary portraits entitled Summer in Paris, currently on exhibit at Crossroads Gallery near DC, through the end of August, 2013. Some of the works will then travel to Paris to take part in the Open House studio days in Ivry-sur-Seine. (A preview of her Parisian portraits can be viewed online by our readers below in Summer in Paris. Interested parties can contact the artist directly).
While in Paris, Lilianne also wrote for Bonjour Paris, The Great Nude and Vingt Paris, and her essay I Am Woman was included in an anthology entitled Dans le ventre des femmes, 2012. She is currently working on an entertaining book that interweaves her experience as the copyist of Gustave Courbet's l'Origine du monde with the life story of the colorful Monsieur Courbet­‑one of the first bad boys of the art world. For information about Lilianne Milgrom visit: (Exhibition: Summer in Paris)(Website)(Blog)(Email: liliannemilgrom@gmail.com)
THREE-PART INTERVIEW WITH LILIANNE MILGROM
Part I: PARISIAN PORTRAITS EXHIBITION
AWP: Your new solo exhibition of portraits, Summer in Paris, evokes a kind of understated contemplation. What inspired you to create this collection? What influenced your vision?
LM: Paris is appealing on so many levels that one hardly knows where to begin—its sheer physical beauty, its history, the ambiance, the food, the fashion­. I could go on and on. For me, it's the people. Let's face it, human beings are people-watchers, and I just love to observe Parisians. They possess an inscrutable je ne sais quoi that appeals to me as an artist. I was influenced by early and late 19th century French painters who portrayed their quotidian lives peopled by their friends and families. One of my favorite painters of this period is Edouard Vuillard (1868-1940). In my paintings, I wanted to invite the viewer into a private world, an intimate setting.
AWP: Pondering the nature of your portraits and their state of mind, who holds the narrative: the characters, the viewer, or you, the artist?
LM: I think about that quite a lot, and I have come to the conclusion that the answer is a complex combination. When we first look at a portrait in a gallery or a museum, the narrative belongs to the sitter. We are intrigued by who that person might be, what his or her expression and immediate surroundings tell us about them. Then we start to wonder what their relationship is to the artist, knowing that the person we are looking at has been conjured through the artist's mind and hand. If left up to our own imaginings, all these questions will ultimately be answered through our own personal lens, and that is where the viewer's narrative comes into play.
AWP: Why portraits? Artistically, what drew you to creating an exhibit of portraits?
LM: I have always loved portraits. I gravitate to them like a moth to a flame. However, I have harbored ambivalent feelings about painting portraits in my own studio practice. Perhaps I was traumatized by a comment my mother made years and years ago about a portrait I was particularly proud of. She asked me a very simple question that I still can't quite answer: "Why would anyone want to have the portrait of someone they don't know on their walls?"
At this point in my career, answering that question is no longer important or even relevant. With my new portrait series, I was following my heart and my desire to paint the infinite vagaries of the human face. I doubt I am breaking new ground or 'saying things that have not been said' in painting but that cannot stop the creative process, which has a life of its own. (Youtube video about the inspiration behind the show, Summer in Paris, visit: Video.)
Ironically, portraiture is making a really strong comeback at the moment, with artists approaching the portrait from totally new perspectives. The current portrait show at the National Portrait Gallery in DC is remarkable and very innovative. I think social media sites like Facebook and Instagram may have a lot to do with the rise of interest in looking at each other.
AWP: What inspired you toward a career as an artist: a career so dependent on images and the ability to communicate?
LM: I call myself a visual artist because I relate to, and understand the world visually. I use painting, ceramic sculpture, video and installation to communicate my ideas. However I am also a prolific writer of articles and blogs (with a book on the way, hopefully), so I guess that communication is the common denominator. Being an artist was never a career I consciously embraced. For fear of sounding too cliché, it was not a choice. I can't remember a time when I was not an artist, for better or for worse.
AWP: What is the most valuable thing an artist has to work with?
LM: Apart from talent, one has to have drive. There are so many creative spirits who complain about not getting recognition or having an artist's block, etc. Most successful professional artists will agree that you need to get up every morning, get to the studio and just start working, whether you have a brilliant idea or not. Just move forward against all odds. Drive and luck are not given enough credit. 
AWP: In general, what opportunities or challenges do you experience as an artist living in the US?
LM: I have lived and worked as an artist in several countries. The US certainly has an outsized share of opportunities, but the process is quite rigid. I have personally found that the process for getting ahead as an artist in Israel, or Europe, or Australia is somewhat less 'by the books' and the community of artists is definitely closer and less competitive in these countries.
AWP: Pablo Picasso is quoted as saying,"Painting is just another way of keeping a diary." Do you keep a journal? Is there the temptation to keep a journal just to preserve what you've experienced?
LM: The portraits in my Summer in Paris exhibition undeniably represent a visual diary of my stay in Paris. I do carry a little sketchbook in my bag. I also carry a camera around. A famous artist (the name escapes me) said that the camera is the new sketchbook, and I agree­—I think artists should stop feeling guilty about using the camera for reference.
Part II: PARIS RESIDENCY
AWP: During your artist residency in Paris in the winter of 2010, you chose the theme of female identity and sexuality. What inspired you toward this theme?
LM: As a woman approaching a 'certain age,' I am not alone in facing the imminent and unwanted prospect of becoming de-sexualized in the eyes of society. In Western culture it seems that a woman is either an impossibly perfect nymph, or a wizened old crone; nothing in between. This regrettable state of affairs was not something I was prepared to accept lying down! On the contrary, it inspired me to put my artistic practice to work in exploring what lies at the core of a woman's sexual mystique, regardless of age. What better place to explore this theme than Paris?
AWP: Tell us about the research for this project. What were the challenges, and how did you unfold the story you wanted to share?
LM: I actually did not research this beforehand because I had no idea when I embarked on the residency that I would end up being a copyist of Courbet's work. I just followed my instincts and worked backwards in a sense. Now that I am writing a book on the subject, I have done an enormous amount of research.
AWP: As an official copyist of Gustave Courbet's painting L'Origine du monde, you created a documentary of your experience, which will be screened at the Gustave Courbet Museum in Ornans, France, the summer of 2014. During the filming of this documentary and your interaction with members of the public, what was the most surprising thing you learned about the French?
LM: It was not so much surprise as confirmation that the French really do have a much more relaxed acceptance of sexuality. And although I fully realize this to be a gross generalization, I also believe they are more comfortable with their bodies. One of the humorous moments in the documentary is a French grandmother bringing her granddaughter to see l'Origine du monde, and pressing upon the child how beautiful that part of a woman's anatomy is, and that that is where all babies comes from. At this point, the little girl disagreed with her grandmother, stating that her mother had had a Caesarian!
AWP: L'Origine du Monde has had a huge impact on the viewing public, as well as scholars and historians. What do you think it is about this painting that makes people connect in such a powerful way?
LM: The sheer audacity of it. The non-apologetic focus of the subject broke all the rules. There's no hiding from it. Plus, Gustave Courbet was a wonderful painter—very gestural with beautiful skin tones. Above all, it is the marriage of the title and the subject matter, even though the origin of the title itself is still not totally resolved.
AWP: What were you trying to explore in this documentary? Did you feel a need to share a particular time and place in the style of today?
LM: Again, I decided to film instinctively. I knew this was a rare opportunity to capture the public voice in response to the painting. I usually start out my videos with a general hunch and direction, and at the editing stage it all comes together, and I realize more clearly what I set out to do. (Film clip, visit: Video.)
AWP: How did French museum visitors—young and old—react to the L'Origine du Monde, and you as copyist of Courbet's painting?
LM: The French museum visitors thought it was wonderful that a woman would choose to copy this painting. They have a very protective streak when it comes to Gustave Courbet.
Part III: PERSONAL STYLE
AWP: In your opinion, is Paris still the Paris of your youth?
LM: There is an old saying: "You can never go home again." There are definitely sights and smells and memories that take me right back to Neuilly where I spent the first six years of my life. But I had to reacquaint myself with the Paris of today. In some aspects, it has changed surprisingly little, which is something one finds in Europe in general. It is an old continent and things are set in their ways. In younger countries like the US and Australia, things change very rapidly. The transformation is more noticeable.
AWP: Napoléon Bonaparte (1769-1821), a reactionary pragmatist regarding women, said in a letter written in 1795: A woman, in order to know what is due her and what her power is, must live in Paris for six months. In what way does Napoléon's statement hold true with your experience living in Paris? How is Napoléon's statement understood by women of today?
LM: This quote, written by Napoleon to his brother, is preceded by the sentence: "Paris is the only place in the world where (women) deserve to steer the ship of state; the men are mad about them, think of nothing else, and live only for them…" This is very telling, and I think still applies today. Women are appreciated in Paris, and that type of reverence and acknowledgement go a long way in making a woman feel good about herself. I always feel tremendously sexy when I am in Paris.
AWP: What is it about women and Paris?
LM: There is a very positive feminine energy about the city itself. Paris is a city that women feel they can own. The 19th century American author and clergyman, Henry van Dyke, expressed this beautifully: "Paris is a woman's town, with flowers in her hair."
AWP: How do you define style and how do you express your own style?
LM: Style is knowing who you are and knowing how to make the best of what Nature blessed you with. Parisian women have this down to a fine art. They may not be the most beautiful women in the world, but they sure know how to make themselves look mighty fine!
One of the perks of being an artist is that it gives me the green light to dress as I please, take chances and be outrageous if I want to be. In fact, it is expected of an artist! Just as I work in different mediums and am inspired by very disparate themes in my work, the same goes for my fashion style. I seek clothes that have something different about them, an edge. I am not into the classics.
AWP: What American (US) cultural nuances, attitudes, ideas, or habits have you adopted? In which areas have you embraced a similar aesthetic?
LM: It took me a long while to get used to American friendliness, something I found foreign and naïve at first. When I am in France now, people remark that I am so open and they seem to respond very positively. My aesthetic, however, has remained very French.
AWP: Describe your own "Paris."
LM: A palette of Payne's gray, Titanium white, Cerulean blue, Chromium Oxide green, and gold leaf.
AWP: Tell us something we don't know about Paris.
LM: If you look hard enough, you might just glimpse the ghosts of artists past as they walk the cobblestone streets and maybe even hear their drunken laughter echoing off the ancient stones… 
AWP: Name the single book, movie, work of art or music, fashion or cuisine that has inspired you.
LM: Rodin taught me that Man is capable of creating beauty that borders on Godliness.
AWP: What is the last book you read? Would you recommend it?
LM: Van Gogh's Bad Café, a novel by Frederic Tuten. It had rave reviews from the more literary crowd but frankly, I was disappointed. I couldn't take the leap of faith the author wanted me to take regarding the main character's time travel.
AWP: Your passion for life is extraordinary. What's next?
LM: I feel driven to accomplish as much as I can during my allotted time on earth. I have hundreds of ideas in my head. At the moment, the book I am writing­—Dancing with Courbet­—is one of the more difficult undertakings I have attempted. I really hope I am up to the challenge. I also have two new art projects on the horizon, one of which involves the tattoos worn by veterans of the Iraq and Afghanistan wars. I feel I will never have enough time to do everything I want to do…
BOOK RECOMMENDATIONS BY LILIANNE MILGROM
Tom Lubbock's Great Works: 50 Paintings Explored. Don't be fooled by the rather dry title. Lubbock is brilliant, witty, and outright funny in his brief exposés of fifty famous paintings written for the layperson. He brings these paintings to life by using totally unexpected contemporary references.
You may also enjoy A Woman's Paris® post, French Impressions: Zélia – French fashion designer and her passion for artistic style and romance. Zélia opened her atelier in a shop nestled at the bottom of La Butte Montmartre, in Paris. Known for designs far from the traditional or the dictates of haute couture, Zélia creates her fashions from the rarest of fabrics—Caudry, Calais and Alençon French lace to glistening Moroccan taffeta to African wax print cloth. Her fondness for romantic clothing is beautifully expressed in wedding dresses, gala and ball gowns, and a line of accessories for evening and daytime. (French)
Vive La Femme: In defense of cross-cultural appreciation. Doctoral canditate and writer Kristin Wood finds Francophiles around the world divided by Paul Rudnick's piece entitled "Vive La France" in the New Yorker magazine. As is often the case with satire, there is a layer of truth to the matter that is rather unsettling. Including comments from readers worldwide. (French)
Finding boubous, taibas, and myself in Sénégal, by Ashley Steele, an African American and student of French, who wanted to explore a non-Western culture and its perspective where she found a deep meaning once she stepped foot on African soil. (French)
Fiction: The Last Passage, by award-winning Moroccan writer Hachim Sbaa whose fictional writing looks at the life of an elderly woman as she is lives life by herself and tries to figure out what truly matters and how she can fill her time and what is left of her life. 
A Woman's Paris — Elegance, Culture and Joie de Vivre
We are captivated by women and men, like you, who use their discipline, wit and resourcefulness to make their own way and who excel at what the French call joie de vivre or "the art of living." We stand in awe of what you fill into your lives. Free spirits who inspire both admiration and confidence.
Fashion is not something that exists in dresses only. Fashion is in the sky, in the street, fashion has to do with ideas, the way we live, what is happening. — Coco Chanel (1883 – 1971)
Text copyright ©2013 Lilianne Milgrom. All rights reserved.
Illustrations copyright ©Lilianne Milgrom. All rights reserved.
Illustrations copyright ©Barbara Redmond. All rights reserved.
barbara@awomansparis.com