French Impressions: Marilyn Yalom's "How the French Invented Love" a tradition of courtly and romantic love that reaches back into the 12th century
15 Thursday Aug 2013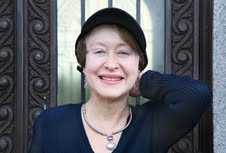 Marilyn Yalom, former professor of French and presently senior scholar at the Clayman Institute for Gender Research at Stanford University, grew up in Washington D.C. and was educated at Wellesley College, University of Paris/Sorbonne, Harvard University and Johns Hopkins University, where she received her Ph.D. in Comparative Literature in 1963. Her teaching career has taken her from the University of Hawaii to California State University-Hayward. She continued to Stanford University where she had been Deputy Director at the Institute for Research on Women and Gender, Lecturer in the Modern Thought and Literature Program, and currently as Senior Scholar in the Institute for Research on Women and Gender at Stanford University. Marilyn Yalom is the recipient of the Wellesley College Alumnae Achievement Award, February 28, 2013, and decorated as an Officier des Palmes Académiques awarded by the French government in 1992.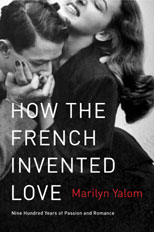 How the French Invented Love: Nine Hundred Years of Passion and Romance was published by HarperCollins, 2012; French, Russian, and German editions, 2013; the Polish, Portuguese, and Chinese editions are forthcoming.
A cultural historian and a popular speaker on the lecture circuit, Marilyn Yalom is the author of numerous books and articles on literature and women's history. She is the author of widely acclaimed books such as A History of the Breast, A History of the Wife, and Birth of the Chess Queen, as well as The American Resting Place: Four Hundred Years of History Through our Cemeteries and Burial Grounds, which includes a portfolio of photographs by her son Reid S. Yalom. Her books have been translated into 20 languages.
Marilyn Yalom is also an editor of articles and books. Her most recent: preface to The Libertine, 2013, is forthcoming; Qu'est-ce que l'homme ? (Response to the question "What is man?") Sciences et Avenir, jan./fév., 2012; and Inside the American Couple: New Thinking. New Challenges, ed. Marilyn Yalom and Laura L. Carstensen (Berkeley, The University of California Press, 2002).
Marilyn lives in Palo Alto, California with her husband, the psychiatrist and author Irvin D. Yalom. (Marilyn Yalom: Facebook / Website)
"How the French Invented Love is absolutely marvelous, so lively and learned…Marilyn Yalom's book is a distinguished contribution to our experience of a great literature, as well as an endearing memoir." — Diane Johnson, author of Lulu in Marrakech and Le Divorce
"[An] enchanting tour of French literature—from Abélard and Héloïse in the twelfth century to Marguerite Duras in the twentieth and Philippe Sollers in the twenty-first. …The erudite and charming Yalom is the perfect companion… Readers will want to run to the library and stay there for a year, reading everything she deconstructs." — Publishers' Weekly (starred review)
INTERVIEW
Neither you without me, nor I without you.
Ni vous sans moi, ni moi sans vous.
Le lai du chèvrefeuille, Marie de France, twelfth century.
How the French Invented Love: Nine Hundred Years of Passion and Romance 
AWP: In your book How the French Invented Love, you condense readings from French literary works—from the Middle Ages to the present—and the memories of your experiences in France. What was the concept behind this book?
MY: I wanted to introduce American readers to a tradition of courtly and romantic love that reaches back into the twelfth century and to share with them some of my experiences of French literature and life over the past 60 years. Love looms large in any social and cultural history of the French.
AWP: "Loves me, loves me not," the United States version of effeuiller la marguerite, a game of French origin played while plucking one petal off a flower, usually a daisy, for each phrase. But in France, plucking marguerites has seven choices: Il m'aime, un peu, beaucoup, à la folie, passionnément, tendrement, pas du tout (he loves me, a little, a lot, madly, passionately, tenderly, not at all). What was the most surprising thing you learned about each culture as it codifies passion and romantic love?
MY: The French have always assumed that love is embedded in the flesh and that women are no less passionate than men. The Anglo-American tradition tends to be more ethereal and often assumes that women do not have the same sexual appetite as men.
AWP: Your research is exemplary. What were the challenges, and how did you determine the stories most appropriate for a nine hundred year tour of French literature?
MY: Certain stories were archetypical: e. g., Lancelot and Guinevere, Tristan and Isolde. Les Liaisons Dangereuses showed the sensualist philosophy of what constituted love for eighteenth-century libertines. The lived history of Simone de Beauvoir and Jean-Paul Sartre presented a contemporary egalitarian vision of couplehood. Because I was oriented toward an American audience who would be reading quotations in translation, I eliminated much love poetry. Regretfully, I left out Ronsard and Eluard.
AWP: What was it about "how the French invented love" that beckoned you to see behind the veil of ordinary Western culture: its popular literature, song, and cinema?
MY: After many centuries, cinema has now replaced the novel as the literary home of love, so I have a section on contemporary films.
AWP: In your book How the French Invented Love, you write about George Sand (1804-1876), Simone de Beauvoir (1908-1986), and Marguerite Duras (1914-1996). What contemporary cultural phenomenon(s) do you think each of them would be most interested in? What modern trend do you think each would love the most?
MY: All three women would be happy to see the strides Western women have made toward greater equality with men in the workplace and the bedroom. Simone de Beauvoir, in particular, would be disappointed that we have not made more progress in freeing ourselves from the burdens of domesticity.
AWP: In your book How the French Invented Love, you write about the domna and the notion of the beloved woman. What is this notion and how did it jump cultural norms?
MY: What can be called a paradigm shift occurred when the troubadours began to insist that the lover should be in the service of the lady, the domna, rather than vice versa.
AWP: Simone de Beauvoir's book The Second Sex, "Le Deuxième Sexe" (1949), was on the syllabus of college courses you taught for more than thirty years. Why was this important in answering the most feminist questions? Does it still ring true today?
MY: It still rings true as far as the workplace is concerned: women DO gain power when they earn as much as, or more than, their male partners and colleagues. But Beauvoir didn't have a clue as to how we can become mothers as well as lovers and workers. Her negative attitude toward maternity may have been her greatest blind spot.
AWP: An underlying theme in books about women and France is the message of freedom for women to experience their different selves or codify an articulate self. Why is this message significant, especially for women today?
MY: We are still trying to figure out how women can be lovers, workers, wives, and mothers. Through maternal and paternal leave and crèches, French society has done a better job than the USA in providing support to mothers, children, and their families.
AWP: In your research of French literature, song, cinema, and encounters from friends and academics, and in the streets in France, what kind of French lover does one find in the twenty-first century?
MY: That's hard to say. People certainly have more sexual freedom, and living together is as commonplace as marriage. Among the well-educated and socially affluent, men still adopt courteous manners, but young French women do complain that they invest more, both before and after marriage, into their romances and marriages than their male counterparts.
AWP: Has the idea of love died?
MY: No. The idea of love has not died. It still exists more publicly in France than in the USA. It certainly occupies a greater place in French films than in American films. Marriage as an institution has suffered, but the IDEAL of true love lives on.
AWP: Napoléon Bonaparte (1769-1821), a reactionary pragmatist regarding women, said in a letter written in 1795: A woman, in order to know what is due her and what her power is, must live in Paris for six months. In what way does Napoléon's statement hold true with your experience living in Paris? How is Napoléon's statement understood by women and men of today?
MY: Paris is, of course, still the capital of French culture and fashion: living in Paris helps both women and men gain in sophistication.
AWP: Dominique Strauss-Kahn, a prominent French politician and managing director of the International Monetary Fund in 2008, was charged with having sexually assaulted a New York hotel housekeeper (eventually charges were dropped) in the wake of the 2011 New York scandal. What was the reaction in France among the French feminists, French men, and the French populace?
MY: French feminists took to the streets and seized the occasion to protest against sexual harassment in general. Though a few men initially sprang to D-K's defense, most French people found his actions revolting. Even his longstanding wife ended up leaving him.
WRITING
AWP: Do you feel you've brought a scholar's point of view to a territory that had, for the most part, been an historian's territory in the accounts of French culture?
MY: I have added to the fund of literature about love, both scholarly and popular. Denis de Rougemont's classic study ("Love in the Western World") and Rene Girard's work (especially "Desire, Deceit, and the Novel") were inspirational for me. I have added my account in a manner that is, hopefully, grounded in scholarship, yet accessible and pleasurable to read.
AWP: Why is now the right time to publish your book How the French Invented Love? Did you feel a need to share a particular time and place in the style of today?
MY: To be absolutely honest, I wrote this book NOW because I was of an age when I could still do it. At 80, after more than a dozen books (half of which were edited and co-edited), I felt it was time to repay French culture for all it had given me.
You may also enjoy A Woman's Paris® post, A storied scent, by Barbara Redmond who shares from Parfums Houbigant Paris, "When in 1793 Marie-Antoinette was executied by guillotine, she carried 3 vials of Houbigant perfume in her corsage to give her strength." Redmond asks, "Thinking of a hurried escape, could I not imagine how Marie-Antoinette, awoken in the night by a great mob, would have wrapped herself in some vestage of familiarity and comfort—if the legend is true?" 
The Child Madeline, by writer and educator Natalie Ehalt who shares her love of Madeline and brings a deserved respect for girls and children worldwide. Including excerpts from Mad About Madeline: The Complete Tales, by Ludwig Bemelmans.
Marianne: National emblem of France, by Canadian writer Philippa Campsie who tells about Marianne, the feminine symbol of liberty and republicanism in France. Originally, images of Marianne were created using anonymous models, but modern depictions have featured famous French beauties, such as Brigitte Bardot, Mireille Mathieu, Catherine Deneuve, fashion designer Inès de la Fressange, among others.
The Little Paris of Buenos Aires, by writer and educator Natalie Ehalt. Natalie writes about Recoleta, a premier barrio in Buenos Aires, Argentina, an irresistible Little Paris of South America. Until the sounds of thick Argentine Spanish reveal Recoleta's true identity, a visitor might be fooled, stepping out of an urban rowboat and into a garden of 12,000 roses. 
A Woman's Paris–Elegance, Culture and Joie de Vivre
We are captivated by women and men, like you, who use their discipline, wit and resourcefulness to make their own way and who excel at what the French call joie de vivre or "the art of living." We stand in awe of what you fill into your lives. Free spirits who inspire both admiration and confidence.
Fashion is not something that exists in dresses only. Fashion is in the sky, in the street, fashion has to do with ideas, the way we live, what is happening. — Coco Chanel (1883 – 1971)
Text copyright ©2013 Marilyn Yalom. All rights reserved.
Illustrations copyright ©Barbara Redmond. All rights reserved.
barbara@awomansparis.com