French Impressions: Ann Mah's "Mastering the Art of French Eating" on gastronomic adventures in France
06 Thursday Nov 2014
Tags
Adam Gopnik The Table Comes First, andouillette sausage, Ann Mah, buckwheat crepes, Cassoulet, City of Light, Credit cards in Paris restaurants Patricia Wells, culinary history of France, David Lebovitz, Dorie Greenspan Around My French Table, Dorie Greenspan Beuree & Sel, eating in France, Eating in Paris, France, French cookbooks, French cuisine, French food, James Beard Foundation culinary scholarship, John Baxter The Perfect Meal, Julia Child Mastering the Art of French Cooking, Julia Child My Life in France Alex Prud'homme, Kitchen Chinese Ann Mah, Le Mistral cafe Paris, Mastering the Art of French Eating Ann Mah Penguin Books, Michel Bras Laguiole France, Paris, Patricia Wells Simply Truffles, Patricia Wells The Food Lover's Guide to Paris, Sushi Slim: comment garder la ligne a la Japonaise, Tartare de Boeuf with Frites
Share it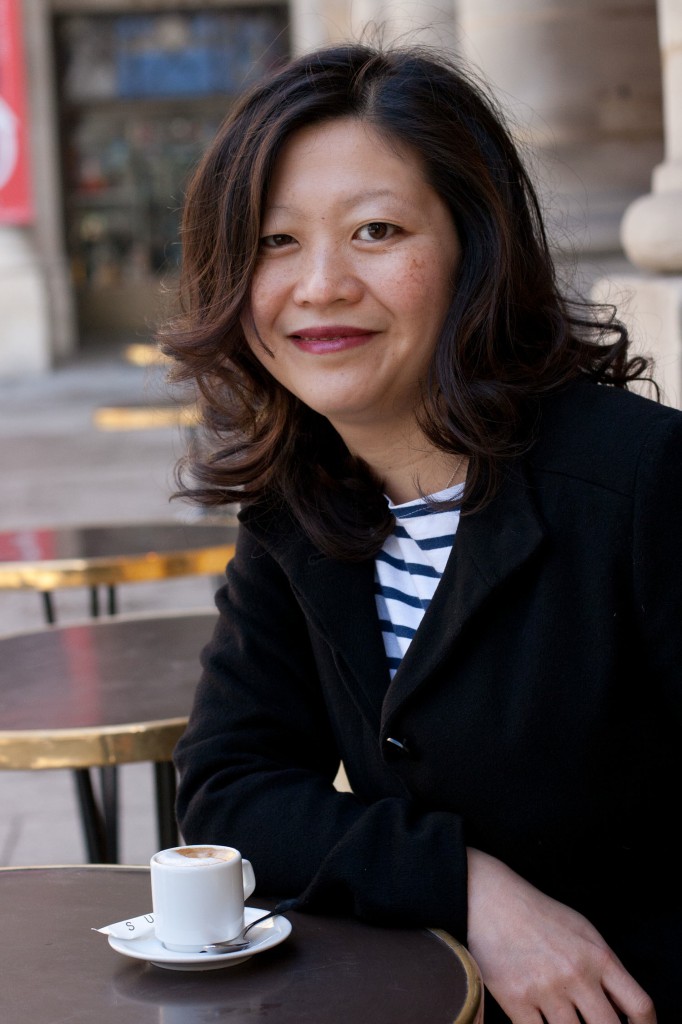 Ann Mah is a food and travel writer and author of a food memoir, Mastering the Art of French Eating (Viking Penguin) and a novel, Kitchen Chinese (HarperCollins). Her articles have appeared in the New York Times, Condé Nast Traveler, the International Herald Tribune, South China Morning Post, Fodor's guides, and other publications. Born in Orange County, California, Ann began her career in book publishing after graduating from UCLA. In 2005, she was awarded a James Beard Foundation culinary scholarship to study in Bologna, Italy. She currently divides her time between Paris—where she has lived since 2008—and New York City. Visit: (Website) (Facebook) (Twitter)
When journalist Ann Mah's husband is given a diplomatic assignment in Paris, Mah, a lifelong foodie and Francophile, begins plotting gastronomic adventures à deux. Then her husband is called away to Iraq on a yearlong post—alone—turning Mah's vision of a romantic sojourn in the City of Light upside down.
So, not unlike another diplomatic wife, Julia Child, Mah must find a life for herself in a new city. Journeying through Paris and the surrounding regions of France, Mah combats her loneliness by seeking out the epitome of French comfort food—cassoulet—and learning how the andouillette sausage is really made. She discovers the true stories behind the country's signature regional dishes, exploring the history and taste of everything from boeuf Bourguignon to the crispiest of buckwheat crêpes. And somewhere between Paris and the south of France, she uncovers a few of life's truths.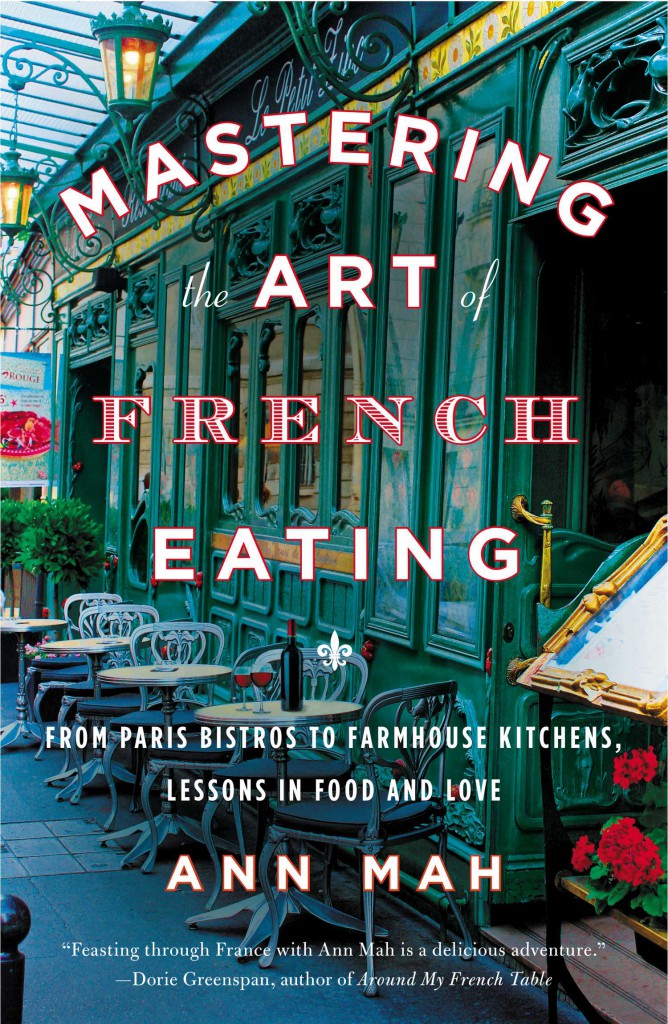 Mastering the Art of French Eating is interwoven with the lively characters Mah meets—from chefs to farmers to restaurateurs—and the traditional recipes she samples. Reading it will send you straight to the kitchen, or Paris—or both. Funny, intelligent, and deeply pleasurable, this is a story about love—of food, family, and France. (October, 2014; Penguin Books) (Purchase)
"Patricia Wells on Paris has always been a reference point for lovers of real French food. Her new edition reflects the real and at time radical alterations in Paris eating over the past decades, but remains a fixed point among the revolving tables." —Adam Gopnik, author of The Table Comes First
"It's back, and better than ever! In this all-new edition, Patricia Wells shares her favorite addresses in Paris for luscious French chocolates, crusty breads, and cozy bistros—seasoned with tips to ensure a tasty trip." —David Lebovitz, author of My Paris Kitchen
Excerpt: Mastering the Art of French Eating, reprinted by arrangement with Penguin Books, a member of Penguin Random House. Copyright © Ann Mah, 2014. Including a recipe for Bavette aux Échalotes (skirt steak with shallots).
INTERVIEW: Mastering the Art of French Eating
France was my spiritual homeland: it had become a part of me, and I a part of it, and so it has remained ever since. —My Life in France, Julia Child with Alex Prud'homme
AWP: You are the author of Mastering the Art of French Eating. What inspired you to write this book? 
AM: I'd always wanted to take a road trip through France, using Julia Child's classic cookbook, Mastering the Art of French Cooking, as a guide. When my husband and I moved to France for three years, it seemed like the perfect opportunity. Unfortunately, he left for Baghdad shortly after our arrival in Paris, and my dream of living in France changed. But with his encouragement, I still traveled throughout the country—albeit, on my own. The book grew from those travels, from my eating adventures, my fascination with the history I discovered, and my admiration for the home cooks and food artisans I met along the way. But, really, writing the book was just an excuse to tour around France and eat!
AWP: Were you on a quest to taste the last great French dishes before they disappeared forever—from Paris' surviving haute cuisine establishments to the tiny local restaurants in the provinces?
AM: I think it's probably more accurate to say I was on a quest to discover the roots of the classic French dishes. I love the connection between food, and place, and history in France, the sense of continuity, the way a recipe grows from the land, takes root, and is cooked and eaten in that same spot for hundreds of years.
AWP: You entrench your work ten regions of France, mapping the traditions of local dishes. What challenges did you encounter, and how did you unfold the story you wanted to tell? 
AM: The opportunity to travel alone around France, researching the country's culinary traditions was both the best and most intimidating experience.  I'm an introvert, so it took a fair amount of gumption to introduce myself to strangers and start asking them quite intimate questions. In the beginning, I felt awkward traveling alone—especially dining alone in restaurants, when it felt like everyone was staring at me. But after the first few trips, I started to enjoy being on my own, creating my own schedule, eating when I felt hungry, and dropping everything to, say, hunt down an obscure buckwheat farmer.
AWP: During your research for Mastering the Art of French Eating, what restaurants, bakers, chefs or shopkeepers wouldn't you include? 
AM: There are so many French dishes I wish I could have included—too many to count! Every time I tell a French person about my book, they want to know if I featured the classic dish from their region. If the answer is no, I'm always a little embarrassed. And of course I still joke that I could write a book about the least known dishes in French cuisine.
AWP: What was the most surprising thing you learned about French chefs or French home cooks culinary secrets? 
AM: It shouldn't have surprised me, but I discovered a universal allegiance to grandma's cooking: whether it was choucroute, boeuf bourguignon, cassoulet (or any of the other dishes in the book), Granny makes the best, of course.
AWP: A book can only be so long. Is there a subject you would have like to treat more fully? 
AM: This book focuses on savory cooking, but I'd love to learn more about the culinary and cultural history of French desserts.
AWP: How are the stories of traditional dishes remembered and retold in French Culture? What do they hide and what do they preserve? 
AM: They're relayed via the table, of course! Through the act of cooking and sharing, the childhood memories of beloved family gatherings, and the ritual passing down of family recipes… Just like in every culture.
AWP: Your research is exemplary. How did you accumulate and obtain this information? Was it primarily in French? What were the challenges, and how did you uncover these stories? 
AM: Traveling and eating the dishes in their region of origin was the best (and most fun) form of research. I also visited local museums, collected local cookbooks, chatted with many home cooks and professional chefs, and asked a lot of questions. I feel lucky to have had the opportunity to study French—without language skills, the kind of book research I wanted to do would have been impossible.
PARIS CUISINE
AWP: What makes Paris such an incomparably wonderful city to eat in? 
AM: My friend, the writer John Baxter, once told me something very wise: "Paris is not France—it's like an island floating in the world." I love Paris for its elegance and appreciation of beauty. But I also love rural France—especially because of the intersection you find between food, and place, and history, which I mentioned above.
AWP: Which cuisine offers a perfect snap shot of modern Paris? 
AM: I think it's difficult to encapsulate Paris into a single cuisine—like most capital cities, it's a vibrant, humming city, where the world's cuisines are enjoyed, celebrated, and sometimes combined—everything from Japanese udon noodles, to couscous royale, to a humble croque monsieur sandwich.
AWP: Is there one restaurant or brasserie that channels everything you love about Paris? 
AM: To me, there's no place more warm and welcoming than Le Mistral, a café in the 20th arrondissement, a neighborhood institution opened in 1954 that retains its classic zinc bar, chalkboard menus propped up on wooden chairs, and red pleather banquettes. Like many Parisian café owners, the proprietors—brothers Didier and Alain Miquel—hail from Aveyron, a remote area in south central France. As a result, the menu pays homage to their region with Aveyronnais charcuterie and wine, steaks of Aubrac beef, and aligot, a potato purée beaten with melted cheese until it flows like molten lava. (401 rue des Pyrénées, 20th arr.; 33-1-46-36-98-20).
AWP: In your research of French cuisine and encounters from friends and colleagues, and in the streets of France, what kind of diner does one find today? 
AM: Adventurous! French people aren't generally known as bold eaters, but every single one of my French friends has been wildly enthusiastic about trying new flavors and foods.
AWP: What non-French cuisines are making an inroad into local Parisian dishes? 
AM: I laughed the other day in the bookstore, when I saw a new cookbook: "Sushi Slim: comment garder la ligne à la Japonaise." In France, it's JAPANESE women who don't get fat!
AWP: More than any other chef in Paris today who best knows how to unlock the emotional content of taste? 
AM: He's not based in Paris, but my lunch at Michel Bras in Laguiole was an unforgettable combination of memory, flavor, and pure emotion.
AWP: Do the French have a different attitude toward what they eat than do North Americans?
AM: French people are extremely dedicated to the dining experience—they even eat hamburgers with a knife and fork!—and tend to savor their meals. Food is a special, pleasurable part of the day, a moment to fuel the body and nourish the soul. While I appreciate lengthy meals, I will say that, as an American, one of the things I missed the most in Paris was a quick, light lunch, eaten at my desk!
FRENCH CUISINE AND THE ART OF DINING
AWP: What was the first dish that made you fall in love with French cuisine? 
AM: It wasn't a dish, but a trip to Paris. I was six years old and on a family vacation. We arrived in Paris in the midst of a high-summer heat wave. Every aspect of the city assailed my senses from the seesawing sound of the sirens to the imprint of wicker café chairs against my legs. I didn't like everything, but it all gripped me under a spell I would come to know was Francophilia. Meanwhile, my fifteen-year-old brother was at the peak of his rebellious years. He spent a lot of time plugged into his Walkman while my parents coped by drinking red wine.
AWP: How do you stock your kitchen? Do you have staples? 
AM: I like to keep a few French staples on hand: green lentils "de Puy" (they're great in salads), piment d'Espelette, fleur de sel, and raspberry honey, which is a new discovery and delicious on buttered, toasted baguette.
AWP: How do you orchestrate a meal from appetizers to dessert when entertaining in your home? What are dinner parties like for you?
AM: Alas, I throw very few dinner parties these days now that we have a baby daughter who goes to bed at 7pm! But when I used to entertain, I relied on stews or braises, made in advance, and reheated. That kind of dish always tastes better the next day.
AWP: Entertaining at home in France (or Paris) are there unspoken rules?
AM: For me, the same rule applies everywhere in the world: I eat what my host has prepared, with enthusiasm. If I don't like it—well, those experiences turn into the best stories.
AWP: In restaurants, you dine with friends and you eat alone. How do you make dining alone into an extraordinarily pleasant experience? Is there a story behind your first time? 
AM: I often travel by myself on reporting trips and, honestly, I still don't love eating alone in restaurants. I do love reading and eating, and I always bring a book—my e-reader makes it easy to turn the pages, even with sticky fingers.
BOOKS BY ANN MAH
Mastering the Art of French Eating: Lessons in Food and Love from a Year in Paris (2014 Paperback; 2013 Hardcover)
Kitchen Chinese: A Novel About Food, Family, and Finding Yourself (2010)
Acknowledgements: Alyssa Noel, student of French and Italian, and Journalism at the University of Minnesota–Twin Cities and English editor for A Woman's Paris.
You may also enjoy A Woman's Paris® post French Impressions: Capital Fare: Patricia Wells on great French food in Paris. Patricia Wells, author of the award-winning Bistro Cooking, and for more than two decades the restaurant critic for The International Herald Tribune, takes readers, travelers and diners to the best restaurants, bistros, cafés, patisseries, charcuteries, and boulangeries that the City of Light has to offer. Including Willi's Wine Bar's Bittersweet Chocolate Terrine—the irresistible chocolate dessert that is one of Patricia's Paris favorites.
French Impressions: What's cooking in Paris: David Lebovitz on the secrets of French cuisine.Ten years ago, David Lebovitz packed up his most treasured cookbooks, a well-worn cast-iron skillet, and his laptop and moved to Paris. In My Paris Kitchen, David remasters the classics, and introduces lesser-known fare. Through his recipes and stories we get insight into his delicious and extraordinary world. Including David's recipe for Salted butter caramel-chocolate mouse. 
French Impressions: Alexander Lobrano on eating well in France: a culinary tour of alluring inns, food producers, restaurants and winemakers. Alexander Lobrano was European Correspondent for Gourmet magazine from 1999 until its closing, and has written about food and travel for Saveur, Bon Appetit, Food & Wine, the New York Times, Wall Street Journal, Guardian, Travel & Leisure, Departures, Conde Nast Traveler, and many other publication in the United States and the United Kingdom. Every food lover's ultimate dream is to tour the countryside of France, stopping off at luxurious inns with world-class restaurants and sampling fresh produce and regional specialties from local markets. Including an excerpt from Hungry for France. 
French Impressions: John Baxter's "The Perfect Meal" and Finding the Foregone Flavors of France. In this delightful culinary travel memoir, John Baxter follows up his bestselling The Most Beautiful Walk in the World by taking readers on the hunt for some of the most delicious and bizarre endangered foods of France. 
French Impressions: W. Scott Haine on the origins of Simone de Beauvoir's café life and the entry of France into WWII. "Café archives" seldom exist in any archive or museum, and library subject catalogs skim the surface. Scott Haine, who is part of a generation that is the first to explore systematically the social life of cafés and drinking establishments, takes us from the study of 18th century Parisian working class taverns to modern day cafés. A rich field because the café has for so long been so integral to French life. 
French Impressions: Paula Butturini on writing, adversity, and finding grace in asparagus. Paula, following her work as an East European correspondent based in Warsaw and freelance writer for The New York Times, Boston Globe, San Francisco Examiner, Houston Chronicle, Miami Herald, Washington Post and Baltimore Sun, left journalism to resume writing her book, Keeping the Feast: One Couple's Story of Love, Food, and Healing. Keeping the Feast, is an extraordinary story of family and place––following her husband's shooting, recovery and rehabilitation; and the immediate restorative pleasure of a single Italian meal. 
A Woman's Paris — Elegance, Culture and Joie de Vivre
We are captivated by women and men, like you, who use their discipline, wit and resourcefulness to make their own way and who excel at what the French call joie de vivre or "the art of living." We stand in awe of what you fill into your lives. Free spirits who inspire both admiration and confidence.
Fashion is not something that exists in dresses only. Fashion is in the sky, in the street, fashion has to do with ideas, the way we live, what is happening. — Coco Chanel (1883 – 1971)
Text copyright ©2014 Ann Mah. All rights reserved.
Illustrations copyright ©Barbara Redmond. All rights reserved.
barbara@awomansparis.com