Mireille Guiliano's "Meet Paris Oyster" on the Parisians' love for them (excerpt & recipe) – part one
11 Tuesday Nov 2014
Tags
Brasserie Lipp, Chef Barbara Lynch Menton No 9 Park B&G Oysters, City of Light, Daniel Boulud The Dinex Group, Ernest Hemingway A Moveable Feast, France, French cuisine, French food, French Women Don't Get Fat Mireille Guiliano, French Women for All Seasons Mireille Guiliano, Garnier Paris, Gillardeau oysters France, Girard Depardieu L'Ecaille de la Fontaine Paris, Grand Central Life & Style, Hachette Book Group, Huitrerie Regis, Huitrerie Regis oyster bar Paris, International Editions Mireille Guiliano, La Coupole Paris, Le Dome Paris, Le Figaro Mireille Guiliano, Le Procope Paris, lIe de Re French oysters, LVMH Veuve Clicquot, L'Ecailler du Bistrot Paris, Marennes-Oleron French oysters, Meet Paris Oyster Mireille Guiliano, Mireille Guiliano LVMH Veuve Clicquot, Oven fried Oysters recipe, Oyster Brochettes recipe, Oyster Omelet with Shiitake Mushrooms recipe, Oyster Soup with Creme Fraiche recipe, Oyster Vichyssoise recipe, Oysters a la Charentaise recipe, Oysters a la Normande recipe, Oysters from Brittany, Oysters from Japan, Oysters Rockefeller recipe, Oysters with Champagne recipe, Oysters with Citrus Sauce recipe, Oysters with Curry Sauce recipe, Oysters with Parmesan recipe, Paris, Paris cuisine, Roasted Oysters recipe, Shrimp with Oysters and Seaweed, Skillet Fried Oysters recipe, USA Today Mireille Guiliano, Veuve Clicquot, Women Work & the Art of Savoir Faire Mireille Guiliano
Share it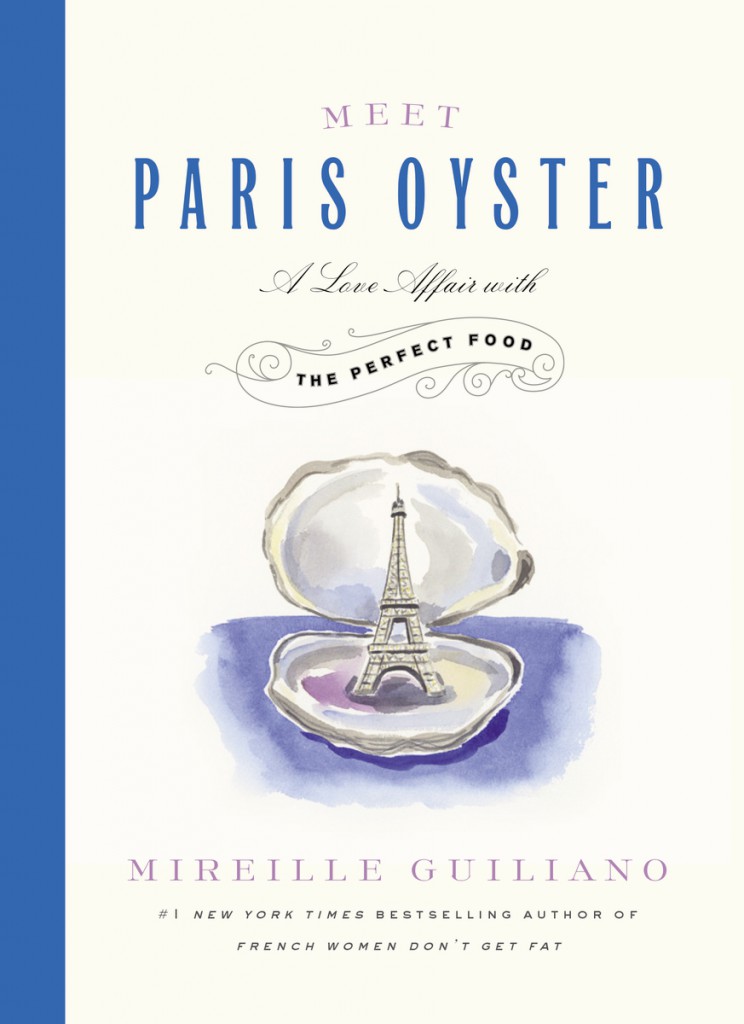 Excerpted from Meet Paris Oyster by Mireille Guiliano. Copyright © 2014 by Mireille Guiliano. Used with permission of Grand Central Publishing. All rights reserved. Including recipe for Oyster Vichyssoise.
Come along…explore the Parisian love affair with the world's most sensuous shellfish and discover the people and culture that set Paris apart from other cities. You'll start at Huîtrerie Régis, a small, tightly packed oyster restaurant in the heart of the City of Light, with an opinionated owner and a colorful cast of regulars. Here you will begin your journey to learn what there is to know about the bivalve, and fancy why they are the stuff of dreams…especially in France.
Régis is picky about his oysters and his wine, but he shares his secrets with Mireille, and with her you will visit the oyster purveyors in Marennes-Oléron and the winemakers in Sancerre, and you will learn the health benefits of this delicious shellfish: they are low in calorie, high in protein, and rich in antioxidants…some even claim an aphrodisiac!
With her characteristic wit, wisdom, and storytelling flair, Mireille will soon have you wanting to eat oysters at least every week—forget about saving them for special occasions only. She also shares her favorite oyster recipes and wine pairings. From the table at Huîtrerie Régis to your own kitchen, Meet Paris Oyster will transport you, certainly entertain you, and perhaps leave you craving oysters (or at least Paris)! Oh là là. To purchase Meet Paris Oyster (November 2014, Hachette Book Group), visit: Meet Paris Oyster.
Visit: French Impressions: Mireille Guiliano's "Meet Paris Oyster" in pursuit of the world's best oysters and wine pairings with them, her interview on A Woman's Paris®.
Book photo by Tim Knox
Meet Paris Oyster, and the Parisians' Love for Them: Chapter three (part one).
Let us consider again the court of Louis XIV, the Sun King, the ne plus ultra of French opulence and grandeur, the arbiter of French taste for generations of the wealthy . . . a renowned image and symbol of La France. It doesn't get more French than that, does it?
Well, besides appreciating good wit, King Louis XIV loved oysters. He loved them so much, he had them sent almost daily by horseback from Cancale, in Brittany, down to Versailles or his palace in Paris.
He loved oysters to the extent that he is reported to have eaten six dozen at times before a meal. (Well, Balzac could eat ten dozen straight.)
"Louie" loved them so much that when a basket arrived late for a lunch, the Prince of Condé's steward fell on his sword.
He loved green oysters from the Marennes-​Oléron. He loved oysters cool and raw, but his personal physicians advised him to eat them cooked, for fear on warmer days he would accidentally eat one that had spoiled along the hot journey from the sea and become ill.
He loved oysters with wine. And, no doubt, the king of France often drank the king of wines with his oysters: Champagne. As king, like his brethren, he was crowned in the cathedral in Reims, the capital of the Champagne region, and the bubbly grape from eastern France flowed in the royal court. As Champagne was no stranger to the courts and kings of France, neither were oysters. Louis XIV's grandfather, Henry IV, was a known aficionado of these bivalves.
Oysters and Champagne, a glorious marriage made in heaven. Yet a marriage that is democratic in that many people can now consume these items just as the richest kings of France have. (Today a glass or two of NV Champagne and a dozen oysters cost less than many a pair of sneakers.) Merci.
Oysters, though, have curiously been at times the food of the poor and the food of the elite, of the starving and of the gourmets.
Oysters have been around since the times of the dinosaurs, and eating them stretches back into prehistory and ranges across continents and social classes. Charles Dickens in The Pickwick Papers describes oysters as food for the poor, yet oysters were staples at Roman feasts and in seventeenth-​century European feasts.
The discoverers of America found native oysters in abundance. And along the East, West, and Gulf Coasts, oysters were widely consumed through the nineteenth century—town after town had its oyster lunchrooms, saloons, bars, parlors, and, of course, outdoor stalls. I am happy to note that oysters are making a big American comeback in the twenty-​first century.
The Union Oyster House, a famous oyster restaurant in Boston that has been in continuous operation since 1826, has an interesting French connection. Many famous people have eaten there, dating back to the influential Senator Daniel Webster, a regular known to routinely devour plate after plate of the bivalves.
The building that houses the Union Oyster House (originating as the Atwood & Bacon Oyster House upon opening), now a national historic landmark, was built around 1704. Before becoming a restaurant, the building housed a dress shop on its ground floor and a printer-publisher on the second floor. It was on the second floor, above the dress shop and dry-​goods stores, where in 1796 and 1797 the self-​exiled aristocrat and future (and last) king of France, Louis Philippe, lived and taught French.
Gulp
It took courage the first time I ate an oyster . . . and I remember it, as the saying goes, as if it were yesterday. I was eleven, and Alice, my godmother, invited me to spend the Christmas season school break with her and her husband in Strasbourg, where they were living at the time. Alice deserves a full treatment as she shaped my life in so many ways, but suffice it here to say she was a privileged woman from a bygone era of a type and class beyond my family's and was quite a character. Spoiled by her father . . . then by her husband . . . and charmingly oblivious to it all.
A gorgeous blonde with blue eyes, she was fairly well educated for her time (though no college for her) via private tutors and exposure to all sorts of activities only the rich could afford. Her widowed father never remarried and spent lots of his time and energy as well as money to ensure that his only daughter got the best life could offer, especially during the rough times in between the two World Wars when she was growing up. She was both a gourmet and a gourmande. What mattered most to her was food, fashion, friends, reading, music, gardening, and traveling . . . and her husband, whose practice as an engineer took them to various cities in France for extended periods.
As a young girl, I loved spending time with Alice, my fairy of a godmother who had no children of her own. The first oyster experience was followed by many repeat performances during winter Sundays in Strasbourg, usually starting around the vacances de la Toussaint (All Saints' Day) and ending at the close of Easter vacation, the perfect period for oysters. Alice and her husband lived in a cozy apartment filled with light in the old and charming part of town. The pleasant half-​hour walk to the center offered a true picture of Alsace with its old houses and stork nests as well as the typical architecture that featured facade windowsills filled with ever-​sturdy red-and-pink geraniums. The two of us would go on our morning walk to the cathedral and then buy dessert at the local patisserie while her husband was home cooking. He'd welcome us with the sound of a cork popping and a neatly set table with a white linen tablecloth and a huge platter of oysters (huîtres is the word in French, pronounced "weetr") he had shucked.
I was always experiencing new things with Alice, but What does one do with these little slimy things? I remember thinking the first time I saw them. So, as told by my mother, when in doubt, always watch the hostess: Alice looked at the oysters with big wide eyes and a smile on her face. She put nothing on them, took the first one with a small fork, detached it from the nerve, and put it in her mouth. Another big smile. Happiness on her face. She then swallowed the juice without a word, looked at me, and said: "You are going to drink the salt of life . . . from the sea!" For someone who had never yet seen or drank the sea, my puzzled look said it all, but in a second of courage I tried . . . and wow. It was like nothing I had ever tasted— cool, briny, and almost voluptuously (not that I knew the word at the time) meaty on my tongue. Oh là là.
For that eleven-​year-​old girl, the dozen felt just fine, and that's the portion I like to have to this day. Alice was a bit greedier. Her husband would prepare chicken paillard or veal scaloppine as a main course for the two of us, while Alice's main course was a second dozen oysters. She claimed that Sunday lunch in the winter months was her favorite meal.
Régis, the male protagonist of this book (oysters are protandrous—sequential hermaphrodites going from male to female, and I, a mere woman, bear only XX chromosomes), had his first oyster when he was four or five at his home in Jarnac, in the heart of the Cognac region.
Love affairs and dreams can start early, and often go in a little box somewhere in our heads. Someday, years or decades later, they resurface. This is what happened to Régis. When his father first served oysters, little Régis did not care for their visual aspect. Icky. His father, like so many French fathers (or mothers), said, "Goûte, s'il te plait" (Please, taste), and he did taste. He so loved the "thing," particularly the juice, that he kept asking his father, "When are you buying oysters?"
They were not the food of farmers on a daily, weekly, or even monthly basis! But the kid kept asking, and occasionally the treat would be on the dinner table. Mostly they were a Sunday treat.
A few years later, Régis and his friends would pick up the small oysters along the sea and waterways. They were wild ones, a bit like the very rare pousses en claires today. He recalls that as a teenager he was once in a nightclub in the lovely city of Royan in the Charente region, known for its seafront and corniche. His friend and his spouse, whose father was in the oyster business, were with him, and he said, "One day I'll have an oyster place of my own." Dreams do come true, and in forty years his did.
In 2004 he opened Huitrerie Régis in the heart of Saint Germain-​des-​Prés, Paris sixth arrondissement. A life-​changing decision: often eighteen-​hour days, six days a week. No weekends. Passion a must.
His love of oysters is today almost an addiction or obsession. Now that his dream has come true, he eats them almost daily and claims to never tire of them and to be un gros mangeur (a big eater). He believes his love has to do with his childhood and love for the sea near where he lived. He finds it remarkable that oysters are a natural product of the sea and claims the magic of each oyster still fascinates him. He loves the texture of the oyster and the taste of the sea. He chides me if I leave the muscle (hard to remove with the oyster fork, and he recommends using a knife so not to leave it). Indeed, passion in abundance.
 Visit: Mireille Guiliano's "Meet Paris Oyster" kissing the sea from the English Channel to the Mediterranean (excerpt) – part two.
Praise for Meet Paris Oyster
"Like any true French countryman, enjoying a good oyster brings me memories of slurping them unadulterated from their shells, seasoned perfectly with their own fresh salt water. Mireille's amusing anecdotes and classic recipes capture the infatuation for this delicacy that so many of us share." —Daniel Boulud, Chef/Owner, The Dinex Group
"In pure Mireille fashion, this charming little book is a delicious, stylish, and, of course, tres français ode to the oyster that will certainly inspire a craving in most readers; halfway through I immediately began wanting briny, icy oysters of my own to slurp." —Chef Barbara Lynch, Menton, No.9 Park, B&G Oysters, and more
Oyster Vichyssoise
This will appeal to lovers of leeks, cream, and oysters. Count me in on that one, too. Served with a chilled muscadet, this dish makes for a perfect brunch course.
Serves 4
Ingredients:
– ¾ cup crème fraiche, divided
– 2 tablespoons unsalted butter
– 3 medium Yukon Gold potatoes, peeled and cut into small cubes
– 4 leeks, white parts only, cleaned and minced
– 3–4 cups chicken stock
– ¼ cup dry white wine
– 1 tablespoon lemon juice
– Salt and freshly ground pepper
– 16 shucked oysters and their liquor, divided
Directions:
1. Whip ¼ cup of the crème fraiche and reserve in the refrigerator.
2. Melt the butter in a saucepan over medium heat, add the potatoes and leeks, and sauté, stirring, for 3 minutes. Add 3 cups of chicken stock, the remaining ½ cup crème fraiche, the wine, and the lemon juice. Season to taste with salt and pepper, increase heat to medium high, and bring to a boil. Reduce heat to medium low and gently simmer until the potatoes are very tender, 25–30 minutes. Carefully transfer the mixture to a blender and puree or pass through a vegetable mill, adding more chicken stock if too thick. Place the pureed soup in a clean saucepan and add the oyster liquor; stir over medium heat until hot. Season to taste.
3. Place the raw oysters in warm soup dishes and pour the soup on top. The hot soup will "cook" the oysters slightly. Garnish with whipped crème fraiche and serve immediately.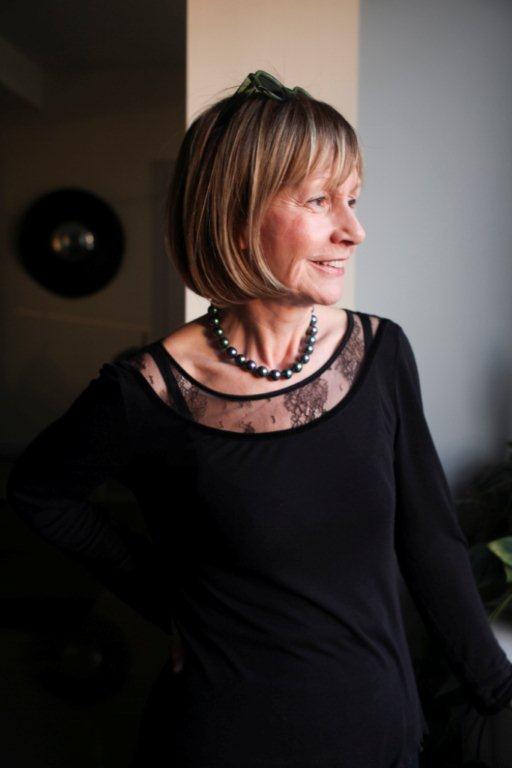 Mireille Guiliano, a former chief executive at LVMH (Veuve Clicquot), is "the high priestess of French lady wisdom" (USA Today) and "ambassador of France and its art of living" (Le Figaro). She is the author of the #1 New York Times bestseller French Women Don't Get Fat: The Secret of Eating for Pleasure, as well as French Women Don't Get Facelifts, and three other books. Born and raised in France, she is married to an American and lives most of the year in New York, Paris and Provence. Visit Mireille Guilano to learn more. (Website) (Facebook) (Twitter) (Instagram) (Pinterest) (Google+)
Portrait photo by Tim Knox
You may also enjoy A Woman's Paris® post Ann Mah's "Mastering the Art of French Eating" on the perfect steak frites the French way (excerpt) part one. Ann Mah, a food and travel writer whose articles have appeared in the New York Times, Condé Nast Traveler, the International Herald Tribune, South China Morning Post, Fodor's guides, and other publications, shares her gastronomic adventures in France during a yearlong post in Paris. She discovers the true stories behind the country's signature regional dishes, exploring the history and taste of everything from boeuf Bourguignon to buckwheat crêpes. 
David Lebovitz's "My Paris Kitchen" — quirks, trials, beauty, and joys of life in Paris (excerpt). Ten years ago, David Lebovitz packed up his most treasured cookbooks, a well-worn cast-iron skillet, and his laptop and moved to Paris. In My Paris Kitchen, David remasters the classics, and introduces lesser-known fare. Through his recipes and stories we get insight into his delicious and extraordinary world. Including David's recipe for Salted butter caramel-chocolate mouse. 
African Queen of Parisian Cuisine, from Kiratiana's Travel Guide to BLACK PARIS: Get Lost and Get Found, by Kiratiana Freelon who writes about the "African Queen of Parisian Cuisine." Featuring suggestions such as Le Petrossian 144, in Paris, where the head chef is Rougui Dai, a Frenchwoman of Sénégalese decent. There are more than 2,000 French restaurants in Paris. Of the 400 that the Michelin Guide found worth listing, only 77 receive on of their coveted stars. And of those starred restaurants, only one has a black, female head chef: Le Petrossian 144.
French Dip – Learning French in a French wine town by journalist and travel writer Merle Minda, whose "can do" thinking brings her to a two-week French immersion language course in Sancerre, a delightful wine town two hours from Paris. 
Boulangerie Poilâne: A toast to French Breads, by Barbara Redmond who shares her face-to-face encounter with a French baker during her visit to the 18th century ovens of Poilâne in Paris. Could she steal a pinch from the raw, soft-white boule in its proofing basket resting close by? The penetrating aromas of bread; strong, yeasty, and hot… Recipes included for Tartine Chocolat et Poivre (tartine of melted chocolate and black pepper) and La tartine For'bon (tartine of cheeses and ham) from Boulangerie Poilâne. 
 A dinner party: what makes the French so French. On a recent trip to France, Jacqueline Bucar, French teacher and immigration attorney, shares the dinner party conversation at the home of some of her friends—a conversation that was like no other she could ever imagine in the States…
Paris, a particular shade of gray, by Mary Evans a former cooking school director and founder of The Write Cook. Mary recalls the cozy refuges in her long ago memories of Paris and shares her recipe for Chicken Bouillabaisse.
French Cuisine: Cooking schools in Paris founded by women, by Barbara Redmond who writes about extraordinary women who cook: from Anne Willan, Marthe Distel, and Elisabeth Brassart, to "Les trios gourmands," Julia Child, Simone Beck, and Louisette Bertholle. Including a directory of cooking schools in Paris.
Paris macaron, love in the afternoon, by Barbara Redmond who tells about the French women who vanished into the streets of Paris and later exited Pierre Hermé, an elegant confectionary, clutching little cellophane bags of macarons, a little 'Le goûter' (afternoon treat). But, Frenchwomen do not snack… or do they? Paris locations included for Pierre Hermé and Ladurée, beloved for their Parisian macarons.
Text copyright ©2014 Mireille Guiliano. All rights reserved.
Illustrations copyright ©Barbara Redmond. All rights reserved.
barbara@awomansparis.com