French Décor: From spartan to sensational
29 Friday Oct 2010
A Woman's Paris™ in Style
By Barbara Redmond
Our rendez-vous was at Dior on Avenue Montaigne in Paris. I knew Martine immediately. Her last words when we confirmed our appointment by phone were, My hair is red.
During our brisk walk she pointed out first one, then another of the neighborhood bistros where we could talk over a glass of wine.
This address is too pricey, this one is not far enough away from Avenue Montaigne. Too many deals being made at this one; it's where the people in broadcasting come after work. At the corner of the next block, if we're lucky, we'll get a table right away. Word is out. They are serving the best steak tartare in all of Paris. They've gotten the best beef, the chop is coarse, and the seasonings divine!
At our sidewalk table, my friend and I were discussing how we each have adjusted to the downturn in our own country's economy.
What do you do differently? I asked before taking my first bite.
I don't shop sales, said my Parisienne friend, I buy less.
After setting her glass on the table and dabbing her lips with a linen napkin she whispered, I do my own nails.
And, you? she asked, glancing at me from the corner of her eyes.
I shop sales, I answered, and, I buy less. Reaching for my glass and whispering in return I said, I do my own nails, too.
What wouldn't you give up, I was curious to know.
Pressed sheets! she replied.
Two American friends had known Martine for many years and were eager for us to meet.
Over hors d'oeuvres and the perfect red wine we shared stories of friends, family, fashion, food―and Paris.
Décor is Martine's world. "Pressed sheets" captured my interest and I imagined set-upon-set of pressed linens―pristine and newly picked up from her favorite French laundry. I envisioned white linen stacks in French armoires and dresser drawers, crisp and fragrant with the scent of lavender, and each set secured with a parchment paper band or tied in place with a ribbon and bow.
I knew her style was contemporary and pictured her home décor to be quite modern, but it was the mention of fabric that set my mind conjuring up the "Parisian interior" of her environment.
Was her taste in fabrics the breezy white cotton muslins of the French decorator Madeleine Castaing or did her home décor sample from Castaing's palette of rich interior colors and exotic combinations arousing a sense of mystery and atmosphere typical in French interiors?
Like Madeleine Castaing, (1894-1992), a designer of the Neoclassic French style, does she blur the function of each room to fit her mood; setting up a dining table in rooms devoted to books and reading or on a wrought iron balcony overlooking a private courtyard? Has she placed writing tables in every room that wait for a moment of inspiration, a fleeting thought to be written to a friend?
Is there a whimsical clash of 19th century formality with 21st century comfort of the "Style Castaing" known by every Parisienne?
French décor―a minimalist style?
Or, perhaps her contemporary style could be taken up in fashion like Chilean-born, Eugenia Errázuriz, (1860-1951), the doyen of modernist minimalist aesthetic and style leader of Paris from 1880 into the 20th century.
In her passion for a modern aesthetic, is there an unconventional sparseness of her rooms, the dislike of frou-frou and ornamentation, like Errázuriz's distaste for such décor?
Are her rooms filled with the fine and simple things made of linen, cotton or stone whose quality improves with laundering or buffing, adored by the spartan Errázuriz? Her walls, perhaps, have the whitewashed appearance of a rustic home―Errázuriz's startling approach to interior decoration in the early 20th century.
Madeleine Castaing – whimsical, poetic

"I decorate houses the way others paint pictures or write books," said Madeleine Castaing, an international figure known for her whimsical and poetic interior decorating.
She liked extravagance, and an atmosphere of mystery and the romantic. Madeleine Castaing, whose dramatic palettes―of blacks, white, turquoise, deep red and greenish blue, bleu castaing―and folds, drapes, pleats, and fringe, renewed interest in 19th century Greek and Egyptian classical styles long out of fashion in France.
She coupled muslin drapes, adorned with simple tassels or pompoms, with simple iron furniture and accents of her trademark colors. A genuine jumble of styles, from 19th century French, mid-Victorian, to Greek Revival, and Etruscan. Inspired by the writings of Proust and Balzac, Castaing created a story that left a bold impression.
It was at her home in Lèves, not far from Chartres, where Castaing discovered her love of interior design. There she was content to travel with her husband, Marcellin, raising her children and collecting modern art. Forced out of Lèves by the German occupation of 1940, they fled to Paris where she set up shop as an antique dealer and decorator.
Madeleine Castaing's portrait by Chaïm Soutine, La Petite Madeleine des décorateurs, is now at the Metropolitan Museum of Art in New York. Madeleine and her husband of fifty years (and twenty years her senior), Marcellin Castaing, were patrons of Soutine and the main buyer's of Soutine's work.
"Don't be intimated by audacity. Be audacious―but with taste," said Madeleine Castaing.
Her fabric line is still sold today at Edmond Petit, a Paris fabric company that produces many of Castaing's signature fabrics.
Eugénia Errázuriz – minimalist, modern

"I love my house as it looks very clean and very poor!" stated Eugenia Errázuriz, known for her minimalist modernism and style leader of Paris from 1880 into the 20th century.
It was at her villa, La Mimoseraie, where Eugenia Errázuriz, raised simplicity to a more important and impressive art form. By 1910, she was already known for the unusual austerity and elegance of her sparse interiors.
Everything, from the smallest details to the widest-reaching themes of her home, was part of her minimalist aesthetic. Her dislike of cushioned footstools, potted palms and too much decorative textile trimmings of gold or silver lace, gimp, or braid were legendary.
Errázuriz appreciated things that were very fine and simple. For her, elegance meant the absence of clutter. Errázuriz couldn't bear a matched set of furniture, knick-knacks and souvenirs, and was harsh on the topic of clutter and ordered: "Throw out and keep throwing out."
And she has spoken about the necessity of constant change: "A house that does not alter is a dead house. If a kitchen is not as well kept as the salon… you cannot have a beautiful house."
In 1882, she and her husband, José Tomás Errázuriz, a wealthy landscape painter from a well known winemaking family in Chile, moved to Paris. In the 1890s, the Errázurizes relocated to London, where her husband fell sick with tuberculosis and spent much of his time in Switzerland. He died in 1927, and after a six year stay in London, Eugenia Errázuriz relocated to Biarritz, a seaside resort in southwestern France.
Described as an extraordinary beauty, she was painted by John Singer Sargent, who became very fond of Madame Errázuriz and painted her many times.
Late in life, Eugenia Errázuriz became a tertiary Francisian (a lay nun), clothed in a plain black habit designed by another minimalist, Coco Chanel.
But, what wouldn't you give up?

My husband and I are going to Manhattan next weekend. We haven't been for two years. Do you know the best restaurants? asked Martine, as we walked together to one of the metro stops along the Champs-Élysées.
I'll email a list to you tomorrow, I said.
Another new friend, Dorothy, a born and bred New Yorker whom I had met during a book reading in Paris soon after I arrived, divides her time between New York City and Paris where she and her husband have apartments. We had enjoyed an extraordinary dinner together in Paris the night before at what was reported online that morning in the New York Times as the "hottest, most inventive" new restaurant in Paris, and it was. If anyone knew New York, and food, it was Dorothy. The next day I forwarded her list to Martine.
Barbara, you shop sales. You buy less, said Martine as we descended the steps of our metro stop on the Champs-Élysées for our ride home.
She paused before we needed to part, her to her line and me to mine, and asked, but what wouldn't you give up?
Paris! I replied.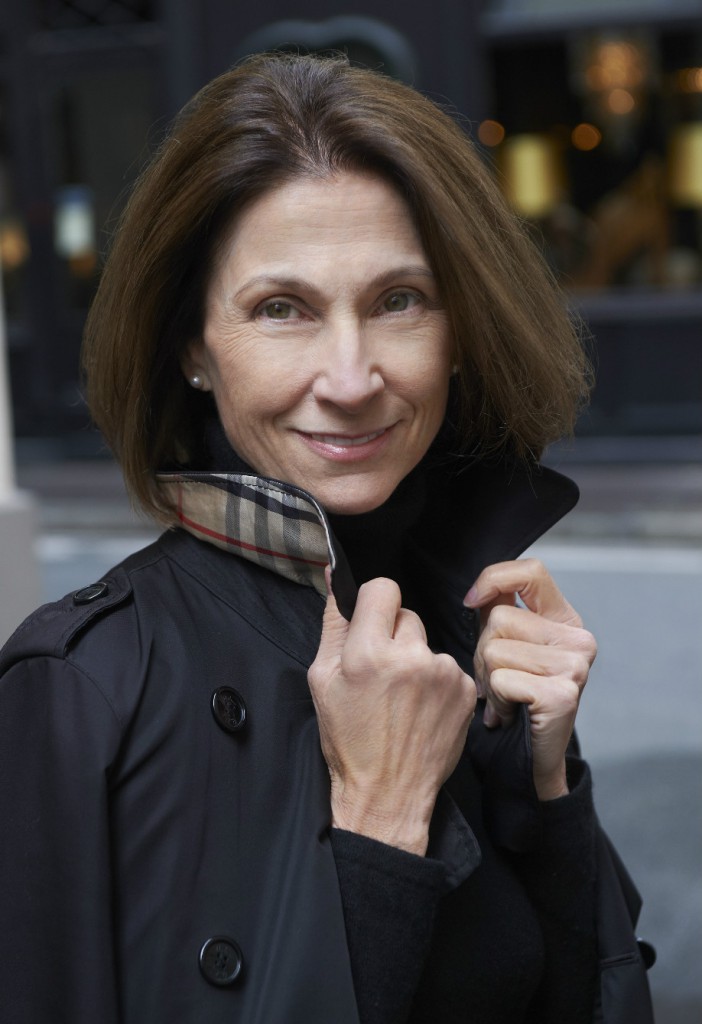 Barbara Redmond, publisher of A Woman's Paris®, is a long-time Francophile and travels to Paris every chance she gets. Her stories about Paris and France have been published in AWP® and republished, with permission, by other blogs and publications. Barbara has presented programs on French fashion and food, and has been a guest speaker for students planning their study abroad. She serves as an advisory board member at the University of Minnesota College of Design and is an active student mentor. Barbara has been recognized for excellence in art by international and national organizations and publications. Prints of her fine art paintings are in collections in Europe and North America and are available for purchase.
You may also enjoy A Woman's Paris® post, French Décor: Mirrors and Versailles, by Canadian writer Philippa Campsie who takes us on a journey of mirrors, from those made on the island of Murano, part of the city of Venice, to the Versailles mirrors which were among the first mirrors to be manufactured in France. A story of secrets, high-stakes, and intrigue. 
French Crown Jewels: Empress Eugénie, by Barbara Redmond who writes about pieces from Empress Eugénie's private collection and the French Crown Jewels that were split up by the national assembly and sold at public auction. Stories of Empress Eugénie's famous Bow Brooch, Pearl and Diamond Tiara, and private jewels. Including Barbara's favorite book about the jewels in the Louvre, Paris.
French Empress Eugénie and her diamonds, by Barbara Redmond who shares the story of Empress Eugénie, the wife of Napoleon III, who lusted after diamonds—the most bejeweled clotheshorse and stylish woman of her day. Stories of Empress Eugénie's famous Eugénie Diamond, Great Diamond Cluster, Consort Crown, and "Regent" Diamonds. Including Barbara's favorite book about the jewels in the Louvre, Pairs. 
French candles: bougies, by Barbara Redmond who writes about buying a package of bougies trouée (candle tapers with interior openings) for her holiday table and about the world of Cire Trudon and the pleasure of forgotten scents. Cire Trudon, founded in Paris in 1643, supplied candles to Marie Antoinette, Napoléon Bonaparte, and other European royals. Including tips on how to keep candles at their best: secrets from our French grandmothers…
Text copyright ©2010 Barbara Redmond. All rights reserved.
Illustrations copyright ©Barbara Redmond. All rights reserved.
barbara@awomansparis.com