French indulgence: A perfume of one's own
27 Sunday Feb 2011
A Woman's Paris™ in Style
By Barbara Redmond
Perfume from France. Nine luscious flavours of macaroons―a magical concoction―from La Maison du Chocolat, a source of intense and pleasingly rich confections―was offered to us on a square white-porcelain dish, the morsels arranged on a grid of three across and three down. Moments before, Frenchwoman and friend Laurence and I had entered the atelier of a "nose," a Master Perfumer who creates a marvelous alchemy of perfumes of rare and natural essences made-to-measure for each customer.
We arrived in Cannes, one of the best-known cities of the French Riviera and host to the Cannes Film Festival, with a crumpled piece of paper on which I'd scribbled an address for our afternoon appointment. A world-renowned scientist who works in the scent and flavour extraction industry with whom, days before, we had recently walked the hills of Grasse to see the harvest of the Mimosa flower, had made arrangements for our private visit.
Cannes, with its crisp white hotels, towering palm trees, promenades along the sea, magnificent white beaches and inexhaustible number of shops of French and Italian luxury brands edging the coastline, was new to me. We walked the promenades alongside fashionable women, men and children dressed in sables and silks, imagining between ourselves the unbelievable experience that would soon be ours.
Laurence has a good nose. She had worked in Grasse, the perfume capital of France, in the flavour extraction industry. While Laurence has had extensive training, my own understanding of scent and flavour is purely intuitive. We eagerly anticipated our visit with a master perfumer and shared stories of our relationship with perfume; perfumes we've worn, perfumes we've been gifted, scents associated with people and scents associated with turning points in our lives. Wanting to be a good student and not knowing what was in store, the morning of our visit I rinsed my hair of shampoo until it squeaked, showered with pure lye soap (my everyday soap that carries no apparent smell but that of clean, scrubbed skin), and applied no perfume.
Behind the glistening hotels of Cannes on a very plain French street we found the address we were searching for. To one side of an old wooden door, we spotted the name we sought, printed in black on white and mounted behind a tiny glass frame, fastened tightly. We opened the door to a voluptuous entryway of cool and humid floral and spicy scents rising above strikingly tall vases supporting long stems of emerald green leaves and milky white orchids. As the door closed behind us I felt like Alice, in Wonderland. I was about to climb the wooden stairs carpeted with an Oriental runner of deep crimsons reds, Mediterranean blues and Ceylon greens to a fantasy world of storied scents and a possible identity crisis in my world of sensation and pleasure. I was no longer in the hands of a shop girl who suggests brand-after-brand based on commissions, but in the presence of a master perfumer from France, with whom I would soon be creating my own perfume.
The rich, sweet and fragrant flavours of macaroons were offered as we nestled into oversized deep crimson chairs to talk about scent and perfume. The atelier, minimalist in style and spartan in décor with exceedingly high, grey-washed white walls and narrow windows dressed in transparent lengths of fine white muslin, held on the opposite side from where we sat our host's small antique desk and gilt-edged chairs padded in luscious gold brocade from where she conducted her business. On the antique credenza near her desk were exquisite boxes and bottles of perfume, including a new line our parfumeur had recently created. As we glanced around the studio, we looked in awe at a narrow room behind a wall of glass, crisp and clean where the "organ" sat, a wooden table-top that looked like an organ in a grand cathedral with its many rows of musical keys. The parfumeur's organ held hundreds of vials of raw materials and essences and on the table where it sat were weighing machines, laboratory pipettes, perfumer's beakers, smelling strips, Touches à sentir, and formula formats for documents. We declined the macaroons, not because we had recently eaten, but because we did not want the aroma and flavour to cloud our sense of smell and pleasure.
Like schoolgirls, after our quick tour of this intimate space, the three of us were at the credenza testing perfumes and shared personal stories about places, people, styles, flavours, and scents.  And, about the people―women and men of all ages―who come with the desire to seek and imagine their own personal fragrance. We listened carefully about her studies at the famous French Institute of Perfume 'Isipca,' about the meticulous and rigorous education of a parfumeur; the artistry and chemistry and the winnowing of students who lack the tenacity and commitment to this small field of artists.
You'll make your own perfume, said our parfumeur, when you return in September, but before you leave for Bordeaux, may I offer you a macaroon? I am sure you know La Maison du Chocolat.
The nine flavours of macaroons included chocolates, caramels, flowers and citrus. Within minutes of our arrival our host had predicted the flavour we would each select―I chose the dusty-green pistachio macaroon, and Laurence, the salted-caramel. Our choices confirmed her suspicion! As we tasted, there was a playful exchange of teasing remarks in rapid French and the occasional Gallic shrug between Laurence and our host. On our drive to Bordeaux, I replayed our conversation in my mind and was fixated on how our parfumeur guessed our choices. Pistachio? Powdery-dry and musty smells of the Greek islands' arid winds and briny taste of the sea. Pistachio? I said to Laurence during our drive. She just smiled.
BOOKS RECOMMENDED BY A WOMAN'S PARIS
The Diary of a Nose: A Year in the Life of a Parfumeur, Jean-Claude Ellena
The Perfume Lover: A Personal History of Scent, Denyse Beaulieu
The Perfect Scent: A Year Inside the Perfume Industry in Paris and New York, Chandler Burr

The Secret of Chanel No.5: The Intimate History of the World's Most Famous Perfume, Tilar J. Mazzeo.
VOCABULARY: French to English translations
Eau de parfum: A perfume with 12 to 20 percent of concentrate.
Eau de toilette: A perfume with 7 to 12 percent of concentrate.
Parfum: Perfume. Perfume types reflect the concentration of aromatic compounds in a solvent, which in fine fragrances is typically ethanol or a mix of water and ethanol.
Parfumeur: The person crafting the perfume.
Touche à sentir: Smelling strips.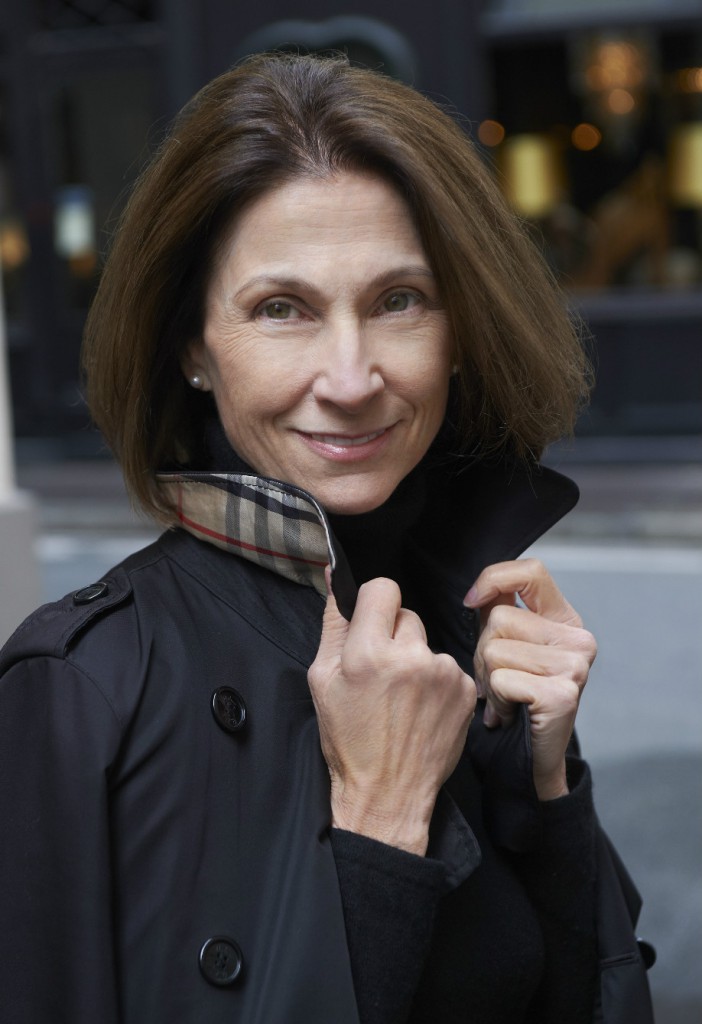 Barbara Redmond, publisher of A Woman's Paris®, is a long-time Francophile and travels to Paris every chance she gets. Her stories about Paris and France have been published in AWP® and republished, with permission, by other blogs and publications. Barbara has presented programs on French fashion and food, and has been a guest speaker for students planning their study abroad. She serves as an advisory board member at the University of Minnesota College of Design and is an active student mentor. Barbara has been recognized for excellence in art by international and national organizations and publications. Prints of her fine art paintings are in collections in Europe and North America and are available for purchase.
You may also enjoy A Woman's Paris® post, "Fatale: How French Women Do It" – Perfume that rocks the room, peeks at the mysterious ways Frenchwomen manage to appear sexy, smart and recklessly chic from the book Fatale: How French Women Do It by Edith Kunz (used by permission). Includes are tips for applying fragrance and a list of 18 key pulse points to consider.
Perfume: discovering the perfect luxury experience, by Andrea Johnson who shares tips on finding the right fragrance, which is not always easy. A biochemist and former fragrance sales associate, Andrea writes about choosing a fragrance that reflects your personality and drawing people in with a scent.
French Perfume: The scent of a woman by a woman, by Canadian writer Philippa Campsie who tells the story of parfumière Annick Goutal who went to London, opened up a secondhand boutique, and began to experiment with creating her own face creams and lotions. During her lifetime, which was cut short by breast cancer when she was 53, Annick Goutal created 25 perfumes. Eau d'Hadrien is one of her best known, which was launched in 1981. Including recommended books and a valuable vocabulary for French to English translations for those shopping for fragrance. 
Paris Makeover: coming home blond, by Barbara Redmond who declares, "Never question a Frenchwoman," and succumbed to the transformation of coming home blond. Barbara describes it all: the haute-coiffure, the pharamacie, and her new "French look!" Including Barbara's favorite book on spas, salons and beauty boutiques in Paris, and her personal directory of hair and makeup salons in Paris. Not to miss is her vocabulary of French to English words so "nothing" gets lost in translation!
Beauty Confessions from a Globe-trotting Parisienne. Parisienne Bénédicte Mahé shares a French woman's approach to beauty and makeup; and how the relationship Americans have with beauty is very different from that of the French. Including her list of Beauty Resources in Paris and a vocabulary of French to English translations. (French)
French Soap: Savon de Marseille, by writer Lauren Ernt who stumbled upon La Licorne, a storefront soap factory in the heart of Marseille and one of the last authentic manufacturers of the famous "savon de Marseille." Lauren writes about her visit and love of this renowned soap for its purity and restorative properties.
Text copyright ©2012 Barbara Redmond. All rights reserved.
Illustration copyright ©2012 Barbara Redmond. All rights reserved.
barbara@awomansparis.com