Paris Makeover: Coming Home Blond
11 Tuesday Jan 2011
A Woman's Paris™ in Style
By Barbara Redmond
You're blond! said Karen. Looking me over, my friend ushered me through her doorway and stopped in the entrance.
It happened in Paris. Notice anything else? I asked.
What happened in Paris? she asked in a conspiratorial tone hoping for some juicy news.
Never question a Frenchwoman, I whispered and continued my story.
"Well, it suits you!" she said escorting me to the living room to meet her other guests.
There is nothing like a fashionable Parisienne haircut and hair treatment when you are in Paris. An Haute coiffure cut that has whimsy or shag to its line―and a nice swing―from the French twist to the "Bettina," the gamine style made famous in the 1940s and 1950s by supermodel, Bettina Graziani, the muse and model of Hubert Givenchy. Or to the fresh boyish charm of Jean Seberg's sheared locks, the American bohemian character in Jean-Luc Godard's movie Breathless (1960).
This visit in Paris, I wasn't going for a new style or color. But, what if I could touch up my roots myself? Blond was an accident, sort of.
I had been reading directions (first English, then French,) on several of the lotions and creams, shampoos and conditioners in my bathroom cabinet and I felt confident I could do it.
Paris pharmacie
Pharmacie de I'Ile St-Louis on rue Jean du Bellay located near the western tip of the island, Île Saint-Louis, is my first stop when I arrive in Paris. There, I buy fragrant powders, soaps, shampoo, hair-mask and conditioner, and lotions for the body, lotions for hands and separate lotions infused with essences that adds a comfortable mile or two more to a day's walk. I can never leave my favorite pharmacie without a new hair clip, until I can shop for barrettes and headbands at Alexandre de Paris on rue, Saint-Honoré in a day or two.
At Pharmacie de I'Ile St-Louis, the first room is rich with its floor-to-ceiling shelves and self-standing displays of exquisite packages. Subtle, feminine colors showing through clear Cellophane, some embellished with ribbons in grosgrain or silk.  Packages matching the robust golds of Versailles or Napoleon greens printed, then embossed, on trim boxes that coax the imagination. Its old and worn parquet floors, its distressed wooden shelves reminiscent of another era. But, I am set for my adventure and it is the brightly lit room beyond this one that I want to visit first.
For years I have purchased Phyto hair shampoo and conditioner and also hair treatments at this pharmacie before the brand Phyto became available where I shop in the United States. To touch up my roots, I thought it best to select a familiar brand. I knew exactly where to find row-upon-row of Phyto products on their shelves and walked directly to the display. As I entered the back room, bright and clinically white, I met the proprietress with the proper mid-day, greeting.
Bonjour, madame, I said.
Madame, a few years my senior, dignified in her starched white medical coat, greeted me in kind with, bonjour, madame, in that classic singsong manner so beautifully spoken in French by a Parisienne.
This will be good, I decided. I felt comfortable by her age, Frenchwoman's dignity and the image of one who knows (the white coat?). I pointed to the packages on the lower shelf and in my best French, asked to see a particular hair color. (Quite often, in Paris and in France, the saleswoman and salesman removes the package from its shelf on your behalf. Not you.)
Ce n'est pas pour vous, madame, I heard her say. (No, madame. This is not for you!)
Madame, s'il vous plait, je souhaiterais avoir les cheveux châtains clairs, (Madame, permit me if you please, I would like the light brown), I said in a tone matching hers, but less direct. Our conversation immediately combined French and English, she speaking her best English and I my best French.
Madame, I heard her say, observing me closely. Then, with fingertips gesturing in undulating motions beginning from my hair in wave like strokes continuing to my toes and without touching me she said: Madame, your hair, your eyes, your skin, your age, she paused, madame, it is not for you!
Parisienne hair color
I purchased the color she recommended, but for my roots, only. I had not practiced a French phrase for touching up my roots, but using my fingertips I gestured with enthusiasm what it was I wanted. (When language and gesture fail me, I resort to sketchpad and pen.) Now, we were on very good terms, exchanging pleasantries about our respective children, and Paris. Why not? It's Paris!
I read the Phyto package the best I could in French. No English translations. To ensure my hair wouldn't fall out or turn an orangey-yellow-gold, like the "Sun-In" brand spray-on product my daughter and her best friend tried in junior high school. I asked Madame to translate the directions for me. Madame guided me to the front of her store to select the lotions, creams and soaps she would add to the basket she carried for me.
On the way home, I noticed my reflection in a shop window and knew it was time for my first touch up. Wine in glass at the ready on the bathroom sink, more towels than I could possibly require, shampoo at the edge of the bathtub with its cap removed―everything I would need if it became necessary to make a "course correction." Voilà! It blended beautifully. She was right. I loved it. The texture. The shine. The look. Weeks later, another purchase, another touch up.
Paris lipstick, powder and polish
Day-to-day dressing for Paris had become like February in a cold climate. From October (or September,) through March we wear the same wool or cashmere turtleneck sweaters, cowl neck sweaters, V-neck sweaters, lined slacks, and heavy winter coats. Usually in February, I can't wait to make a change. In Paris, I love my wardrobe of four pencil skirts, three Calvin Klein jersey tops (two black, one white,) andHermès scarves to add a little fashion to my look. After several weeks wearing the same clothes, I  couldn't invent another flip or turn to my wardrobe! My pencil skirts: upside down and backward? Inside out? I had already tied my scarves in all the knots I knew, and then some. In February, March is always too far away. In Paris, a new wardrobe? A new haircut? Lipstick! Year-after-year, I seem to settle for a new lipstick color until I get a feel for the fashions of spring.
I entered the Chanel boutique on rue Cambon and walked to the back of the store for the cosmetics. (I had visited the boutique that morning during a Coco Chanel walking tour and knew where to find the selection.) There, in this special niche was a gallery of powders and blush in every shade, textures in velvety mats and sheen, creams and lotions, concealers, pencils for lips, eyes, eyebrows, and eyelash enhancers, nail polish, and lipsticks in lovely colors, tones and tints. One tube of lipstick: 33 euros ($24-25 U.S. dollars).
Bonjour, madame, I said. Madame, slightly my junior, dignified in her starched white Chanel coat with its signature silk Camille flower pinned to her lapel, greeted me, too.
Bonjour, madame, she said in that girlish voice of the Parisiennes, musical, elevated and breathy.
We looked at the lipsticks together. I pointed to several. She selected the sample tubes and gloss sticks I wanted to try and applied each color with a cotton swab in a single stroke on the back of my hand. I pointed to a rich coral, not too different from the lipsticks I wore.
No, madame, she said, this is not for you!
Madame, permettez moi, s'il vous plait, je voudrais…, I started to say. Again, our conversation immediately became a combination of English and French.
Madame, she said, having observed me closely when I entered her guarded area of the boutique. Then with fingertips gesturing as though peeling back the petals of a rose said, Madame, your hair, your eyes, your skin… she paused, your age. Madame, it is not natural. This is not for you. For you, madame, more natural colors, like a Frenchwoman.
Merci, madame, I must have said. Chanel cosmetic boxes containing pale slightly-blushed lipstick, natural pink nail polish, dark brown eyeliner, light brown eyebrow pencil, and soft cream plus medium-brown eye shadow were wrapped in white tissue and tucked carefully inside a small classic white with black accent Chanel shopping bag, which was decorated with a signature silk Camille flower attached to the outside of the parcel. Shopping bags and silk camellias like you see being paraded along rue du Faubourg Saint-Honoré. She gave me a handwritten list of the products in my shopping bag and nodded that I was to take my things to another room where I could purchase them.
You look so French!
In my friend Elisabeth's home, glass of wine at-the-ready on the bathroom sink I removed my makeup and "put on my face," an expression of my mother's: without her face she felt "naked." My new cosmetic colors and tones were hardly visible, I thought. What have I done? Just as I was finishing my face, Elisabeth had returned to her apartment from a vacation in Morocco. You look so French! I heard her say. Well, I am by my grandmother, I said, pleased.
Before I returned to the United States, I purchased from Madame at Pharmacie de I'Ile St-Louis on rue Jean du Bellay at least nine packages of my new color, an amount I could afford and an amount I could afford to lose in case the chemicals didn't make it through U.S. Customs. The packages arrived safely and I was eager to show my hairstylist the new color and makeover at our next appointment.
What can I say? I didn't expect it, but I loved visiting Paris and coming home different – blond.
Karen's words as we said good-bye, Maybe I should visit Paris!
Come with me. Anything can happen, I said, in Paris!
BOOK RECOMMENDATION BY A WOMAN'S PARIS
Pampered in Paris: A Guide to the Best Spas, Salons and Beauty Boutiques by Kim Horton Levesque. Photographs by Kristyn Moore.
RECOMMENDATIONS FOR PARIS HAIR SALONS

Carita (Haute coiffure)
– 9 Bis, rue, Pierre Demours, 17th arr. 01 45 72 25 95
– 39, rue Cherche-Midi, 6th arr. 01 45 49 13 57
– 11, Faubourge Saint-Honoré, 8th arr. 01 44 94 11 11
– 28, Place des Vosages, 4th arr. 01 40 29 19 19
A L'Étage by Arnaud
– 34, rue Jean-Baptiste Pigalle, 9th arr. 01 48 74 23 23
Dessange Paris Institut
Salon Dessange
– 2, rue de la Bastille, 4th arr. 01 40 29 98 50
– 6, rue Chevalier de Saint-George, 1st arr. 01 42 60 17 72
– 24, avenue de la Bourdonnais, 7th arr. 01 45 50 41 33
Josselin Bernard
– 23, rue Dauphine, 6th arr. 01 46 33 35 69
Thierry Elia
– 116, rue St.-Domonique, 7th arr. 01 45 51 21 62
RECOMMENDATIONS FOR PARIS MAKEUP SALONS

Viséart
– 58, rue Charlot, 3rd arr. 06 63 51 20 95
Maquillage Caffè
– 8, rue Nicolas Flamel, 4th arr. 01 48 04 02 94
– 10, rue Jean Du Bellay, 4th arr. 01 40 46 05 74
By Terry
– 30, rue de la Trémoille, 8th arr. 01 44 43 04 04
– 21, passage Véro-Dodat, 1st arr. 01 44 76 00 76
– 36, passage Véro-Dodat, 1st arr. 01 44 76 00 76
– 10, avenue Victor Hugo, 16th arr. 01 55 73 00 73
Make Up Forever
– 5, rue de La Boétie, 8th arr. 01 53 05 93 30
– 37, rue de Liège, 8th arr. 01 53 05 93 43
Nocibé
– 187, rue Saint-Honoré, 1st arr. 01 40 15 91 73
Yves Rocher
Centre de Beauté Yves Rocher
– 68, rue de Rennes, 6th arr. 01 40 49 08 98
Marionnaud
– 104, avenue des Champs-Elysées, 8th arr. 01 53 96 50 00
VOCABULARY: French to English translations
Balayage: Highlight.
Brillant à lèvres: Lip gloss.
Correcteur: (anticernes) Concealer.
Coup: Haircut.
Crayon à lèvres: Lip liner.
Crayon sourcils: Eyebrow pencil.
Crayon yeux: Eyeliner pencil.
Fard à joues: Blush.
Grosgrain: Silk or silk like fabric with crosswise ribs.
Mascara: Mascara.
Mise en pli: Hair set.
Ombre à paupières: Eye shadow.
Parisienne: Female native or resident of Paris.
Pose de vernis: Nail polish application.
Poudre: Powder.
Rouge à lèvres: Lipstick.
Shampooing-brushing: Shampoo/blow dry.
Vernis à ongles: Nail polish.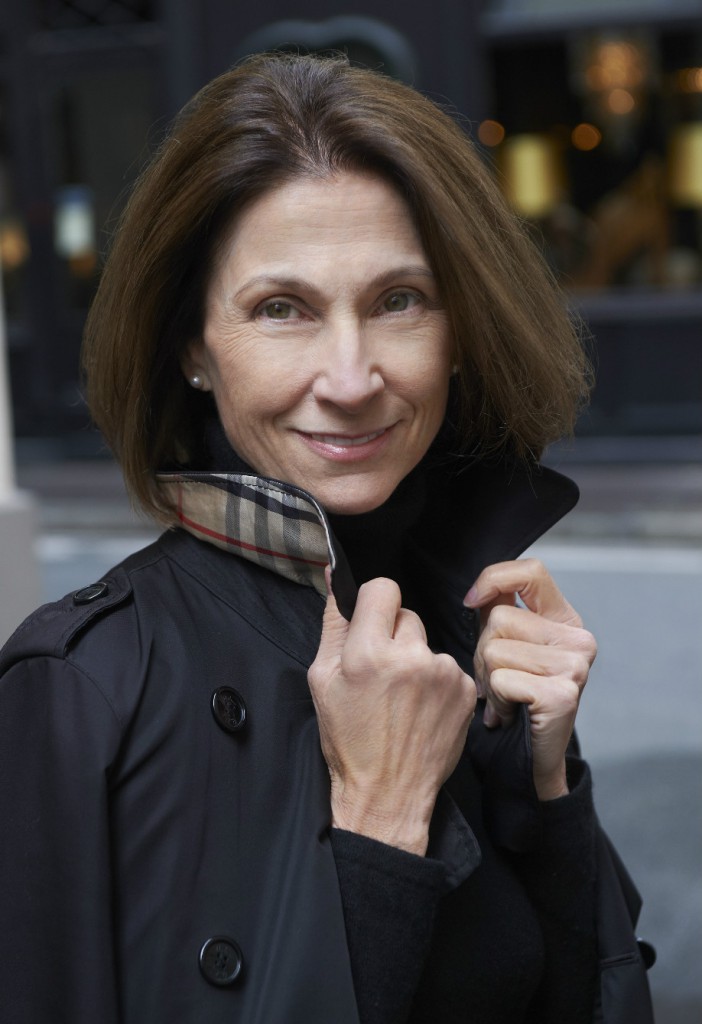 Barbara Redmond, publisher of A Woman's Paris®, is a long-time Francophile and travels to Paris every chance she gets. Her stories about Paris and France have been published in AWP® and republished, with permission, by other blogs and publications. Barbara has presented programs on French fashion and food, and has been a guest speaker for students planning their study abroad. She serves as an advisory board member at the University of Minnesota College of Design and is an active student mentor. Barbara has been recognized for excellence in art by international and national organizations and publications. Prints of her fine art paintings are in collections in Europe and North America and are available for purchase.
You may also enjoy A Woman's Paris® post, Beauty Confessions from a Globe-trotting Parisienne. Parisienne Bénédicte Mahé shares a French woman's approach to beauty and makeup; and how the relationship Americans have with beauty is very different from that of the French. Including her list of Beauty Resources in Paris and a vocabulary of French to English translations. (French)
French women do get wrinkles, by Parisian Eva Izsak-Niimura who writes about the super French myth of the coquettish French nymph—her "je ne sais quoi"—in her ballerina shoes, hair effortlessly tied in a messy chignon blowing in the wind, large sunglasses over her naked, no make-up, nevertheless beautiful eyes, and she then continues to define how we are all measured by it.
l'Américaine, by Parisian Eva Izsak-Niimura who writes about the myth of the unsophisticated and pathetically naïve American where book after book and article after article there is the lament of the hopeless quest of the American woman to resemble her French counterpart. 
Scarves à la Françoise: The lingua Franca for stylish women, by Barbara Redmond who shares her experience trying on scarves and tying them at the home of her French friend in Lyon. Arriving at the famous silk manufacture in Lyon, André Claude Canova, Barbara and her friend gently tapped on the window even though the shop was closed.  The shop girl let them and they all enjoyed hours of playfully draping, twisting and knotting scarves and shawls. An experience spurred by the ubiquitous nature of women and scarves: our common language.
Imperfect Perfection: The new French woman, by writer Kristin Wood who reminds us of the words attributed to Henry David Thoreau, the famous American author and philosopher who eschewed material excess and extravagance… "Simplify, simplify, simplify." Kristin writes about the predicted trends of the "undone" makeup look, and the "de-blinging" of luxury items. What better place to introduce these two trends on a grand scale than in Paris? 
French Lingerie: Mysterious and flirty, by Barbara Redmond who shares her experience searching for the perfect lingerie in Paris boutiques and her "fitting" with the shop keeper, Madame, in a curtained room stripped to bare at Sabbia Rosa. Including a French to English vocabulary lesson for buying lingerie and a directory of Barbara's favorite lingerie shops in Paris. (French)
Text copyright ©2012 Barbara Redmond. All rights reserved.
Illustration copyright ©2012 Barbara Redmond. All rights reserved.
barbara@awomansparis.com