Paris Macaron, Love in the Afternoon
11 Tuesday Oct 2011
By Barbara Redmond
Standing alongside the Parisiennes who had entered the confectionary shop ahead of me, I followed their gazes—women peering into the glass at the macarons and chocolates devouring them with their eyes, waiting for their moment.
The much-anticipated macaron, two sweet biscuits made of meringue and almond powder sandwiching a butter cream or jam filling in gorgeous colors and exquisite flavors attracted nearly all the attention. Macarons in a color palette from Degas paintings of powdery pastels and vibrant hues; each shade presented like tiny beautiful ballerinas poised in lines of seven across and five rows deep.
Weighing only a few ounces, simply labeled and described: caramel with salt, caramel au beurre salé; pistachio, pistache; rose, rose & pétales de roses; crème brûlée, vanilles & éclats de caramel; or licorice & violet, réglisse & violet, were among the many flavours that excited my imagination. Each Frenchwoman vanished back into the streets of Paris, exiting Pierre Hermé, this elegant confectionary on rue Cambon in Paris' first arrondissement, clutching her little cellophane bag of something sweet.
Pierre Hermé
There was something instinctively seductive about my first look at the macarons in Pierre Hermé, alluring me away from my habit of an ice cream at my usual shops. In Paris, if I pause in the afternoon, it is for a single cone of cassis or poire ice cream at Berthillon (if I'm near Île Saint Louis) or for my favorite flavor, pistache, at Hédiard (when I'm close by Place de la Madeleine or a short distance from avenue George V). But after only a single glance in the confectionary, I was falling in love with a little pale pink biscuit. How could I resist?
Reverently waiting in line, I peered at the thin modern type font printed on the label and succumbed to its description: 'Infiniment Macaron Rose, biscuit macaron rose, crème aux pétales de roses.' I ignored everyone and gave in to the languorous fragrance of hot, quiet, summer afternoons spent at my grandmother's home, heavy with the scent of roses from her gardens and sweet butter cookies. At my turn, I requested two macarons, in French, from a young Parisienne behind the glistening glass case who murmured 'biscuit macaron rose, crème aux pétales de roses,' as if her words were a melody.
An ice cream cone on a hot afternoon in Paris is an experience, all by itself. Failing to make progress in any direction streetwise, growing weak from the pleasures of melting sweet cream and the extraordinary power of August in Paris. Catching a trickle from the side of the cone, a social game, as you meet the look of a passerby also caught in so public of pleasures.
But I am resolute. Today is not like the others. I will enjoy the macarons on the garden balcony of the apartment—after my dinner. And, if I'm lucky, I will be able to listen to the violinist from across the street and a slight breeze will carry the scent of pine and roses.
At the Pierre Hermé, each macaron had been placed in a small clear cellophane pouch, only slightly larger than the biscuit itself, and closed at the top with a single fold and wafer seal. (I could feel a skip in my step as I walked to the apartment.) I was carrying these delicious things in hand, not tucked into my handbag for fear of being crushed. This was my first Paris macaron. They were so close. Could I guess the taste of something I don't know at all, but whose fragrance seemed so familiar?
Now three blocks from Pierre Hermé, I was looking in the windows of Causse Gantier beneath the arcades of the rue de Castiglione, only a few yards from the Place Vendôme. I had come to look at the glove named "Jackie," a wrist-length lambskin glove in aubergine, which I had tried on earlier that day. Founded in 1892, Causse Gantier acquired the eyes of great couturiers and the most prestigious fashion houses and admirers, including Jackie Kennedy who wore one of his models.
Unaware of my reflection in the glass or view from inside the boutique, I removed one macaron from its cellophane package. The fragrant rose scent wafted from the package, and I anticipated intense pleasure. I bit into the crisp domed meringue flavored with rosewater, past its smooth pink shell and through a light airy layer, sinking deep into its moist, dense center and closed my bite on the silky, pink butter cream filling of pétales de roses. Rounded pillows of softest pink; light, fragrant, and unmistakably floral, the scent and taste of rose settled beautifully into its backdrop composition of almond and sugar. The scent of rose permeated the humble biscuit needing no embellishment, unlike other varieties that require a fleck of chocolate or other aromatic flake placed on top. It was the smell and taste of summer.
I placed the now crescent shape back into the cellophane sleeve, refolding the packet along its creased edge. A private moment; the boutique assistant was nowhere in sight and my reflection was rippled by the image of a passing limousine.
But, Frenchwomen do not snack
But, Frenchwomen do not snack, I thought. This summer, I told my friend Cynthia over afternoon tea about the queue of Parisiennes at Pierre Hermé I saw several years ago.
What was that about? I asked her.
Was it four o'clock in the afternoon? she questioned.
Exactly! Or, near enough, I said, I've seen this more than once in Paris.
Le goûter, said Cynthia, who is married to a native Parisian. It's a word I've picked up from my husband, for something sweet in the late afternoon. 'Le goûter ou le quatre heures.' It's very charming,  she said, to see adults coming out of bakeries in the late afternoon, clutching little bags clearly their le goûter. It happens around four o'clock in the afternoon when children rush home from school to get a delicious treat, but not too much to spoil their appetite for dinner. For children, it's usually a piece of bread spread with chocolate or Nutella.
Le goûter, to a Frenchwoman, is not considered snacking? I asked.
To a Frenchwoman, said Cynthia, it's not considered snacking. It's become very trendy with baby boomers in France, where le goûter calls to mind childhood pleasures.
Bread and chocolate? I inquired, recalling the taste of "pain au chocolat," the buttery croissant with one or two sticks of dark chocolate in the center.
Adults have more refined tastes, she said, like macarons or fruit tarts — usually accompanied with coffee or tea. It is a cultural experience shared with friends, family or by yourself and is not considered "thé" in French, which is a small formal party in the afternoon for adult guests given at home or at a thé salon, usually between five and seven o'clock.
What a lovely custom, I thought, as I sipped my tea and cut into "le goûter."
Paris macaron, not to be confused with the coconut macaroon, a French Christmas treat served in the north of France. Considered a French confection, the macaron has been traced to the Italian pastry chefs of Catherine de' Medici, whom she brought with her to France in 1533 upon her marriage to Henry II of France.
Pierre Hermé is a fourth-generation pastry chef who apprenticed to French chef Gaston Lenôtre at the age of 14. He worked in the pastry kitchens of Fauchon and later at the Ladurée restaurant on the Champs-Élysées.
The Paris macaron, two sweet biscuits made of meringue and almond powder sandwiching a butter cream, jam or ganache filling, was created by Pierre Desfontaines of the French pâtisserie Ladurée.
RECOMMENDATIONS FOR MACARONS IN PARIS
Pierre Hermé locations in Paris
4, rue Cambon, 75001 Paris
 Tel. +33 (0)1 58 62 43 17
72, rue Bonaparte, 75006 Paris
 Tel. +33 (0)1 43 54 47 77
185, rue de Vaugirard, 75015 Paris
 Tel. +33 (0)1 43 54 47 77
58, rue Paul Doumer, 75016 Paris
 Tel. +33 (0)1 43 54 47 77
39, avenue de l'Opéra 75002 Paris Tel. +33 (0)1 43 54 47 77
Galeries Lafayette – Espace Souliers
 40, boulevard Haussmann, 75009 Paris
 Tel. +33 (0)1 43 54 47 77
Publicis Drugstore location – macarons and chocolates 
133, avenue des Champs Elysées, 75008 Paris
 Tel. +33(0)1 44 43 79 00
(With other locations around the world.)
Ladurée locations in Paris
21, rue Bonaparte, 75006 Paris Tel. +33 (0)1 44 07 64 87
16, rue Royale, 75008 Paris Tel. +33 (0)1 42 60 21 79
75, avenue des Champs-Élysées, 75008 Paris Tel. +33 (0)1 40 75 08 75
Printemps de la Maison Haussmann 64, boulevard Haussmann, 75009 Paris Tel. +33 (0)1 42 82 40 10
(With other locations around the world.)
VOCABULARY: French to English Translations
Arrondissement: An administrative district of certain large French cities.
Cassis: Blackcurrent.
Infiniment: Infinitely.
Le goûter: An afternoon snack, usually around 4 p.m.
Parisian: A native or inhabitant of Paris.
Parisienne: A female native or resident of Paris.
Poire: Pear.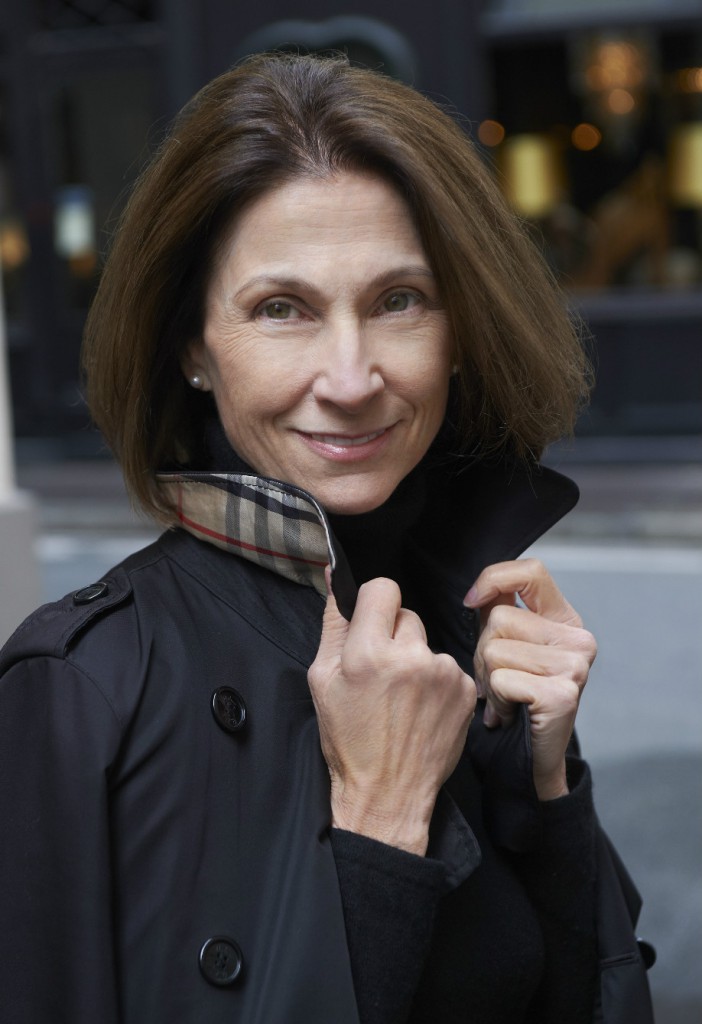 Barbara Redmond, publisher of A Woman's Paris®, is a long-time Francophile and travels to Paris every chance she gets. Her stories about Paris and France have been published in AWP® and republished, with permission, by other blogs and publications. Barbara has presented programs on French fashion and food, and has been a guest speaker for students planning their study abroad. She serves as an advisory board member at the University of Minnesota College of Design and is an active student mentor. Barbara has been recognized for excellence in art by international and national organizations and publications. Prints of her fine art paintings are in collections in Europe and North America and are available for purchase.
You may also enjoy A Woman's Paris® post, Indulge at Le Meurice Hôtel, Paris, by Parisian Eva Izsak-Niimura who shares how to achieve a bit of luxury at Le Meurice Hôtel, Paris for afternoon tea or evening cocktails, when "constraint" is a word more in vogue than "indulgence." 
A Parisienne's Guide to the City of Love on Valentine's Day, by Frenchwoman Flore der Agopian who writes about the French love of chocolates––always the most appreciated gesture, as many of the greatest chocolatiers are found on the streets of Paris. Including chocoalte specialities you'll love and where to find them, and Flore's family recipe for chocolate cake. (French)
Le soufflé – l'amour, la romance and ladies who lunch, by Barbara Redmond who invites us to join the "ladies lunch," with French food specialist Deborah Lee Johnson (founder of French for A While) and Kathy Morton (a Certified French Specialist, retired professor, co-recipient of the Julia Child Endowment Fund Scholarship, and also current designer of culinary tours for Tour de Forks). The soufflés, wine, and champagne were enjoyed at La Cigale Récamier, a restaurant located on a tiny pedestrian street in the seventh arrondissement in Paris. Recipe included for Soufflé au Chocolat (Chocolate Soufflé), by Georgia Downard from Evie Righter's book, The Best of France: A Cookbook.
French chocolates, a poetic experience, by French writer Laurence Haxaire who, together with Barbara Redmond, visited the famous chocolatier Richard Sève in Lyon and writes about various delightful and inventive creations. Gaëlle and Richard Sève boast about being the designers of the savory macaroon, with their combination of such flavors into the olive, goat cheese, and squid ink macaroon.
Chocolate Mousse — debonair, dark and irresistibly rich! by Barbara Redmond who looks into this crème de la crème of mousses and uncovers the source of the original dish.  Mousse as the supreme seducer was first known as "Mayonnaise de Chocolat," created in the 1900s by French post-impressionist artist, Henri de Toulouse-Lautrec. Recipe included for Mousseline au Chocolat (Chocolate Mousse), by Julia Child from her book, The French Chef Cookbook. 
Text copyright ©2012 Barbara Redmond. All rights reserved.
Illustration copyright ©2012 Barbara Redmond. All rights reserved.
barbara@awomansparis.com