French Impressions: Isabelle Burdel on the very complex and marvelous alchemy of perfumes
25 Wednesday Jan 2012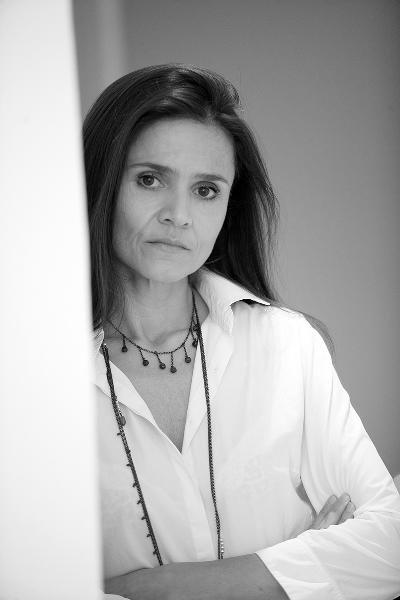 Isabelle Burdel, master perfumer and founder of Salon Privé in Cannes, France. To date, after more than twenty years of experience, Isabelle Burdel has created more than a thousand perfumes that have been sold throughout the world. She has, in particular, worked on the creation of perfumes with the world-renowned perfumer Rochas. For several years, Isabelle has offered her rare expertise, making the very complex and marvelous alchemy of perfumes available to private individuals, to reflect the very depths of their being.
The success of her unique and exclusive perfume relies on a very distinctive approach. It requires the ability to translate the emotions and uniqueness of a person in the form of a scent that is in perfect harmony with the true being and true reflection of that individual, the essential fine touch that reveals and sublimates his or her character. Visit: Salon Privé, Cannes, France.
INTERVIEW
AWP: Name the books and movies, works of art and music, fashion or cuisine that have inspired you.
IB: I've always been fascinated by Gabrielle Chanel.
AWP: Do you have any role models?
IB: No, I am always my own inspiration.
AWP: What is the last book you read?
IB: A book on astrophysics. I read scientific journals in general or fashion magazines in large quantities.
AWP: What is the best (or worst) advice you've ever given or received?
IB: "It is never better served than by yourself!"
AWP: What handed-down wisdom did you receive from your mother or father?
IB: Clairvoyance.
AWP: What childhood experience has served you many times?
IB: Listening.

AWP: In your youth, what did you imagine your adult life would hold? What influenced this vision?
IB: I have no recollection as a child projecting myself as an adult. Even today, I do not project to a later age. I remain very flexible in my future!

AWP: In your early teens, what formed your romantic fantasies of adventure and love?
IB: Movies, music.
AWP: What were your favorite childhood things to do?
IB: Dream.
AWP: What nourishes your passions?
IB: Everything around me that is in quotidian, occuring everyday. The landscapes of Provence are inexhaustible sensations, each day offers different colors and scents. The windows of the designers are also a great source of inspiration; colors, cuts, materials, every detail of print and finishing, buttons, and movements of matter. The spirit of things.
AWP: How did you get your foot in the door at the beginning of your career?
IB: Only because of my motivation—I did not choose this profession. I discovered my vocation at sixteen years, it became obvious, it is always obvious.
PERSONAL STYLE
AWP: Was being stylish important to you growing up in your teens? Is it now?
IB: I've always had a very specific view of what I wanted to wear, even when I was very young, and what I wear everyday is still as important.

AWP: How do you define style or fashion?
IB: Style is something that you have within yourself; each in his or her own style. It is best illustrated when you know yourself. Style is to be in perfect harmony with yourself and in the eyes of others. Style is the name of each projection. Fashion complements the style and proposes to follow and adapt current ideas in one's own style, in my opinion.
CUISINE
AWP: Tell me about your cooking and eating habits and traditions.
IB: I cook every day and I really like it. Through these actions, it's a bit obvious what we offer. I have a penchant for cooking traditional French stew (especially veal stew in the winter), grilled fish and aromatic salads in summer, and all year round mixed vegetables—always very fresh ingredients and lots of flavors. I personally like Japanese and Thai cuisine.

AWP: What was your most memorable meal to date?
IB: Dinner at the Pyramid in Vienna (3 Michelin stars).
AWP: What is in your refrigerator right now?
IB: Fresh vegetables, fresh organic eggs, Figatelli from Corsica, very fresh goat cheese for an appetizer, pesto (basil sauce), and carrot juice.
ART OF LIVING
AWP: What do you live for? What do you love above all?
IB: To live simply, that's what I love above all.
AWP: What natural gift would you most like to possess? What talent are you most thankful for?
IB: I wish I had the sense of direction. But, I am lucky to have the five other senses — and very sharp!
You may also enjoy A Woman's Paris® post, "Fatale: How French Women Do It" – Perfume that rocks the room, peeks at the mysterious ways Frenchwomen manage to appear sexy, smart and recklessly chic from the book Fatale: How French Women Do It by Edith Kunz (used by permission). Includes are tips for applying fragrance and a list of 18 key pulse points to consider.
Perfume: discovering the perfect luxury experience, by Andrea Johnson who shares tips on finding the right fragrance, which is not always easy. A biochemist and former fragrance sales associate, Andrea writes about choosing a fragrance that reflects your personality and drawing people in with a scent.
French Indulgence: A perfume of one's own, by Barbara Redmond who writes about her experience in the atelier of Master Perfumer Isabelle Burdel, Salon Privé, Cannes, France. Isabelle, a "nose," creates a marvelous alchemy of perfumes of rare and natural essences made-to-measure for each customer. How did Isabelle guess Barbara's choice of from the selection of Paris macarons offered (as a test, no doubt), when she arrived at the atelier? Pistache. Powdery-dry and musty smells of the Greek islands' arid winds and briny taste of the sea…
French Soap: Savon de Marseille, by writer Lauren Ernt who stumbled upon La Licorne, a storefront soap factory in the heart of Marseille and one of the last authentic manufacturers of the famous "savon de Marseille." Lauren writes about her visit and love of this renowned soap for its purity and restorative properties.
French Silhouette, a New Look, by Barbara Redmond who admires the Frenchwoman's attention to the tiniest detail of her appearance, good taste and natural style—brushing fashion aside with her blend of reasonably priced purchases and small number of luxury pieces. Effortless chic. Simple style. Self-confidence. Including a link to Barbara's treasured book, Parisian Chic: A Style Guide by Ines de la Fressange with Sophie Gachet. 
Ballet Flats in Paris: And God made Repetto, by Barbara Redmond who shares what she got from a pair of flats purchased in a ballet store in Paris; a feline, natural style from the toes up, a simple pair of shoes that transformed her whole look. Including the vimeos "Pas de Deux Coda," by Opening Ceremony and "Repetto," by Repetto, Paris. (French)

A Woman's Paris — Elegance, Culture and Joie de Vivre

We are captivated by women and men, like you, who use their discipline, wit and resourcefulness to make their own way and who excel at what the French call joie de vivre or "the art of living." We stand in awe of what you fill into your lives. Free spirits who inspire both admiration and confidence.
Fashion is not something that exists in dresses only. Fashion is in the sky, in the street, fashion has to do with ideas, the way we live, what is happening. — Coco Chanel (1883 – 1971)
Text copyright ©2012 Isabelle Burdel. All rights reserved.
Illustrations copyright ©Barbara Redmond. All rights reserved.
barbara@awomansparis.com