Photo-ready in Paris: not what you might expect
07 Thursday Nov 2013
A Woman's Paris™ in Style
Tags
André Brenton, Apollinaire, Burberry trench coat, Café de Flore Paris, Chanel makeup, Charlotte Gainsbourg, Côte d'Azur, Dennis Hopper, Elle, Emmanuelle Seigner, fashion photography Paris, Financial Times, France, Frédérique Veysset, French fashion, Gérald de Palmas, Gertrude Stein quote, glamour, Hermes scarves, International Herald Tribune, Isabelle Thomas, Jean-Paul Sartre, L'Humanité, La Petite Robe Noire Guerlain, Le Figaro, Le Monde, Left Bank Paris, Liberation, Louis Aragon, Mademoiselle magazine, Marie Claire magazine, New York, Ouest-France, Paris, Paris Fashion Week, Paris Street Style: A Guide to Effortless Chic, Patrick Bruel, Pillsbury, Place de Furstenberg Paris, Right Bank Paris, Rolling Stone, Saint-Germain-des-Près, Sephora, Simone de Beauvoir, Surrealist, Target, Vanessa Paradis, Vanity Fair, Wells Fargo, You're So French Men Secrets d'élégance masculine Isabelle Thomas Frédérique Veysset, You're So French! Isabelle Thomas Frédéruque Veysset
Share it
By Barbara Redmond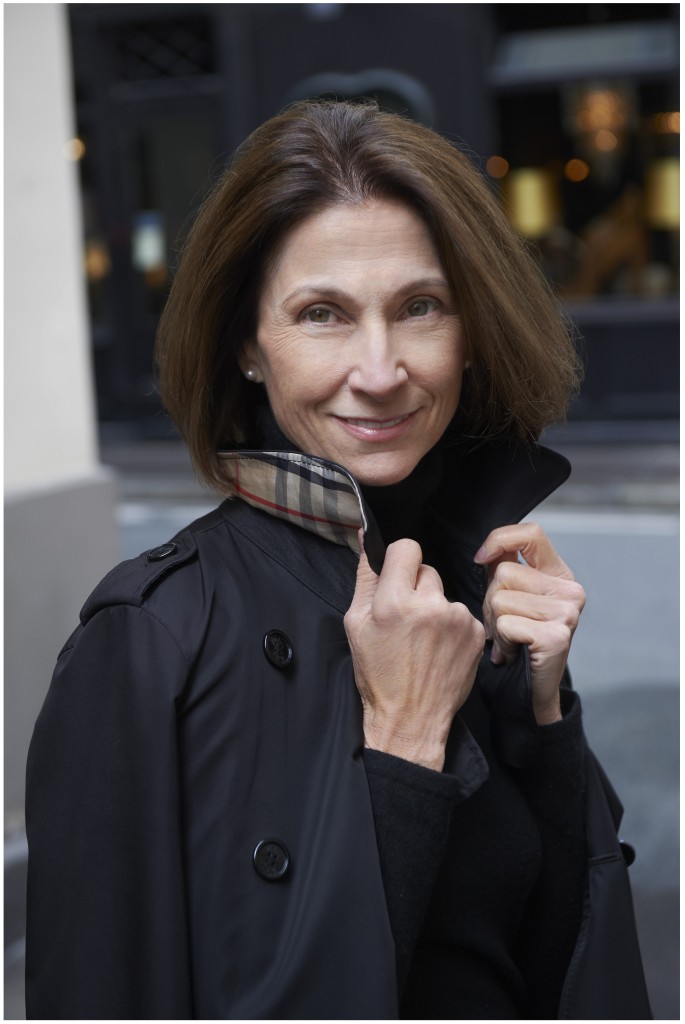 (French) The shutter whirred, tamely and quietly. Just loud enough to be able to distinguish the photographer's Nikon from the undertone of voices and the clamor of cutlery and the rustle of dailies from newshounds fingering through Le Monde, Libération, L'Humanité. This was the Left Bank, after all, and Café de Flore where André Breton and his coterie of Surrealist friends, Louis Aragon and Philippe Soupault met, and where Jean-Paul Sartre and the place where Simone de Beauvoir made their base. Among these center, left, and far-left mastheads were scattered Le Figaro and Ouest-France at right and center-right of hot news of the day. Even now, Flore is a place to regard the French in their accustomed habitat of sipping an early morning café amongst the scattering of Anglos squinting over their International Herald Tribune or Financial Times, no doubt, observing the French talking quickly or with a Gallic finger snap attempting to catch the attention of a complacent waiter.
I arrived early to claim a table for Frédérique and me at Café de Flore on Saint-Germain-des-Prés in the 6th arrondissement of Paris. A wait that could tax anyone's patience for a small, round table not occupied for hours by the notable, the creative, the intellectuals, the flocks of stylish women bearing their "latest" during Paris Fashion Week, the tourists, and the eldery who frequent their long-standing establishment. I had come to meet Parisian fashion photographer Frédérique Veysset whose work with international stars Charlotte Gainsbourg, Emmanuelle Seigner, and Dennis Hopper, among others, and recording artists Patrick Bruel, Vanessa Paradis, and Gérald de Palmas, has appeared in Vanity Fair, Mademoiselle, Rolling Stone, Marie Claire, Glamour, and ELLE magazines—a list of publications and the famous subjects too long to recite.
Recently, in A Woman's Paris, I had published an interview with Isabelle Thomas, coauthor of the bestselling book Paris Street Style: A Guide to Effortless Chic (which has been translated into seven languages), and I gave her a call. I asked Isabelle to recommend a fashion photographer whom I might be able to afford and who could pull off a session for me from a busy schedule during Paris Fashion Week. Isabelle said it would be difficult during Fashion Week, but recommended that I contact her coauthor, Frédérique Veysset. I contacted Frédérique, who responded immediately, "Isabelle told me you were searching for a photographer. Shooting an outdoor portrait is exactly my favorite style of photo! It's difficult to give a price…I will fit it in. Meet me at Café de Flore tomorrow morning at 9. We can meet and talk, no?"
Behind-the-scene photo art direction for Target, Pillsbury, and Wells Fargo, among others, has been a part of my career helping companies to build their brands. I knew about the "hurry up and wait" on set, using scripts and storyboards, staging, selecting props, makeup, wardrobe, lighting, testing, shooting, infinitesimal course corrections—and starting again from the beginning. Framing the "test" shot in-camera within the layout grid for text positioning so that little, if anything, would be necessary for retouching or cropping. It's a deadline-driven business with no budget spared on fashion and food photography for mass audience consumption. For assignments I've hired photographers from other countries, from across the US, and local photographers for shoots in South America, Europe, and Asia. I knew the range of daily rates, expenses, and per diems. For my run-through with Frédérique at Café de Flore, I knew to come prepared—just in case our meeting at the Flore became the shoot.
At the apartment on rue de Vaugirard, a few blocks away from the Flore, I had a closet full of clothes: black turtlenecks, V-neck cashmeres and jersey crew-neck sweaters, black dress pants and jeans, a black school-boy jacket and Burberry trench, Hermès scarves, and more shoes than clothes—those I brought to and those I bought in Paris. The red silk makeup bag on the bathroom vanity held less: loose facial powder, Rose Pétale blush, Pêche lip definer and Rose Pearl lip stain by Chanel, plus two professional makeup brushes from Sephora. On the other side of the vanity, however, I kept an organized clutter of makeup removers, toners, eye serums, moisturizers, mists, and my favorite (when-in-Paris) La Petite Robe Noire velvet body milk by Guerlain. Before I left to meet Frédérique, I had moved to the relative safety of a light dusting of powder and a nude lip, black turtleneck and pant, trench and tote filled with makeup and Hermès scarves, just in case.
After hovering a moment in the doorway of Café de Flore to scan the terrace inside for a noticeable nod of recognition from Frédérique, whom I had never seen, I darted to the only available table in sight. Its inhabitants were rising to leave and it provided a perfect location by the window and entrance to attract Frédérique's attention. We spotted each other instantly as our eyes met through the window.
Hip, stylish, and chic with her Nikon slung across her tall slender frame and a hand clasped lightly on her shoulder strap bag, I knew I liked her already. She had read my story Ballet Flats in Paris: and God made Repetto, and we talked endlessly about ballet slippers, high-heels, walking, bearing and comportment; raising daughters, and her love of New York having lived and worked in Manhattan.
"Don't mind me," she said as she changed the lens on her Nikon, swiftly and with minimal movement inside her bag. "I want to test the settings," she thrummed. "I love the light. No session, just a quick reference shot." This old trick to avoid nervousness. I knew better. "Raise your chin to the left, just a little," she hinted.
My trench was slung across my shoulders. "Shall I remove my coat?" I asked. "I have makeup and scarves in my bag," I added. "No, you looked French when I saw you through the window. Moisten your lips," she prompted, beginning to click frame after frame, shooting faster and a lot, in the action without posing. She got up and moved the chair out of the way and asked the man at the table behind us if she could shift his table, and him, back—in rapid French.
I am not a model. This was Paris Fashion Week and the place was filled with chic Parisians and tourists who come early for a café, but not yet the time of day for the fashionistas who will arrive later—shoppers and those who've come for the shows. I could sense eyes peaking over newspapers at Frédérique and me in the midst of our animated conversation. Brisk side-glances with eyebrows raised or eyeglasses flicked in a single movement from forehead to nose, like Frenchmen do, attempting to signal l'addition, s'il vous plait to waiters oblivious to the antics that go on at the Flore. The heightened awareness of eyes on Frédérique and me was delicious—like wearing a new outfit and jewels or being out on the street in a great pair of heels with a fabulous bag.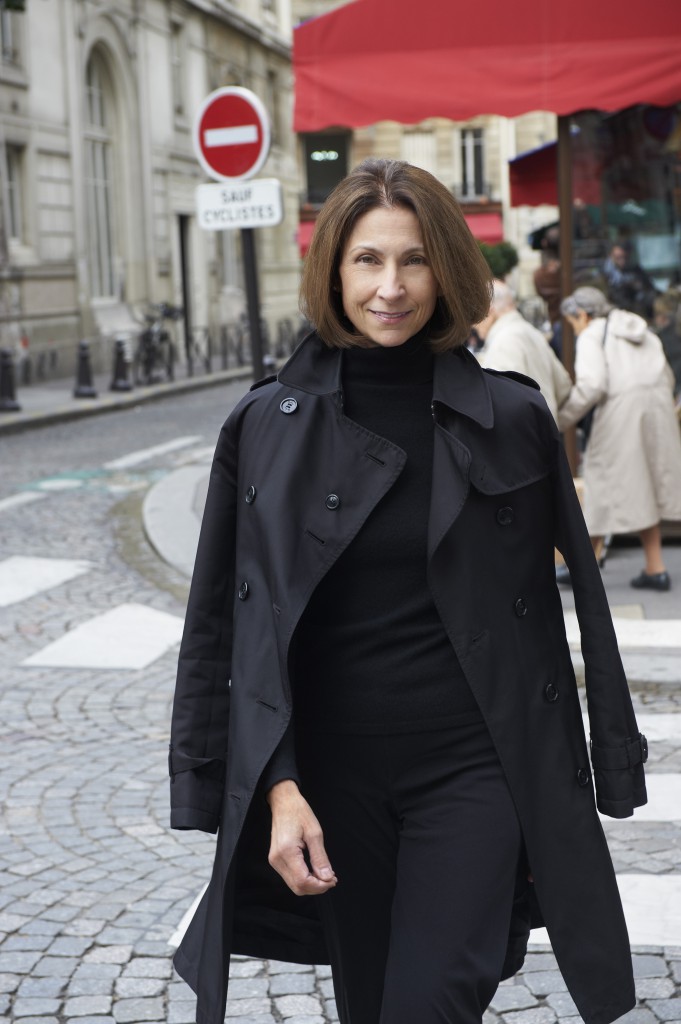 Over the din of voices and shutter clicks, Frédérique motioned to get up and leave. I followed her from the Flore onto the boulevard Saint-Germain. She proposed we walk to Place de Furstenberg, an intimate little square two blocks away. I knew it well, I said, and turned the corner onto rue Bonaparte as she continued shooting from our table at the Flore, from the curb, the street, and the sidewalk across the way. "Whatever feels natural at the moment: walk, turn, stop, talk to me if you like," said her now familiar voice from behind the lens. My coat was draped across my shoulders; the makeup and scarves still in my bag. When Frédérique knew she got what she wanted, twenty or so minutes later, she removed the lens, fastened the lens cap, and slung the Nikon's strap over her head draping it from shoulder to hip. We strolled from one street to another, stopping at window displays that caught our attention and boutiques that were featured in Paris Street Style and Frédérique's earlier books You're So French!, and You're So French Men, Secrets d'élégance masculine, all co-authored with Isabelle Thomas.
The morning following our photo shoot I received the contact proofs of images she had selected from the hundreds she had taken. I petitioned my two daughters and several Parisian friends to help me choose. As consultants know, it's easier to nail the one or two right choices for a client, but it's shakier ground when you're editing for yourself.
I had two weeks left of my month-long stay in Paris; I had spent the first half of my visit on Côte d'Azur. I urged every friend and acquaintance in those final weeks to hire a professional fashion photographer for a shoot in their favorite city. A great photographer who might bring out an "inside you" separate from the self you know. I love Gertrude Stein's wisdom: "After all everybody… is interested in living inside themselves in order to tell what is inside themselves. That is why writers have to have two countries, the one where they belong and the one in which they live really. The second one is romantic, it is separate from themselves, it is not real but it is really there."
As a sit-in for models and company executives during studio shoots or for sessions on location, setting the stage for their five or fewer minutes, or for publicity portraits for myself, I knew the routine: hot lights, heavy makeup, wardrobe, ill-fitting attire pinned at the back, photo call, blocking: camera-left, camera-right, up-stage, down-stage; fidgety grips assisting the pros, art directors, client-side staff biting their nails praying that the shot is "spot on," and speed-dialing the retoucher to do away with the flaws. But this was different, no lighting, no makeup, no specialists—just Paris, Frédérique and me, each holding a piece of a simple, straightforward narrative.
When I looked at the photos again, after a several weeks, I started giggling and focused on the images, fixing on a place and time that was Paris, Paris by chance, Paris on a whim. Paris is like that.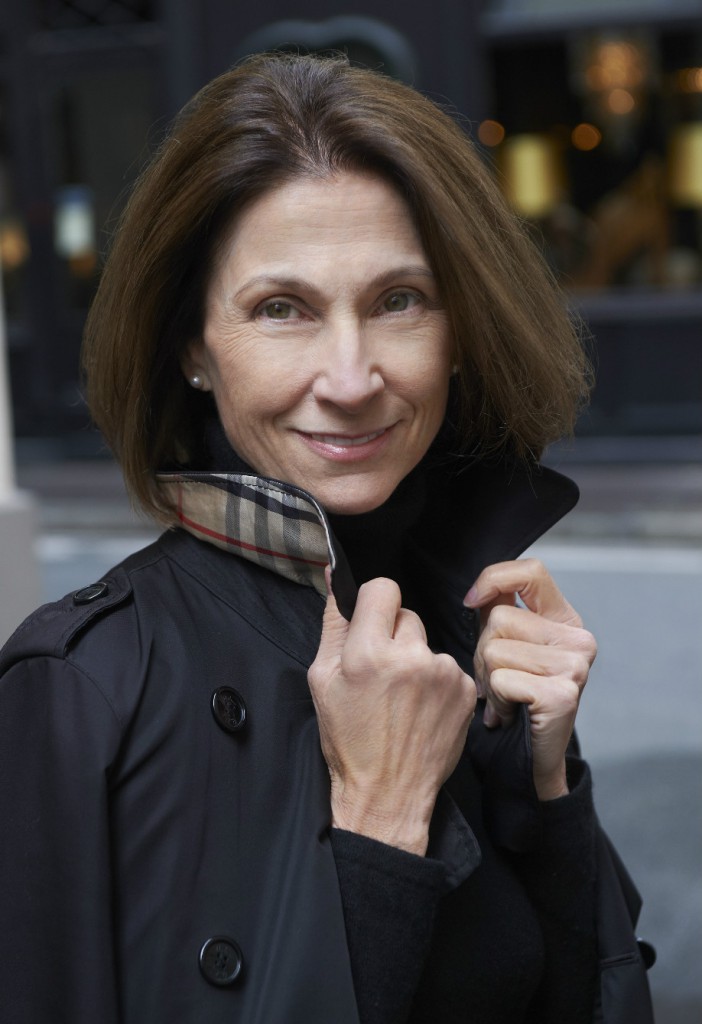 Barbara Redmond, publisher of A Woman's Paris®, is a long-time Francophile and travels to Paris every chance she gets. Her stories about Paris and France have been published in AWP® and republished, with permission, by other blogs and publications. Barbara has presented programs on French fashion and food, and has been a guest speaker for students planning their study abroad. She serves as an advisory board member at the University of Minnesota College of Design and is an active student mentor. Barbara has been recognized for excellence in art by international and national organizations and publications. Prints of her fine art paintings are in collections in Europe and North America and are available for purchase.
You may also enjoy A Woman's Paris® post, Frédérique Veysset's take on the fashion world and impulse photography. Frédérique Veysset, Parisian fashion photographer, shares behind-the-scenes details about the world of fashion photography. She is coauthor of  You're So French: A Guide to Effortless Chic, a fashion handbook which describes the "French touch," and Paris Street Style: A Guide to Effortless Chic by Isabelle Thomas and Frédérique Veysset, which were both released in 2012. A volume dedicated to men You're So French Men, Secrets d'élégance masculine, by the same authors, was released in 2013, in France. 
French Impressions: Isabelle Thomas and spirit of French fashion and personal style. Isabelle Thomas, personal stylist and personal shopper, is the author of Paris Street Style: A Guide to Effortless Chic and a volume dedicated to men––You're So French Men, Secrets d'élegance masculine. Isabelle helps people who want to present a good image of themselves and cultivate a personal style, to learn how to show themselves off, and to take the best of trends. (French)
French Impressions: Valentin Petit on multimedia, the artistic process and the sensory experience. Valentin Petit, French cinema director and designer working in various multimedia, particularly music, fashion, and the extreme-sport sector, shares the inspirations behind his work. (French)
French Impressions: Body, space and time are Angelin Preljocaj's tools of dance. With many award-winning choreographies behind him, in 2010, French choreographer and artistic director of Ballet Preljocaj, Angelin Preljocaj was invited to produce one of his existing choreographies with dancers from the Bolshoi. This collaborative opportunity joined 10 Bolshoi dancers and 10 dancers from his own company to create his newest work And then, one thousand years of peace. 
Ballet Flats in Paris: And God made Repetto, by Barbara Redmond who shares what she got from a pair of flats purchased in a ballet store in Paris; a feline, natural style from the toes up, a simple pair of shoes that transformed her whole look. Including the vimeos "Pas de Deux Coda," by Opening Ceremony and "Repetto," by Repetto, Paris. (French)
Text copyright ©2013 Barbara Redmond. All rights reserved.
Photography copyright ©2013 Frédérique Veysset. All rights reserved.
Illustration copyright ©2013 Barbara Redmond. All rights reserved.
barbara@awomansparis.co