Brunch in Paris: a not-so-French affair
26 Monday May 2014
Tags
A Priori Thé Paris, Angelina's Paris, Bloom restaurant Paris, brunch in Paris, brunchparis.com, Café culture Paris, France, French cuisine, French dinner party, French food, French-Moroccan food Paris, Grilled Cheese Factory Paris, L'Arganier Le Marais, La Prune Folle Paris, Latin Quarter Paris, Le Pain Quotidien le Marais, Left Bank student cafés in Paris, Mamie Green Le Marais Paris, Museum tearooms in Paris, My Crazy Pop Paris, oubruncher.com, pancakes in Paris, Paris, Parisian brunch, Parisian cuisine, Parisian food, Simone de Beauvoir Paris cafés, Student Cafés in Paris, Tribulations Bretonnes, W Scott Haine cafe culture in Paris
Share it
By Bénédicte Mahé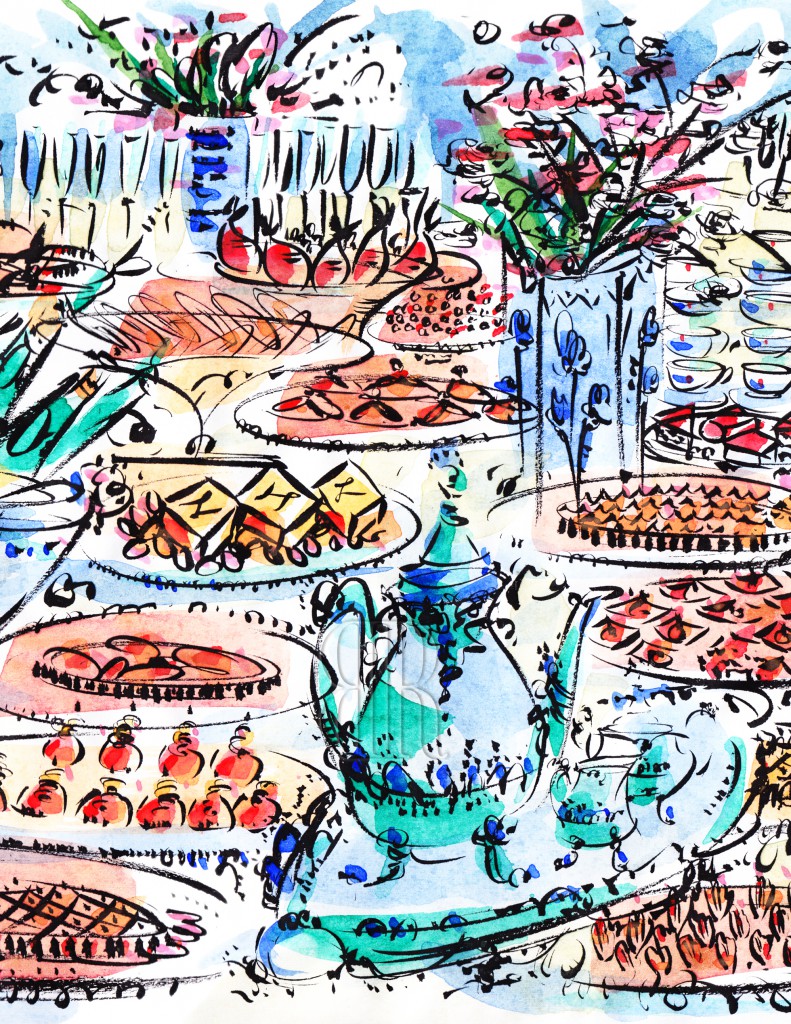 To brunch in Paris has become increasingly popular. Every good restaurant offers a brunch menu during the weekend. I have myself been brunching with friends on a few Saturdays, without making a habit out of it—considering it can get really pricey. It is not quite clear to me when brunch first arrived in Paris, since I grew up in Brittany. However I remember my mum sometimes cooked her own version of brunch on Sundays (at times with scones, at times with pancakes), which was a bit unusual in Brittany at the time. I liked it because it made me feel particularly connected to the Anglo-Saxon world. Yes, let's be honest, I thought I was pretty cool and had a special link to the US just because I ate pancakes (but don't you feel the same way towards France when you eat a croissant in the US?!).
Anyway, Paris has become more and more American (one could even say New York-er) over the last few years: from the appearance of barber shops "à l'américaine" to the opening of a grilled cheese restaurant (the Grilled Cheese Factory, 9 rue Jacques Cœur 75004), a popcorn store (My Crazy Pop, 15 rue Trousseau, 75011) and including the latest food fad: meatballs (I wish I were kidding). If the weather would allow it, Paris would dream to become more Californian, but right now for some districts I will talk about Brooklynian "hipsterization". Lucky for us (and you, French culture lovers) the capital is also witnessing a return to simpler and Frencher pleasures: pain, saucisson, fromage et vin, which (hopefully) counterbalances this recent Americanization. Served only on weekends, brunch is mostly a Parisian thing, (traditionally French people like to have three separate meals a day), but we have put a French twist on this American import.
What is to be expected in a brunch in Paris? Obviously, it all depends on where you go. I once had brunch in a Moroccan restaurant, which was very different from one in a more "traditional" place. By brunch, we understand a mix between French and American breakfasts and lunches (yes, I do understand that it is literally what it means). So in our French way, that means you will get an orange juice, a choice of hot beverage (sometimes with a refill but don't expect too much, it may be an American tradition but it is Paris after all), yogurt and muesli, viennoiseries or baguette with butter and marmalade (or both if you are lucky) and a savory dish (this is generally where brunches differentiate from one another). We expect you to be more than full after brunch: in Paris, brunch is clearly not for little appetites, even if we serve smaller portions than in America.
The price range for a real full brunch depends on where you go: obviously a brunch at Angelina won't be the same price as one in the 10th arrondissement (39€ versus 20/25€). As I wrote above, brunch is quite pricey; we are not talking about a breakfast sandwich from a fast food restaurant. However, if you have a small budget (like me), you can still find some under 20€ and around 16/18€. I know it is not a significant price gap (except maybe psychologically) but always remember 1€ is roughly equal to one baguette: doesn't that put things into perspective?! Or you can always choose the cheaper solution and cook at home with fresh products from the farmer's market!
The first Parisian brunch I ever had was at L'Arganier in Le Marais. It was an all-you-can-eat buffet of French-Moroccan food and was absolutely delicious, although expensive (23€ in 2007), but it has closed since then. The second one I had was also in Le Marais at Le Pain Quotidien, a famous Belgian franchise serving organic food and in which you sit at communal tables. The bread was amazing but the savory plate not that incredible (the eggs were way undercooked). The price was high (25€) and the atmosphere too bobo (French abbreviation for "un bourgeois-bohème) and loud for my taste. It was quite a trendy place to go at the time, and might still be as busy, so I now prefer independent, quieter restaurants outside Le Marais because they are cheaper and less crowded. One of my favorite places to go in my neighborhood is called Mamie Green. Sadly it closed a couple of months ago, but the restaurant that replaced it (named Bloom) offers the same kind of brunch (18.50€ or 19.50€) with organic products—the homemade jam is to die for. It is very tiny but a real gem! The latest place I went with friends was absolutely wonderful (since Mamie Green was closed we had to find a replacement—what a discovery!) and is called La Prune Folle ("the crazy prune"). If I remember correctly the brunch costs 18.50€ and it includes a choice of 6 different savory plates. It really is a good location as well.
Did you brunch in Paris? What did you have?
Let's brunch!
– Two websites to find your perfect spot: http://www.oubruncher.com/, http://www.brunchaparis.com/
– My two favorites: Bloom (25 rue de la Forge-Royale, 75011), La Prune Folle (33 rue de Crussol, 75011)
– Another address worth trying: A Priori Thé (35-37 Galerie Vivienne, 75002)
And don't forget to share your favorite address(es) in the comments!
Acknowledgements: Alyssa Noel, student of French and Italian, and Journalism at the University of Minnesota-Twin Cities, and English editor for A Woman's Paris.
Bénédicte Mahé has studied abroad many times, speaks four languages and earned a Master of Management of cultural goods and activities, as well as a Master's degree in intercultural communications and cooperation. She works in communication and international projects management. Among her interests are drinking tea, cooking (with or without success), reading, traveling, and—of course—shopping. She started her blog Tribulations Bretonnes in 2010 and has been updating it (more or less regularly) since then.
You may also enjoy A Woman's Paris® post Picnics by the Seine: A return to warmer days. Parisienne, Bénédicte Mahé takes us on her first spring picnic in Paris where she celebrates with friends the joy of being back in the sun. Musicians nearby played the saxophone and the guitar—it was as if they were suddenly in a Woody Allen movie: on the docks with Notre Dame and the Hôtel de Ville in the background. (French)
Hotspots and Hot Chocolate: Student Cafés in Paris by Parisian Flore der Agopian. The Left Bank has always been "the place to be" for intellectuals, artists and students. By strolling through the famous Latin Quarter, which attracts many students from the whole of France, you can feel the lively, bustling atmosphere created by the presence of the famous universities, such as La Sorbonne. Follow Flore as she visits the seven most famous student cafés in Paris.
Café Culture in Paris, by Parisienne Flore der Agopian. The café, writes Flore, is a pleasurable way of sitting unbothered for hours on end with a book, with friends, or jut watching all sorts of people coming and going. Le Café de Flore, one of the oldest and most prestigious in Paris, where you can meet or observe its famous clientele among the Parisians, tourists and waiters dressed in their black and white uniforms as if they were still in the 1920s. To Flore, Café de Flore is almost mythical, legendary—a real institution. (French)
French Impressions: W. Scott Haine on literary life, cafés and culture in Paris. One of Simone de Beauvoir's biographers, Deirdre Bair, records that de Beauvoir's first moment of "true liberty" came in a café, the Rotonde, when she and her sister Helene played hooky and drank a café-crème. At ages nineteen and seventeen respectively, they felt "incredibly grown-up," and enjoyed themselves so much that before long they stopped going to art classes and spent the hours between eight and ten-thirty entirely in bars and cafes. 
Museum tearooms in Paris. Parisienne Flore der Agopian invites us to visit some of the most enchanting tearooms in Paris: Café du Musée de la Vie Romantique, its courtyard garden a step back into the 19th-century; Café Jacquemart-André, decorated and furnished in late 19th-century style; and La Flottille, in the garden of the Château de Versailles in front of the Grand Canal. Including a list of Museum tearooms, cafés and restaurants in Paris. 
A dinner party: what makes the French so French. On a recent trip to France, Jacqueline Bucar, French teacher and immigration attorney, shares the dinner party conversation at the home of some of her friends—a conversation that was like no other she could ever imagine in the States…
Text copyright ©2014 Bénédicte Mahé. All rights reserved.
Illustration copyright ©2014 Barbara Redmond. All rights reserved.
barbara@awomansparis.com