Doing the bridge "faire le pont" in Paris
01 Tuesday Jul 2014
Tags
Ascension Day in France, books about France, faire le pont, France, French picnics, Labor day in France, Paris, Paris getaways, Stones of Carnac France, Summer in Paris, Train stations in Paris, Vacations in France
Share it
By Bénédicte Mahé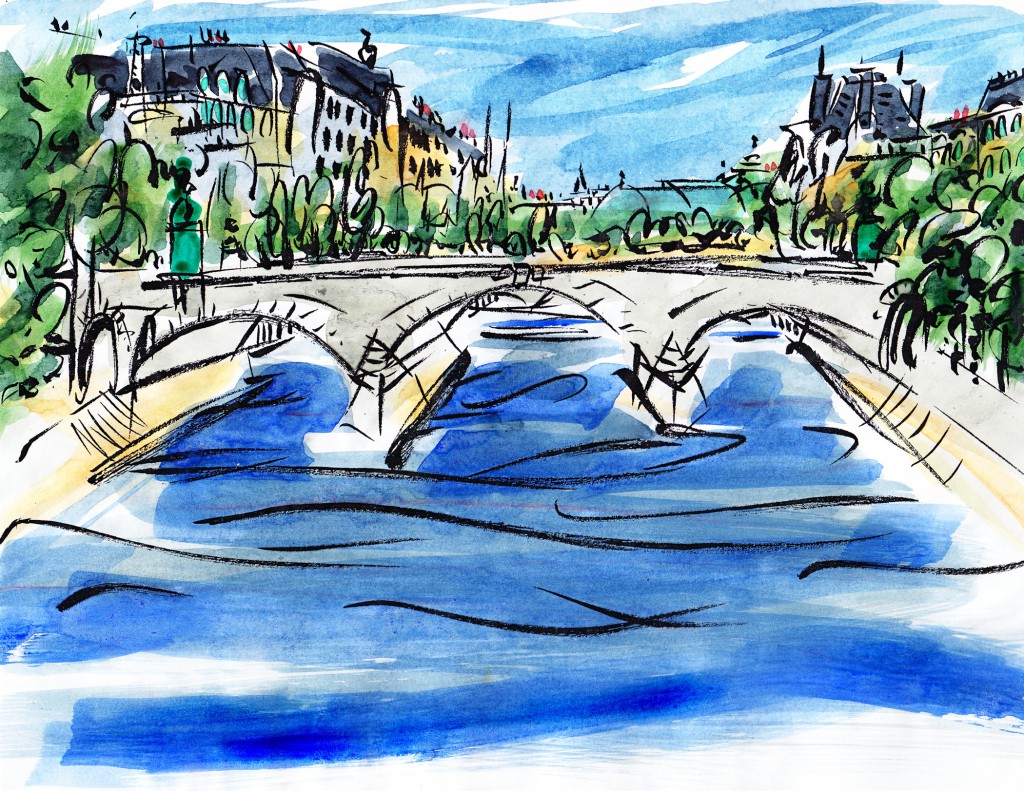 Every year, the month of May is full of promises for people working in France: the promises of numerous public holidays. Between May 1st (Labor day), May 8th (the official end of WWII, which every single French person hopes will be a Thursday) and Ascension Day (always a Thursday), we look for maybe three four-day weekends. Yes, that's right, four-day weekends! Because what is a French person to do, except take Friday off when Thursday is a public holiday? In French we call that faire le pont, "do the bridge".
When the year starts, everybody checks their calendar for the possibility of an extended weekend. Obviously, schools generally do not "do the bridge" unless they can make up that day. We "did the bridge" a few times when I was young and ended by going to school on a Wednesday, which felt weird (at that time French kindergartens and elementary schools were closed on Wednesdays, which were devoted to extracurricular activities).
What do people do during these long weekends? Well, these weekends generally match warmer days (except this year, we got rain, thunder and hail—clearly Mother Nature taught a lesson to us hopeful and lazy French people), and therefore people leave for the country or the sea. When you get the chance to have four free days French people always try to escape their city and visit their family or plan a trip. Of course, not everyone "does the bridge" or goes out of town; which is nice because, for example, Paris gets really empty (less than the week of August 15th, but still). All this anticipation means that you also need to plan well in advance whatever you intend to do on these weekends: trains are booked as soon as the reservations open, highways are crowded… It may be a vacation but it is not that easy to get out!
This year was the first time I was not a student or looking for a job, so these public holidays truly meant something to me and the possibility to transform an off-day into a long weekend was really exciting (yes, I am satisfied by very little). I had decided to "do the bridge" only once, for the 8th, but I ended up taking the 29th and 30th off work as well since nobody at the office was there. I worked on the 2nd and decided to truly enjoy the 1st (Labor Day), by doing absolutely nothing. Seriously, I don't think I even went out to buy some bread. I had stacked up food for the day, slept late and caught up on TV shows. However, life in Paris is really different than the rest of France because something is always open on public holidays, while almost everything is closed everywhere else (consider this a warning if you happen to be in France for one of our public holidays).
The weekend of the 8th I went to Brittany (I had bought my tickets the day the reservations became available) and since it was very sunny, I decided to go for a swim in the English Channel. Let me tell you I quickly understood why I was the only one in the water since the temperature of the water (around 14°C / 57°F) was in no way representative of the sunny sky. But then, I am always a kamikaze when it comes to sea baths and the idea of not being in Brittany before mid-July made me resolved to bathe that day at any cost (and what kind of a Breton would I be if I waited until mid-July? A bad one!). For the 29th and 30th, since I had not planned to take Friday off, I was stuck in Paris. I was looking for a very relaxed weekend with maybe a visit to an exhibition but ended up running a lot of errands and seeing a lot of friends.
The only downside of all these "bridges" is that going back to a full 5-day workweek is truly strenuous!
And you, did you get to "do the bridge" or experience this atmosphere in France?
Acknowledgements: Alyssa Noel, student of French and Italian, and Journalism at the University of Minnesota–Twin Cities and English editor for A Woman's Paris.
Bénédicte Mahé has studied abroad many times, speaks four languages and earned a Master of Management of cultural goods and activities, as well as a Master's degree in intercultural communications and cooperation. She works in communication and international projects management. Among her interests are drinking tea, cooking (with or without success), reading, traveling, and—of course—shopping. She started her blog Tribulations Bretonnes in 2010 and has been updating it (more or less regularly) since then.
You may also enjoy A Woman's Paris® post Readers' Choice: 146 Good Books for Summer About France (January to August 2014 resleases). Avid reader? Get a free reader's list. If you subscribe, you'll receive a free list as a welcome gift. Including: architecture, interiors and gardens, arts, biography, culture, fashion, food and wine, memoir, novel, science, travel, and war. Once subscribed, you'll receive the free list—no matter how long you've been a subscriber—and notifications of new posts by e-mail. You can unsubscribe at anytime. We never sell or share member information.
Missing your train (in Paris): C'est la vie by Parisienne Bénédicte Mahé who shares stories of missing your train as a result of accidents on the railway due to animals, strikes or the weather—plus other practical ways of getting around France. Including websites to travel by trains in France.
France trip with my spouse doing all the juggling, driving and talking! First published in Travel Over Easy; travel blog written by travel expert Merle Minda; Guest blogger: Roland Minda about their visit to the wine town of Sancerre in the Loire district of France.
Les grandes vacances: The grand getaway to summer's beaches, mountains and countryside, by French woman Bénédicte Mahé who explains the importance of vacation breaks to the French and why they are truly "les grandes vacances" (the big vacation). Including some of Bénédicte's film suggestions that capture the essesnce of the French vacances.
Whistle Stop Coffees: Flore der Agopian on Cafés in Train Stations in Paris. "When I walk inside a train station in Paris," writes Parisianne Flore, I always feel like I'm taking a journey back in time; an out-of-reality experience immortalized in countless French and American films: Nikita, Les Poupées Russes, Mr. Bean's Holiday, and Ocean's Twelve, to name a few." Flore writes about Gare Montparnasse, Gare de Lyon and Gar du Nord and the cafés and restaurants you will find there—from the famous Le Train Bleu and Terminus Nord to Paul, the boulangerie café founded in the late 19th century, and now a worldwide success.
Picnics by the Seine: A return to warmer days. Parisienne, Bénédicte Mahé takes us on her first spring picnic in Paris where she celebrates with friends the joy of being back in the sun. Musicians nearby played the saxophone and the guitar—it was as if they were suddenly in a Woody Allen movie: on the docks with Notre Dame and the Hôtel de Ville in the background. (French)
The Stones of Carnac, by award-winning travel writer and photographer, Catherine Watson. Catherine's career has taken her around the world three times, to all seven continents, and into 115 countries. Writing about this prehistoric site in northwestern France, she describes the giant stones that linger there and stand in rows across the French landscape, shouldering their way over rises, past houses, through farm fields—a granite army, 3,000 strong.
Summer in Paris: a guide to surviving a heat wave (and still have fun). Parisienne Bénédicte Mahé shares how she survives the city with basically no wind, and how she escapes a very warm apartment to enjoy the many parks, open-air swimming pools, lakes with row boats, markets, public libraries, open-air movie theaters, and adds a South of France feeling with a pastis! Included are links to activities for children and adults.
Text copyright ©2014 Bénédicte Mahé. All rights reserved.
Illustration copyright ©2014 Barbara Redmond. All rights reserved.
barbara@awomansparis.com