Readers' Choice: 253 Good Books About France
26 Thursday Jun 2014
Tags
Adam Jolles, Agnes de Gouvion Saint-Cyr, Alain Baraton, Alain Ducasse, Alain Stella, Alan Furst, Alexander Fury, Alexander Lobrano, Alfred Tong, Aline Baly Château Coutet, Allan Massie, Amy de la Haye, Amy Freund, Andre Schiffrin, Andrea Frost, Andy Fry, Andy Fry Paris Blues, Ann Mah, Anne Trager, Annie Schneider, Anthea Bell, Anthony Doerr, Ara H Merjian, Arnaud Frich, Ayelet Waldman, Barbara Corrado Pope, Bernard Pivot, Bob Van Laerhoven, Brassai, Cara Black, Caroline Evans, Caroline Moorehead, Charles Frankel, Charles Timoney, Christian Ayne Crouch, Christophe Defebure, Christophe Destournelles, Christopher Brent Murray, Colette Colligan, Courtney Maum, Dara Hibberd, Davi Ball, David A Anderson, David Downie, David Garrioch, David Lebovitz, David Lebovitz My Paris Kitchen, Dewey Markham Jr., Diane Hendrikx, Diane Johnson, Didier Grumbach, Djamel Dine Zitout, Donald H Karshan, Dorie Greenspan Baking Chez Moi, Dr Jean-Michel Cohen, Drew Smith, Edmond White, Edward Rutherford, Eleanor Clark, Ellen Sussmann, Ellis Bacon, Emily Current, Emmanuel Renaut, Emmanuel Schwartz, Éric Briffard, Eric Jager, Eric Sander, Eugénie Brazier, Fanny Zanotti, Florence Cathiard Château Smith Haut-Lafitte, Florence Fabricant, Florence Muller, Frances Corner, Francine Prose, Francis Hammond, Francois Chaille, Francois Furstenberg, François Millo, Frederic Gros, Frederick Brown, Gilles Pudlowski, Greg Marchand, Gregoire Delacourt, Hanna Feldman, Henry Kissinger, Hilary Walsh, Hillary Davis, Holly Herrick, Ian Littlewood, Ingrid Pfeiffer, Isabelle Hintzy, Jacques Garcia, Jacques Lebar, James C Thompson, James McGee, Janet Hubbard, Janice MacLeod, Jean Guéhenno, Jean-Luc Bertini, Jennifer Coburn, Jenny Colgan, Jerome Lacressoniere, Joan DeJean, John Baxter, John Howe, John-Paul A Ghobrial, Jonathan Fenby, Jonathan Israel, Jonathan M House, Julie Serre, Julien Merceron, Karen Le Billon, Kathleen Tessaro, Ken Albala, Kenny Cupers, Kevin Smith, Laura Calder, Linda Przybyszewski, Louis Barthas, Marie Buchanan, Marie Farman, Mark Cavendish, Martin Walker, Mary Louise Roberts, Mary McAuliffe, Mary Terrall, Matthew Cobb, Matthew Pratt Guterl, Max Hollein, Maximillian Potter, Meredith Cohen, Meritt Elliott, Michael A Osborne, Michael P Fitzsimmons, Michael V Leggiere, Michelle Gable, Mireille Guiliano, Mourice Rougemont, Nancy L Green, Nicholas Shakespeare, Nicole M Kelby, Nina Parker, Noelle Duck, Patricia Bouchenot-Déchin, Patricia Wells, Paul Bocuse, Paule Neyrat, Peter Mayle, Peter Sis, Philip Short, Phillip John Usher, Phillippe Conticini, Ray Argyle, Rebecca C Tuite, Reed Albergotti, Richard Olney, Richard Wrigley, Rober Price, Ronald C Rosbottom, Rosemary Sullivan, Rosine Mazin, Sally Asher, Sara Turnbull, Sophie Pechaud, Spencer E Young, Stephen Clark, Stephen Kirkland, Steven Rothfeld, Susan Conley, Susan Vreeland, Susan Winkler, Sylvie Granotier, Tanya Stabler Miller, Tilar J Mazzeo, Timothy J Tomasik, Timothy O Benson, Valerie D Mendes, Vanessa O'Connell, Véronique Sanders Château Haut-Bailly, William R Nester, William Scheller
Share it
Is "read more books" on your resolution list? Not sure what books to read next?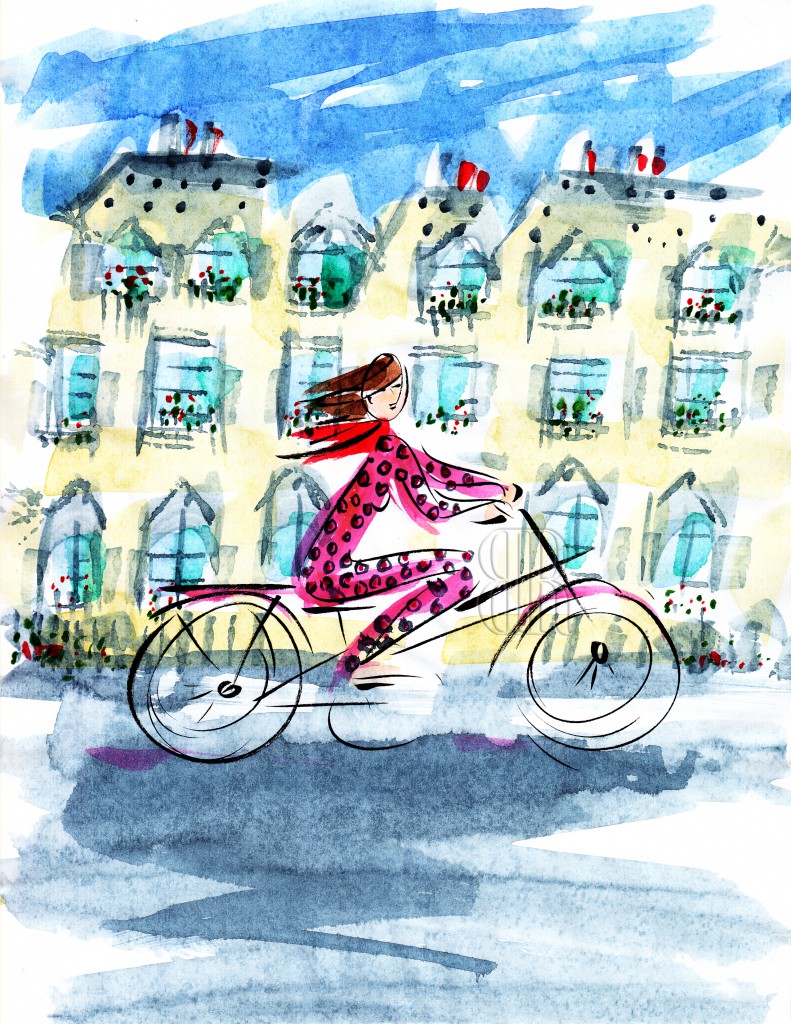 Storytellers, travelers, global citizens: Take us with you. Your quest is to dig below the surface, peek behind the façade, where lurks a story, rumor, recipe or fossil. "Why is now the right time?" We often ask during interviews, inquiring about artistic projects, literary works, and personal expeditions. As much as this question is being framed for the person being interviewed on A Woman's Paris, we ask this, too, of ourselves as travelers and storytellers. We have an eagerness to explore fresh ideas, to forge powerful relationships and build a community. Readers, we invite you to draw close this narrative, woven on A Woman's Paris, a narrative that has come to life, to discover secrets of the past and take part in shaping the future.
Become a part of our conversation. We celebrate the art and ideas of people from every place and every heritage.
Free Subscription: Join our thousands of followers to receive your copy of our Readers' Choice: 253 Books About France (2014), including books about Architecture, Interiors and Gardens; Arts; Biography; Children; Culture; Fashion; Food and Wine; Memoir; Mystery; Novel; Science; Travel; and War, along with e-mail notifications of new posts on the website.
[wysija_form id="2″]
Once subscribed, you'll receive the free list—no matter how long you've been a subscriber—and notifications of new posts by e-mail. You can unsubscribe at anytime. We never sell or share member information.
We welcome your Submissions and comments.
Now in our fifth year, a commitment to publishing compelling interviews and stories for our readers continues at AWomansParis.com. Visit us on Facebook. Follow us on Twitter.
Here's to a great year of reading!
Barbara Redmond
Publisher, A Woman's Paris®
barbara@awomansparis.com
Do you have a book title and author to add to our Readers' Choice list of books about Paris and France? Write: Barbara Redmond at barbara@awomansparis.com
You may also enjoy A Woman's Paris® author interviews listed below:
Janet Hubbard: French Impressions: Janet Hubbard "Bordeaux: The Bitter Finish" on mystery writing – digging below the surface, behind the façade, lurks story, rumor, and competition Book excerpt: "Bordeaux: The Bitter Finish" a vineyard mystery and the world of fine wine
Florence Cathiard: Wine in France: Florence Cathiard of Château Smith Haut-Lafitte, together with her husband Daniel (both former French Olympic skiers), brings finesse and exceptional detail to making great wines
Aline Baly: Wine in France: Aline Baly, third generation owner of Château Coutet, on refinement and distinction in wine from one generation to the next Recipes: Wine in France: Exceptional food pairings with Château Coutet Sauternes and dry white wines (recipes)
Véronique Sanders: Wine in France: Véronique Sanders of Château Haut-Bailly, recipient of the "Chevalier de l'order National du Mérite" honorary title awarded by the French government
Dewey Markham Jr.: Wine in France: Dewey Markham Jr., wine scholar, food connoisseur, and author of "1855: A History of the Bordeaux Classification" a James Beard award book, 1997
Jan Dolphin: French Impressions: Jan Dolphin's "Paris from the Heart" on the creative beauty that has always been the legacy of Paris Book excerpt: Jan Dolphin's "Paris from the Heart" – Paris walks, a traveler's library (excerpt)
Susan Winkler: French Impressions: Susan Winkler's "Portrait of a Woman in White" on love, loss, and the human ability to reinvent oneself Book excerpt: Susan Winkler's "Portrait of a Woman in White" – a story of love and loss (excerpt)
Dorie Greenspan: Book excerpt: Dorie Greenspan's "Baking Chez Moi" proves that there are no frontiers when it comes to goodness (excerpt & recipes)
Mireille Guiliano: French Impressions: Mireille Guilano's "Meet Paris Oyster" in pursuit of the world's best oysters and wine pairings with them Book excerpt: Mireille Guiliano's "Meet Paris Oyster" on the Parisians' love for them (excerpt & recipe)
Ann Mah: French Impressions: Ann Mah's "Mastering the Art of French Eating" on gastronomic adventures in France Book excerpt: Ann Mah's "Mastering the Art of French Eating" on the perfect steak frites the French way (excerpt & recipe)
Patricia Wells: French Impressions: Patricia Wells on great French food in Paris Book excerpt: Patricia Wells' "The Food Lover's Guide to Paris" on Restaurants, Bistros, and Brasseries (excerpt & recipes)
David Lebovitz: French Impressions: What's cooking in Paris: David Lebovitz on the secrets of French cuisine Book excerpt: David Lebovitz's "My Paris Kitchen" – quirks, trials, beauty, and joys of life in Paris (excerpt & recipe)
Alexander Lobrano: French Impressions: Alexander Lobrano on eating well in France: a culinary tour of alluring inns, food producers, restaurants and winemakers Book excerpt: Alexander Lobrano's "Hungry for France" – My appetite for France (excerpt & recipe)
Elaine Uzan Leary: French Impressions: Elaine Uzan Leary on the American Women Volunteers in Wartime France
Ronald C. Rosbottom: French Impressions: Ronald C. Rosbottom's "When Paris Went Dark" – Marking the 70th anniversary of the Liberation of Paris Book excerpt: The City of Light under German Occupation, 1940-1944 – Excerpt from Ronald C. Rosbottom's "When Paris Went Dark" 
Andy Fry: French Impressions: Andy Fry on the Jazz Age – African American music in Paris, 1920-1960 Book excerpt: African American Music and French Popular Cultur, 1920-1960 – Excerpt from Andy Fry's "Paris Blues"
Tilar J. Mazzeo: French Impressions: Tilar J. Mazzeo's "The Hotel on Place Vendôme" – 1940s sex, parties and political intrigue at the Ritz in Paris Book excerpt: Tilar J. Mazzeo's "The Hotel on Place Vendôme" – Hôtel Ritz in Paris: June 1940 (excerpt)
John Baxter: French Impressions: John Baxter on the First World War: A reflection on Paris' history and transition during the war years Book excerpt: John Baxter's "Paris at the End of the World" – Patriotism transforming fashion (excerpt)
Joan DeJean: French Impressions: Joan DeJean on Paris through the Ages: 400 years of Parisian living Book excerpt: Joan DeJean's "How Paris Became Paris" – Capital of the Universe (excerpt)
Nancy L. Green: French Impressions: Nancy L. Green on the "other" Americans: Right Bank expatriates in 20th century Paris Book excerpt: For Love or Money: Marriage and Divorce in the French capital (1880-1941) – Excerpt from Nancy L. Green's "The Other Americans in Paris"
Cara Black: French Impressions: Cara Black's "Murder Below Montparnasse" and her adventures through the history and mystery of Paris' quartiers Book excerpt: Cara Black's PI Aimée Leduc can't say no to "Murder in Pigalle" (excerpt)
Barbara Will: French Impressions: Barbara Will on Gertrude Stein, Bernard Faÿ, and intellectual life during wartime France
W. Scott Haine: French Impressions: W. Scott Haine on the origins of Simone de Beauvoir's café life and the entry of France into WWII
Meg Bortin: French Impressions: Meg Bortin's "Desperate to Be a Housewife" on the challenges of being a woman in our time
Maribeth Clemente: French Impressions: Maribeth Clemente's "Tour of the Heart" – cycling adventures through the romantic French countryside
Carol Cottrill: French Impressions: Carol Cottrill on "Practicing Your French" – beauty and confidence from the inside out
Rosemary Flannery: French Impressions: The Angels of Paris: an artistic tour with Rosemary Flannery
Jamie Cat Callan: French Impressions: Jamie Cat Callan's insights and experience into the French women's lifestyle
Marilyn Yalom: French Impressions: Marilyn Yalom's "How the French Invented Love" a tradition of courtly and romantic love that reaches back into the 12th century
Shari Leslie Segall: French Impressions: Shari Leslie Segall on melting into French culture
Dr. Alan T. Marty: French Impressions: Dr. Alan T. Marty on the dark history of the City of Light
Harriet Welty Rochefort: French Impressions: Harriet Welty Rochefort's "Joie de Vivre" taking pleasure in the small things
Jackie Clark Mancuso: French Impressions: Jackie Clark Mancuso's ex-pat canine becomes a Parisian, or Paris-Chien!
Isabelle Thomas: French Impressions: Isabelle Thomas and spirit of French fashion and personal style
Mary Duncan: French Impressions: Mary Duncan follows the action – or does it follow her?
Paula Butturini: French Impressions: Paula Butturini on writing, adversity, and finding grace in asparagus
Edith Kunz: French Impressions: Edith Kunz on the mystique of the Frenchwoman (sexy, smart, and chic)
Bilguissa Diallo: French Impressions: Bilguissa Diallo's literary process as a second-generation immigrant living in Paris
Alice Kaplan: French Impressions: Alice Kaplan – the Paris years of Jacqueline Bouvier Kennedy, Susan Sontag, and Angela Davis, on the process of transformation
John Baxter: French Impressions: John Baxter's "The Perfect Meal" and finding the foregone flavors of France
Catherine Watson: French Impressions: Catherine Watson on literary travel writing and memoir
Thirza Vallois: French Impressions: Thirza Vallois on the creative inspiration of cinema, literature, music and art 
Text copyright ©2015 A Woman's Paris. All rights reserved.
Illustrations copyright ©Barbara Redmond. All rights reserved.
Illustrations copyright ©Michelle Schwartzbauer. All rights reserved.
barbara@awomansparis.com