French Lingerie: Mysterious and Flirty
29 Friday Apr 2011
A Woman's Paris™ in Style
Tags
A l'ombre de moi-même by Catherine Deneuve, ANita Oggioni, Au Printemps, Aubade, Cadolle Boutique, Cadolle Couture, Camisole, Catherine Deneuve, Chantal Thomass, Chantelle, Chemise, Christian Dior, Close up and Personal The private Diaries of Catherine Deneuve, Eres Paris, Fanny Liautard, fashion, France, French lingerie, French scarves, French underwear, Galeries Lafayette, Huit, La PErla, Lingerie boutiques Paris, Lingerie shops Paris, Négligé, Paris, Paris makeover, Peignoirs, Princess Tam Tam, Repetto, Sabbia Rosa
Share it
By Barbara Redmond
(French) It was rumored that Catherine Deneuve shopped at Sabbia Rosa. That year I would celebrate in Paris with my two daughters. Each girl had invited a friend. So, I knew that during the day they would be wandering around in Paris and I would be free to travel purposely to Sabbia Rosa, the tiny shop on rue des Saints-Pères that is a haven for those who love fine lingerie and delicate bras trimmed in lace. For me, French lingerie was the ultimate in beautiful, feminine underwear. Mysterious and flirty, a style dependent on the finest of fabrics, exquisite craftsmanship and good taste.
The girls and I had rented an apartment on rue du Bac, not more than six Paris-blocks from my destination. There, on a the east side of a narrow street on the Left Bank, between boulevard Saint-Germain and rue de Grenelle, was the oval sign that I was searching for, with its familiar Sabbia Rosa italic script logo, reversed in soft white from a background of Normandy green, and suspended from a wrought-iron frame.
Sabbia Rosa
The buzzer at the door announced my arrival to the saleswomen. As I entered, to my left stretched a glass counter and straight ahead the soft green, velvet curtained changing rooms. And to my right, a delicate sofa where a Japanese man waited patiently for a woman who was inside one of the curtained rooms being fitted.
After the standard exchange of bonjours, I was quietly ushered by Madame into a changing room at the back of the store, opposite the one currently occupied, and asked to strip. Immediately, I thought of my first bra. With Mother and Grandmother at my side, I was at Dayton's department store to be fitted. We were guided into a fitting room and the attendant stepped inside and closed the door. In one swift stroke, she whisked from around her neck a black and white measuring tape, measuring first the smallest and second the fullest section above my waist and below my shoulders. I was horrified. Not looking at me, she primly announced an appropriate size and style. I remained in position: shoulders back, stomach in, feet together standing stick-straight in my blouse and skirt.
Not much had changed. I was standing feet together, stomach in and shoulders back, in front of a Frenchwoman, stripped to my undies.
There were a few bra and panty sets displayed in the window and in the glass case. Silk négligées and camisoles lined the wooden alcoves. That was it. There was nothing to touch, no racks of undergarments to pursue. All were kept behind the glass case. Madame entered the changing room and began the fitting by trying six or seven bra styles, then progressed to color and fabric. The choice was not mine. Madame left and returned with three sets. She held up the first bra, and in French said, "No, Madame. The color is not for you."
I have pale porcelain skin. In my best French I said I thought the color was lovely and a good match to my hair color, skin color and eye color. She left and returned with two different sets. I tried on the first.
Good, she murmured. Madame selected a cup size larger and band size smaller than what I normally wore, shortened the straps and said, "Voilà!"
In this bra I wouldn't slouch, because I couldn't slouch. Suddenly, my midriff was elongated and even without clothes my silhouette seemed a good ten years younger. The color was perfect. A pale rosy-pink lingerie tulle, polished and soft, with an even paler rosy-pink silk edging the top of the demi-cups. A small cluster of three tiny rosettes hand sewn were anchored with a French knot where the spaghetti straps met the tulle. Pretty lingerie.
Madame opened a box and presented two matching panties. A tanga, a panty style somewhere between a thong and a bikini, and a thong. The tanga had a small, keyhole detail at the back at the top of the edging near the small of ones back. The size of an almond, the cutout was edged in rosy-pink silk and closed by single tiny rosette hand sewn in place with another French knot. She said it was important to purchase two pairs of matching panties for each bra.
I asked Madame the price of the bra. The bra alone was fifty U.S. dollars more than I was prepared to pay. I was heartsick. In my most polite French I told Madame that I could not make the purchase. She shrugged, politely, and gently nested the panties into the box then closed the lid. The bra felt cool and silky against my skin. She unclasped the bra and removed the lingerie. I dressed.
I pushed aside the velvet curtains and left the changing room. As I walked toward the storefront, the plush carpet felt thick beneath my feet. I gazed at the silk nighties hanging in the alcoves as I looked for Madame who was standing behind the glass counter.
Au revoir, madame, I said, merci beaucoup.
Au revoir, madame, said she.
Aubade, Chantelle and Christian Dior
During our two weeks in Paris I purchased three bras and two matching panties for each set, and each set from a different lingerie boutique. With the final purchase, I displayed the sets with matching panties on my bedspread for the girls to see when they returned with their friends from mucking about the streets of Paris.
"Mother, they are beautiful!" I heard them say. In turn, the girls held up each piece against the light and slid the lingerie between thumbs and forefingers. Designed in France. Aubade: tulle the color of café au lait hand sewn in a single layer over a milky-white lace. The set lay next to its beautiful silk pouch that closed with a narrow silk bow. Chantelle: pale cream silk lace embroidered with soft peach colored roses set amongst swirling, creamy-white vines and scalloped in peach silk threads. Christian Dior: black and khaki leopard print patterns edged in black silk, created for the French market and almost one hundred percent silk (unlike the Dior lingerie sold in American department stores) with the famous Dior signature between the cups.
I thought about Sabbia Rosa during the flight back to the United States. It struck me—the only thing coming between me and Catherine Deneuve was a mere fifty dollars? That was ten years ago. The French franc was 70 cents on the U.S. dollar. There are times when we regret our economies…
VOCABULARY: French to English Translations
Brassière: Bra.
Bretelles: Straps.
Caraco: Camisole, a sleeveless undergarment for women usually made of satin, nylon or cotton.
Chemise de nuit: Nightgown.
Corsette: Corset.
Culotte: Panty.
Dentelle: Lace.
Doux: Soft.
Guêpière: Bustier.
Léger: Light.
Négligé: Literally meaning neglected.
Peignoirs: Ankle-length gowns.
Porte-jarretelle: Garter.
Soie: Silk.
Sous-Vétements: Underwear.
Soutien-gorge: Bra.
Sous-Vétements: Underwear.
String: Tong, a string bikini.
Taille: Size.
Torsolette: Short corselette, covering the chest to the waistline.
Tulle: Thin, fine machine-made netting of acetate, nylon, rayon, or silk.
Voilà: Here are. Here is. Behold.
Voile: Mesh-like fabric.
RECOMMENDATIONS FOR LINGERIE SHOPS IN PARIS

Anita Oggioni
30, rue de Grenelle 75007, Paris (0)1 45 49 27 61
Aubade
33, rue Francs Bourgeois 75004, Paris (0)1 42 76 96 87
Au Printemps
64, boulevard Haussmann 75009, Paris (0)1 42 82 50 50
Cadolle Boutique
4 rue Cambon 75001, Paris (0)1 42 60 94 22 75001
Cadolle Couture
255 rue Saint-Honorè 75001, Paris (0)1 42 60 94 94 By appointment.
Chantal Thomass
221, rue Saint-Honoré 75001, Paris (0)1 42 60 40 56
Christian Dior
30, avenue Montaigne, Paris 75008 (0)1 47 20 00 60
Eres Paris
40, avenue Montaigne, Paris 75008 (0)1 47 23 07 26
Fanny Liautard
13 rue Saint-Florentin 75008, Paris (0)1 42 86 82 84
Galeries Lafayette
40, boulevard Haussmann 75009, Paris  (0)1 42 82 34 56
Huit
34, avenue Mozart 75016, Paris (Glamour Lingerie)
La Perla
5, rue Montorgueil 75001, Paris (0)1 40 1 94 53
Princess Tam-Tam
23, rue de Grenelle 75007, Paris (0)1 45 49 28 73  Several locations.
Sabbia Rosa
71-73, rue des Saints-Pères 75006, Paris (0)1 45 48 88 37
BOOK RECOMMENDATIONS BY A WOMAN'S PARIS

A l'ombre de moi-mene, by Catherine Deneuve. French, (2004) Éditions Stock
Close up and Personal: The Private Diaries of Catherine Deneuve, by Catherine Deneuve. Pegasus; Reprint edition (December 2008)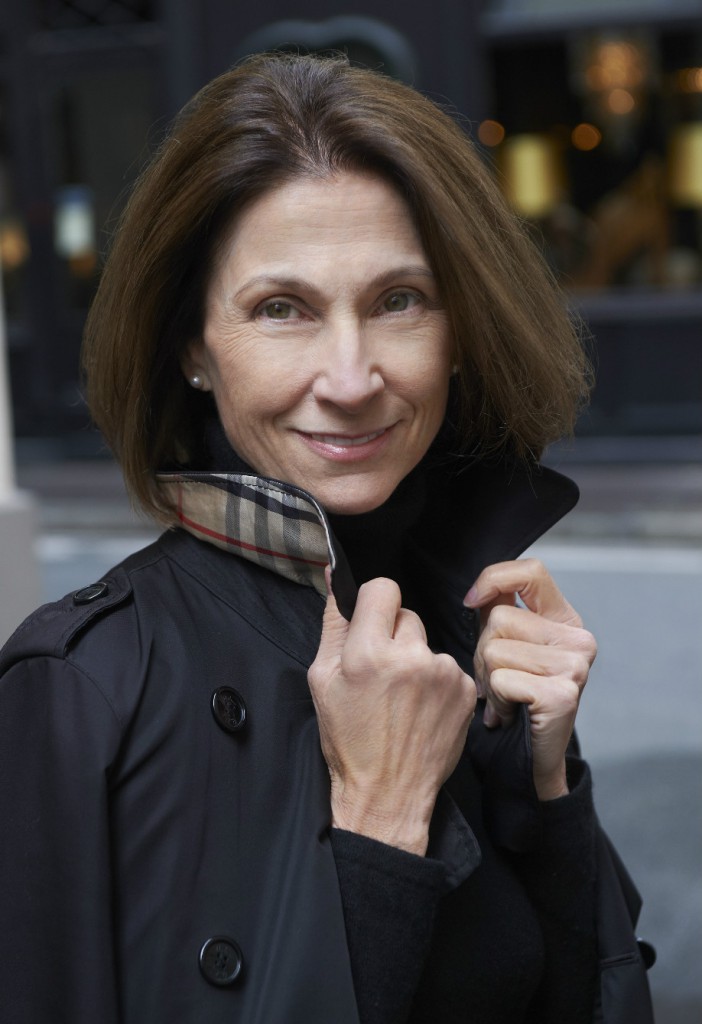 Barbara Redmond, publisher of A Woman's Paris®, is a long-time Francophile and travels to Paris every chance she gets. Her stories about Paris and France have been published in AWP® and republished, with permission, by other blogs and publications. Barbara has presented programs on French fashion and food, and has been a guest speaker for students planning their study abroad. She serves as an advisory board member at the University of Minnesota College of Design and is an active student mentor. Barbara has been recognized for excellence in art by international and national organizations and publications. Prints of her fine art paintings are in collections in Europe and North America and are available for purchase.
You may also enjoy A Woman's Paris® post, Beauty Confessions from a Globe-trotting Parisienne. Parisienne Bénédicte Mahé shares a French woman's approach to beauty and makeup; and how the relationship Americans have with beauty is very different from that of the French. Including her list of Beauty Resources in Paris and a vocabulary of French to English translations. (French)
Ballet Flats in Paris: And God made Repetto, by Barbara Redmond who shares what she got from a pair of flats purchased in a ballet store in Paris; a feline, natural style from the toes up, a simple pair of shoes that transformed her whole look. Including the vimeos "Pas de Deux Coda," by Opening Ceremony and "Repetto," by Repetto, Paris. (French)
Scarves à la Françoise: The lingua Franca for stylish women, by Barbara Redmond who shares her experience trying on scarves and tying them at the home of her French friend in Lyon. Arriving at the famous silk manufacture in Lyon, André Claude Canova, Barbara and her friend gently tapped on the window even though the shop was closed. The shop girl let them and they all enjoyed hours of playfully draping, twisting and knotting scarves and shawls. An experience spurred by the ubiquitous nature of women and scarves: our common language.
Imperfect Perfection: The new French woman, by writer Kristin Wood who reminds us of the words attributed to Henry David Thoreau, the famous American author and philosopher who eschewed material excess and extravagance… "Simplify, simplify, simplify." Kristin writes about the predicted trends of the "undone" makeup look, and the "de-blinging" of luxury items. What better place to introduce these two trends on a grand scale than in Paris?
Paris Makeover: Coming home blond, by Barbara Redmond who declares, "Never question a Frenchwoman," and succumbed to the transformation of coming home blond. Barbara describes it all: the haute-coiffure, the pharamacie, and her new "French look!" Including Barbara's favorite book on spas, salons and beauty boutiques in Paris, and her personal directory of hair and makeup salons in Paris. Not to miss is her vocabulary of French to English words so "nothing" gets lost in translation!
Text copyright ©2012 Barbara Redmond. All rights reserved.
Illustrations copyright ©Barbara Redmond. All rights reserved.
All rights reserved.
barbara@awomansparis.com