The French Finesse and the Hermès Scarf
30 Thursday May 2013
A Woman's Paris™ in Style
Tags
Audrey Hepburn Hermès scarf, Café Marly, Christine Lagerfeld, eBay Hermè scarves, Elizabeth Taylor Hermès scarf, France, French scarves, Frenchwomen and scarves, Hermès, Hermes scarves, Hotel Drouout auction house, How much is an Hermès scarf?, How to tie a scarf, I Love My Scarf by Hermès John Jannuzzi video, Jackie Kennedy Hermès scarf, Madonna Hermès scarf, Paris, Paris by Bistro Christine Graf, Princess Grace Hermès scarf, Queen Elizabeth Hermès scarf, The Hermès Scarf: History & Mystique by Nadine Colendo, The Old Times magazine, Thierry Hermès
Share it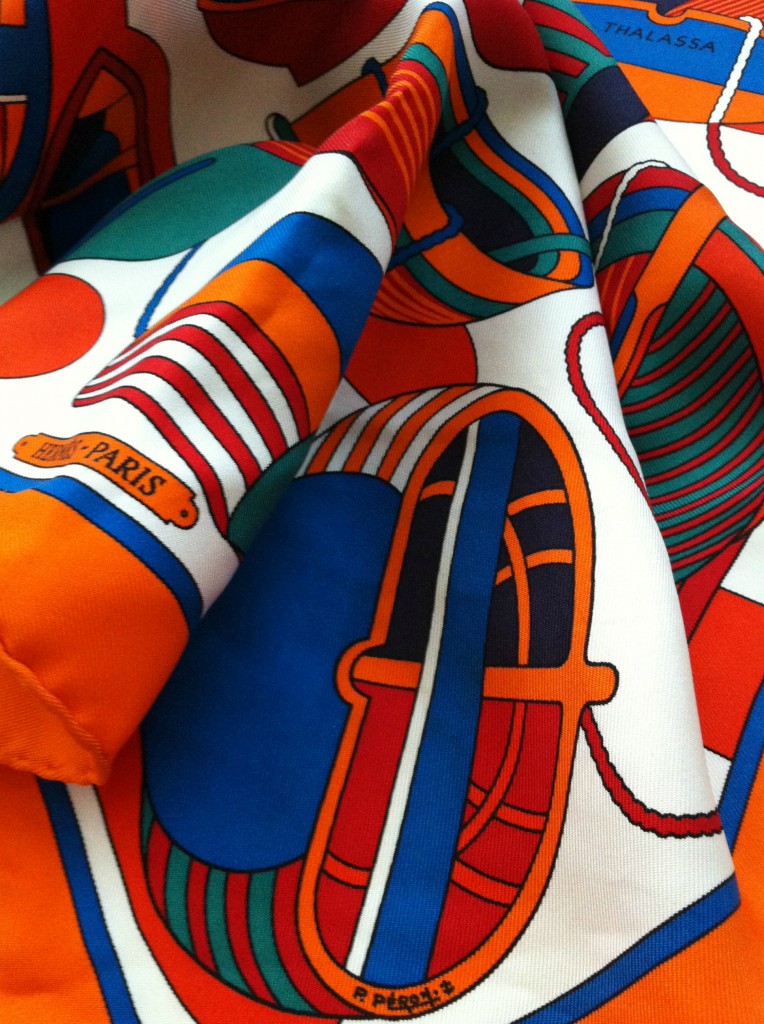 By Christine Graf
What is it about the French? They do have something. A sense of style, a flair for fashion, a je ne sais quoi… Anita, a long-time resident of Paris, notices it in her half-French daughter: "She'll put on a scarf and twist it carelessly and she comes out looking elegant. Or she wraps a belt around and voilà—instant chic."
What the French also have is a knack for creating beautiful objects, inspiring people who visit their country to try to purchase something special for back home. A flurry of shopping often precedes the trip to the airport. The canny shopper looks for something light, lovely, timeless. Possibly something from Hermès.
I Love My Scarf by Hermès by John Jannuzzi Video:

Founded in 1837 by Thierry Hermès, the company made solid, sensible objects like bridles, saddles, and harnesses, of such high quality that they were used in royal coronations. Today the saddles are still there, but most of the action takes place around the scarf counter, where salespeople, fluent in several languages, flip out squares of highly colored silk from the trademark hot orange boxes.
Don an Hermès scarf and you're in first-class company. Queen Elizabeth sometimes covers her hair with an Hermès scarf when she relaxes on weekends in Scotland. Elizabeth Taylor used to be seen sporting one of these famous scarves, as were Jackie Kennedy, Audrey Hepburn, and Princess Grace in their time. More recently, celebrities as dissimilar as Madonna and Laura Bush have been photographed wearing Hermès.
Now, where can one find these fabulous scarves? If you're in Paris, and have money but not much time, go straight to their flagship shop at 24 rue du Faubourg Saint-Honoré. There, elbow-to-elbow with the new rich and the old money, you fantasize about being immensely wealthy as the salespeople proudly show off the latest silks for you. You'll see some customers ordering a dozen of their favorite design, all in different colors, of course.
If you happen to have more time than money, the best source for finding the older and more collectible Hermès scarves is the famous auction house, the Hôtel Drouot, at 9 rue Drouot, near the métro stop Richelieu-Drouot in central Paris. It's a large building, where various companies host previews one day and auctions the next. Many will have an Hermès scarf or two among the offerings, and some sales are devoted exclusively to them among other high-fashion accessories. Generally, a used Hermès scarf in reasonable condition will go for a price from 120 to 200 Euros (currently $156 – $260). Not bad for a luxury item that now sells for about $410 at the source. But you have to know your numbers in French, and be able to adjust to the fast pace of the bidding.
What if you can't travel? Sometimes an Hermès item may appear amongst the items at auctions in your area. Another source could be eBay, but here you have to know what you're doing and deal only with a reputable seller. There are fakes out there, many of them expertly done. Become acquainted with Hermès by looking at some in a top department store, touching the heavy silk, noticing the hand-rolled hems, rolled toward the right side—quite the opposite of most scarves. So, if you choose to shop on eBay, be sure to pick a seller with first-rate feedback and a money-back guarantee.
Now that you have your Hermès in hand, the next decision is just how best to show it off. Should you roll it and tie it at the waist, use it to control long hair, or opt for a conventional knot in front? Oh, and by the way: if you want to boast about your purchase, skip the "H" and practice saying "air-mez."
BOOK RECOMMENDATION: A Woman's Paris
The Hermès Scarf: History & Mystique by Nadine Colendo.
When not traveling to faraway lands, stepping back into history, or being intoxicated by the future, a woman's dreams become stories that find expression in an Hermès scarf. In this book, we follow the impressive history of the House of Hermès, whose scarf made its debut in 1937, and take delight in each scarf that was selected from the more than two thousand different designs created since the scarf made its first appearance.
The illustrations in this beautiful coffee table book are exquisite and carry us from equestrian themes that are associated with the Hermès tradition and French history to themes of cultures worldwide. This book is a source of enchantment for lovers of the square silk Hermès scarf, which has become a legend. 320 pages with 292 color illustrations. Colendo is an author and editor whose books include works on fashion, jewelry, contemporary art and architecture. The Hermès Scarf: History & Mystique. Thames & Hudson. (Hardcover – July 2010.)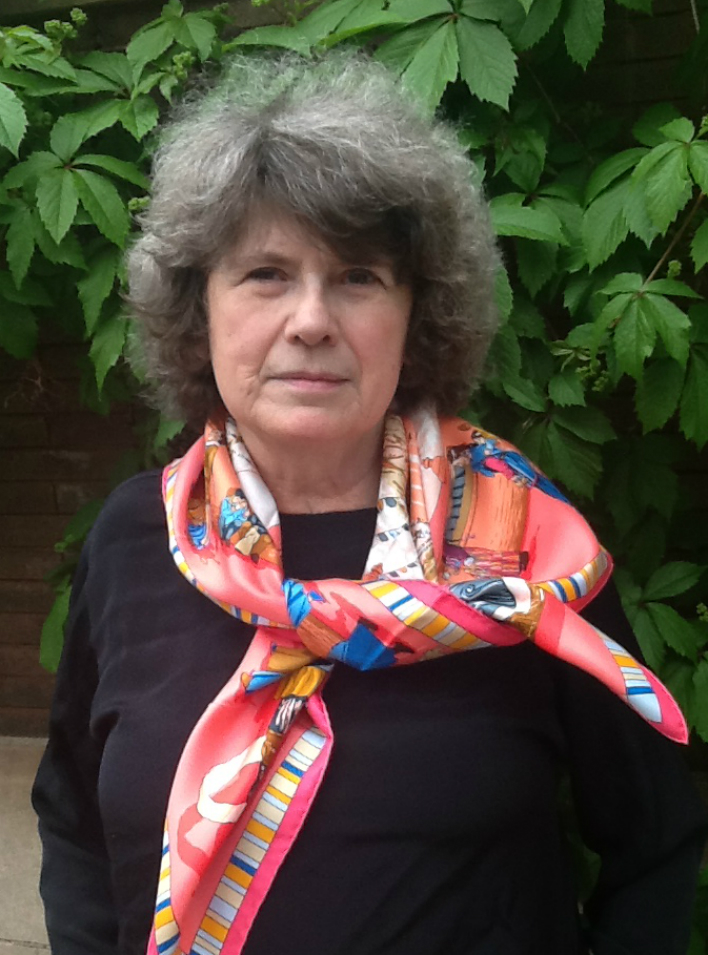 Christine Graf learned to admire French culture through years of living in Montreal, where she earned a degree from McGill. She began to write about Paris in the course of lengthy stays there, enabled by an NEH grant and a Rockefeller Foundation Fellowship. Her first book "The Cafés of Paris" was praised in the L.A. Times, The Journal Français, and the Independent (London), the latter describing it as "an enjoyable tour of zinc bars…and other places of refreshment…makes a lot more sense than a ponderous cultural guide."
This was followed up by "Paris by Bistro" (co-authored with her husband, Dennis), which won Forward Magazine's "Travel Book of the Year" award. Their most recent book is "Café Life Paris."
All books were published by Interlink Publishing in Northampton, MA and Arris Books, London. Christine and Dennis live in St. Paul, Minnesota, but spend several months of the year in Paris. Christine Graf: (Email christine.graf@comcast.net) (The Cafés of Paris) (Paris by Bistro) (Café Life Paris) (Email: christine.graf@comcast.net )
Hermès by Christine Graf first appeared in The Old Times magazine. (Used by permission.)
You may also enjoy A Woman's Paris® post, Scarves à la Françoise: The lingua Franca for stylish women, by Barbara Redmond who shares her experience trying on scarves and tying them at the home of her French friend in Lyon. Arriving at the famous silk manufacture in Lyon, André Claude Canova, Barbara and her friend gently tapped on the window even though the shop was closed. The shop girl let them and they all enjoyed hours of playfully draping, twisting and knotting scarves and shawls. An experience spurred by the ubiquitous nature of women and scarves: our common language.
French Impressions: Edith Kunz on the mystique of the Frenchwoman (sexy, smart, and chic). Edith Kunz, author of Fatale: How French Women Do It, shares clues that unmask the delicious deceptions plotted by Frenchwomen while suggesting how contemporary women can flirt like a coquette, charm like a courtesan and emit sensuality with cool confidence by merely adjusting one's attitude and garter belt. Her latest book, The Merits of Middle-Age Men and Where to Find Them. Books to enjoy at a sidewalk café with a bottle of wine and a French omelette.
Paris photo shoot in search of the perfect Moroccan slipper, by writer Lisa Rounds who tells of her adventures in the North African neighborhood of Barbès in Paris searching for the perfect slipper in red, of course, for a Cosmo photo shoot. Lisa shares her story of "living the dream," working for a publishing company in Paris.
Beauty Confessions from a Globe-trotting Parisienne. Parisienne Bénédicte Mahé shares a French woman's approach to beauty and makeup; and how the relationship Americans have with beauty is very different from that of the French. Including her list of Beauty Resources in Paris and a vocabulary of French to English translations. (French)
French Lingerie: Mysterious and flirty, by Barbara Redmond who shares her experience searching for the perfect lingerie in Paris boutiques and her "fitting" with the shop keeper, Madame, in a curtained room stripped to bare at Sabbia Rosa. Including a French to English vocabulary lesson for buying lingerie and a directory of Barbara's favorite lingerie shops in Paris. (French)
Ballet Flats in Paris: And God made Repetto, by Barbara Redmond who shares what she got from a pair of flats purchased in a ballet store in Paris; a feline, natural style from the toes up, a simple pair of shoes that transformed her whole look. Including the vimeos "Pas de Deux Coda," by Opening Ceremony and "Repetto," by Repetto, Paris. (French)

Text copyright ©2013 Christine Graf. All rights reserved.
Photography copyright ©Barbara Redmond. All rights reserved.
barbara@awomansparis.com