Janet Hubbard's "Bordeaux: The Bitter Finish" a vineyard mystery and the world of fine wine (excerpt) – part one
06 Tuesday Jan 2015
Tags
1855 A History of the Bordeaux Classification Dewey Markham Jr., Bordeaux France, Bordeaux wines, Bordeaux: The Bitter Finish: A Vengeance in the Vineyard Mystery Janet Hubbard Poisoned Pen Press, Champagne: The Farewell Janet Hubbard Poisoned Pen Press, Château Coutet Aline Baly, Château Haut-Bailly Véronique Sanders, CHâteau Smith Haut-Lafitte Florence Cathiard, France, French crime novels, French wine, Max Maguire Bordeaux: A Bitter Finish, Max Maguire Champagne: The Farewell, Murder in Pigalle Cara Black, Paris, The Hotel on Place Vendome Tilar J Masseo
Share it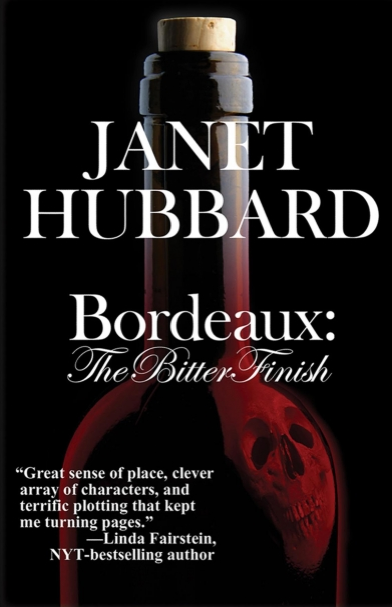 Excerpted from Bordeaux: The Bitter Finish, © 2014 by Janet Hubbard. Reproduced by permission of Poisoned Pen Press. All rights reserved.
In Bordeaux: The Bitter Finish: A Vengeance in the Vineyard Mystery, thirty-year-old NYPD detective Max Maguire returns to France as bodyguard to a famous American wine critic. But when her client turns up dead in her hotel room, and a precious bottle of wine goes missing, Max has no choice but to team up with examining magistrate and former lover, Olivier Claumont.
Max, using aggressive tactics learned from her homicide detective father, stays one step ahead of Olivier in the investigation. Olivier's more elegant approach takes them into the heart of Bordeaux society where he is sure the murderer and some fine dining lurks. Is a counterfeit wine operation with ties to New York somehow connected to the critic's murder?
Bordeaux: The Bitter Finish is book two in the Vengeance in the Vineyard series and follows Champagne: The Farewell. Readers are introduced to the fascinating world of fine wine, and to a cast of characters (and suspects) sure to keep even the most discerning critic on the edge of their seats. To purchase Bordeaux: The Bitter Finish (2014, Poisoned Pen Press), visit: (Amazon) (Indiebound) (Poisoned Pen Press).
Free Subscription: Join our thousands of followers to receive your copy of our Readers' Choice: 253 Books About France (2014), including books about Architecture, Interiors and Gardens; Arts; Biography; Children; Culture; Fashion; Food and Wine; Memoir; Mystery; Novel; Science; Travel; and War, along with email notifications of new posts on the website.
Once subscribed, you will be eligible to win—no matter where you live worldwide—no matter how long you've been a subscriber. You can unsubscribe at anytime. We never sell or share member information.
Interview: Janet Hubbard's "Bordeaux: Bitter Finish" on mystery writing – digging below the surface, behind the façade, lurks story, rumor, and competition on A Woman's Paris®.
BORDEAUX: The Bitter Finish: A Vengeance in the Vineyard Mystery
Wine gives great pleasure; and every pleasure is of itself a good. It is a good, unless counterbalanced by evil. —Samuel Johnson, Boswell's Life of Johnson
Chapter One: New York City: March 2012 (Chapter two)
March 31
Max Maguire watched as her boss, NYPD Captain Walt O'Shaughnessy, rolled his ungainly frame out of an old-fashioned oak office chair. He gouged out a Rolaid from the packet on the desk and slipped it into his mouth, then walked across the floor in the cramped and overheated West 82nd Street Precinct and leaned against the doorjamb. Max was in the hot seat and it burned. She'd gotten herself into a jam. One so bad Walt had called her father, about to retire from the elite Homicide North uptown, for a consult.
"Let me see the last part of that video again," Hank Maguire muttered in his gravelly voice.
Max felt frustration rising in her. "Oh, come on," she said, first looking at Hank, who maintained a stoic, intractable expression, then shifting her gaze to Walt, who she could tell had slipped back into his usual role of mediator between father and daughter. "We've looked at it twice already."
A YouTube video uploaded by a tourist showed Max in top form, using the Jiu-Jitsu moves she'd been practicing for a decade. At thirty, she had won too many tournaments to count. Walt clicked "Play" and the three of them watched as she approached a short, dark man dodging in and out of baby strollers and bicycles on a crowded street. Max gained on him, and he spun around to face her, apparently deciding he could take a woman cop. He seemed a little excited by the prospect. In fact, women were his main targets. Max gained speed and crashed headlong into him and both fell to the ground. That was a horrible couple of seconds, she recalled.
When he scrambled to rise, she jabbed her left hand across his Adam's apple, cutting off his wind. Max quickly moved behind him and punched at his right ear, and, dropping her left hand into the crook of her right elbow, squeezed his neck in her forearms, until he went completely limp. As he fell to the pavement, his head bounced. With the perp nearly unconscious, she rolled him over, cuffed him, and then simply walked away. Max felt a surge of pride that she had brought the guy down with a perfectly executed guillotine choke.
"Where the hell was your partner while you were using exces- sive force?" Hank asked, his eyes hard as steel. "The press was right: you did use excessive force. And you had no back-up." Hank put up his hand and Walt paused the video, freeze-framing Max in her instant of triumph.
"How would I know?" Max knew she sounded on the defensive, and quickly switched to explanatory mode. "I was too busy chasing this guy. Look, we found the woman bruised and totally hysterical. Joe took one path at the 72nd Street Entrance off Central Park West and I took the other. I got to the guy first…"
Walt said softly, "Joe made a statement, Hank. He told us he got to the scene too late to help with the arrest."
Hank's voice was tight. "I disagree. See that shadow in the background? He's watching. Like a voyeur." Max felt her stomach go queasy. He turned the full force of his gaze on his daughter. "I thought you and Joe ended things before you went to France last year."
"We did."
Hank turned to Walt, "They need to be officially separated." Max leapt up. "Hel-LO. I'd like to have a say in this." Walt's voice was kind, but firm. "Joe will be reassigned."
He looked at Max. "And I'm going to put you on temporary suspension." Max cringed. She'd hoped it wouldn't come to this. "Just until the YouTube thing dies down. Meanwhile, you've got a bit of freelance work."
"What's your agenda?" she shot back.
"It's the wine critic, Ellen Jordan," Walt said. "She received a threat and wants protection." This had to be a ruse—something her father and her mentor had cooked up. Ellen Jordan was her mother's friend. They saw each other regularly when Ellen was in town but Max had not kept up with her. She hadn't even seen her when she was in France last year, involved in one of the biggest murder cases in the country. Now Max felt like a child who was being sent to time-out. She was pissed.
"So what am I supposed to do? Hang out in a bar and watch her drink?"
"Better than that," Hank said. "You follow her to Bordeaux, and get to use that French that made your mom so proud."
"Yeah," Walt said. "You can order QUA-SONTS every morn- ing." He said to Hank, "She won't touch our donuts, you know."
Ouch. Max's years abroad, before she made the leap to follow in her dad's footsteps, was the source of much teasing from her fellow cops who tried to knock her down a peg. Hank's fame as the NYPD version of Clint Eastwood didn't help. Max had to prove herself over and over, to everyone. Once she had hooked up with Joe, she thought she'd no longer feel like an outsider. Now all this was about to change.
Before she left for France last spring, and ended up solving a murder, Max learned that Joe had slept with another female officer. Feeling a little reckless after the breakup, she had had a brief fling with Olivier Chaumont, the examining magistrate on the case. When she returned to New York, she refused to go back to Joe when he tried to reignite their relationship. It had been awkward being partners after that, but neither wanted to complain for fear of being reassigned. There was no way she could explain all this now.
Hank sat blinking like an old turtle. "Your plane leaves at ten."
"Tomorrow morning?"
He stood up, an intimidating presence at six four.
"Tonight. You'll fly with Ellen Jordan to Bordeaux. Someone will pick you up and take you to the village of Saint-Émilion, a half-hour away."
Recalling the days in Champagne without technology, Max said, "I want a phone that works this time."
"You got it," Walt said.
"
And bodyguards carry guns, right?"
"You're covered," Walt said. "I'll talk with our contacts at Interpol, but I don't think you'll need them." She knew what he meant. She was really going as a babysitter, not a bodyguard. Max hopped up and grabbed her short leather jacket off the back of the chair.
"By the way," Hank said, as she headed to the door, "your Jiu-Jitsu moves were impressive. It's that 'Kill Bill' attitude at the end that got you into trouble with the public."
She stared hard at her father. "He raped that woman, Dad. What was I supposed to do? Congratulate him?"
"Max…"
She walked out. When she got to the subway station, her cell phone rang. It was Hank.
"What?"
"Your mom and I will drive you to the airport."
"I have a ride, thanks."
She hung up before he could call her on that lie. Hank had
been discreet as he watched her climb from rookie to second level detective, but now it appeared he was going to start micromanaging again. She jogged down the stairs of the subway station, and hopped on the express train to Times Square. She didn't know who to be more furious with, her father or Joe. Until fifteen minutes ago, she had believed Joe's excuse that he had shown up too late to help. Now she had a mountain of doubt. On top of that, Hank had seen the couple of seconds she was out of control. She also knew that he was terrified for her.
She hit Joe's name on her speed dial.
"Hi, babe."
"Can you drive me to JFK in an hour? We need to talk."
"Guess so. Where're you going?"
"Bordeaux. A short assignment."
Joe was silent for two beats before he said, "You'll catch hell from the rest of the team for this plush job…."
Wait until you hear you're being transferred, she thought. "I wouldn't be going anywhere if you had covered my back!"
"You had just accused me of always taking over. I decided to give you free rein."
"You didn't jump in because you were teaching me a lesson? I'll find another ride!" She hit end.
Within moments, she received a text from Joe: u pms? Ignoring it, she rushed for the shuttle to Grand Central that would take her to the East Side, and an express train to the East Village. When she emerged from the station, she had new texts but ignored them. Instead, she tried to absorb the information that she was on her way to France again. And what's so wrong with that? she asked herself. If I stop acting like I'm being punished, it could be an interesting gig. She and Ellen Jordan would be staying at a hotel in Saint-Émilion, far from Bordeaux, where he had been transferred.
Entering her rent-controlled apartment building, she took the steps two at a time to the third floor. Selecting a Grace Potter tune on her iPod, she began gathering up her clothes and stuffing them into a suitcase. Her phone rang again. "Ma?"
"Chérie, Hank just called to tell me that you are being given a great opportunity to go to Bordeaux with my friend Ellen."
"I'm trying to get out of the doghouse."
Juliette de Laval Maguire sighed and switched to French. "I hardly believe that traveling with a famous wine writer to Bordeaux is such an awful thing, chérie."
Max began explaining in French to her mother that she was on the verge of blowing the career that she had committed to a year ago. Using excessive force during an arrest was a strike against her—regardless of the fact that she collared a rapist. Max was about to hang up when her mother said, "And Olivier? He's now in Bordeaux, isn't he?"
"Let's not go there."
"Oh, Max. This is difficult for you, n'est-ce pas? I'm sure there's a good reason why he hasn't been in touch."
"Maman. It was a fling, une amourette. Nothing more. Gotta go. Love you."
"Je t'aime, sweetie. Au revoir."
Max began to sing along with Potter to her song, "If I was a judge I'd break the law. Oooh. Oooh…" as she tossed her sneakers into the suitcase and zipped it closed. Having given up on Joe—this time, for good—she called her friend Juanita for a ride to the airport and was told to be waiting at the curb in twenty minutes. Standing there with her suitcase, Max read her messages from Joe: didn't mean it; call me; fuckin CALL me. She typed in a simple response: I'm already gone.
______
Ellen Jordan had an abundance of charisma. Passengers flocked around her in the first-class Air France lounge where she and Max waited to board their flight. Instantly recognizable from her TV appearances, Ellen joked with them and offered wine advice freely. Every half-hour Ellen would mouth the words to Max, the case? And Max would lift up the impact-resistant metal carry-all for her to see. Max had had no problem securing permission to carry the wine onboard, which had impressed Ellen.
Ellen had been firm when she handed it over, "Forget me, this is what you have to guard." Max had been surprised by the weight of it when she lifted it, but when she asked what was in it, Ellen had said simply, "wine."
Max sipped bottled water and kept her eye on Ellen as the passengers began lining up to board the aircraft. She was deep in conversation with a man who was also going to Bordeaux for the en primeur, a significant wine event in the region. Brokers, retailers, distributors, importers, and exporters from all over the world descended for barrel tastings of wines from the previous year.
Max knew Ellen's history from her mother. The two women had met in Paris in 1984. Juliette hailed from a long line of French aristocrats. The daughter of a car manufacturer, Ellen had been raised in Grosse Point, Michigan, and ventured to Yale for college. When she was twenty, she toured the wine districts of France with a classmate and discovered she had an impeccable nose, able to distinguish without any coaching the nuances in taste required for professional tasting. Through a friend she met Juliette, who was soon on her way to New York to visit Ellen. Juliette happened to meet Hank Maguire, who proposed the day she was to return to France.
Ellen had gone on after graduation to create a newsletter that initially had only a handful of subscribers. Half a million readers later, she was considered, next to Robert Parker, the most influential critic in the world. "It wasn't easy," Juliette had told Max, "the wine world wasn't open to women during those years." Neither was police work, Max had reminded her.
Once settled in their seats, Ellen, ordered a glass of red wine for each of them and said, "I'm glad I'm going to have the chance to get to know you. Are you aware that I was your brother's godmother?"
Max shook her head. Ellen turned back to the flight attendant to answer a question, and Max's thoughts turned to her brother, Frédéric, who, had he lived, would be twenty-four. She looked out her window, replaying that dreadful moment in her mind. The phone call announcing that her twelve-year-old brother was DOA after being hit by a car on his way home from school. Hank going into a stupor for weeks, and her mother erupting daily into paroxysms of grief.
Max realized much later that she carried enough guilt to keep the Catholic Church in business for the next fifty years. No one had addressed her self-blame: Had she picked her brother up and walked home with him instead of hanging out with her friends, the accident never would have happened.
Ellen interrupted her thoughts. "How about a quick course in wine? I don't know how much your mother taught you, but as with painting, there are layers upon layers of color and complexity. The more you understand of this, the more you can enjoy."
Max wondered if Ellen had any idea how strained her parents' finances were. If her mother hadn't married an Irish cop, causing her parents to disown her, Juliette would have inherited a small fortune when her father died.
"I've never tasted a rare wine," Max said. "But, sure. Let's begin my education."
After a brief tutorial, Ellen announced that she needed to sleep, reaching for her mask and moving her seat into the hori- zontal position. Max pulled the latest Cara Black mystery novel out of her backpack. Tucked in its pages was the last email that she had received from Olivier. Dated February 12, it read: I'm sorry I went incommunicado back in November. I was struggling with lots of things, and I'm afraid I was a lousy friend and cor- respondent. I trust that life is going well. I hope to hear from you. Fondest, Olivier. Max folded the piece of paper and stuck it in her jeans pocket. She had been hurt when he suddenly stopped emailing and, when he started again, she didn't respond. She wished now that she had.
Being with Joe on a daily basis hadn't helped. They had to remain partners and live with their broken relationship each day, or one of them would be sent to a new precinct. In Max's mind it was a little like staying in a bad marriage because neither spouse wanted to move out. Joe was cajoling one day, sarcastic the next, yet as work partners they still clicked, and were known for their boldness.
Max pulled out her little notebook that she used as a journal and wrote: Note #1 for therapist: Why is my trust level around men at an all-time low? Note #2: Why do I carry a printout of an email from Olivier around with me like a lovesick teenager? Note #3: Once I get to France, will I have the courage to call the grandmother I've never met?
She put her seat back and glanced over at Ellen, who was snoring lightly, her precious cargo on the floor between them. Max sighed and closed her eyes.
Visit Chapter Two: Bordeaux: The Bitter Finish: A Vengeance in the Vineyard Mystery – Bordeaux, France: April 2012, which publishes on Wednesday, January 7, 2015. 
Praise for Bordeaux: The Bitter Finish
"…A good choice for Peter Mayle fans." —Karen Muller, Booklist
"Janet Hubbard brings the Bordeaux region to life in this scintillating novel steeped in the colors, scents and flavors of France that will have both mystery fans and armchair travelers unable to turn the pages fast enough. Max Maguire is back, diving into the dark side of the wine trade to solve a murder, and woe is it to anyone who stands in her way! Sit back, raise a glass and prepare to be delighted." — Jennifer McMahon, New York Times bestselling author of Promise Not to Tell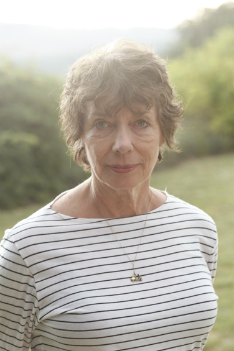 Janet Hubbard divides her time between Vermont, Virginia, and France. This series is a result of annual trips to France over a twenty year span to visit French friends, and a love of wine and the wine culture that let extensive stays in some of the wine districts, including Champagne and Bordeaux.
A Virginian by birth, Janet Hubbard is a graduate of New York University and a former employee of Time-Life Books. She wrote over twenty non-fiction books for Chelsea House Publishers, a school and library publisher, under the name Janet Hubbard-Brown, and has an active editing and teaching business in Vermont. For more information about Janet Hubbard visit: (Website)
You may also enjoy A Woman's Paris® post Cara Black's PI Aimée Leduc can't say no to "Murder in Pigalle" (excerpt) – part one. Murder in Pigalle by New York Times bestseller Cara Black is the latest in the treasured Aimée Leduc series, Black's fashionable Parisian P.I.'s 14th adventure. Aimée's five months' pregnant and has the baby's wellbeing to think about now. The police aren't mobilizing quickly enough, and when Zazie's desperate parents approach Aimée for help, she knows she couldn't say no even if she wanted to. 
Tilar J. Mazzeo's "The Hotel on Place Vendôme" – Hôtel Ritz in Paris: June 1940 (excerpt). Tilar J. Mazzeo, author of the New York Times bestseller The Widow Clicquot, and The Secret of Chanel No. 5. This riveting account uncovers the remarkable experiences of those who lived in the hotel during the German occupation of Paris, revealing how what happened in the Ritz's corridors, palatial suites, and basement kitchens shaped the fate of those who met there by chance or assignation, the future of France, and the course of history.
Wine in France: Dewey Markham Jr., wine scholar, food connoisseur, and author of "1855: A History of the Bordeaux Classification" a James Beard award book, 1997. Dewey Markham Jr. gives us a taste for the process of establishing that connection between wine and the wine drinker and shares with us the truly great vintages of the twenty-first century from Bordeaux, France.
Wine in France: Véronique Sanders of Château Haut-Bailly, and recipient of the "Chevalier de l'Ordre National du Mérite" honorary title awarded by the French government. The great wines of Bordeaux definitely symbolize tradition, quality and art de vivre à la française; they carry a strong image of the best of what France offers. Château Haut-Bailly is one of the greatest terriors of Bordeaux and Véronique Sanders, General Manager of Château Haut-Bailly, shares with us the defined sense of style and personality of its wines and her place among women in wine in France.
Wine in France: Aline Baly, third generation owner of Château Coutet, on refinement and distinction in wine from one generation to the next. Wine bestows a record of ownership from the beginning of its origin. We might say the wine drinker and connoisseur is also buying into the romance of that vineyards life. More than just fermented grape juice, it is the result of centuries of contact with a terroir, decades of families transmitting their savoir-faire from one generation to another and the daily rigor of a committed team to perpetuate the quality and style of a château into the future.
Wine in France: Château Coutet's distinctive quality celebreated in 1787 by Thomas Jefferson, and enjoyed today by wine enthusiasts worldwide. Former U.S. President Thomas Jefferson, then ambassador to France, celebrated Château Coutet as the best Sauternes from Barsac. In 1855, the estate was classified as a First Growth and recognized for its continued excellence. Today, as the oldest and largest Barsac estate, Château Coutet stays true to its tradition of distinction and quality. 
Wine in France: Florence Cathiard of Château Smith Haut-Lafitte, together with her husband Daniel (both former French Olympic skiers), brings finesse and exceptional detail to making great wines."Impose your good fortune, keep hold of your happiness and embrace risk: they will be watching you and will get use do it." —René Char, French poet (1907-1988). It's a motto Florence Cathiard tells her grandchildren hoping it will inspire them as it has inspired her. In 1990, Daniel and Florence Cathiard sold all their business interests to buy Château Smith Haut-Lafitte. Over a two year period, they invested massively in renovating both the winery buildings and the eighteenth century manor house, where they decided to live and to devote their energy to their new found passion: making outstanding white and red wines.
Text copyright ©2014 Janet Hubbard. All rights reserved.
Illustrations copyright ©Barbara Redmond. All rights reserved.
barbara@awomansparis.com