Wine in France: Florence Cathiard of Château Smith Haut-Lafitte, together with her husband Daniel (both former French Olympic skiers), brings finesse and exceptional detail to making great wines
15 Monday Dec 2014
Tags
Alexander Lobrano Hungry for Paris, Aline Baly Château Coutet, Ann Mah Mastering the Art of French Eating, Art de Vigne Florence Cathiard Editions de la Martinière-Aubanel, Asian wine market, Bordeaux wines, British wine market, Cabernet Franc, Cabernet Sauvignon, Château Bastor-Lamontagne Sauternes, Château Beauregard, Château Beauregard Pomerol, Château Coutet, Château Figeac 1955, Château Leoville Las Cases 1961, Château Smith Haut Lafitte red, Château Smith Haut Lafitte white, Château Smith Haut-Lafitte, Chef Nicolas Masse starred-Michelin chef of Les Sources de Caudalie, Chevalier de l'Ordre National du Mérite, Cru Classé de Graves, David Lebovitz My Paris Kitchen, Dewey Markham Jr 1855 A History of the Bourdeaux Classification, Florence Cathiard Daniel Cathiard Château Smith Haut-Lafitte Bordeaux, French Olympic ski team 1965, French red wines, French terroir, French white wines, French wines, Go Sport sporting goods, Le Petit Haut Lafitte red, Les Hauts de Smith Red, Les Hauts de Smith white, Mae E de Lencquesaing, Masters of Wine, McCann Europe, Merlot, Michel Serres French philosopher Académie Française, Mireille Guiliano Meet Paris Oyster, Patricia Wells Food Lover's Guide to Paris, Petit Verdot, Philippine de Rothschild, René Char French poet, United States wine market, Véronqiue Sanders Château Haut-Bailly, wines of France Bordeaux Champagne
Share it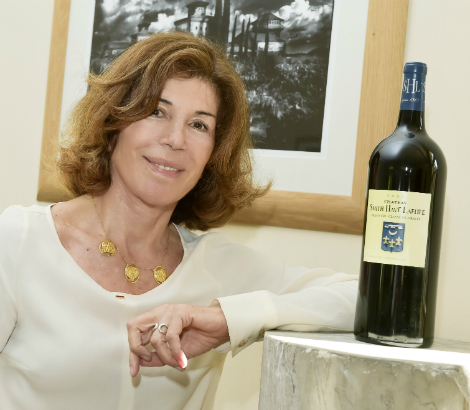 Florence Cathiard, in 1990, together with her husband Daniel Cathiard, fell in love with the property Château Smith Haut-Lafitte and joined the list of prestigious owners, firmly intending to further enhance Smith Haut-Lafitte's tradition of excellence. Florence and Daniel met while on the French Olympic ski team in 1965. After the death of his father in 1970, Daniel found himself running the family's small supermarket chain and within 20 years he transformed it into the tenth largest mass distribution group in France. At the same time he launched and developed a chain of sporting goods shops—Go Sport—in France, Belgium, Spain, and California. Florence worked with him managing Genty and Go Sport for ten years before launching her own advertising firm, later becoming Vice President of McCann Europe in 1985.
In 1990, Daniel and Florence sold all their business interests to buy Château Smith Haut-Lafitte. Over a two year period, they invested massively in renovating both the winery buildings and the eighteenth century manor house built by George Smith, where they decided to live and to devote their energy to their new found passion: making outstanding white and red wines.
The noble Bosq family started growing grapes here as early as 1365. Scotsman George Smith, who gave the estate its present name, purchased the property in the eighteenth century. He also built the manor house and exported his, by then famous, wine to England on his own ships.
In 1842, Mr. Duffour-Dubergier, Mayor of Bordeaux and an enthusiastic winegrower, inherited Château Smith Haut Lafitte from his mother and brought the wine up to great growth status. Impressed by Smith Haut Lafitte's excellent quality, the Louis Eschenauer company distributed the wine all over the world starting in the early twentieth century, deciding to buy the estate in 1958. After the Eschenauer period came to an end, a great deal of money has been invested in the estate, particularly on the construction of a superb underground cellar holding over 1,000 barrels.
Florence has written a book entitled Art de Vigne ("Art of the Vine") published by Editions de la Martinière-Aubanel. For more information about Château Smith Haut-Lafitte or Florence and Daniel Cathiard, visit: (Website) (Email: smith-haut-lafitte@smith-haut-lafitte.com)
Château Smith Haut-Lafitte
33650 Bordeaux Martillac, France
Tél: +33 (0)5 57 83 11 22
Florence and Daniel Cathiard, owners of Château Smith Haut-Lafitte
Photo portraits: Eric Barriäre
INTERVIEW: Florence Cathiard, co-owner of Château Smith Haut-Lafitte
« Impose ta chance, serre ton bonheur, va vers ton risque : à te regarder, ils s'habitueront » —René Char, French poet (1907-1988)
"Impose your good fortune, keep hold of your happiness and embrace risk. They'll be watching you and will get used to it. It's a motto I often tell my grandchildren hoping it will inspire them as it inspired me." —René Char
AWP: Wine bestows a record of ownership from the beginning of its origin. We might say the wine drinker and connoisseur is also buying into the romance of that vineyards life. What is it about Château Smith Haut-Lafitte that makes wine lovers connect in such a powerful way?
FC: From its beginnings and through the centuries, our estate has been owned by several families: some lived to honor this great terroir and others were more obsessed by high yields rather than quality, but all were famous for different reasons and registered themselves in a long saga like Tara or Abbey Read. And now, here we are, Daniel and me, and our two daughters and sons-in-law, each couple trying harder in her/his field of competence (great wines, luxurious hotels, restaurants and spas, or a beauty care company), careful to develop cross-fertilizations all over the world.
AWP: Together with your husband, yours is an amazing success story, pushing this outstanding terroir to further enhance Smith Haut-Lafitte's great growth status with dedication and enthusiasm. What is the secret of its inimitable style?
FC: Terroir of Günzian semi-precious little stones, faithfully and respectfully translated into its purest expression in the glass. Michel Serres, famous French philosopher, member of the Académie Française and professor at Stanford writes: « du silice la finesse, du calcaire la puissance, de l'argile l'onctuosité… tout vient des graves et sables, sol mêlé »—in other words "from silica the finesse, from limestone the power, from clay the richness, it all comes from gravel and sand, combined soil."
AWP: You are owners of this estate, whose legacy dates to the noble Bosq family who started growing grapes here as early as 1365. What is this lineage like for you?
FC: We just try our best to transmit this little "Kingdom" to the next generation with still better wines in both colors and a landscape of vines still more beautiful.
AWP: Winemaking in France has been an industry dominated by men. When you entered the industry in 1990 what were the challenges and how did you grapple with the cultural differences? How has it changed?
FC: Ladies have always been strong and powerful in great Châteaux like Philippine de Rothschild or May E. de Lencquesaing. Now there are more and more women in charge of making great wines and this is great news because maybe they bring their finesse and sense of detail—and on top of that we have genetically more captors in our nose than men!
AWP: From 1940-1946, during World War II, many women tended winemaking and running the Châteaux. How was it at Château Smith Haut-Lafitte?
FC: A very special period here. Louis Eschenauer, the biggest Bordeaux wine merchant was friends with Bäumers, head of the German army occupying Bordeaux, who ended up living in Smith Haut-Lafitte during the war. At the "Libération," two different stories are supposed to both be true: one says that Eschenauer was arrested and condemned for "collaboration with the enemy," the other one is that he protected the harbor of Bordeaux, circled by explosives, in telling his friend who was leaving the city with his troops, not to push the button…
AWP: What was the best post-war vintage to date? What made this one of the truly great vintages?
FC: 1961. Mother nature made the right thing by freezing half of the crop, reducing the (too high) yields and producing a natural nectar.
AWP: Respond to the demands created by the Asian market, the U.S. market, and the British market. Do you market differently to each?
FC: Daniel and I travel most often to the U.S. East Coast where we have many friends with great cellars, and where Smith Haut-Lafitte has an excellent reputation. In Asia, we are also famous but it used to be for the Lafitte name; now things have evolved and they like us a lot for good reasons. And now in England, slowly but surely, they are impressed by the quality of our wines: at the last blind tasting of 15 Masters of Wine we received among the very best in both colors—red and white wines.
AWP: Is there one vintage that channels everything you love about wine?
FC: 2010 in both colors—red and white.
AWP: What kind of wine drinker, wine connoisseur do we find today?
FC: Fortunately our amateurs do not age with us! We have still, of course, our hard core of faithful middle aged buyers, but more and more people in their thirties are coming to Smith Haut-Lafitte; first through our second wines: Le Petit Haut-Lafitte and Les Hauts de Smith; both poured in trendy brasseries and hip restaurants, then as soon as they have bought cars and houses we are among the favorite Châteaux brands in their cellars.
GASTRONOMY: The practice of choosing, cooking, and eating good food
AWP: You are the brand ambassador for the wines of Château Smith Haut-Lafitte, and also for the region of Bordeaux and its up-and-coming winemakers. Yours is a remarkable investment of your time and talents. Do you have a personal vision for Bordeaux, its wines and oenotourism?
FC: It would be too long to develop here. My dedication as President of the CSO is to promote all vintners of France. Bordeaux itself is already a worldwide brand.
AWP: What are the great traditional culinary pairings with Château Smith Haut-Lafitte?
FC: Fresh and simple meals are the best with great wines: a roasted chicken of white meats to let our reds express their finesse and balance; or bar de ligne of sole d'Arcachon just grilled with the whites, and black truffles.
AWP: Are you creatively testing new food and wine pairings? What exciting combinations of taste are you discovering?
FC: There is indeed a wonderful recipe from Nicolas Masse, starred-Michelin Chef of Les Sources de Caudalie that I must try to cook by myself and pair with a vibrant young Smith Haut-Lafitte white: a sea beam with local ceps [wild mushrooms].
AWP: How do you orchestrate wine from the aperitif through the meal to its final course?
FC: It depends on the guests. For pros we don't hesitate to end with cheese and a younger vintage, still better in white if it is a Comté or a Gruyère. For traditional guests we stick to the normal chronology, from recent bottles to older ones.
AWP: Do North Americans bring a different set of expectations to the wine experience than the French?             
FC: For Smith Haut-Lafitte, it is definitely yes. Their interest for our family "saga" does not prevent them from focusing on the qualities of the wine in the glass. In France, they sometimes think that having a successful family prevents us from making iconic wines.

AWP: Do the French have a different attitude toward what they drink?
FC: Sometimes they are less open, more arrogant and think they hold their knowledge of wine by birth. But this is changing with the new generation, fortunately.
AWP: What was your first experience that made you fall in love with wine?
FC: Just out of the French ski team where we were members, Daniel and I were married. As we did not want to have a classic wedding gift list, we asked for good bottles of Bordeaux. We did not know a lot; and we were not at all used to drinking any alcohol and every night we were tipsy after sharing a full bottle of classified growth. I remember a Château Leoville Las Cases 1961, a Château Figeac 1955… first emotions.
AWP: Your life is extraordinary. What's next?
FC: "Wine improves with age. I improve with wine!" More seriously we want to still elaborate, with the help of nature and climatology quite a few vintages as great as 2005, 2009 and 2010. And also to put the second Châteaux we just took over with our friends and partners, Château Bastor-Lamontagne in Sauternes and Château Beauregard in Pomerol, at the same level as we have managed to raise Smith Haut-Lafitte. But in a shorter span of time!
Florence Cathiard: Ten wines to recommend
Every day:
Le Petit Haut Lafitte red 2010
Les Hauts de Smith white 2012
Special occasions:
Château Smith Haut Lafitte red 1998, 2000, 2005
Château Smith Haut Lafitte white 2006, 2007, 2010
Château Beauregard 2009
Nice friends, nice meals:
Château Smith Haut Lafitte red 2006, 2007, 2008.
Château Smith Haut Lafitte white 2011, 2012.
The Wines of Château Smith Haut-Lafitte
Smith Haut-Lafitte Red: The style of our red wine is very classic with a beautiful expression of our terroir of Günzian Gravel, which gives unique smoky notes. We pursue elegance and structure, freshness and complexity, balance and richness. Our majority of Cabernet Sauvignon, harvested at full maturity and softly vinified to extract only the silkiest tannins, unveils after proper aging to its full potential for years.
The other grapes variety of our vineyard, the Merlot, the Cabernet Franc, and the Petit Verdot add to the Cabernet Sauvignon their own aromas and participate in the typical harmony of our Cru Classé de Graves.
Smith Haut-Lafitte White: About our style, I would say that either you love our wines or you hate them. But be careful, if you do love them, it is for life…. Our style is quite special, even paradoxical. We have 90% of Sauvignon Blanc in our blend, however this proportion is almost unidentifiable on a blind tasting because of the age of our vines, the slopes ploughed by horses for more than 14 years on which they grow, the north exposure and all these details producing late maturity that will give our wines expression and complexity.
 We also have a secret weapon: 5% of Sauvignon Gris. This forgotten, yet complex, grape variety brings different levels of aromas: first grapefruit, then peach, apricot and flowers, and a fresh minerality at the end. This kind of grape variety helps the wine age beautifully as well, adding spicy notes to the finish.
Les Haut de Smith Red: Designed during the blending of Smith Haut-Lafitte, the wines of Le Petit Haut Lafitte are vinified and aged with the same care as the batches that will become the first wine of the Château.
Le Petit Haut Lafitte Red: Designed during the blending of Smith Haut-Lafitte, the wines of Le Petit Haut Lafitte are vinified and aged with the same care as the batches that will become the first wine of the Château.
Photography: Sara Matthews
Acknowledgements: Alyssa Noel, student of French and Italian, and Journalism at the University of Minnesota–Twin Cities and English editor for A Woman's Paris.
You may also enjoy A Woman's Paris® post Wine Lovers' Choice: 154 Wines of France from Bordeaux and Champagne. Is "tasting stars" on your list for great food and wine pairings? Not sure what wines to try next? We, too, like wine lovers from around the world, have a special love affaiar from wine "where sudden friendship springs," as John Gray said. We sip the wine and find dreams come through. Aren't we always looking for clues that there is a "star" behind the recognized labels, for personal, unforgettable moments? Become a part of our conversation. We celebrate the art and ideas of people from every place and every heritage.
Wine in France: Aline Baly, third generation owner of Château Coutet, on refinement and distinction in wine from one generation to the next. Wine bestows a record of ownership from the beginning of its origin. We might say the wine drinker and connoisseur is also buying into the romance of that vineyards life. More than just fermented grape juice, it is the result of centuries of contact with a terroir, decades of families transmitting their savoir-faire from one generation to another and the daily rigor of a committed team to perpetuate the quality and style of a château into the future.
Wine in France: Véronique Sanders of Château Haut-Bailly, and recipient of the "Chevalier de l'Ordre National du Mérite" honorary title awarded by the French government. The great wines of Bordeaux definitely symbolize tradition, quality and art de vivre à la française; they carry a strong image of the best of what France offers. Château Haut-Bailly is one of the greatest terriors of Bordeaux and Véronique Sanders, General Manager of Château Haut-Bailly, shares with us the defined sense of style and personality of its wines and her place among women in wine in France.
Wine in France: Dewey Markham Jr., wine scholar, food connoisseur, and author of "1855: A History of the Bordeaux Classification" a James Beard award book, 1997. Dewey Markham Jr. gives us a taste for the process of establishing that connection between wine and the wine drinker and shares with us the truly great vintages of the twenty-first century from Bordeaux, France.
Wine in France: Exceptional food pairings with Château Coutet Sauternes and dry white wines (recipes). The regions of Barsac and Sauternes have plenty of traditions, but there are no rules. There is no need to be a Michelin star chef—a grilled lobster or a roasted turkey will do the job. Also, pairing wines with cheese—Sauternes is the best hostess trick. When offering guests a diverse cheese tray, Coutet's wines are the safest to serve; they go with most cheeses.
Wine in France: Château Coutet's distinctive quality celebrated in 1787 by Thomas Jefferson, and enjoyed today by wine enthusiasts worldwide. Former U.S. President Thomas Jefferson, then ambassador to France, celebrated Château Coutet as the best Sauternes from Barsac. In 1855, the estate was classified as a First Growth and recognized for its continued excellence. Today, as the oldest and largest Barsac estate, Château Coutet stays true to its tradition of distinction and quality.
Wine in France: Charles-Erwan Savary, Champagne Ambassador to France, wine educator, and founder of "People and Wine". Each type of wine is related to a different story, a different 'mythology' that comes from the improved quality of the beverage itself, Charles-Erwan Savary tells us. The history of the vineyard, the history of prestigious producers, the legend behind some producers and famous consumers… For sure Champagne lovers do not praise only the liquid itself, but also the myth of Champagne. 
Wine in France: Margareth Henriquez, CEO of Champagne Krug, shares with the world the vision of ultimate luxury that is Champagne. Margareth Henriquez, CEO of Champagne Krug: Real Luxury is always in front, is always the trend, so luxury can never be at the behest of what is increasingly demanding. It goes the opposite way—real luxury creates demand. Luxury will always be leading the way. It demands more than innovation and quality, yes. Luxury is the result of an emotional connection with the brand that comes from the way a brand behaves. Margareth is responsible for defining and maintaining the sophistication of the House of Krug.
 Wine in France: Carol Duval-Leroy, President of Champagne Duval-Leroy and respected partner of the global sommelier community, on the essence of exceptional quality Champagne. Carol Duval-Leroy joined the very select group of women involved in running Champagne houses in 1991. After the sudden loss of her husband that same year, she became the company chairwoman. For ten years, modernization of production processes, development of traditional distribution channels, increased product range and expanded exports have all been Carol Duval-Leroy's objectives for her company. Today, the brand's whole image bears the mark of her passion for this profession.
Wine in France: Alice Paillard of Champagne Bruno Paillard on the delicate effervescence, remarkable purity, true freshness, and silky texture of Champagne style. It is probably the experiences abroad, combined with a fascination for the great wine that Champagne can be, that brought Alice Paillard back to where she grew up, in Reims. These contacts with very diverse cultures combined with the love for quality and the attraction of a young and dynamic company, quality gave her the will to join Champagne Bruno Paillard and help promoting her family's wines through the world, in January 2007.
French Impressions: Mireille Guiliano's "Meet Paris Oyster" in pursuit of the world's best oysters and wine pairings with them. With her characteristic wit, wisdom, and storytelling flair, Mireille will soon have you wanting to eat oysters at least every week. A former chief executive at LVMH (Veurve Clicquot), Mireille Guiliano is "the high priestess of French lady wisdom" (USA Today) and "ambassador of France and its art of living" (Le Figaro). She is the author of the #1 New York Times bestseller French Women Don't Get Fat, as well as French Women Don't Get Facelifts. (Excerpt: Meet Paris Oyster)
French Impressions: Ann Mah's "Mastering the Art of French Eating" on gastronomic adventures in France. Ann Mah is a food and travel writer and author of a food memoir, Masting the Art of French Eating and a novel, Kitchen Chinese. When journalist Ann Mah's husband is given a diplomatic assignment in Paris, Mah, a lifelong foodie and Francophile, begins plotting gastronomic adventures à deux. Then her husband is called away to Iraq on a yearlong post—alone—turning Mah's vision of a romantic sojourn in the City of Light upside down. Including a recipe for Bavette aux Échalotes (skirt steak with shallots). (Excerpt: Mastering the Art of French Eating)
French Impressions: Capital Fare: Patricia Wells on great French food in Paris. Patricia Wells, author of the award-winning Bistro Cooking, and for more than two decades the restaurant critic for The International Herald Tribune, takes readers, travelers and diners to the best restaurants, bistros, cafés, patisseries, charcuteries, and boulangeries that the City of Light has to offer. Including Willi's Wine Bar's Bittersweet Chocolate Terrine—the irresistible chocolate dessert that is one of Patricia's Paris favorites. (Excerpt: The Food Lover's Guide to Paris, ed. 5)
French Impressions: What's cooking in Paris: David Lebovitz on the secrets of French cuisine. Ten years ago, David Lebovitz packed up his most treasured cookbooks, a well-worn cast-iron skillet, and his laptop and moved to Paris. In My Paris Kitchen, David remasters the classics, and introduces lesser-known fare. Through his recipes and stories we get insight into his delicious and extraordinary world. Including David's recipe for Salted butter caramel-chocolate mouse. (Excerpt: My Paris Kitchen)
French Impressions: Alexander Lobrano on eating well in France: a culinary tour of alluring inns, food producers, restaurants and winemakers. Alexander Lobrano was European Correspondent for Gourmet magazine from 1999 until its closing, and has written about food and travel for Saveur, Bon Appetit, Food & Wine, the New York Times, Wall Street Journal, Guardian, Travel & Leisure, Departures, Conde Nast Traveler, and many other publication in the United States and the United Kingdom. Every food lover's ultimate dream is to tour the countryside of France, stopping off at luxurious inns with world-class restaurants and sampling fresh produce and regional specialties from local markets. Including an excerpt from Hungry for France (Excerpt: Hungry for Paris)
A Woman's Paris — Elegance, Culture and Joie de Vivre

We are captivated by women and men, like you, who use their discipline, wit and resourcefulness to make their own way and who excel at what the French call joie de vivre or "the art of living." We stand in awe of what you fill into your lives. Free spirits who inspire both admiration and confidence.
Fashion is not something that exists in dresses only. Fashion is in the sky, in the street, fashion has to do with ideas, the way we live, what is happening. — Coco Chanel (1883 – 1971)
Text copyright ©2014 Florence Cathiard. All rights reserved.
Illustrations copyright ©Barbara Redmond. All rights reserved.
barbara@awomansparis.com