Wine in France: Château Coutet's distinctive quality celebrated in 1787 by Thomas Jefferson, and enjoyed today by wine enthusiasts worldwide
09 Tuesday Dec 2014
Tags
1855 Classification of Bordeaux wines, 1855 Classification of wine Bordeaux, 1er Grand Cru Classé en 1855, Alexander Labrano Hungry for Paris, Alexander Lobrano's Hungry for France, Aline Baly Château Coutet, AOC Barsac, AOC Bordeaux, AOC Sauternes, Baron Philippe de Rothschild SA, Baroness Philippine de Rothschild, Barsac-Sauternes, Bordeaux wine, Botrytis cinerea fungus Sauternes, Buckle University Lewisburg PA USA, Chartreuse de Coutet - AOC Sauternes, Château Coutet, Château Coutet – Premier Grand Cru Classé en 1855 - AOC Barsac, Château d'Yquem, Château de Fargues, Château de Filhot, Château de Malle, Cuvée Madame, Dominique Baly Château Coutet, Emperor Napoleon III, Exposition Universelle de Paris, First Growth wines of France, France, French wines, Kellogg School of Management Evanston Illinois USA, La Chartreuse de Coutet, La Cuvée Madame de Château Coutet, Marcel Baly, Opalie de Château Coutet, Opalie de Château Coutet - AOC Bordeaux, Paris, Patricia Wells The Food Lover's Guide to Paris, Philippe Baly Château Coutet, Premier Grand Cru classification Bordeaux, Sauternes, Sauternes from Barsac, Société Immobilière des Grands Crus de France, the Noble Rot Sauternes, Thomas Jefferson, Union des Grands Crus de Bordeaux, wine connoisseur, Wine in France, winemaking France, wines of France Bordeaux Champagne, women in wine in France
Share it
(Published with permission. © 2014 Château Coutet. All rights reserved.)
Château Coutet: In 1787, former U.S. President Thomas Jefferson, then ambassador to France, celebrated Château Coutet as the best Sauternes from Barsac. In 1855, the estate was classified as a First Growth and recognized for its continued excellence. Today, as the oldest and largest Barsac estate, Château Coutet stays true to its tradition of distinction and quality.
An English fortress built in the thirteenth century, this citadel with its square tower, a design typical of the era's military constructions, became a wine producing estate in 1643. Previously owned by the Lur-Saluces family, the property was home to Château d'Yquem's horse stables, transformed in the late nineteenth century into a 110-meter long cellar (the longest in the appellation). A second round tower in the property's northern plot, a Château Coutet landmark, was built originally to breed pigeons and peacocks for the region's Gascon lords. Vertical wine presses from the 1920s, a fourteenth century chapel and a Bordeaux cobblestone courtyard are testaments to the estate's rich architectural and regional history.
Visit: Wine in France: Aline Baly, third generation owner of Château Coutet, on refinement and distinction in wine from one generation to the next published on A Woman's Paris®.
Visit: Wine in France: Exceptional food pairings with Château Coutet Sauternes and dry white wines (recipes) published on A Woman's Paris®.
Traced back to 1643, Château Coutet is one of the oldest vineyards in France's Sauternes wine region. Standing over the main courtyard, the château's stout square tower with a flat crenellated top is believed to originate from the late thirteenth century with a design typical of the military constructions from the time of Aquitaine's English occupation.
A second tower, located in the property's most northern plot, is another example of the era's architecture. This Château Coutet landmark was built to breed pigeons and peacocks for the region's Gascon lords. Further elements from other centuries define the property's architectural style, including a fourteenth century citadel ("La Sallasse" or "La Salace") and chapel, as well as two eighteenth century towers. Château Coutet is also home to the longest Sauternes chai (vat room) with a 110-meter long cellar that houses more than 860 barrels, arranged into four single, parallel lines.
Prior to its origin as a wine producing estate, Château Coutet's history is rather obscure. The first noted owner of the property, Charles le Guérin, referred to as Lord of Coutet, was a counselor at the Bordeaux Parliament. He purchased the estate in 1643 and then passed it on to his nephew, Jean le Pichard, in 1695. The latter's descendants owned Château Coutet until 1788. It was at this time that the former U.S. President Thomas Jefferson noted Château Coutet as the best Sauternes originating from Barsac. Research indicates that at this point in history the property was producing 135,000 liters. With a production volume comparable to that of Château d'Yquem, Château Coutet's plots must have extended beyond today's 38.5 hectares (95 acres). It is also interesting to note that the wines prices were similar to the appellation's superior first growth at the time.
Alongside Château d'Yquem
Later on, Gabriel-Barthélémy-Romain de Filhot, president of the Bordeaux parliament and a cousin of the former owner, acquired the estate. As a consequence of the French Revolution, Château Coutet was seized by the state of France in 1794 and Filhot was beheaded. However, the French government did not confiscate the estate. As a result, when Filhot's daughter Marie-Geneviève married into the Lur Saluces family, she brought Château Coutet as part of her dowry. Château Coutet was inherited later on by Marquis Romain Bertrand de Lur Saluces, son of Marie-Geneviève de Filhot and Antoine-Marie de Lur-Saluces. At the time, the Marquis de Lur Saluces was also the owner of Château d'Yquem, Château de Fargues, Château Filhot and Château de Malle and thus the largest producer of sweet white wines in the world. Château Coutet was his only property in the commune of Barsac, where he labeled the wine "VIN de BARSAC de Mr. le Marquis de LUR SALUCES."
The 1855 Classification
In 1855, in preparation of the Exposition Universelle de Paris, the Emperor Napoleon the III requested that the Bordeaux wine merchants classify the greatest Bordeaux estates according to their reputation. This was accomplished by interpreting the Chateaux prices and quantities traded. This classification not only identified to all the quality of the wines, but also and more important, the exceptional terroirs within each appellation. Château Coutet received its Premier Grand Cru classification as one of only two Barsac properties represented in this particular highly distinguished tier, joined by only seven other Sauternes. Overtime, several estates were divided. Thus, today's First Growths consist of nine properties.
The Guy Family
Château Coutet remained under the care of the Lur-Saluces family until 1922. For three brief years, the estate was in the care of the Société Immobilière des Grands Crus de France, owners of several classified growths in the Margaux appellation. This transaction separated the estate from Château d'Yquem. In 1925, Henry-Louis Guy, a hydraulic wine press manufacturer from Lyon, purchased the estate. Guy equipped the winery with his vertical presses, still used today at harvest time. He died shortly thereafter and passed the estate onto his widow and her second husband, Edmond Rolland. Managed by Mr. Rolland, it was during this period that the famous "Cuvée Madame" was first made by Château Coutet to honor his wife, Madame Rolland-Guy. This special reserve is only produced under very rare and extraordinary conditions; its most recent release is the 2001 vintage.
The Baly Family
In 1977, the estate was sold to Marcel Baly, an Alsacian who fell instantly in love with the estate during the course of a vacation stop. With a bit of encouragement, Marcel, a true entrepreneur, could not turn down the challenge of transforming himself into a winemaker, even after a lifetime spent in the logistics and hospitality industries. Although Château Coutet was intended to be a retirement project, Marcel realized that leading a first classified growth with over 300 years of history was too great a responsibility. "We might make mistakes, but we do not fail." Equipped with his vision, determination and an undisputable strength in operations management, as well as his eldest sons, Philippe and Dominique, Marcel committed everything to continuing the estate's tradition. The Baly team's first year was focused on observing the vineyard and the various cellar activities. What followed was the placement of a long-term commitment to restoring and re-planting the 38.5 hectares (95 acres) of vines, optimizing all the work processes and operations, rebuilding the cellar and winery and, finally, the château itself. Throughout the eighties, the family stayed focused on these first steps creating a strong technical foundation for today and for future generations. Today, Philippe and Dominique Baly continue their father's program, accompanied by the family's third generation, represented by Marcel's grand-daughter, Aline Baly, Dominique's daughter.
Baron Philippe de Rothschild, SA
In 1994, Philippe and Dominique Baly signed an agreement with the Baroness Philippine de Rothschild, giving exclusive distribution rights to her company, Baron Philippe de Rothschild S.A. This commercial as well as technical collaboration has accelerated the renewal of Château Coutet's worldwide reputation. Per this agreement, dated March 22, 1994, Baron Philippe de Rothschild S.A. is the exclusive worldwide distributor for the totality of Château Coutet's wines:
Château Coutet, 1er Grand Cru Classé en 1855, AOC Barsac – The estate's first blend
La Chartreuse de Coutet, AOC Sauternes – The estate's second blend, first appearing in 1977
La Cuvée Madame de Château Coutet, AOC Barsac – The estate's reserve: only produced during exceptional years
Opalie de Château Coutet, AOC Bordeaux – The estate's new dry white, first vintage released 2010.
Union des Grands Crus de Bordeaux
In 2005, Château Coutet joined the prestigious Union des Grands Crus de Bordeaux. With 132 members, this group of Bordeaux's most notable estates travels throughout Europe, North America and Asia to develop traditional and new markets, promoting its members while representing the entire Bordeaux region. In numerous cities, the Union des Grands Crus de Bordeaux coordinates trade, press and consumer events, ranging from tastings to gala dinners. Through its participation, Château Coutet reaches out to its supporters and educates the current and next generations of wine professionals and enthusiasts.
A Unique Terroir
Château Coutet benefits from an exceptional terroir. The vines' deep roots extract elements from a limestone and clay-based soil, giving the grapes freshness, richness and strength. For this reason the wine carries the name "Coutet," derived from the Gascon's word for knife, to signify the fresh, lively and crisp palate that is the estate's signature style. In their youth, the property's wines display generous notes of white flowers, citrus fruits, honey and vanilla. Time brings out deeper, warmer notes in which spices combine with exotic nectars and candied fruits. Age also enhances the harmony of its roasted Botrytis character and its distinct aromas to give Château Coutet a delicate and unique bouquet that is unsurpassed.
The "Noble Rot"
Botrytis cinerea is a fungus that concentrates the sugars in each grape via a multi-step interaction with the fruit. The result is sweet nectar that is rich in distinct aromas such as honeysuckle, quince and ginger. This gift of nature is referred to as "Noble Rot" as it is the precursor to a great Barsac-Sauternes. The region's unique microclimate supports the Noble Rot's presence and development duea to the morning mists followed by warm, sunny afternoons that enable the mold to develop abundantly.
The Wines of Château Coutet
Château Coutet – Premier Grand Cru Classé en 1855 – AOC Barsac: The Château Coutet vines deep roots extract elements from its terroir to give the grapes freshness, richness and strength. Grape varieties are 75 percent Sémillon, 23 percent Savignon Blanc, and 2 percent Muscadelle.
Chartreuse de Coutet – AOC Sauternes: Since 1977, Château Coutet has been producing its second label, Chartreuse de Coutet, an AOC Sauternes. Hints of honey, almond, citrus, exotic fruits, as well as very ripe, soft apricot, with some floral notes of acacia, characterize its subtle nose. On the palate, the wine is honeyed, round and suave. Its wonderful concentration and broad palette of aromas express the richness of the fruit flavors with orange zest, honey, honeysuckle, ripe fruits and citrus, complemented by toasty notes and some minerality. Full of finesse and elegance, the result is a young, beautiful wine full of vivacity and freshness. Grape varieties are 75 percent Sémillon, 23 percent Sauvignon Blanc, and 2 percent Muscadelle.
La Cuvée Madame de Château Coutet: The origin of la Cuvée Madame de Château Coutet dates back to Madame Rolland-Guy, owner and resident of Château Coutet between 1922 and 1977. During this period, the vineyard workers were in the habit of working unpaid for one day to pick the last remaining grapes from the property's two oldest parcels, whose berries were super-concentrated. The very small and exceptional cuvée was dedicated to Madame Rolland-Guy. When produced during exceptional years, up to 1,200 bottles of the Cuvée Madame are made.
The Cuvée Madame de Château Coutet is a marvel of concentration and complexity. Displaying a color between gold and amber, the wine first presents aromas of acacia, honey, apricot, quince jelly, pineapple and coconut. What follows are mineral notes: citrus and floral (white flowers). On the palate it allies density and elegance, all with a superb structure and aromatic finesse, with hints of candied figs, currants, peach, quince and spices. The fruit is lush, rich, velvety and dazzling. The finish is excellent, both fresh as well as persistent with a silky texture and a very nice balance.
The Baly family continues this tradition during the finest harvests. The superb Cuvée Madame de Château Coutet was made in 1981, 1986, 1988, 1989, 1990, 1995, 1997 and 2001 to succeed the memorable 1943, 1947, 1959, 1971 and 1975 vintages. Grape variety is 100 percent Sémillon (berries selected from the estate's two oldest plots of this varietal; the average age of those vines is 55 years).
Opalie de Château Coutet – AOC Bordeaux: The opal is precious stone prized for its beauty, reflecting light to shine in multiple colors that renders each one an inimitable and boundless expression of itself. Unique in its vivacity and richness, Opalie de Château Coutet is a first-of-its-kind dry white wine from Barsac, produced in limited quantities from the heart of this Premier Grand Cru. The inaugural 2010 vintage of Opalie de Château Coutet is delighting palates with its exceptional refinement and finesse and defining an exciting new style of dry white wine from Bordeaux.
Opalie de Château Coutet comes from the quintessential parts of the Grand Cru vineyards, comprised of fruits selected from a few rows of 40-year-old vines that are planted in the thickest layers of clay and limestone in the estate's soil, dedicated solely to Opalie production. Along with the local climate, these conditions contribute significantly to the aromatic complexity of the wine. The fruit is harvested manually, using small baskets to collect and protect the matured berries prior to arriving at the cellar.
Château Coutet follows a traditional approach to winemaking, which is enhanced by the estate's savoir-faire in selecting the perfect fruits. The distinguished flavor of the wine comes from combining in equal parts the body and depth of Sémillon with the elegance of Savignon Blanc. As a result, Opalie de Château Coutet is a memorable, elegant dry white wine with crisp mineral characteristics. True to its classic heritage, this wine is fermented and aged in French oak barrels. The blend consists of Sémillon and Sauvignon Blanc.
The Estate of Château Coutet
Area of the estate: 42 hectares
Area of vines: 38.5 hectares (95 acres)
Density: 7,500 vines/ha (3,000 vines per acre)
Average age of vines: 38 years old
Soil: clay with fine gravel on a limestone sub-soil
Grape varieties: 75% Sémillon, 23% Sauvignon Blanc, 2% Muscadelle
Average production: 42,000 bottles per year (3,500 cases per year, 10-year mean)
Owners:
– Philippe Baly, Owner and General Manager
– Dominique Baly, Owner
– Aline Baly, Owner and Director of Marketing and Communications
Château Coutet– Premier Grand Cru Classé en 1855 – AOC Barsac
33720 Barsac, France
Tél: +33 (0)5 56 27 15 48
For more information about Château Coutet, visit: (Website) (Email:
info@chateaucoutet.com)
Acknowledgements: Natalie Ehalt, Spanish teacher at Hiawatha Academies, Minneapolis, MN and Senior Editorial Manager and writer with A Woman's Paris.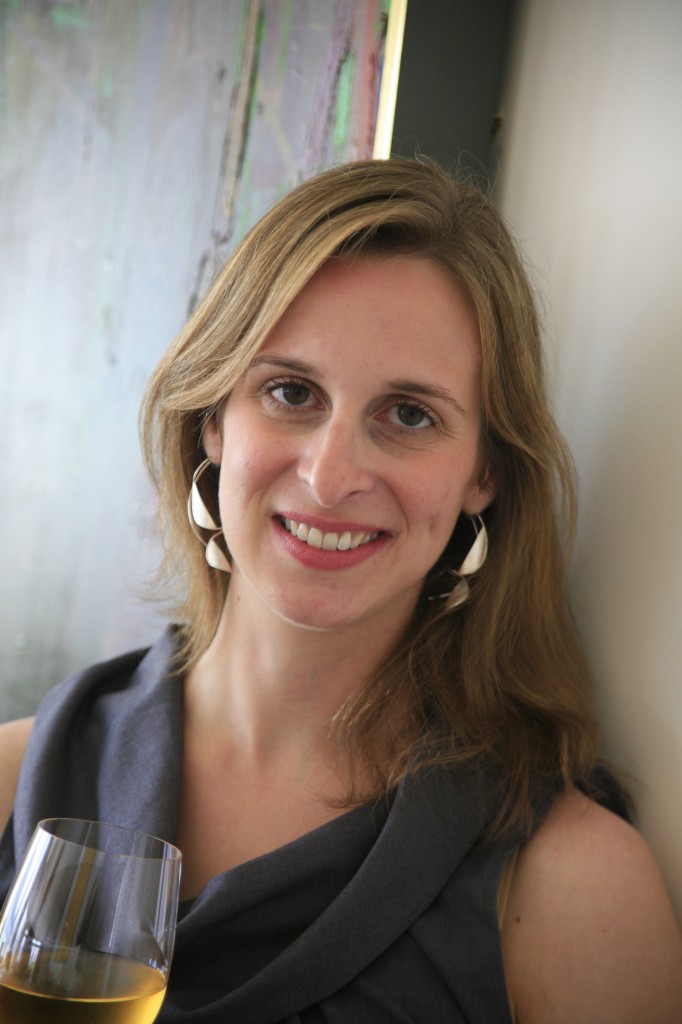 Aline Baly, representative of the third generation owner, is currently responsible for the strategic marketing of Château Coutet. She first received a Bachelor of Arts in Economics and International Relations from Bucknell University (Lewisburg, PA, USA). Then in 2008, she earned her Master of Business Administration, Marketing and mention entrepreneurship at the Kellogg School of Management (Evanston, Illinois, USA). Prior to joining Kellogg, Aline Baly was a marketing specialist for an American multinational manufacturer of equipment and consumables to the life sciences industry. Originally from Paris, she also lived in Boston (USA), Hong Kong (China) and Madrid (Spain). After 20 years of expatriate life, Aline is pleased to finally be 'home,' while enjoying many travels around the world sharing with Coutet enthusiasts the essence of its exceptional terroir, refinement and distinction of its wine, not to mention its balance and finesse. For more information about Aline Baly or Château Coutet visit: (LinkedIn) (Email: aline.baly@chateaucoutet.com) (SKYPE: aline.baly) (WeChat ID: ChateauCoutet)
You may also enjoy A Woman's Paris® post Wine Lovers' Choice: 154 Wines of France from Bordeaux and Champagne. Is "tasting stars" on your list for great food and wine pairings? Not sure what wines to try next? We, too, like wine lovers from around the world, have a special love affaiar from wine "where sudden friendship springs," as John Gray said. We sip the wine and find dreams come through. Aren't we always looking for clues that there is a "star" behind the recognized labels, for personal, unforgettable moments? Become a part of our conversation. We celebrate the art and ideas of people from every place and every heritage.
Wine in France: Florence Cathiard of Château Smith Haut-Lafitte, together with her husband Daniel (both former French Olympic skiers), brings finesse and exceptional detail to making great wines. "Impose your good fortune, keep hold of your happiness and embrace risk: they will be watching you and will get use do it." —René Char, French poet (1907-1988). It's a motto Florence Cathiard tells her grandchildren hoping it will inspire them as it has inspired her. In 1990, Daniel and Florence Cathiard sold all their business interests to buy Château Smith Haut-Lafitte. Over a two year period, they invested massively in renovating both the winery buildings and the eighteenth century manor house, where they decided to live and to devote their energy to their new found passion: making outstanding white and red wines.
Wine in France: Aline Baly, third generation owner of Château Coutet, on refinement and distinction in wine from one generation to the next. Wine bestows a record of ownership from the beginning of its origin. We might say the wine drinker and connoisseur is also buying into the romance of that vineyards life. More than just fermented grape juice, it is the result of centuries of contact with a terroir, decades of families transmitting their savoir-faire from one generation to another and the daily rigor of a committed team to perpetuate the quality and style of a château into the future.
Wine in France: Exceptional food pairings with Château Coutet Sauternes and dry white wines (recipes). The regions of Barsac and Sauternes have plenty of traditions, but there are no rules. There is no need to be a Michelin star chef—a grilled lobster or a roasted turkey will do the job. Also, pairing wines with cheese—Sauternes is the best hostess trick. When offering guests a diverse cheese tray, Coutet's wines are the safest to serve; they go with most cheeses.
Wine in France: Véronique Sanders of Château Haut-Bailly – recipient of the "Chevalier de l'Ordre National du Mérite" honorary title awarded by the French government. The great wines of Bordeaux definitely symbolize tradition, quality and art de vivre à la française; they carry a strong image of the best of what France offers. Château Haut-Bailly is one of the greatest terriors of Bordeaux, and Véronique Sanders, General Manager of Château Haut-Bailly, shares with us the defined sense of style and personality of its wines and her place among women in wine in France.
Wine in France: Dewey Markham Jr., wine scholar, food connoisseur, and author of "1855: A History of the Bordeaux Classification" a James Beard award book, 1997. Dewey Markham Jr. gives us a taste for the process of establishing that connection between wine and the wine drinker and shares with us the truly great vintages of the twenty-first century from Bordeaux, France.
Wine in France: Charles-Erwan Savary, Champagne Ambassador to France, wine educator, and founder of "People and Wine". Each type of wine is related to a different story, a different 'mythology' that comes from the improved quality of the beverage itself, Charles-Erwan Savary tells us. The history of the vineyard, the history of prestigious producers, the legend behind some producers and famous consumers… For sure Champagne lovers do not praise only the liquid itself, but also the myth of Champagne. 
Wine in France: Carol Duval-Leroy, President of Champagne Duval-Leroy and respected partner of the global sommelier community, on the essence of exceptional quality Champagne. Carol Duval-Leroy joined a very select group of women involved in running Champagne houses in 1991. After the sudden loss of her husband that same year, she became company chairwoman. For ten years, modernization of production processes, development of traditional distribution channels, increased product range and expanded exports have all been Carol Duval-Leroy's objectives for her company. Today, the brand's whole image bears the mark of her passion for this profession.  
Wine in France: Alice Paillard of Champagne Bruno Paillard on the delicate effervescence, remarkable purity, true freshness, and silky texture of Champagne style. It is probably the experiences abroad, combined with a fascination for the great wine that Champagne can be, that brought Alice Paillard back to where she grew up, in Reims. These contacts with very diverse cultures combined with the love for quality and the attraction of a young and dynamic company, quality gave her the will to join Champagne Bruno Paillard and help promoting her family's wines through the world, in January 2007.
French Impressions: Mireille Guiliano's "Meet Paris Oyster" in pursuit of the world's best oysters and wine pairings with them. With her characteristic wit, wisdom, and storytelling flair, Mireille will soon have you wanting to eat oysters at least every week. A former chief executive at LVMH (Veurve Clicquot), Mireille Guiliano is "the high priestess of French lady wisdom" (USA Today) and "ambassador of France and its art of living" (Le Figaro). She is the author of the #1 New York Times bestseller French Women Don't Get Fat, as well as French Women Don't Get Facelifts. (Excerpt: Meet Paris Oyster)
French Impressions: Ann Mah's "Mastering the Art of French Eating" on gastronomic adventures in France. Ann Mah is a food and travel writer and author of a food memoir, Masting the Art of French Eating and a novel, Kitchen Chinese. When journalist Ann Mah's husband is given a diplomatic assignment in Paris, Mah, a lifelong foodie and Francophile, begins plotting gastronomic adventures à deux. Then her husband is called away to Iraq on a yearlong post—alone—turning Mah's vision of a romantic sojourn in the City of Light upside down. Including a recipe for Bavette aux Échalotes (skirt steak with shallots). (Excerpt: Mastering the Art of French Eating)
Patricia Wells' "The Food Lover's Guide to Paris" on Restaurants, Bistros, and Brasseries (excerpt). Patricia Wells, author of the award-winning Bistro Cooking, and for more than two decades the restaurant critic for The International Herald Tribune, takes readers, travelers and diners to the best restaurants, bistros, cafés, patisseries, charcuteries, and boulangeries that the City of Light has to offer. Including Willi's Wine Bar's Bittersweet Chocolate Terrine—the irresistible chocolate dessert that is one of Patricia's Paris favorites.
French Impressions: What's cooking in Paris: David Lebovitz on the secrets of French cuisine. Ten years ago, David Lebovitz packed up his most treasured cookbooks, a well-worn cast-iron skillet, and his laptop and moved to Paris. In My Paris Kitchen, David remasters the classics, and introduces lesser-known fare. Through his recipes and stories we get insight into his delicious and extraordinary world. Including David's recipe for Salted butter caramel-chocolate mouse. (Excerpt: My Paris Kitchen)
Alexander Lobrano's "Hungry for France" – My appetite for France (excerpt). Hungry for France: Adventures for the Cook & Food Lover by acclaimed food writer and Paris-based author Alexander Lobrano. Every food lover's ultimate dream is to tour the countryside of France, stopping off at luxurious inns with world-class restaurants and sampling fresh produce and regional specialties from local markets. Hungry for France offers just that with Lobrano sharing his thirty-plus years of exploring every corner of this gastronomically rich country with readers. Including a recipe for Layered Ratatouille Gratin.
Text copyright ©2014 Château Coutet. All rights reserved.
Illustration copyright ©2012 Barbara Redmond All rights reserved.
barbara@awomansparis.com