French Impressions: Janet Hubbard's "Bordeaux: The Bitter Finish" on mystery writing – digging below the surface, behind the façade, lurks story, rumor, and competition
08 Thursday Jan 2015
Tags
Agatha Christie, All the Light We Cannot See Anthony Doerr, Bordeaux France, Bordeaux wines, Bordeaux: The Bitter Finish Janet Hubbart Poisoned Pen Press, Boswell's Life of Johnson Samuel Johnson, Brideshead Revisited Evelyn Waugh, Cara Black, Champagne: The Farewell Janet Hubbard Poisoned Pen Press, Colette, Elizabeth George, France, French crime, French mysteries, French wines, Janet Hubbard, Jeffrey Siger Poisoned Pen Press, Jennifer McMahon Promise Not to Tell, Linda Fairastein, Linda Fairstein Alex Cooper Crime Novels, Marcia Mueller, Martin Walker, Mary Higgins Clark, Mystery novels, Paris, PD James, Sheila M Merrit Mystery Scene Magazine, St Emilion France, Sue Grafton, The Hunchback of Notre Dame, Wine Spectator Robert Parker
Share it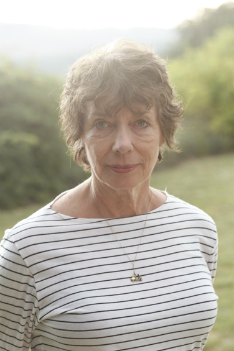 Janet Hubbard divides her time between Vermont, Virginia, and France. This series is a result of annual trips to France over a twenty year span to visit French friends, and a love of wine and the wine culture that let extensive stays in some of the wine districts, including Champagne and Bordeaux.
A Virginian by birth, Janet Hubbard is a graduate of New York University and a former employee of Time-Life Books. She wrote over twenty non-fiction books for Chelsea House Publishers, a school and library publisher, under the name Janet Hubbard-Brown, and has an active editing and teaching business in Vermont. For more information about Janet Hubbard visit: (Website)
In Bordeaux: The Bitter Finish: A Vengeance in the Vineyard Mystery, thirty-year-old NYPD detective Max Maguire returns to France as bodyguard to a famous American wine critic. But when her client turns up dead in her hotel room, and a precious bottle of wine goes missing, Max has no choice but to team up with examining magistrate and former lover, Olivier Claumont.
Max, using aggressive tactics learned from her homicide detective father, stays one step ahead of Olivier in the investigation. Olivier's more elegant approach takes them into the heart of Bordeaux society where he is sure the murderer and some fine dining lurks. Is a counterfeit wine operation with ties to New York somehow connected to the critic's murder?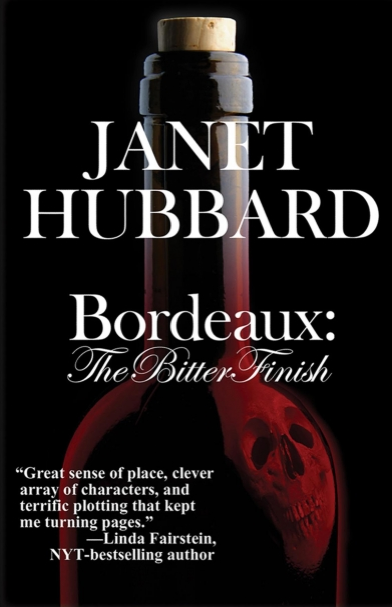 Bordeaux: The Bitter Finish is book two in the Vengeance in the Vineyard series and follows Champagne: The Farewell. Readers are introduced to the fascinating world of fine wine, and to a cast of characters (and suspects) sure to keep even the most discerning critic on the edge of their seats. To purchase Bordeaux: The Bitter Finish (2014, Poisoned Pen Press), visit: (Amazon) (Indiebound) (Poisoned Pen Press).
Subscribers, Bordeaux: The Bitter Finish by Janet Hubbard, the author of Champagne: The Farewell, is book two in the Vengeance in the Vineyard series. Free hardcover book giveaway to two subscribers ends January 9, 2015. A $ 24.95 U.S. value (2014, Poisoned Pen Press).
Subscribe free. Once subscribed, you will be eligible to win—no matter where you live worldwide—no matter how long you've been a subscriber. You can unsubscribe at anytime. We never sell or share member information.
Praise for Bordeaux: The Bitter Finish
"BORDEAUX: The Bitter Finish will appeal to foodies, Francophiles, oenophiles, and fans of whodunits. It is a delicious and intoxicating read." —Sheila M. Merrit, Mystery Scene Magazine
"…A good choice for Peter Mayle fans." —Karen Muller, Booklist
"Janet Hubbard brings the Bordeaux region to life in this scintillating novel steeped in the colors, scents and flavors of France that will have both mystery fans and armchair travelers unable to turn the pages fast enough. Max Maguire is back, diving into the dark side of the wine trade to solve a murder, and woe is it to anyone who stands in her way! Sit back, raise a glass and prepare to be delighted." — Jennifer McMahon, New York Times bestselling author of Promise Not to Tell
"What a delicious mix of fine wine and murder in Janet Hubbard's Bordeaux: The Bitter Finish. Great sense of place, clever array of characters, and terrific plotting that kept me turning pages, thirsty for another glass of vintage writing that the author serves up in her series." —Linda Fairstein, New York Times bestselling author of the Alex Cooper Crime Novels
Photography: Henry Roy, Paris
Excerpts:
Chapter one: "Bordeaux: The Bitter Finish" a vineyard mystery and the world of fine wine (part one)
Chapter two: "Bordeaux: The Bitter Finish" greed, suspense, murder – lust for the best vintages (part two)
INTERVIEW: Bordeaux: The Bitter Finish
Wine gives great pleasure; and every pleasure is of itself a good. It is a good, unless counterbalanced by evil. – Samuel Johnson, Boswell's Life of Johnson
AWP: You are the author of Bordeaux: The Bitter Finish. What inspired you to write this book?
JH: I had the idea of writing a mystery series set in the wine districts of France when I was at the wedding of a dear friend in the village of Cumieres (Champagne) fourteen years ago—the same wedding that opens CHAMPAGNE: The Farewell, the first novel in this series. There were no murders at the actual wedding, of course, but the bride, Astrid Latapie, had spent a couple of summers with my family in Vermont. It so happens that she was from the French aristocracy, with ties to local vineyards. Her family home in Champagne is the banner photograph on my website.
AWP: Tell us about the research for Bordeaux: The Bitter Finish. What were the challenges, and how did you uncover stories that left their fingerprints in your murder mystery of Bordeaux?
JH: Astrid and I started writing the series together, setting the first novel in Champagne, which is further described below. Years later we went together to Bordeaux, where an importer named Paul Chevalier introduced us to the skills involved in tasting wine. We toured wineries, talked to winemakers, and drank quite a lot of lovely wines. Bordeaux is where the culture of fine wines originated, and its reputation is maintained by the formality of the people and the grand chateaux along tree-lined roads. Behind the façade of tremendous power and wealth lurks story, rumor, and competition, all fed by my imagination.
I speak rudimentary French, and that is always a challenge for me, but Astrid made my introduction into this rarefied world easy. Most of the research involved thefts and counterfeiting, both much more prevalent than people know. The main part of the novel is set in the city of Bordeaux and in the medieval village of St. Emilion, while the rest is set in New York City.
AWP: I imagine you never pass up an opportunity to see something new, a scoop on real French crime. Where wouldn't you go? What wouldn't you do?
JH: I do read about crimes in the French press when writing these novels, which are contemporary, and come across a few murders. Recent scandalous news is that Nabilla Benattia (the French Kim Kardashian) attempted to murder her boyfriend.
I also try to dig a little below the surface and consider people from different social backgrounds. It is common knowledge that French-Arabs have a difficult time finding good jobs that allow them to leave the slums on the outskirts of Paris. This is how I created my young Arab detective, Abdel Zeroual. I was hesitant, at first, to explore prejudice left over from the Algerian War for fear of not getting it right, but I am glad I did. Abdel has become a favorite character of mine and of my readers as well.
I am interested in the complexity of human relationships. There is one area that's off limits for me: I would not write about crimes against children. 
AWP: On any occasion were you warned that you should not attempt to invent this story? What was this warning and by whom?
JH: An editor at Wine Spectator warned me against making counterfeiting a major part of the story and naming a real criminal in my story, Rudi Kurniawan, but I did include this story, noting his arrest in the U.S., and made sure that my research was accurate. I suspect that the wine industry does not want to be tarnished by sordid stories.
AWP: During your research for Bordeaux: The Bitter Finish, what aspect of Bordeaux's history wouldn't you include?
JH: I can't think of any part of that area's history that I would leave out. I wished when writing that I could have included more history: for example, the English influence on the city of Bordeaux. I am also intrigued by the Vichy government operating in the south of France during World War II, which I touched on in the first novel, CHAMPAGNE: The Farewell. I don't believe wine production was affected, given that the Germans also appreciate fine wine.
AWP: You have great insights into human nature and the sublime experience of deceit, transformation and connectivity, a theme that runs throughout your book. What is the most surprising thing you learned about the Bordelaise? The French?
JH: All novels are about human nature, but with crime fiction, authors must expose the shadow sides of their characters. I have always been interested in the flaw in someone who seems to have it all—wealth, reputation, power—that would cause him or her to commit a crime.
Particularly the Bordelaise who work in the wine business, though I was impressed by their sartorial elegance in the chateaux and tasting rooms, didn't surprise me. Everyone, and everything is dressed up to the point that you almost feel you have entered some pristine world of perfection: the castles, the grounds, the new tasting rooms, the storybook medieval town. Bordeaux wines are a global business, and in fact most of the famous chateaux are owned by huge corporations today, and many have been bought by foreign enterprises. The clientele has changed, too. With the clamoring for status, there is much more diversity in the tasting rooms, where Asians have also become obsessed with Bordeaux wines.
AWP: At times you intimately describe the selling of dreams. How do you unfold this story of transformation from the beginning of the mystery to its end?
JH: Prior to the seventies, Bordeaux was a purveyor of fabulous wines, and most members of the upper classes in Europe were accustomed to drinking them. Robert Parker is given credit for creating the wine boom in the United States during that period. Others name the wine merchant Alexis Lichine. Fine Bordeaux wines are a status symbol, and investors began to clamor for the older vintages after the 2008 economic collapse, treating them as an investment. This created tremendous competition among collectors and restaurants. Several characters in my novel are counting on wine to change their lives, from the foreman at a chateau to a woman who climbs the ladder at an auction house, which for some lead to a bitter finish. Wine does seem to serve as a metaphor for this book if you consider how it transforms from grape to elixir—or vinegar.
AWP: You are making some very interesting discoveries about Bordeaux and its wine trade through research and archives. Are you finding an underlying theme that could only happen in France?
JH: It is subtle, but when you study counterfeiting, it seems that the counterfeiter, the sellers, and the collectors are in collusion, as all are concerned with reputation. The collector would rather swallow (pardon the pun) the many thousands of dollars lost on a counterfeit wine than be singled out as a fool. In that same vein, chateaux owners are loathe to report thefts, as they don't want the attention. This sets up an atmosphere for avarice. Greed is universal, but by putting my characters in Bordeaux it is like putting them on Wall Street, where temptation is high.
AWP: What is it about crimes of France?
JH: Crimes occur, of course, but not on the level they do in the U.S. I was amused recently when reading an article in The Telegraph (London) about a Cartier jewelry heist that took place in Paris in November. One of the suspects was "dressed in a trench coat and a beret, with a towel on one hand and holding the hostage with the other." They dropped the hostage and fled on a scooter, shooting into the air. The thieves ended up turning themselves in. The city of Bordeaux has an extremely low crime rate.
A sub-theme in my novel is corruption in high levels, and some of that material came from reading about investigators in real life going after a politician. My character Olivier Chaumont, a juge d'instruction (examining magistrate) will spend years bringing some of these people to justice, something I greatly admire about him. (No wonder Nicholas Sarkozy wanted to eliminate the role of the juge d'instruction from the court system when he was president.)
AWP: Your quest to entrench yourself in a different part of France: why did you decide to set your novel in Bordeaux?
JH: Astrid and I wrote CHAMPAGNE: The Farewell first and came very close to selling it to an agent in New York around 2004. When we didn't make the final cut, we went to Bordeaux and over the next two years wrote BORDEAUX: The Bitter Finish. Soon after, Astrid decided to take a position in a French company and opted out of the series. My agent, Kimberly Cameron, sold BORDEAUX as the first novel in the series, but my publisher, Poisoned Pen Press, wanted CHAMPAGNE to lead, and I rewrote it, which meant introducing Max and Olivier in that book instead of Bordeaux. The next one will be set in Burgundy, which I am excited about visiting in March, though much of the story is set.
AWP: Is there one statement that channels everything you love about French wine?
JH: I've always loved this scene from Evelyn Waugh's Brideshead Revisited where two characters are drinking fine wines, and their praise of them grows wilder and more exotic:
"…it is a shy little wine like a gazelle."
"Like a leprechaun."
"Dappled, in a tapestry meadow."
"Like a flute by still water."
"…And this one is a wise old wine."
"A prophet in a cave."
"…and this is a necklace of pearls on a white neck."
"Like a swan."
"Like the last unicorn."
Oenophiles and critics are known to wax rhapsodic over certain fine wines, which make Waugh's lines even funnier.
WRITING
AWP: When you started writing Bordeaux: The Bitter Finish, did you have a sense of what you wanted to do differently from other mystery novels set in France?
JH: I knew I wanted to have a bi-cultural crime-solving team. I think the relationship between Max Maguire and Olivier Chaumont could be considered a composite of several of my friendships abroad—the subtle misunderstandings, the humor, the joy of being together. I also wanted to write about the culture of fine wines, yet not be pedantic, which proved to be a challenge.
AWP: Why did you feel that now, in particular, would be the right time to publish your book, Bordeaux: The Bitter Finish?
JH: The timing chose me. I had been sending BORDEAUX out periodically, and had positive responses about the writing, but what came through was that after the U.S. invaded Iraq in 2003, France had dropped a notch or two on the American popularity chart. (Temporarily, thank goodness.) Also, the publishing industry was undergoing vast changes, and houses were unwilling to take on new authors and new series for a time.
My agent, Kimberly Cameron, read BORDEAUX: The Bitter Finish and sent me a contract two weeks later. She spends half the year in Paris. My pinch-me-I'm dreaming-moment occurred in Paris when I was there for Christmas in 2011. Kimberly and her husband David invited my daughter Ramsey and me to their fabulous apartment almost adjacent to the Tour Eiffel, where Kimberly and I had a short business meeting, and then we all walked across a little park to a café through drifting snow. I was lunching with my literary agent in Paris! 
AWP: What do you think it is about your mysteries, Bordeaux: The Bitter Finish and Champagne: The Farewell, that makes readers connect in such a powerful way?
JH: Wine, and France, draws them in, but it is the characters in the story that appeal to readers. CHAMPAGNE is a family drama that has a historical bent to it. With BORDEAUX, I think readers relate to the investigators and to the criminals, for who among us has not at one time or another wished we had more? The romance between Max and Olivier is a connecting factor—two people from two different cultures trying to understand each other.
AWP: What inspired you toward a life and career so dependent on words and the ability to communicate?
JH: I grew up in the South—front porch sitting with relatives telling stories, and a lot of reading as a kid. I started out training in college to be an actor, but once in New York I didn't have the courage to really go for it. I learned about research, editing, and rewriting at Time-Life Books. When I moved to Vermont I took those skills with me and created my own small business in a studio in my back yard, where I edited, taught writing, and eventually was hired to write books for children and teens. A perfect career for a woman raising two children. I am a late-bloomer with fiction, and am proud that the courage (and perseverance) was there this time!
AWP: When did you first encounter French literature? Who were your favorite writers? 
JH: I grew up in a small southern town where French was an exotic language (any language was exotic!). Oddly, I listened to Edith Piaf records, discovered quite by accident, but don't remember what books we used in French class. At college I recall reading Colette in French, and we studied The Hunchback of Notre Dame. When I transferred to NYU, I studied some of the classics, including Montaigne, Rimbaud, Stendhal, and Proust. On my own I discovered George Sand (favorite), Simone de Beauvoir, and others. I have read all of Diane Johnson, who also divides her time between the U.S. and Paris, and was thrilled to be invited to her apartment for coffee. (Another serendipitous moment occurred in 1998 when Toni Morrison was signing books in Paris and I attended the signing with my sister.) I have a photograph from that meeting. When I began writing mysteries I discovered French author Fred Vargas, who isn't known here but is wonderful.
AWP: Who are considered the most important of the earlier women writers in this genre?
JH: Agatha Christie, of course. I think the role models for contemporary mysteries are PD James, Elizabeth George, Linda Fairstein, Mary Higgins Clark, Sue Grafton, Marcia Mueller, to name a few. It's funny to think I am of the same generation as some of them, but I am just starting out.
AWP: Could you talk about your process as a writer?
JH: I live in a house in a clearing in the woods, with a studio that sits beside a brook. When I am in writing mode, and not touring around, I go to the studio around 7:30 and work until 9ish, then walk four miles with a friend or neighbor. The manuscript is open when I return, and I am ready to continue. As I am easily distracted, I leave the phone in the house. I am in the studio sometimes until four or five, writing, gazing out the window, having a nap in my Morris chair, doing research, and writing some more. The only thing that is consistent about me, I think, is that I do try to write something every day, even if it is in my journal.
AWP: What elements inform your style?
JH: Food and wine are strong elements. A dinner at Veritas Restaurant is re-created in Chapter 10 of BORDEAUX, and I went to a wonderful food writer, Dawn Land, in New York City for help with that. I have been told many times that my novels read like screenplays, so I would say cinematic dialogue is another strong element. A sense of place. Humor and romance.
AWP: What do you think today's mystery writers bring to the travelers' experience?
JH: Imagination. Connection to a place through the characters in the novels. Martin Walker's "Bruno" series does this brilliantly. You want to go knock on his door—excuse me, Bruno's door. Writers also create a sense of place; Craig Johnson whose mysteries are set in the West, is known for using landscape as character, and my Poisoned Pen Press colleague, Jeffrey Siger, who sets his mysteries in Greece where he lives also creates a strong sense of place.
AWP: In general, what opportunities or challenges do you experience as an American writer in France?
JH: I have half a dozen close friends in France, and they open up so many opportunities for me when I am traveling there. I always have a place to stay. Through these friends I have made numerous other acquaintances, which is not so much about opportunity, but about being received warmly. I have to say that they are quite tolerant of my spontaneity, openness, and blatant love of their country.
I am still language-challenged, which frustrates me so much. My goal is to go somewhere in France for an immersion month and get rid of the self-consciousness.
AWP: Tell me about your travel habits in France when you are working on a book. What is the best part about research and writing in France? The worst?
JH: I almost always travel with friends, even going on vacations with them. The best part about research is meeting such a variety of people. I am especially excited about being in Burgundy in the spring, as I haven't visited the region in years. The people there have a reputation for being more outgoing than the inhabitants of Champagne and Bordeaux. The worst part is worrying if I am getting enough notes and taking enough photographs, for I know I will go back to Vermont to finish the book. This is stressful. And sometimes it is exhausting, as every moment feels like a learning curve, whether it's around language, wine talk, or wondering how Max and Olivier would do in this situation. I love it, though.
AWP: What was the last book you read? Would you recommend it?
JH: All the Light We Cannot See by Anthony Doerr, a magnificent book set in St. Malo during World War II. It isn't a mystery, but the suspense is crazy-making. And I adore the Elena Ferrante series that starts with My Brilliant Friend—again, not mysteries, but great writing.
THE ART OF LIVING
AWP: Some women are predisposed, each in their own way, toward France—through fantasy, family or a cultural context. How did your interest in France unfold?
JH: I traveled through Europe with a friend in my late teens (late Sixties), where I had such a strong sense of déjà vu that I was half-convinced later when I was introduced to meditation and reincarnation that I had lived there in a previous life. I returned to Paris when I was twenty-one and found work as an au pair and studied at Alliance Française for ten months. It was pure joy to be young and in Paris.
AWP: Describe your own "France."
JH: A story I like to tell at my readings is about being in Paris when Buzz Aldrin landed on the moon. I was in a hole-in-the-wall bar that had a little black-and-white television propped up on a shelf in the corner that was turned to the moon landing. I remember sipping a vin ordinarie and smoking a Gauloise cigarette, the only American in the place. When I arrive in Paris these days it feels like "home" because I move in with my friend Colette, who I met the year I was an au pair. We know each other's families, and our children are close. Wherever I am in France, I live the life my friends live: long walks through Paris going to galleries, an afternoon stop in the café for coffee, and sometimes dinners out. When I went with Astrid on vacation to an area called Gers, I walked hours through sunflower fields, and explored villages, and at night she and her friends cooked and we dined outside under the stars, drinking wine and telling stories. I am very spoiled by these people. What I have learned from this interview is that it always comes down to community for me, whether I am in the South, in France, or in Vermont—incredibly important for a writer who spends a great deal of time alone.
AWP: Your career has taken you to France several times. How would you describe your life, on assignment?
JH: Stressful because I am at work, and trying to take in everything at once—and great fun.
AWP: Your life is extraordinary. What's next?
JH: I am just finishing a non-mystery novel entitled Moira's Secret and am in the process of writing the third of my Vengeance in the Vineyard series, this one set in Burgundy.
I am peripatetic. I rent my house out in ski season and usually go south to Virginia to write the next novel. Last winter, however, I launched BORDEAUX: The Bitter Finish in San Francisco and gave readings in eight cities. BORDEAUX was one of 90 books considered for a prize by the American Library in Paris, and though I didn't end up in the finals, five copies of my book are there. I will be organizing readings (mostly for ex-pats) when I am in Paris and might stay a few months in France. I am planning to give a writing workshop at my sister's 58,000-acre ranch, Willow Creek Ranch at the Hole in the Wall, next September with author Tina Welling. This will be posted on the ranch website and on mine in January. Interested people can go to www.willowcreekranch.com and www.janethubbard.com. We will combine writing with rodeos and overnights at the Hole in the Wall, and maybe be honored by a visit from friend Craig Johnson of the "Longmire" novels and television series. He's also extremely popular in France.
Acknowledgements: Bailey Roberts, senior Linguistics major at Macalester College in St. Paul MN and Translation/Editing intern with A Woman's Paris.
BOOKS BY JANET HUBBARD
Bordeaux: The Bitter Finish: A Vengeance in the Vineyard Mystery (2014)
Champagne: The Farewell: A Vengeance in the Vineyard Mystery (2012)
 You may also enjoy A Woman's Paris® post French Impressions: Cara Black's "Murder Below Montparnasse" and her adventures through the history and mystery of Paris' quartiers. Seductively and irresistibly French, The Aimée Léduc Series is one of the best heroines in crime fiction today. Cara Black is the national best selling author of Murder in the Marais, and shares a behind-the-scenes look at mystery writing and Paris.
French Impressions: Tilar J. Mazzeo's "The Hotel on Place Vendôme" – 1940s sex, parties and political intirgue at the Ritz in Paris. This riveting account uncovers the remarkable experiences of those who lived in the hotel during the German occupation of Paris, revealing how what happened in the Ritz's corridors, palatial suites, and basement kitchens shaped the fate of those who met there by chance or assignation, the future of France, and the course of history. Tilar J. Mazzeo, is author of the New York Times bestseller The Widow Clicquot, and The Secret of Chanel No. 5.
French Impressions: Capital Fare: Patricia Wells on great French food in Paris. Patricia Wells, author of the award-winning Bistro Cooking, and for more than two decades the restaurant critic for The International Herald Tribune, takes readers, travelers and diners to the best restaurants, bistros, cafés, patisseries, charcuteries, and boulangeries that the City of Light has to offer. Including recipe for Willi's Wine Bar's Bittersweet Chocolate Terrine—the irresistible chocolate dessert that is one of Patricia's Paris favorites.
French Impressions: What's cooking in Paris: David Lebovitz on the secrets of French cuisine. Ten years ago, David Lebovitz packed up his most treasured cookbooks, a well-worn cast-iron skillet, and his laptop and moved to Paris. In My Paris Kitchen, David remasters the classics, and introduces lesser-known fare. Through his recipes and stories we get insight into his delicious and extraordinary world. 
French Impressions: Alexander Lobrano on eating well in France: a culinary tour of alluring inns, food producers, restaurants and winemakers. Alexander Lobrano was European Correspondent for Gourmet magazine from 1999 until its closing, and has written about food and travel for Saveur, Bon Appetit, Food & Wine, the New York Times, Wall Street Journal, Guardian, Travel & Leisure, Departures, Conde Nast Traveler, and many other publication in the United States and the United Kingdom. Every food lover's ultimate dream is to tour the countryside of France, stopping off at luxurious inns with world-class restaurants and sampling fresh produce and regional specialties from local markets. 
French Impressions: Ann Mah's "Mastering the Art of French Eating" on gastronomic adventures in France. Ann Mah is a food and travel writer and author of a food memoir, Masting the Art of French Eating and a novel, Kitchen Chinese. When journalist Ann Mah's husband is given a diplomatic assignment in Paris, Mah, a lifelong foodie and Francophile, begins plotting gastronomic adventures à deux. Then her husband is called away to Iraq on a yearlong post—alone—turning Mah's vision of a romantic sojourn in the City of Light upside down. Including a recipe for Bavette aux Échalotes (skirt steak with shallots).
A Woman's Paris — Elegance, Culture and Joie de Vivre
We are captivated by women and men, like you, who use their discipline, wit and resourcefulness to make their own way and who excel at what the French call joie de vivre or "the art of living." We stand in awe of what you fill into your lives. Free spirits who inspire both admiration and confidence.
Fashion is not something that exists in dresses only. Fashion is in the sky, in the street, fashion has to do with ideas, the way we live, what is happening. — Coco Chanel (1883 – 1971)
Text copyright ©2014 Janet Hubbard. All rights reserved.
Illustration copyright ©2012 Barbara Redmond All rights reserved.
barbara@awomansparis.com