The Art Diaries: From Paris to Bretagne (part one)
07 Tuesday Apr 2015
Tags
A Winter's Tale Lilianne Milgrom, Alain Ducasse, Artists in France, Artists in Paris, Boulevard Saint Michel Paris, Bretagne France, Brittany France, Chanel fashion, Charlie Hebdo Paris, cours du Commerce Saint-André Paris, Dinan France, Ecole des Beaux Arts Paris, Eiffel Tower Paris, Elias Canetti, France, How Proust Can Change Your Life Alain de Botton, Ile Saint Louis Paris, Jean Pierre Ruel artist Paris, Julian Taylor painter Paris, Le Soleil Charles Baudelaire, Louvre Paris, Notre Dame Paris, Ouest France magazine, Paris, Pont Saint Michel Paris, Saint-Germain-des-Prés Paris, The Sun Charles Baudelaire, Un journal d'hiver Lilianne Milgrom, Yves Saint-Laurent, Yvonne Jean-Haffen Musée
Share it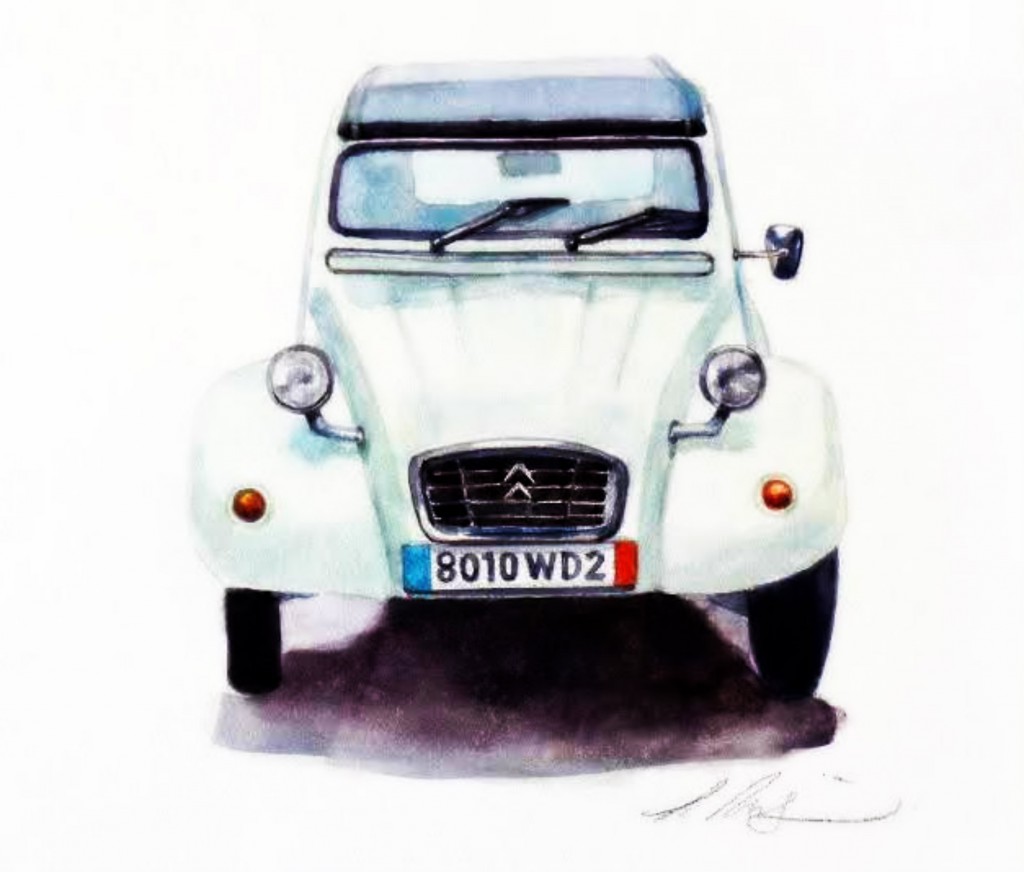 Excerpted from Un journal d'hiver (A Winter's Diary) by Lilianne Milgrom. © 2015 Lilianne Milgrom. Published with permission. All rights reserved.
January 28 to February 12, 2015 (Part one) (part two)
Jeudi (Thursday)
I arrive at Charles de Gaulle airport on a bleak January morning. My taxi drives into Paris, inching forward like an escargot. Open garbage dumps scar the city's urban surroundings. Paris looks positively ugly, until you get closer to its heart. Graffiti provides touches of garish color against deathly white, snow-laden skies. The city looks tired, rough around the edges. Has Paris changed or have I? Perhaps she hasn't fully recovered from the shock of the recent terrorist attacks. Later, in a drafty café, a woman in a stunning pea-green coat smiles broadly at her companion. They luxuriate in each other's company. Outside, a cool ponytailed mec walks by in an oyster-colored, ankle-length coat to die for. My spirits lift. Outerwear saves the day!
Vendredi (Friday)
Wet snowflakes empty the back streets of Saint-Germain of all but the occasional pedestrian. Suddenly I understand Yves Saint Laurent. I mean, really understand him. His muse, his inspiration, his palette is all here—the denuded branches like rail-thin models in black silk sheaths posing against buildings tinted in shades of bone, rose, bleached camel and grey. I buy the latest issue of "Charlie Hebdo." In the evening I share sardines from Marseilles and a fruity Beaujolais with friends. We stroll aimlessly through the Latin Quarter past the majestic, illuminated church wherein lie the vestiges of Sainte Geneviève, patroness of Paris. I am seduced anew by the city. How true is the Proustian belief in the "seductive sweetness of what gets noticed when we don't go by trop vite (too fast)," quoted by Alain de Botton from his book, "How Proust Can Change Your Life."
Samedi (Saturday)
Early morning run along the Seine. I mix paint combinations in my head trying to capture the murky brown, olive-green opacity of the river. A visit to the Ecole des Beaux Arts where some of France's finest artists have been hot-housed since the 17th century. Glimmers of grandeur remain, but I am aggrieved and agitated to see a classic marble beauty defaced by the banality of graffiti. The gravel courtyard glistens in the rain. A beautiful young woman walks by, her raw silk jacket flapping in the wind, her bent head and loose blond hair unable to hide her tears. I wonder who broke her heart last night—Lucas, Jean Marc, Thierry? Or perhaps her grandpapa passed away. Four flights of narrow steps up to my little studio apartment. I slather sweet butter and purple fig jam onto a brioche from Paul's boulangerie. Heaven.
Dimanche (Sunday)
Sunday is not just another day of the week. Church bells peal, stores are shuttered and neighborhood cafés favor the local, rather than the tourist for a change. Frosty wind whips my cheeks. I have wrapped my cashmere scarf no less than four times around my face and neck, Paris-style. Despite the cold, an outside table at a café is not out of the question. I settle under the heat lamps, and cover my knees with the red flannel blanket provided. "Chocolat chaud, s'il vous plait." A steaming pot of hot milk arrives on a tray alongside a cup whose interior has been swirled with arcs of thick melted chocolate like the petals of a flower. Near Odéon a gypsy mother huddles on the cold sidewalk with her baby, begging. Many moons ago, I was robbed by gypsies near Sacré Coeur: passport, wallet, everything. I don't drop any centimes in her cup, but guilt walks beside me for the next few blocks.
Lundi (Monday)
Light snow fell overnight leaving an icy residue on parked cars. A sprightly, chic woman of an advancing age laments about the way her countrymen treat les touristes. I don't agree. I think the French attitude towards visitors has mellowed over the past decade. I buy a silky smooth, beige Alpaca jacket. Not my usual style, too classically elegant, but something about being here makes me want to dress like Greta Garbo. Dinner for one at a small brasserie, red leather banquettes and crimson sconces create a warm, flattering light. I sketch a man in a woolen casquette and a stylish woman reading and sipping wine. A gentleman catches my eye and smiles, raising his wine glass. I smile back.
Mardi (Tuesday)
At the crack of dawn an army of mechanical Godzillas advances down my narrow little street; each terrifying footfall shaking the building's very foundations. Mais non! It's only the Paris garbage trucks coming through. The sun makes a brief appearance in the late morning, and the city is momentarily transformed. I once had to memorize Charles Baudelaire's "Le Soleil" (The Sun) of which I only recall two lines:
Quand, ainsi qu'un poète, il descend dans les villes,
Il ennoblit le sort des choses les plus viles,
When, like a poet, he goes down into cities,
He ennobles the fate of the lowliest things
I browse the bins of bookstores on Boulevard Saint Michel. Buy a slim volume by Nobel prizewinner Elias Canetti for one euro. Indulge in a treat from master chocolatier Alain Ducasse whose motto reads: 'Chocolate opens the gates of imagination.' Though delicious, I can't say I was transported to other worlds.
Mercredi (Wednesday)
The dollar is strong and the store windows are plastered with SOLDES! SOLDES! SALE! Impossibly tempting. Stumble upon the cours du Commerce Saint-André—a gorgeous cobblestoned alleyway untouched by time. An evening gallery vernissage provides a new twist: portrait painting as performance art. The artist, dressed in a black smock and brandishing 2-foot long paintbrushes, closes his eyes in meditation before launching into an impassioned feat of painting prowess, capturing his model's changing facial expressions onto a huge length of canvas. Expansive, drippy brushstrokes. The performance continues for twenty minutes before the silence is rudely broken by a spectator who tells the artist that he should know when to stop—and that time is NOW. In my heart of hearts, I agree with him.
Jeudi (Thursday)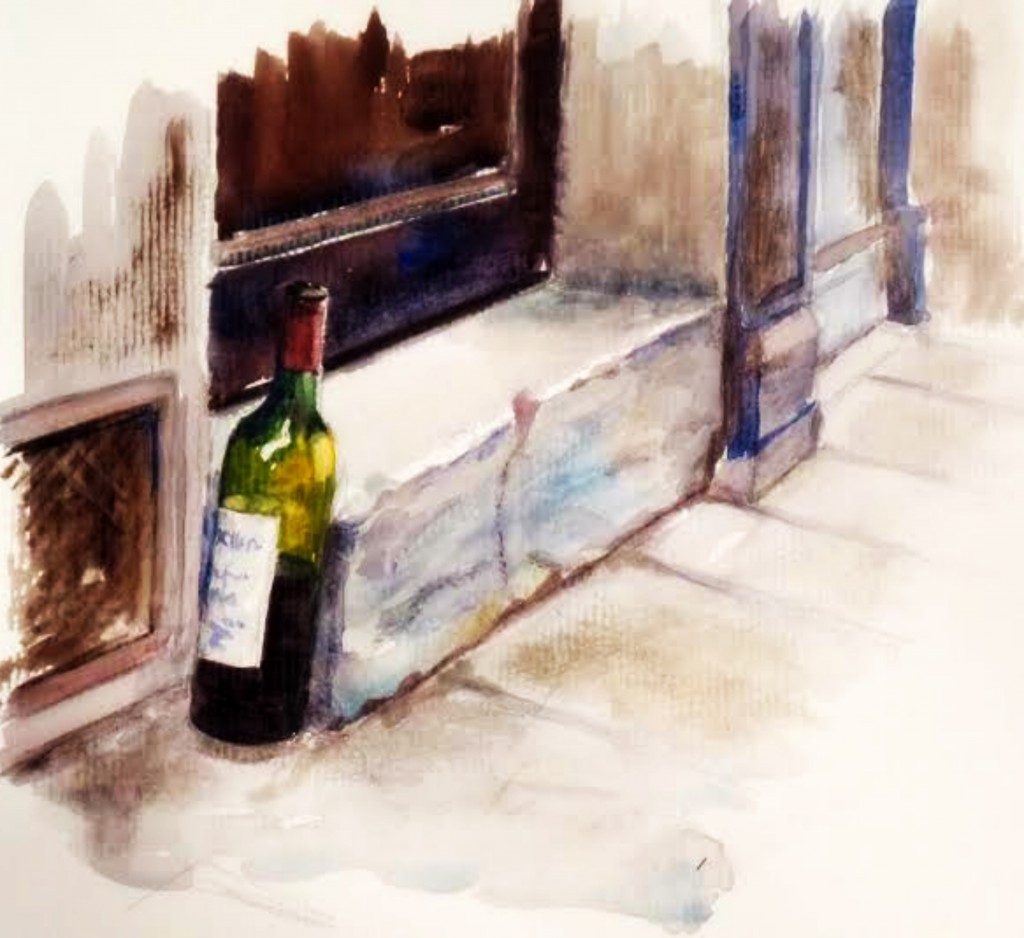 Polar wind and snow flurries. Perfect day to visit the Louvre after ignoring it for the last ten years in favor of hipper art venues. My scarf, hat, gloves, and down-filled winter coat barely protect me from the cold. I worry about the homeless clochard sleeping over the metro grill on the sidewalk with no coat and sockless feet. The Louvre is a lofty temple where one goes to worship Beauty; the tip of its glass pyramid rises like the pinnacle of creative human potential. The sculpture courts are achingly beautiful in their symmetry and silence. Late evening I gravitate to a little corner bar enticed by the sound of a live jazz band with a distinct Louisiana bent. Young woman with a bass guitar larger than she is. How does she get around with that thing?
Vendredi (Friday)
A woman in black mink. Her little white pooch in a black leather vest edged in a Chanel-patterned trim. Dog steals the show, paws down. I discover a wonderful painter—Julian Taylor—in one of the high-end galleries that line the Place des Vosges. All this art is making me peckish. Nothing hits the spot like a café gourmand, a tiny cup of espresso served with little samplings of a restaurant's signature desserts. Wish this concept existed in the United States. My dessert tray includes a few mouthfuls of tiramisu, tarte tatin, and warm chocolate cake. Evening concert at Saint Germain des Prés—seems like I came all the way to Paris to hear my first live Gospel choir. The church is colder than a butcher's freezer and the choir subpar. My friend and I sneak out early, giggling like naughty schoolgirls.
Samedi (Saturday)
Scotsman in a kilt crossing the Pont Saint Michel, his knees (and other body parts) in serious danger of frostbite. A gaggle of Japanese tourists huddle together for warmth. People flock to this city for its legendary beauty, but its beauty is more than skin deep. One senses the historic import of events that took place beneath one's feet. I meet an artist who has spent three years painting different manifestations of Christ's face and is now preparing to join a monastery. Did his repetitive act lead him to dedicate his life to Christ or did his faith lead him to paint? In an alleyway, the tiniest book store—no more than 3 feet deep by 12 feet wide—glassed in on three sides, its back wall lined floor to ceiling with books and a single red folding chair. I chance upon paintings by local artist Jean Pierre Ruel, and my heart skips a beat.
Dimanche (Sunday)
The cold weather does not deter the hardier visitors from Notre Dame and, likewise, Our Lady pays no heed to the dropping temperature; her saints and gargoyles locked in the eternal battle between Good and Evil. I am mesmerized by a huge flock of pigeons congregating noisily around a slip of a man in a red cap: "The Pied Piper of Pigeons." He tosses a rainbow of grain and the birds rise in a single wave of grey-blue feathers. He favors the white one. Albino or displaced dove? Entering the Ile Saint Louis I am grateful for the winter respite from the throngs as I walk the picturesque streets that for a time I called home. How liberating not to elbow my way through a wall of brightly colored, chattering tourists. I am eating way, way too much chocolate.
Lundi (Monday)
Spotted this morning in Paris' pedestrian rush hour—a suit-clad young man walking briskly while treating his face to a battery-operated shave. A noticeable presence of French soldiers patrolling the streets and major attractions. The impact of their battle fatigues and serious fire power are somewhat reduced by the rakish angle of their camouflage-patterned berets. Only a few bouquinistes along the Seine brave the cold. Some still offer interesting vintage ware and authentic out-of-print books along with lots of kitsch. Instead of an Eiffel Tower key ring made in China I buy a small watercolor of the iconic tower from a Russian painter not dressed nearly warmly enough.
Mardi (Tuesday)
Au revoir, Paris. The metronomic rhythm of the train lulls me into a stupor. A fine mist shrouds the countryside in a gossamer veil. Through filigreed stands of trees I spy isolated stone farmhouses. As I get deeper into Brittany—Bretagne—the region's Celtic origins reveal themselves in the name of train stations: Yffinia, Ilfinieg. I am headed into galette and crêpe territory. Towards Dinan to take up an artist residency I have been offered under the auspices of the Yvonne Jean-Haffen Museum. My accommodations are charmingly rustic—a little stone house at the very edge of town, on the port. From the kitchen, I can hear the rush of a creek that flows into the river Rance. I learn that a railing has recently been added to the imposing viaduct that spans the river, because it attracted one too many suicides. Everywhere, so many wounded souls…
Mercredi (Wednesday)
The sun is shining. A good omen for my stay in Dinan. My morning walk leaves me grinning ear to ear at the picture-perfect scenes that unfold at every turn. I know that life in medieval times was no picnic, but they certainly left a stunning legacy. Gabled roofs, stone houses, ancient bridges, arched alleyways, cobblestoned streets, churches, clock towers, and ramparts all competing for my attention: "Paint me!" "No, paint me!" I am resisting all temptation because I want to use my residency on a project that depicts this area in a different light. I have also been resisting a stop at every crêperie—I will have to space out my crêpe intake, or I will need to be fork lifted out of my little house. Evenings in the atelier require a hat and a woolen blanket around my shoulders to keep the chill out of my bones.
Jeudi (Thursday)
Foggy, damp morning. The promised curtains for the atelier have yet to materialize, and in the middle of my yoga practice a face peers in through the window, startling me. The face belongs to the local stonemason who came to check on the ancient retaining wall at the end of the garden. We converse, and when he learns I was born in Paris he exclaims: "But of course! That is why you are so beautiful!" Even within France itself the Paris cachet still holds true. Thursday is market day in Dinan. I wander amidst unfamiliar varieties of mushrooms and root vegetables. Wedged between two apple stands, a stall sells crotch-less panties and naughty nurse outfits. A woman peddles face cream and body lotion made from snails. She smears some on my hand, but I can't handle the idea of snail slime as moisturizer. I can't even eat them. Back 'home' I start my portrait series.
Vendredi (Friday)
I throw open the windows—last night's rain brought milder weather. Walk for miles along the river. Not a soul. A beautiful stone house with marine blue shutters. Tall timbers reflected in the moving waters. Ducks trailed by rippled wakes. The femme de ménage brings me fresh sheets. She tells me she has nothing but the highest regard for the American artists who have passed through—they never steal the linen or the crockery. The gift of being here is nothing more or less than allowing oneself to live in the moment. Don't lose the day in waiting for the night, and the night in fearing the dawn (Seneca). Wise, wise man. My visits to the Louvre have left their mark—I convert my portrait of a worker from the local crate factory into a gilded icon. Love the result.
Acknowledgement: Alyssa Heitfeld is studying English and Media and Cultural Studies at Macalester College, Saint Paul, MN, and Editing intern with A Woman's Paris.
The Art Diaries: From Paris to Bretagne (part two) published on A Woman's Paris®.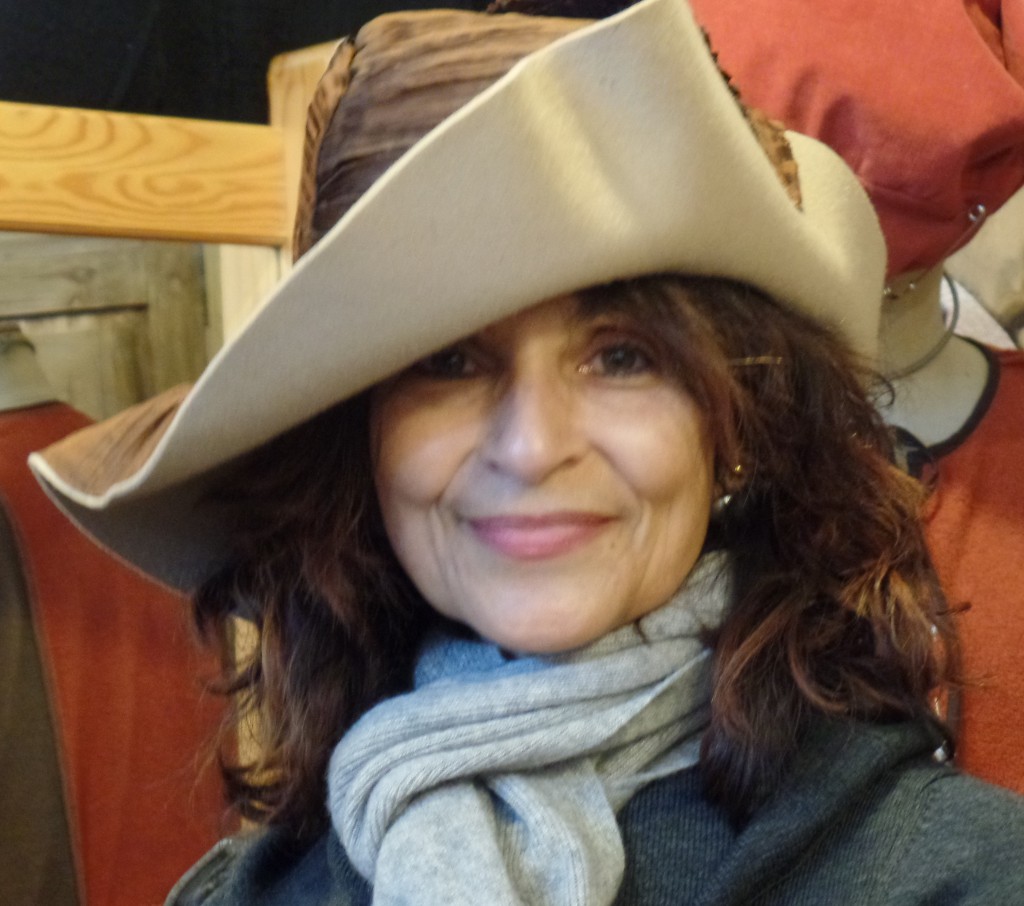 Lilianne Milgrom is an artist and writer on the arts. She is Paris-born, grew up in Australia, lived for extensive periods in Israel, and currently resides in Washington DC. Her diverse background has influenced both her work and her outlook on life. She exhibits broadly in regional and international exhibitions and her works can be found in private and institutional collections around the world. A Winter's Diary was written during her recent trip to Paris where she curated an exhibition at Saint-Germain des Prés, followed by an extended stay in Dinan as artist-in-residence under the auspices of the Yvonne Jean-Haffen Museum. Her concise journal entries are both entertaining and insightful. A fully-illustrated e-book featuring Lilianne Milgrom's diaries Un journal d'hiver (A Winter's Diary) is in the works and will be advertised on her Blog and WordPress sites. To read Lilianne's newspaper articles about her stay in Dinan, visit, Ouest France. For more information about Lilianne Milgrom, visit: (Website) (WordPress)
You may also enjoy A Woman's Paris® post Photo-ready in Paris: not what you might expect. Barbara Redmond takes you from Café de Flore to rue Bonaparte to Place de Furstenberg in Paris as fashion photographer and author Frédérique Veysset's Nikon clicked frame after frame, shooting faster and a lot, in the action without posing. Fixing on a place and time that was Paris. (French)
Paris photo shoot in search of the perfect Moroccan slipper, by writer Lisa Rounds who tells of her adventures in the North African neighborhood of Barbès in Paris searching for the perfect slipper in red, of course, for a Cosmo photo shoot. Lisa shares her story of "living the dream," working for a publishing company in Paris.
French Lingerie: Mysterious and flirty, by Barbara Redmond who shares her experience searching for the perfect lingerie in Paris boutiques and her "fitting" with the shop keeper, Madame, in a curtained room stripped to bare at Sabbia Rosa. Including a French to English vocabulary lesson for buying lingerie and a directory of Barbara's favorite lingerie shops in Paris. (French)
Ballet Flats in Paris: And God made Repetto, by Barbara Redmond who shares what she got from a pair of flats purchased in a ballet store in Paris; a feline, natural style from the toes up, a simple pair of shoes that transformed her whole look. Including the vimeos "Pas de Deux Coda," by Opening Ceremony and "Repetto," by Repetto, Paris. (French)
Whistle Stop Coffees: Flore der Agopian on Cafés in Train Stations in Paris. "When I walk inside a train station in Paris," writes Parisianne Flore, I always feel like I'm taking a journey back in time; an out-of-reality experience immortalized in countless French and American films: Nikita, Les Poupées Russes, Mr. Bean's Holiday, and Ocean's Twelve, to name a few." Flore writes about Gare Montparnasse, Gare de Lyon and Gar du Nord and the cafés and restaurants you will find there—from the famous Le Train Bleu and Terminus Nord to Paul, the boulangerie café founded in the late 19th century, and now a worldwide success.
Hotspots and Hot Chocolate: Student Cafés in Paris by Parisian Flore der Agopian. The Left Bank has always been "the place to be" for intellectuals, artists and students. By strolling through the famous Latin Quarter, which attracts many students from the whole of France, you can feel the lively, bustling atmosphere created by the presence of the famous universities, such as La Sorbonne. Follow Flore as she visits the seven most famous student cafés in Paris.
Café Culture in Paris, by Parisienne Flore der Agopian. The café, writes Flore, is a pleasurable way of sitting unbothered for hours on end with a book, with friends, or jut watching all sorts of people coming and going. Le Café de Flore, one of the oldest and most prestigious in Paris, where you can meet or observe its famous clientele among the Parisians, tourists and waiters dressed in their black and white uniforms as if they were still in the 1920s. To Flore, Café de Flore is almost mythical, legendary—a real institution. (French)
Eating: Afro and French (in Paris), excerpts from Kiratiana's Travel Guide to BLACK PARIS: Get Lost and Get Found, by Kiratiana Freelon. Although you must sample the highlights of traditional French cuisine, visitors on a quest for black Paris will also be drawn into the city's eclectic ethnic eateries. Kiratiana shares where to go for Antillean and Sénégalese cuisine in Paris.
Je suis Charlie: "Paris Mourns Heros of the Pen" by Ronald C. Rosbottom. Ronald C. Rosbottom, author of the bestseller When Paris Went Dark, is the key person to talk about Paris having gone dark once more considering the tragic attack at the Charlie Hebdo headquarters in early 2015. Ronald's letter to colleagues and friends captures the terror and humiliation that was Paris. We feel When Paris Went Dark: The City of Light Under German Occupation, 1940-1944, is timelier than ever. 
A Woman's Paris — Elegance, Culture and Joie de Vivre
We are captivated by women and men, like you, who use their discipline, wit and resourcefulness to make their own way and who excel at what the French call joie de vivre or "the art of living." We stand in awe of what you fill into your lives. Free spirits who inspire both admiration and confidence.
Fashion is not something that exists in dresses only. Fashion is in the sky, in the street, fashion has to do with ideas, the way we live, what is happening. — Coco Chanel (1883 – 1971)
Text copyright ©2015 Lilianne Milgrom. All rights reserved.
Illustrations copyright ©Barbara Redmond. All rights reserved.
barbara@awomansparis.com