The Art Diaries: From Paris to Bretagne (part two)
09 Thursday Apr 2015
Tags
A Winter's Tale Lilianne Milgrom, Artists in France, Artists in Paris, Bretagne France, Bretons, Brittany, DD of Dinan hatmaker, Dinan France, Ecole des Beaux Arts Paris, France, How Proust Can Change Your Life Alain de Botton, Jean Pierre Ruel artist Paris, Joaquin Sorolla painter France, Julian Taylor painter Paris, Kouign Amann, Les Amis de La Grande Vigne, Louvre Paris, Ouest France magazine, Saint-Malo France, The Sun Charles Baudelaire, Thomas Dutrone songs, Un journal d'hiver Lilianne Milgrom, Victor Segalen Bretagne France, Yvonne Jean-Haffen Musée
Share it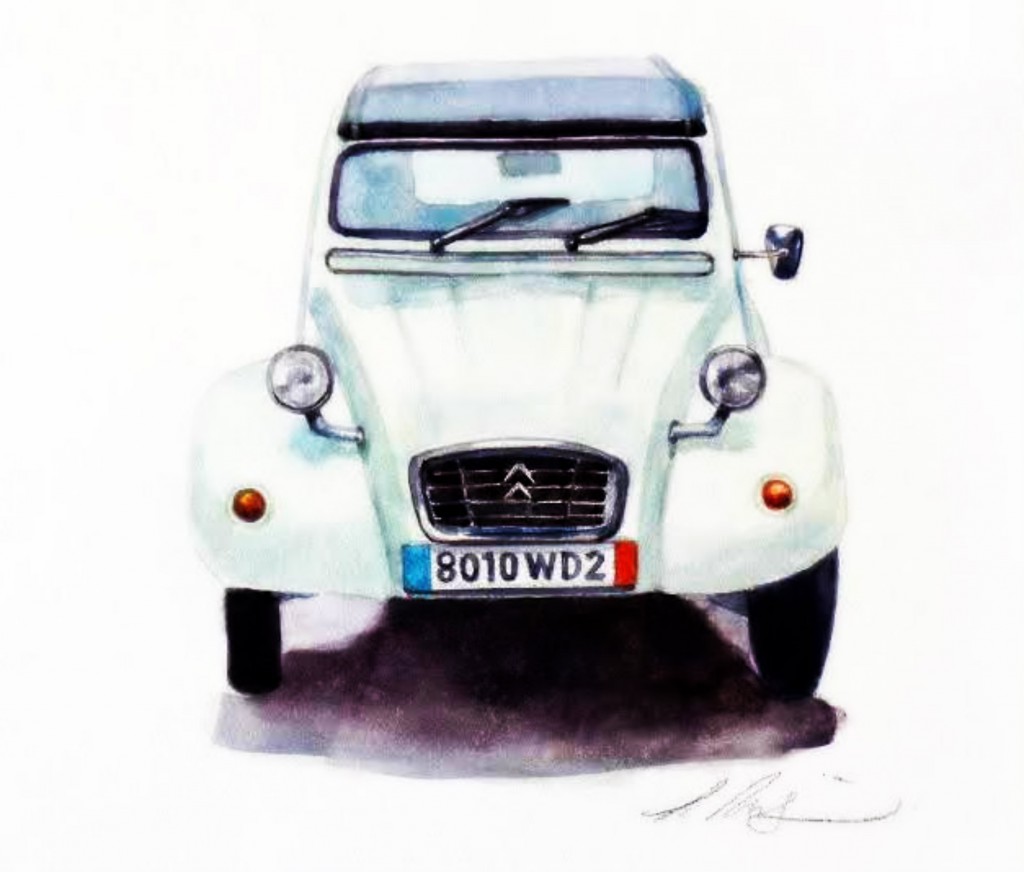 Excerpted from Un journal d'hiver (A Winter's Diary) by Lilianne Milgrom. © 2015 Lilianne Milgrom. Published with permission. All rights reserved.
February 13 to February 28, 2015, continued (part two)(part one)
Samedi (Saturday)
Fell squarely on my derrière while negotiating my way down the very steep rue Jerzual on my way back from the Old City center. When it rains, those pavés get slick. The gentleman that helped me up advises me that a) I should stick to the center of the street where there is less moss on the cobblestones and b) I should wear 'les tennis' (sneakers) rather than the hiking boots I was wearing. Of course, his sneakers are not thick-soled white Reeboks, but an elegant, pale grey leather version. If the rain ever lets up, I intend to explore this ancient, walled city. First settled by monks in the 9th century, the town became a booming commercial center by the 12th century, its development arrested by wars, sieges, and royal sagas. What a young upstart the United States of America is by comparison.
Dimanche (Sunday)
The rain has let up and the sun is playing hide-and-seek. Nature-loving Bretons are out canoeing, hiking, biking and running up and down the rocky outcrops like mountain goats—all to a chorus of competing church bells. Zero chance of summoning a plumber for my stopped-up toilet. Someone jokes that I am getting a taste of real medieval living. Ha, ha. Très amusant. The port is full of French tourists enjoying the sunlit marina. I sip a noisette at a sidewalk café, but I'm really drinking in the incomparable style of passersby. Even a Sunday stroll in Dinan is reason enough to dress up. A group of motorcyclists dismount from their gleaming steeds looking as if they just completed laps at Le Mans. Designer leather jackets, futuristic helmets and tight, tight black jeans…
Lundi (Monday)
Hélas, my plumbing issue did not resolve itself overnight. I call the local plombier, a polite young man in neat overalls – no low-riding jeans exposing a hairy butt crack. A dismal, drizzly day. Stayed in and fussed over a small watercolor. What a luxury to have the time to indulge in fine-tuning a relatively unimportant painting just for the sheer pleasure of it. Two members of the residency selection committee drop by to apologize about the plumbing fiasco, bearing gifts of local gavotte cookies for "la morale." They brush off my profuse thanks with one of my favorite French phrases: C'est normal! (It's normal!) I hike up to the city center for groceries and buy a baguette still steaming from the baker's oven. Perfect for tonight's salade niçoise.
Mardi (Tuesday)
Travel to Saint Malo, a forty-five minute bus ride through little Breton towns and open countryside. Only two euros! Exhilarating walk along the great expanse of sandy beach beneath Saint Malo's fortified walls and château. I look out to sea and imagine the pirates, rogues, explorers, and invading armies that plied these waters for centuries. Miles of huge wooden stakes line up in the sand like sentries. They catch mussels that cling to them at high tide, oblivious to their fate. The smell of seaweed, seashells shaped like Vietnamese sun hats. Blue skies, cold sunshine. Craggy rocks, dogs, families, kites, seagulls—every grouping a watercolor in the making. The town is crowded with seafood restaurants, pirate T-shirts, and more crêpes. I lunch to the strains of jazz at an adorable little resto that advertises itself as a crêperie, sandwicherie, and tarterie. Same bus driver on the way back greets her regulars like family.
Mercredi (Wednesday)
So many ideas, my mind is a pogo stick jumping from one to another. Bright sunshine casts the boats along the port in heavy relief. I have had few days of sunshine here, but even when I do, I recognize that my abilities to capture the effect of sunlight on an object fall short. The Impressionists made it their life's work to do just that. One painter trumps all the well-known French names: Joaquin Sorolla—his paintings are ablaze with sunlight bouncing off boats, skin, fabric, sand and sea. Yet he was incredibly humble: "We painters can never reproduce sunlight as it really is. I can only approach the truth of it." I share afternoon tea with a woman of advancing age, whose beauty lingers undiminished. We bond over the heartache that comes with having children. One of her daughters has joined a nunnery of a very strict religious order. What we want for our children and what they want for themselves are rarely the same.
Jeudi (Thursday)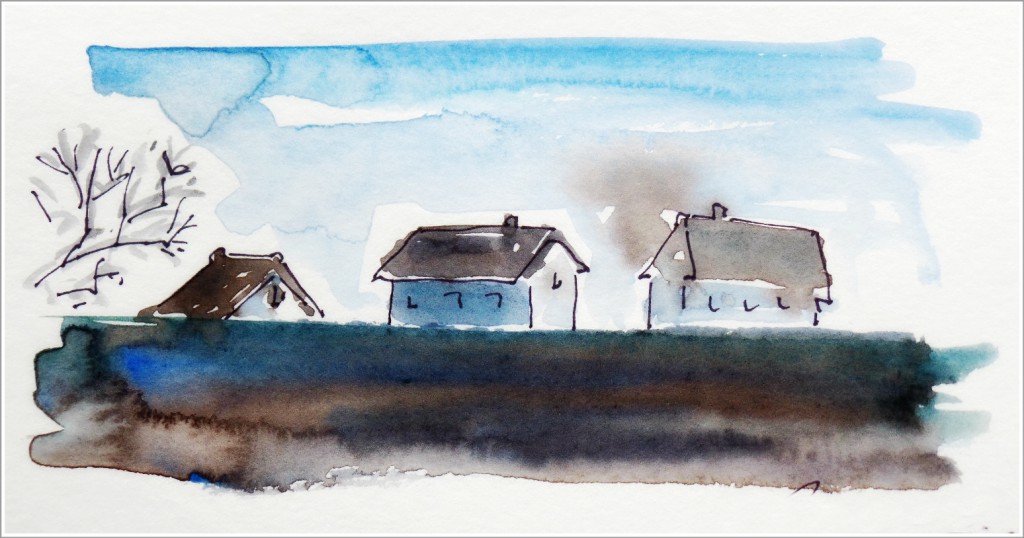 Excited to try a new idea that presented itself to me upon awakening. Immerse myself in the studio for most of the day then trek up the rue Jerzual (fast becoming my nemesis) inhaling the homey smell of wood smoke. I head to the papeterie for a block of tracing paper—15 euros!! Thankfully, they sell individual sheets, and the shopkeeper carefully peels off six pages of tracing paper as if they were gold leaf. At the local bookstore I randomly open "365 meditations for exploring Brittany" and read: "We set out to journey far and wide but we are always only taking a journey deep within oneself." This quote by Brittany's native son Victor Segalen who, it turns out, had quite a resume: French naval doctor, ethnographer, archeologist, writer, poet, explorer, art-theorist, linguist and literary critic. He also knew a thing or two about journeys having traveled to Polynesia and China in the early 1900's, only to meet his death under mysterious circumstances in a French forest with an open copy of "Hamlet" by his side.
Vendredi (Friday)
The rain has kept me in most of the day, and I complete another portrait from my icon series. Late afternoon walk. While living in a valley surrounded by rocky escarpments topped with ramparts and walls, the seagulls remind me that Dinan is only fifteen miles from the sea. Skeletons of bare trees against leaden skies. I reflect on Segalen's words. They are actually a more prosaic expression of what my husband and I always tell our children: "Wherever you go, there you are." I realize two things about myself during these solitary weeks: a) I don't mind my own company and b) I never tire of making art. I think that places me in the Fortunate People category. A local jeweler invites me for coffee at her cute little home that she shares with a black dog, a patchy cat, and a yellow canary. Back to the house. No TV here and I haven't missed it, though I do miss my cat. Midnight, I curl up with a book.
Samedi (Saturday)
The bathroom heater likes to play games, only blowing hot air when I exit the bathroom, shivering. Rain turns to hail. "Allo Evelyne" on MFM radio is my constant work companion. French songs interspersed by callers spilling their hearts to their empathetic host, Evelyne Adam. The universal trials and tribulations of the human condition sound quite beautiful in French. Late afternoon, I head off to see if the hat maker is in. Her boutique caught my eye days ago, but I have yet to find it open. Every store seems to have its own hours, and it's hit or miss for the most part. I turn right at the clock tower, down a little alleyway and voilà! Danielle—or DD of Dinan—is everything I hoped she would be: quirky, creative, and slightly folle. We spend the next hour playing dress up with her impossibly imaginative hats. Who knew the next Coco Chanel is hiding in Dinan? For dinner, I eat half a container of artisanal organic cherry jam that tastes like summer in a jar.
Dimanche (Sunday)
Yoga in the morning works the kinks out from an all-night painting session. Making headway on a painting I need to finish by Wednesday when the selection committee from Les Amis de La Grande Vigne will convene to select one of my paintings for the museum. I finally cave in and try the local delicacy—Kouign Amann, a caramelized version of a cinnamon bun. To balance this rich pastry, I nibble on haricots verts—I can't get enough of French green beans, steamed and lightly salted, eaten warm or cold. My daughter sends me a link to the sweet songs of Thomas Dutrone. She doesn't speak French, but intuited correctly that his music epitomizes Paris: "I don't understand what he's saying," she writes, "but I am sure he is singing about cheese, beautiful women, and fresh baguettes." She isn't far off.
Lundi (Monday)
More rain in the forecast. Sale temps—'dirty weather'—as the expression goes. Something is wrong with my computer, and I am feeling mildly panicked. But wait! The sun is shining brilliantly. I grab my camera and race outside. Blue shutters, green-breasted ducks, red café awnings, aqua canoe on the water. An explosion of color after the monochrome days of cloud cover. Back to the studio with renewed energy to work on my painstaking painting of an ancient stonewall. The beauty and history of Dinan resides in those rocks. If only they could talk. Invited for drinks and canapés at a local couple's home, and I appreciate the company. A retired surgeon, monsieur proudly parades his ceramic works for my inspection. I politely decline dinner, anxious to return to the studio.
Mardi (Tuesday)
Excited to be granted access to my benefactor Yvonne Jean-Haffen's estate-turned-museum. The spacious, light-filled home sits on a cliff with commanding views of the Rance valley. The garden is winter bare, but in summer it explodes with climbing roses and marigolds. Her touch is everywhere—murals in the dining room and bedroom, large paintings paying homage to the Breton patrimoine and drawings that display an enviably sure hand and superb draftsmanship. Recording scenes with a camera is just not the same as using a pencil and sketchbook. I discover her ceramic work. A figurine of a young woman with a goose is a sister to a similar porcelain pairing I made several years ago. The late artist's generosity towards her peers during her own lifetime and beyond is humbling.
Mercredi (Wednesday)
Work all day transforming the studio into a gallery for the evening's gathering. Ten works to hang with nothing but a few pushpins and a paper-thin cork board. Turns out that dental floss makes pretty good hanging wire. I lay out a modest spread of wines and cheeses. First to arrive are two local journalists who look like bit actors from a fifties period drama. Greying, slightly disheveled gentlemen ask me uninspired questions, the answers to which they scribble longhand into lined notepads, heads bowed. The committee members arrive, and I confidently present my work to a full house. It really is true that past a certain age one cares less and less about what others think. Les Amis de la Grande Vigne are delighted and choose the portrait of the stonemason for the museum's collection. The stonemason will be disappointed as he came round today asking about the painting, though I suspect ulterior motives.
Jeudi (Thursday)
My last walk along the Rance. Stonemason comes calling again, and I break the news that his portrait is now in the museum's permanent collection. In a conspiratorial whisper he suggests I not mention our chats with any of the locals as tongues are already wagging! New friends take me on a day trip to see neighboring villages. Léhon is beautiful. The history, the weathered buildings, the sheer age of the place. A 12th century monastery with a peaceful interior garden. I can almost hear the muffled sound of monks pacing beneath the arches. At the entrance to another village, Jesus on the cross greets us. More churches and more convents. Catholicism runs deep here. Last minute errands in town. Journalist from last night's soirée drops in unexpectedly. He takes over my kitchen and makes me a traditional Breton meal – galettes with fried egg and cidre brut to drink. We talk for hours. Mostly about him.
Vendredi (Friday)
Rennes to Paris train. A string of 'putains' and other choice swear words intrude upon my thoughts. A sidelong glance at the passenger beside me cursing into his iPhone establishes him as a dead ringer for a fierce Maori warrior, sans the loincloth. Over the next two hours I endure a bizarre confessional as he confides his criminal history, starting with the completion of his eleven-year prison sentence and the fact that tonight he is going to kill the bastard who put him in there, with the Kalishnikov that his brother-in-law has waiting for him. (This last fact embellished by rat-a-tat Kalishnikov noises). He proudly whips out a giant gold medallion he stole during an armed robbery. My feeble attempts to help him see the error of his ways are met with declarations of love, and an invitation to meet this evening, presumably before the planned murder. Once on the platform at Paris Montparnasse I pat my backpack to see if my wallet is still there. I'll be scanning tomorrow's paper for news of a shoot out.
Samedi (Saturday)
Searching in vain for a bathroom at Charles de Gaulle airport. I conclude that French people must go to the bathroom less than your average traveler, or else they are better at holding it in. I suspect the latter. I have learned over the past month that instant gratification is not something the French consider a basic human right. I have come to appreciate one of the most commonly used words in navigating daily life in France: patienter. Any sort of waiting—whether it is waiting in line, waiting for a letter from a government office or waiting for the credit card machine to find a satellite connection—is met by the counsel to patienter, be patient. It is one valuable cultural lesson I will take home with me along with a suitcase stuffed with hats that I will never wear and enduring memories of new friends, newly discovered places, and fresh artistic revelations.
Acknowledgement: Alyssa Heitfeld is studying English and Media and Cultural Studies at Macalester College, Saint Paul, MN, and Editing intern with A Woman's Paris.
The Art Diaries: From Paris to Bretagne (part one) published on A Woman's Paris®.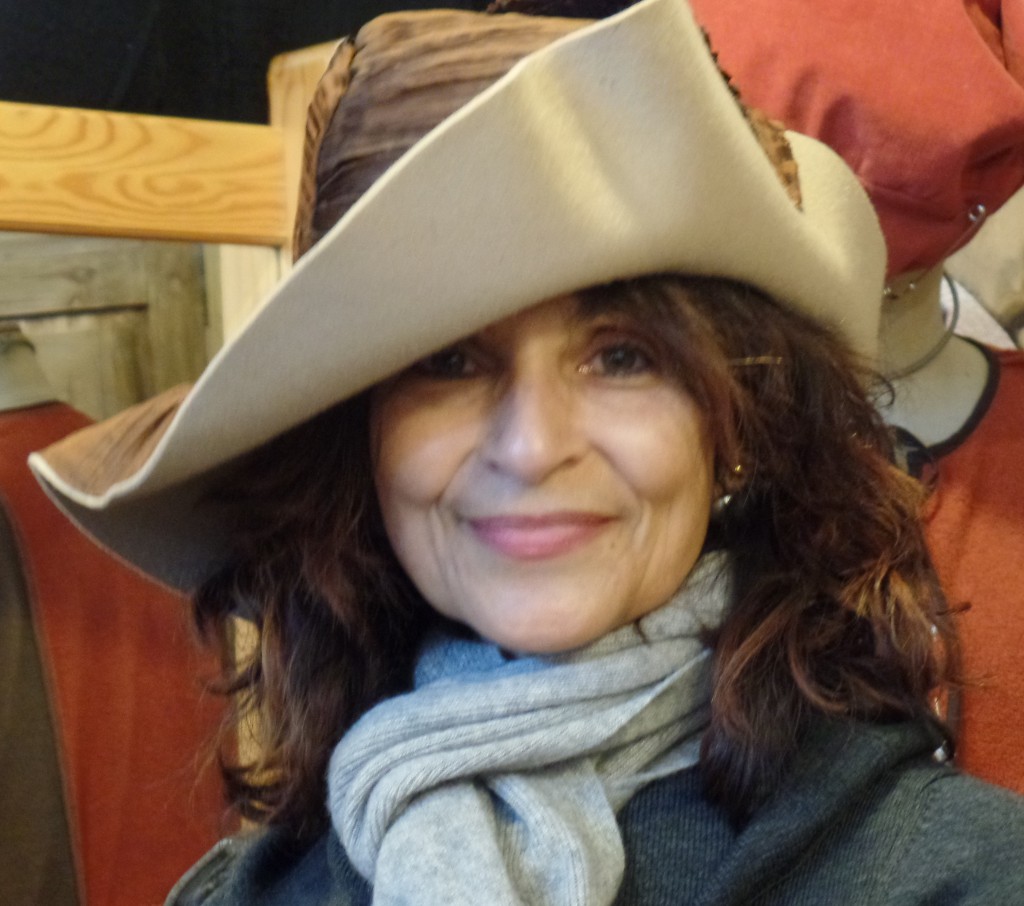 Lilianne Milgrom is an artist and writer on the arts. She is Paris-born, grew up in Australia, lived for extensive periods in Israel, and currently resides in Washington DC. Her diverse background has influenced both her work and her outlook on life. She exhibits broadly in regional and international exhibitions and her works can be found in private and institutional collections around the world. A Winter's Diary was written during her recent trip to Paris where she curated an exhibition at Saint-Germain des Prés, followed by an extended stay in Dinan as artist-in-residence under the auspices of the Yvonne Jean-Haffen Museum. Her concise journal entries are both entertaining and insightful. A fully-illustrated e-book featuring Lilianne Milgrom's diaries Un journal d'hiver (A Winter's Diary) is in the works and will be advertised on her Blog and WordPress sites. To read Lilianne's newspaper articles about her stay in Dinan, visit, Ouest France. For more information about Lilianne Milgrom, visit: (Website) (WordPress)
You may also enjoy A Woman's Paris® post Missing your train (in Paris): C'est la vie by Parisienne Bénédicte Mahé who shares stories of missing your train as a result of accidents on the railway due to animals, strikes or the weather—plus other practical ways of getting around France. Including websites to travel by trains in France. 
The Stones of Carnac, by award-winning travel writer and photographer, Catherine Watson. Catherine's career has taken her around the world three times, to all seven continents, and into 115 countries. Writing about this prehistoric site in northwestern France, she describes the giant stones that linger there and stand in rows across the French landscape, shouldering their way over rises, past houses, through farm fields—a granite army, 3,000 strong.
French Dip – Learning French in a French wine town by journalist and travel writer Merle Minda, whose "can do" thinking brings her to a two-week French immersion language course in Sancerre, a delightful wine town two hours from Paris.
France trip with my spouse doing all the juggling, driving and talking! First published in Travel Over Easy; travel blog written by travel expert Merle Minda; Guest blogger: Roland Minda about their visit to the wine town of Sancerre in the Loire district of France.
On Doing and Being by Yara Y. Zgheib. "La bohème." It was French novelist Henri Murger who first romanticized the expression in his 1847 novel, 'Scènes de la vie de bohème.' For Murger it came to mean 'a world of artists, social rebels, and radicals who rejected the comforts of the bourgeoisie, opting instead for poverty, and believing that any true experience demanded suffering. They were committed to a life of freedom, work, and pleasure, and eschewed the corruption and rotten values of conventional society.' Trust the Parisians to elevate starving to death to an art form…
On Aches and Madeleines by Yara Y. Agheib. "La madeleine de Proust. A happy memory unconsciously elicited by a fleeting sensory experience—a scent, a taste, a few notes from an old tune—a vague, bittersweet memory, of the kind that makes our lower lips quiver and our hearts ache. That ache, Proust's madeleine, is universal. Looking back is not just universal; it is endearingly human.
To the South of France with Love. Sara Horsley invites us into her world to share six weeks in Arles, France, during a study abroad program. There, she learned about the French culture and their respect and admiration of artistic expression.
A dinner party: what makes the French so French. On a recent trip to France, Jacqueline Bucar, French teacher and immigration attorney, shares the dinner party conversation at the home of some of her friends—a conversation that was like no other she could ever imagine in the States…
The French Finesse and the Hermès Scarf by Christine Graf who asks, "What is it about the French? She'll put on a scarf and twist it carelessly and she comes out looking elegant. Or she wraps a belt around and voilà—instant chic." Including John Jannuzzi's video I Love My Scarf by Hermès and a book review of The Hermès Scarf: History & Mystique by Nadine Colendo.
Finding boubous, taibas, and myself in Sénégal, by Ashley Steele, an African American and student of French, who wanted to explore a non-Western culture and its perspective where she found a deep meaning once she stepped foot on African soil. (French)
A Woman's Paris — Elegance, Culture and Joie de Vivre
We are captivated by women and men, like you, who use their discipline, wit and resourcefulness to make their own way and who excel at what the French call joie de vivre or "the art of living." We stand in awe of what you fill into your lives. Free spirits who inspire both admiration and confidence.
Fashion is not something that exists in dresses only. Fashion is in the sky, in the street, fashion has to do with ideas, the way we live, what is happening. — Coco Chanel (1883 – 1971)
Text copyright ©2015 Lilianne Milgrom. All rights reserved.
Illustrations copyright ©Barbara Redmond. All rights reserved.
barbara@awomansparis.com