Whistle Stop Coffees: Flore der Agopian on Cafés in Train Stations in Paris
03 Tuesday Jun 2014
Tags
Art Déco Paris, Art Nouveau Paris, Belle Époque Paris, Bordeaux France, Buffet de la Gare de Lyon Paris, European Parliament, France, Gare de Lyon Paris, Gare du Nord Paris, Gare Montparnasse, Le Train Bleu restaurant Gare de Lyon Paris, Les Poupées film, Mr. Bean's Holiday film, My Paris Kitchen David Lebovitz, Nantes France, Nikita film, Ocean's Twelve film, Paris, Paris Metro, Paris-Lyon train line, Paul boulangerie cafes Paris, railway stations Paris, regional trains France, Rennes France, RER France, Terminus Nord brasserie Paris, TGV trains France, The Food Lover's Guide to Paris Patricia Wells, Tours France, Train station cafes in Paris, Train stations in Paris, Universal Exhibition Paris 1900
Share it
By Flore der Agopian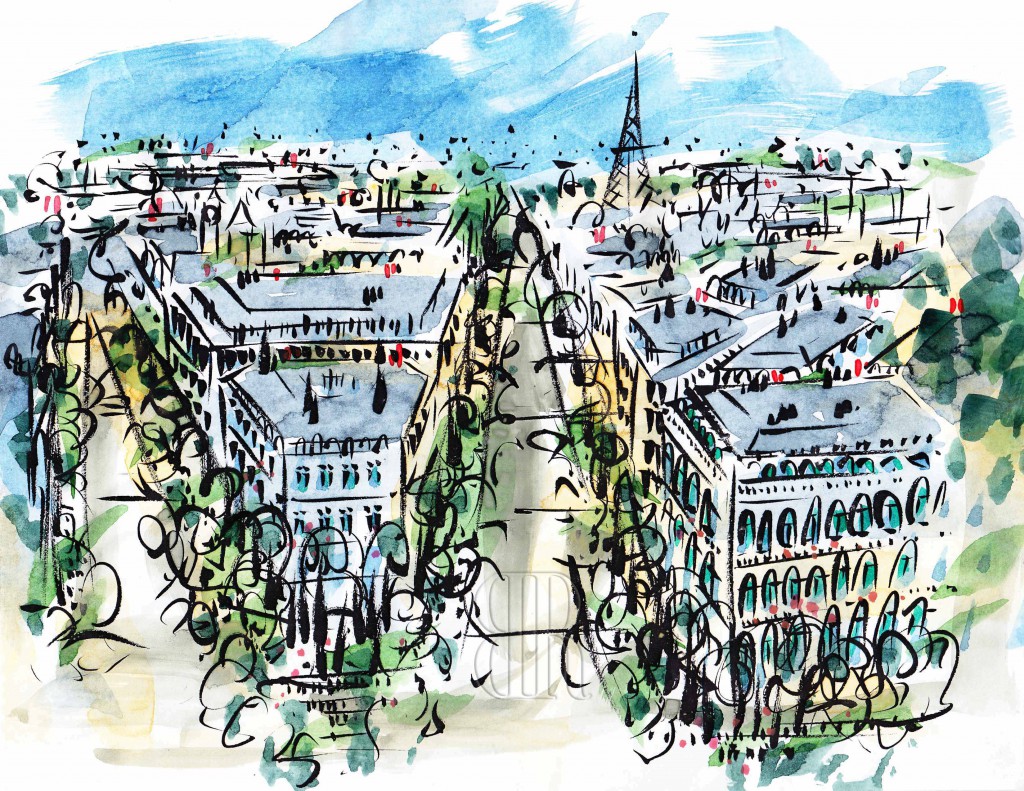 The train stations in Paris have such a particular atmosphere. When I walk inside, I always feel like I'm taking a journey back in time; an out-of-reality experience immortalized in countless French and American films: Nikita, Les Poupées Russes, Mr. Bean's Holiday, and Ocean's Twelve, to name a few. Friday evenings, when I go through Gare Montparnasse, located in the 14th arrondissement and used by intercity TGV trains to the west and southwest including Tours, Bordeaux, Rennes, and Nantes, it can be a real crush. Train stations in Paris service metro lines, some host regional trains, and the RER. Frenzied travelers leaving the station and just as many trying to find their platform inside. Everybody is scrambling. There are people going to work, and the "lucky" that are leaving Paris on holiday and are easily distinguished: the stressed are rushing the corridors while the others are trying not to have their luggage and weekend bags overturned. Many times I've experienced being in the metro at rush hour, often lugging a suitcase bigger than myself. Not my best memories… But this does not preclude the fact that I love train stations!
Once you've left the metro behind and you arrive on the concourse everything looks different. The ambience is much more relaxed, even if you jostle amongst the stressed people who are afraid to miss their trains, like me. Because I hate knowing the train will leave without me, I often arrive hours before departure. So in these moments of rest, I love taking my time to drink a café and read gossip magazines that I have brought along especially for the trip, and observe the people coming and going through the station. It's amusing to watch; some people are completely lost, while others are late and running everywhere. There are the good-byes, the reunions, the cries, and the laughs…all the moods you can imagine, you can see at a station. The train station's restaurant or café is the ideal place to watch and observe a familiar scene or witness something completely unexpected.
Last year, when I was leaving Paris from Gare Montparnasse, I had left plenty of time before getting onboard. So, I bought a smoothie and a delicious macaron à la Vanille from Paul, one of my favorite boulangerie cafés, founded in France in the late 19th century, and now a worldwide success. Like many of these small cafés in train stations, there are no seats. I stayed in the hallway, sat on one of the many benches there and watched and listened to what was happening around me, waiting for my time to go to the platform. On another Friday last year, I had planned to take the commuter train, but the departure was delayed. I had to wait for nearly three-quarters of an hour so instead of staying at the platform I tried one of those cafés. I remember having bought a cup of tea with a slice of chocolate cake. Usually, when there are train problems, I'm on edge, like most people in Paris. But this time it was different. There wasn't that feeling of wasting my time. I had found another way to do something else.
In Paris, we can buy food in every station. There are little shops where you can eat on the go. Usually, in the train stations of Paris there are no big restaurants. For most of the stations there are cafés where sometimes we can sit, however, these are for eating on the go. There is one place that is more special and different from all the cafés you find in train stations. Le Train Bleu, The Blue Train, the mythic, ornately decorated restaurant located in the hall of the Gare de Lyon railway station in Paris that has been serving drinks and meals to travelers and other guests since 1901. Le Train Bleu is perfect if you want to eat a good meal before leaving Paris. Built in 1900 for the Universal Exhibition in Paris, it was originally called the Buffet de la Gare de Lyon, renamed Le Train Bleu in 1963. It is located in the 12th arrondissement, on the north bank of the Seine and in the east of Paris with TGV trains to the south and eastern France, Switzerland, Germany, Italy and Spain, and hosts regional trains, the RER and metro station. This luxurious restaurant of polished floors, leather patina on long benches, white table clothes and tableware dishes featuring its moniker, overlooks the concourse through its large rounded windows. When I entered the restaurant I felt like I was being transported to the beginning of the 20th century. Quintessential Paris at the turn of the century! In addition to its charming character, the restaurant is known for its 41 paintings on the walls and ceilings, several of which symbolize landscapes that the trains pass on the Paris-Lyon line.
On the streets outside of each train station in Paris you will find cafés and restaurants. This is the case for the brasserie, Terminus Nord, which is located a stone's throw from the front exit of Gare du Nord, located in the 10th arrondissement—and the busiest railway station in Europe. Built between 1861 and 1864, Gare du Nord features nine majestic statues, positioned along the cornice line, representing destinations outside of France, with the center figure representing Paris. The station serves northern France and international destinations in Belgium, Germany, the Netherlands, and United Kingdom. Like Le Train Bleu, Terminus Nord presents an elegant atmosphere of a typical café from the beginning of the twentieth century. Since 1925, this traditional brewery, with its combination of Art Nouveau and Art Deco, has been a brasserie for Parisian gourmet travelers, businessmen and businesswomen heading off to London, and European Parliament members returning from Brussels, as well as families visiting from French provinces. It is one of the great Parisian brasseries. The Art Nouveau and Art Deco influences are everywhere in copper, mahogany and mirrors, posters, chandeliers and ornamental wall sconces that adorn the main dining room. It is a typical example of Belle Époque Paris, a combination of straight lines and floral designs in mosaics and glass. I tried it once, and returned with a friend who had arrived at Gare du Nord. After I found her at the station, we walked the short distance to Terminus Nord and sat at a table on the terrace of the café. The sun was shining and summer in Paris was coming. It was very pleasant to drink outside and talk about her travels. Everybody around us was talking about stories that happened during their trips, which we found quite humorous. Including hers! We watched as people entered and departed the station with their luggage in tow.
I love sitting down in cafés in Paris. They have a particular ambience. But, the cafés in train stations have it even more and are different from all the other cafés in Paris. People are not like the usual patrons. They can be stressed and excited, and I can feel it in their behavior. Staying in one of the cafés in the train station is like already being away from Paris and embarking upon a new destination, setting off on a fresh adventure.
Acknowledgement: Iona Davidson, student of French and Italian at the University of Oxford, England, and English editor for A Woman's Paris. 
Flore der Agopian was born in Clamart, a southwest suburb of Paris, where she grew up and lives today. She is in the final years of terminale, which is equivalent to the senior year of high school in the U.S., where she is preparing for her Baccalauréat at the Lycée Françoise Rabelais de Meudon. If accepted into the language program, Flore will study history, literature, and the culture of anglophone societies and will hopefully study abroad in the U.S. or Germany.
You may also enjoy A Woman's Paris® post, Patricia Wells' "The Food Lover's Guide to Paris" on Restaurants, Bistros, and Brasseries (excerpt). Patricia Wells,author of the award-winning Bistro Cooking, and for more than two decades the restaurant critic for The International Herald Tribune, takes readers, travelers and diners to the best restaurants, bistros, cafés, patisseries, charcuteries, and boulangeries that the City of Light has to offer. Including Willi's Wine Bar's Bittersweet Chocolate Terrine—the irresistible chocolate dessert that is one of Patricia's Paris favorites. (A Woman's Paris interview with Patricia Wells)
David Lebovitz's "My Paris Kitchen" — quirks, trials, beauty, and joys of life in Paris (excerpt). Ten years ago,David Lebovitz packed up his most treasured cookbooks, a well-worn cast-iron skillet, and his laptop and moved to Paris. In My Paris Kitchen, David remasters the classics, and introduces lesser-known fare. Through his recipes and stories we get insight into his delicious and extraordinary world. Including David's recipe for Salted butter caramel-chocolate mouse. (A Woman's Paris interview with David Lebovitz)
 Café Culture in Paris, by Parisienne Flore der Agopian. The café, writes Flore, is a pleasurable way of sitting unbothered for hours on end with a book, with friends, or jut watching all sorts of people coming and going. Le Café de Flore, one of the oldest and most prestigious in Paris, where you can meet or observe its famous clientele among the Parisians, tourists and waiters dressed in their black and white uniforms as if they were still in the 1920s. To Flore, Café de Flore is almost mythical, legendary—a real institution. (French)
A literary feast – Cafés and culture in Paris' 9th arrondissement by Parisian Flore der Agopian. Paris has always been an inspiration for writers and painters, both from France and all over the world. Flore explores how cafés in nineteenth century Paris inspired literary figures Emile Zola, Alexandre Dumas, George Sand, Guy de Maupassant, Marcel Proust and French painters Edgar Degas, Eugène Delacroix, Camille Pissaro, and Edouard Manet. Including a list of current cafés in Paris' 9th arrondissement. 
French Impressions: W. Scott Haine on the origins of Simone de Beauvoir's café life and the entry of France into WWII. One of Simone de Beauvoir's biographers, Deirdre Bair, records that de Beauvoir's first moment of "true liberty" came in a café, the Rotonde, when she and her sister Helene played hooky and drank a café-crème. At ages nineteen and seventeen respectively, they felt "incredibly grown-up," and enjoyed themselves so much that before long they stopped going to art classes and spent the hours between eight and ten-thirty entirely in bars and cafes. 
French Hot Chocolate: sensuous, elusive and whimsical by Barbara Redmond as she tells about a dazzling early 19th century French service placed on a table at the far end of a dark, yet luxurious, reception room in Boston's Isabella Stewart Gardner Museum exhibited as though prepared and waiting for guests. Which French woman should we invite? Including a recipe for Parisian Hot Chocolate by David Lebovitz.
Museum tearooms in Paris. Parisienne Flore der Agopian invites us to visit some of the most enchanting tearooms in Paris: Café du Musée de la Vie Romantique, its courtyard garden a step back into the 19th-century; Café Jacquemart-André, decorated and furnished in late 19th-century style; and La Flottille, in the garden of the Château de Versailles in front of the Grand Canal. Including a list of Museum tearooms, cafés and restaurants in Paris. 
Stars, Stripes and Seine: Americans in occupied Paris 1940-1944, by Alan Davidge. 5,000 Americans refused to leave Paris after war broke out in September 1939. Who were they? Read the stories of how Josephine Baker, Sylvia Beach, Arthur Briggs, Drue Leyton, and others lived and breathed Paris during the war. 
Text copyright ©2014 Flore der Agopian. All rights reserved.
Illustrations copyright ©Barbara Redmond. All rights reserved.
barbara@awomansparis.com