Couture Collections: wear it, pack it, buy it
21 Friday Jan 2011
A Woman's Paris™ in Style
By Barbara Redmond
"You'll be in Paris during Fashion Week," said Ron, "I have a gift for you." The gift changed everything. No longer could I simply pack four pencil skirts, three Calvin Klein tops, one Hermès scarf and two pair of shoes for Paris. Ron Pulju is a couture designer who worked as a draper for Marc Jacobs, Halston, Dior and Sophie Théallet. Ron's own line of accessories and scarves were sold at Barney's New York.
Ron described his gift. A long black, bias cut silk chiffon scarf with a single feather at each corner that he would create for mefor Paris. I was in awe as he began to design the scarf in words: its pattern and construction, its drape of silk and perfect length to fall from the shoulders, wrap around the neck or lie loosely over itself at the neckline. A scarf, light as air, with a single feather at each corner to add weight and swing, whimsy and elegance. Paris Fashion Week was two weeks away and I had already entered the world of the couturièr.
We walked to a nearby restaurant for a glass of wine to talk about fashion, the scarf and the Paris Couture Collections. We emailed about searching the fabrics he had in the studio and sourcing feathers for the right length and weight. He selected a plain-woven, sheer silk chiffon fabric, washed and steamed. Another washing and another steaming until the fabric had the quality Ron sought, that distinctive crinkly crepe-light texture of silk georgette, slightly rough and dull, but with a bouncy, flowing look.
What to pack…
Would I still pack my four pencil skirts that I have my seamstress make, plus one silky long-sleeved T-shirt and two sweaters suitable for Paris in January? With a signature scarf of chiffon and exotic feathers to build a look for day or night, would I pack a Hermès scarf to dress my outfits up or down? Paris can be cold and damp with temperatures in the mid-forties and rain. Dress leather boots for walking miles, casual leather flat-heeled boots with unlined leather tops that, soft as a glove, reach to the knee―easy to wear on the plane or pack rolled to the size of a shoe. Repetto ballet flats for the apartment in real ballet-pink. A cashmere cloth coat and mink tam for the cold. I will pack my pedicure file, paper, pens and watercolors, and book of Paris information that I have collected over the years. Lotions, soaps and hair products I will purchase at the Pharmacie de I'lle St-Louis located near the western tip of the island on Île Saint-Louis.
The couture scarf will be the high note, like a perfume. The rest of my wardrobe holding the middle and low notes that unveil the final piece of the puzzle. A wardrobe of textures in blacks and browns: nubby tweeds, smooth wool flannels, cashmeres and chiffon with feathers. Leather boots. I will still pack four pencil skirts, two sweaters (one turtleneck and one crewneck,) along with my usual things. On the plane I'll wear my black Chico's synthetic silky travel pants and the Calvin Klein long-sleeved black T-shirt, and a black shawl that covers me when I sleep. In my carry-on tote will be toiletries and a small bottle of Chanel No.5 perfume.
The scarf was ready. Ron and I arranged to have a brief toast and meeting after work. Sitting at a high table in the bar, I watched as he removed the small, folded silk bundle nestled inside layers of white tissue paper. Unwrapped, Ron held the corners of one end of the scarf and let if flow, all seven feet of it, as he lifted the corners high to prevent the feathers from touching the floor. I listened as he described the various knots he used for hand wrapping each feather's quill in silk and the French tack he used to secure each feather to its corner. I know about knots. I understand the delicacy of the knots required for floating a feathered dry fly. Knots the fly angler ties to keep the fly from pulling against the current. The eight-inch Rooster Schlappen, dyed coque feathers (rooster tail), long and slender, used for large saltwater and salmon flies. He knew I would love this scarf. I fish. One side shimmering in faint delicate iridescent greens and blues. This was the "right" side, Ron explained. The scarf appeared seamless. I tried it on, wrapping and rewrapping it in every way I could imagine. He draped it on himself showing me more ways to wear the scarf.
To our toast, I brought my Paris Vogue Collections Issue. I thought we would look through pages of the magazine. Not at all!
"What do I look for," I asked Ron, like a good pupil wanting to know the secrets of a master.
"Not the shows," he said. "The collections for fall and winter are already in the wind. Do what designers do, watch the street!"
What to buy?
It's Fashion Week in Paris January 24 through 27, 2011 where the likes of Christian Dior will present at Musée Rodin, Chanel at Pavillon Cambon Capucines, and Adeline André at Hôtel d'Ecquevilly, among others. "You are in the fashion capital of the world," said my friend Sally, "and if you need anything to add to your travel wardrobe, you have all of Paris to shop!" I agreed as we spent the afternoon looking at my wardrobe for Paris strewn about her dressing room to see what I couldn't leave home without. With a scarf so elegant, Sally and I replaced two pencil skirts with two cocktail dresses and added a pair of Jimmy Choo heels.
In Paris, especially during Fashion Week, if you want to sew for yourself or have made by a seamstress your own couture; pay a visit to Maupiou Etoffes Haute Couture located at 2, rue de la Paix near the Place Vendôme. There, not long ago, I purchased one yard of Chanel haute couture fabric from the last couture season. Among the shop's Elmwood paneling are rolls of chiffon, brocade, organza, printed silks, exclusive embroideries, wools and tweeds. For three generations, the Pétillault family has offered the rarest fabrics to its customers in search of the ultimate in elegance. Granddaughters of the founder, Marie-Christine and Catherine Pétillault, are the current guardians of the shop. I spent hours in Maupiou draped by Madame Catherine Pétillault in fabrics from Saint-Laurent, Dior, Givenchy, Valentino, Ungaro, Solstiss, and Dormeuil, among others. Exquisite, delicate, elegant and couture to the last thread.
The tweed skirt I will wear in Paris is made of the Chanel fabric I purchased at Maupiou. Together with my seamstress Oksanna, we created our own design―never to duplicate the designs of Chanel. First, we sketched, draped the fabric and created a pattern for a test skirt using Armani fabric, which was the closest we could find to the weave, drape and texture of the Chanel cloth. Lining, stiffening and bones at the waist and hips for a perfect fit for standing, walking or sitting, and weighted at the hem. We altered the test skirt, re-cut the tissue pattern, changed the lining to a lighter weight so that the garment felt weightless when worn. Second, after achieving what we were after, Oksanna cut the Chanel and stitched the pieces. Several fitting later we knew it was perfect. When touched, the nubby variegated blacks and shades of brown tweed felt like air. Like the wind―to the touch and to the stride. At the end of it I had two skirts, an Armani and Chanel.
If you can't take home Haute Couture clothes from the catwalks you can bring home the exquisite and unbelievable fabrics from Maupiou. Enter Maupiou and you enter the world of couture, the people who create it, and the people who wear it.
Ron Pulju received his BFA in Fashion Design from MCAD (Minneapolis College of Art and Design) and studied under Michele Fernand, draper and patternmaker for Balenciaga Couture, Christian Dior Couture and Givenchy Couture. Ron is a couture designer who worked as a draper for Marc Jacobs, Halston, Dior and Sophie Théallet. Ron's own line of accessories and scarves were sold at Barney's New York.
Vocabulary: French to English translations
Brocade: Heavy fabric interwoven with a rich, raised design.
Cachemire: Soft fabric made from the wool of a Cashmere goat.
Chiffon: Sheer fabric of silk or rayon.
Couturièr/Couturière: (M/F) Person in the fashion industry who makes original garments for private clients.
French tack: Thread connection securing separate garment segments together to one another. A free hanging lining or floating snap.
Georgette: Crinkley crepe-light texture of silk fabric, slightly rough and dull, but with a bouncy, flowing look.
Haute-Couture: Made to order clothing for a specific customer, usually made from high-quality, expensive fabric sewn with extreme attention to detail.
Organza: Sheer, stiff fabric of silk or synthetic material used for trimming, neckwear or evening dresses.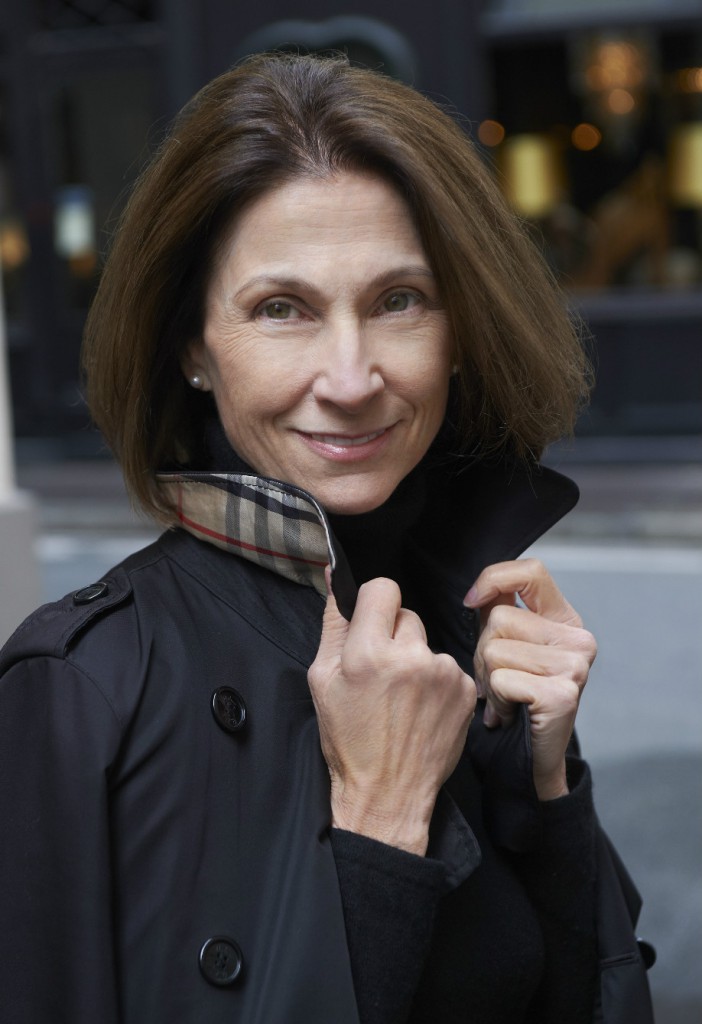 Barbara Redmond, publisher of A Woman's Paris®, is a long-time Francophile and travels to Paris every chance she gets. Her stories about Paris and France have been published in AWP® and republished, with permission, by other blogs and publications. Barbara has presented programs on French fashion and food, and has been a guest speaker for students planning their study abroad. She serves as an advisory board member at the University of Minnesota College of Design and is an active student mentor. Barbara has been recognized for excellence in art by international and national organizations and publications. Prints of her fine art paintings are in collections in Europe and North America and are available for purchase.
You may also enjoy A Woman's Paris® post, Diving into Paris Fashion: From famous to fresh, by Parisian Abby Rodgers, who asks the question, "…with veterans such as Lagerfeld making the move to the street-wear market, where is fashion headed in Paris and what influence does the newest generation have?" Included are fashion brands and stores that are favorites of Abby and her friends. 
Scarves à la Françoise: The lingua Franca for stylish women, by Barbara Redmond who shares her experience trying on scarves and tying them at the home of her French friend in Lyon. Arriving at the famous silk manufacture in Lyon, André Claude Canova, Barbara and her friend gently tapped on the window even though the shop was closed.  The shop girl let them and they all enjoyed hours of playfully draping, twisting and knotting scarves and shawls. An experience spurred by the ubiquitous nature of women and scarves: our common language. 
Fashion trends from the street and the Rule of Five, by Barbara Redmond who on extended stays in Paris has seen fashion trends take hold. Still, she notices, the Parisienne never tries to fit in. Daring, carrying herself confidently, with her own inbred style, she moves quickly through the city, hardly disturbing its surface. Barbara writes about her "Rule of Five" game for spotting fashion trends. 
How to spend your money even if you do not need to: the French biannual sales, by French woman Bénédicte Mahé who writes about the exquisite uniqueness of French sales that last for weeks each year and offer incredible sales.  These sales take place over five weeks during the late summer and for two weeks during the winter, and thus demands from shoppers: when to buy and what to wait for during sale season?
Imperfect Perfection: The new French woman, by writer Kristin Wood who reminds us of the words attributed to Henry David Thoreau, the famous American author and philosopher who eschewed material excess and extravagance… "Simplify, simplify, simplify." Kristin writes about the predicted trends of the "undone" makeup look, and the "de-blinging" of luxury items. What better place to introduce these two trends on a grand scale than in Paris? 
French Lingerie: Mysterious and flirty, by Barbara Redmond who shares her experience searching for the perfect lingerie in Paris boutiques and her "fitting" with the shop keeper, Madame, in a curtained room stripped to bare at Sabbia Rosa. Including a French to English vocabulary lesson for buying lingerie and a directory of Barbara's favorite lingerie shops in Paris. (French)
Text copyright ©2011 Barbara Redmond. All rights reserved.
Illustrations copyright ©Barbara Redmond. All rights reserved.
barbara@awomansparis.com