Travel Diaries: On a Moveable Feast (Paris)
21 Tuesday Apr 2015
Tags
Angelina Paris, Ary Scheffer, boulangeries Paris, Boulevard Saint Michel Paris, Caravaggio's Boy Bitten by a Lizard, Centre George Pompidou, Colette, Delacroix, Dickens, Ernest Hemingway A Moveable Feast, France, Frederic Lenoir, Georges Sand, Geroges Larnicol Paris, Gounod, Jacquemart-André Paris, La place des Vosges Paris, Le musée de la vie romantique Paris, Le Quinze Vins la rue Dante Paris, Librairie Jousseaume Paris, Notre Dame Paris, On a Moveable Feast Yara Y Zgheib, Paris, Paris travel, Passage Vivienne Paris, Pierre Hermé, Place Vendôme Paris, René Magritte Paris, restaurant la Clairière Paris, River Seine Paris, Rossini, rue Chaptal, rue Saint-Julien la pauvre Paris, Terre d'Hermès, Tourgueniev
Share it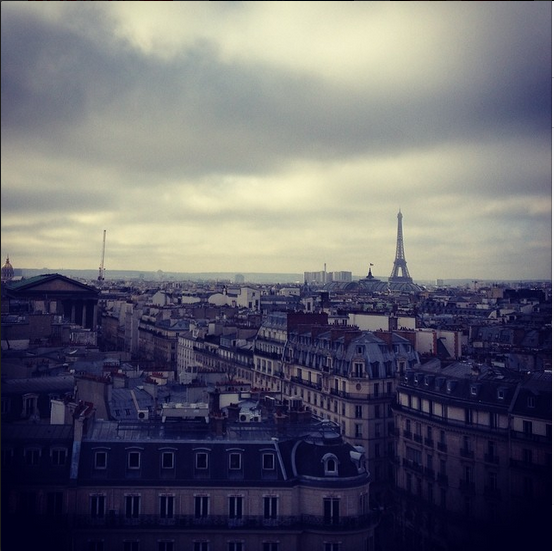 "On A Moveable Feast" by Yara Y. Zgheib. © 2015 Yara Y. Zgheib. Published with permission. All rights reserved.
"Exister est un fait mais vivre est un art. […] On apprend à vivre, comme on apprend à philosopher ou à faire la cuisine. Et le meilleur éducateur de la vie, c'est la vie elle-même et l'expérience qu'on peut en tirer." —Frederic Lenoir
"To exist is a fact, but to live is an art. […] We learn to live, as we learn to philosophize or cook. And the best instructor of life, is life itself and the experience we draw from it." —Frederic Lenoir
It is drizzling. Of course it is. The damp air smells of metro fumes and a hint of Terre d'Hermès as I painfully drag my suitcase up the stairs and onto le boulevard Saint Michel. I look around. Red lipstick stands out against the gray sky. Brown leathered footsteps resonate on the shiny pavement. I pull my collar up… and smile. Only in Paris can a cold and rainy April day be romantic.
"If you are lucky enough to have lived in Paris as a young man…"
To live in Paris as a young man is to be poor, cold, and in love. To climb six flights of stairs to a chambre de bonne with squeaky floorboards and lavender sheets. To read poetry over a stranger's shoulder during rush hour on la ligne six. To walk past three boulangeries to the one at the far end of the quartier with the better croissants. To forego dinner for a hot baguette and a good bottle of wine, and heating for an evening view of the Seine from inside mon chéri's coat.
Up la rue Saint-Julien le pauvre, to the right, then another right. There are two faces I love huddled over a table by the window of a tiny café. I tap at the glass. Smiles, hugs, and tears. I am no longer cold. An extra glass for me, fresh bread, and some chèvre chaud sprinkled with rosemary and thyme. Et pour finir, un espresso with a chocolate coated almond. Our weekend in Paris has begun.
We walk. Up cobblestone streets and narrow steps. Across bridges and through gilded archways. Into smelly cheese shops and out of crowded Thursday markets. Past the queue of ignorant tourists outside Ladurée and toward the infinitely better Pierre Hermé. Our flânerie includes the traditional stops: Boulinier for a pile of secondhand books, twenty cents each. Georges Larnicol for a bag of artisanal chocolates, half of which are 'tasted' before leaving the store. Angelina for brunch. Léon for mussels and fries. Notre Dame for solace. The rooftop of le Centre George Pompidou for the view. La place des Vosges and la place Vendôme, for the reverie.
Then come the discoveries. La librairie Jousseaume, tucked away in Le Passage Vivienne. Colette bought books and writing paper here. I buy a postcard. Le musée de la vie romantique, with its satin-green shutters overlooking a secret daffodil garden. Chopin plays in the rooms where artist Ary Scheffer once hosted the great romantics of the nineteenth century: Delacroix, Rossini, Sand, Gounod, Tourgueniev, Dickens. Right across on la rue Chaptal, the most exquisite assiette des embruns at le restaurant la Clairière. Monsieur Hermet cooks, Madame Hermet brings out the plates and the hot bread.
After lunch, an afternoon at l'hôtel particulier Jacquemart-André. He, a wealthy Bonapartist Protestant. She, a Catholic royalist he commissioned to paint his portrait. They married, traveled the world, and turned their house into a museum. I shamelessly eavesdrop on a tour guide explaining Caravaggio's Boy Bitten by a Lizard.  Then, un thé courtisane in the elegant café downstairs.
Before we know it, we have walked the weekend away.
If a trip to Paris should end, let it be with an evening at Le Quinze Vins on la rue Dante. It is cold enough for a glass of cabernet franc; the conversation turns to philosophy.
"To exist is a fact, to live is an art" And Paris is where you learn it. In 1948, surrealist painter René Magritte produced a peculiar little painting of a man's body with a floating balloon for a head. I am reminded of it every time I visit this city. Perhaps because it is, appropriately, called "l'art de vivre."  The art of living. There is no single definition of that term, but my favorite is "a true Renaissance appetite for life." For food, wine, art, culture, history, music, philosophy. It is to walk around a city with your head afloat. To experience a moveable feast.
A weekend in Paris is not enough. Nor is a year, or a lifetime. But I was lucky enough to have lived here for a while, and I agree with Hemingway: it does stay with you for the rest of your life. Besides, I'll be back.
One more café-croissant express, then I head for the plane.
Acknowledgements: Lee Murphy, student of new media communications at the University of Minnesota-Twin Cities and copy editor for A Woman's Paris.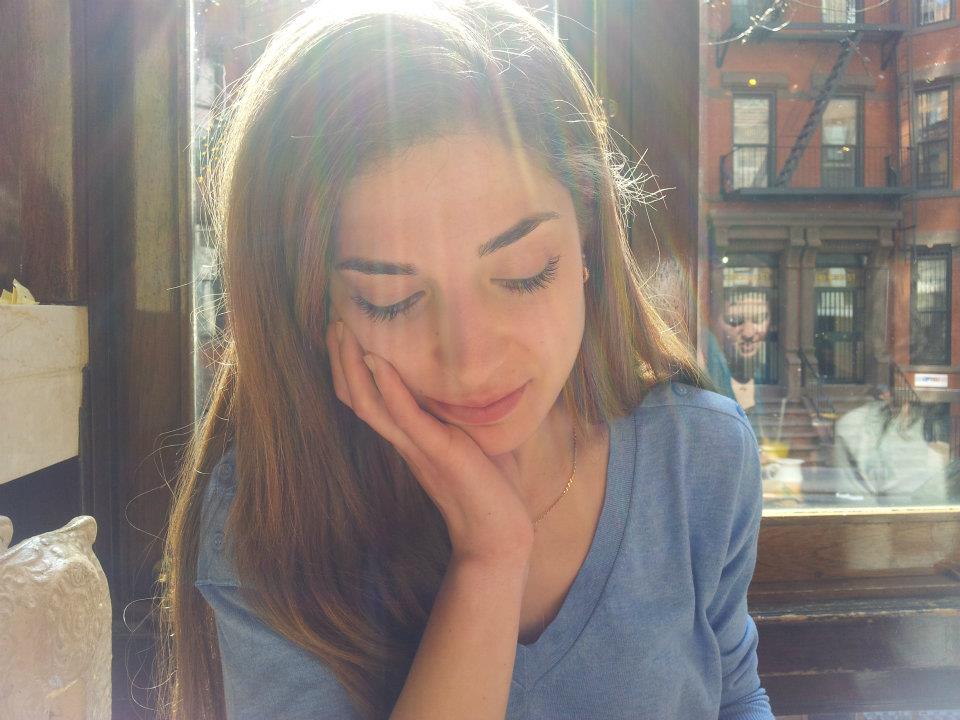 Born in Lebanon, Yara Y. Zgheib has traveled and lived in Glasgow, Washington D.C., and Paris, the city that forever has her heart. She is a Fulbright scholar with a Masters degree in security studies and an all but completed PhD in international affairs and diplomacy. More importantly, she is a writer, a political analyst, a daydreamer, and an avid tea drinker.
Yara is the author of "Biography of a Little Prince," and has a second novel, "Letters I'll Never Send," scheduled for release in 2015. Her blog, "Aristotle at Afternoon Tea," is a compilation of weekly essays on politics, art, culture, economics, literature, philosophy, and chocolate… her idea of a smart conversation over afternoon tea. For more information about Yara, visit: (Aristotle at Afternoon Tea)
You may also enjoy A Woman's Paris® post The Art Diaries: From Paris to Bretagne by Lilianne Milgrom. An artist and writer, Lilianne Milgrom is Paris-born, grew up in Australia, lived for extensive periods in Isreal, and currently resides in Washington D.C. A Winter's Diary was written during her recent trip to Paris where she curated an exhibition at Saint-Germain des Prés, followed by an extended stay in Dinan as artist-in-residence under the auspices of Yvonne Jean-Haffen Museum. The Art Diaries, first published on AWomansParis.com, are excerpts from her journal A Winter's Diary.
Two for the Road: Paris's Line 2 – small-scale adventures on the Right Bank, by Rachel Rixen. By following the arc of the métro's line two that cuts through the heart of the right side from west to east, Rachel sets out to catch a coup d'œil of her northern neighbors in the places that make them feel at home. The sun is hard to come by in Paris's fall and winter months and any occasion to conveniently forget a beat-up umbrella is reason enough to go on a small-scale adventure.
Unpredictably Paris by Barbara Redmond who set off alone that first time in the City of Light, away from fellow travelers, to explore the nooks and crannies of the neighborhoods and shops on foot. After almost ten years of annual visits to Paris, she still has no secret formula for knowing the city. Her ritual is walking and shares chance encounters along the way… 
Missing your train (in Paris): C'est la vie by Parisienne Bénédicte Mahé who shares stories of missing your train as a result of accidents on the railway due to animals, strikes or the weather—plus other practical ways of getting around France. Including websites to travel by trains in France.
The Little Paris of Buenos Aires, by writer and educator Natalie Ehalt. Natalie writes about Recoleta, a premier barrio in Buenos Aires, Argentina, an irresistible Little Paris of South America. Until the sounds of thick Argentine Spanish reveal Recoleta's true identity, a visitor might be fooled, stepping out of an urban rowboat and into a garden of 12,000 roses. (French)
The Mays of Wine and Roses, by Mary Evans who spends May and September in Mollans-sur-Ouvèze, France. But it is the Mays that seem the sweetest for Mary where she can settle into an indulgent pattern of indolence, studded by the appearance and events surrounding the month's two rock stars—wine and roses.
"Around and About Paris" – Montparnasse: Beneath its Surface (part one), is an invitation to scratch beneath its surface of dazzling vistas and imposing monuments and to probe the souls and lives of the restless people who throughout the ages have never ceased to shape it and reshape it, from the book Around and About Paris, volume one, by Thirza Vallois (used by permission). A travel and history guide through Montparnasse; including links to maps.
"Around and About Paris" – Montparnasse: Romantically Picturesque (part two), is a journey into the depths of Paris the magnificent: city of romance and drama, of triumph and tragedy, of farce and grandeur, of crime and passion, from the book Around and About Paris, volume one, by Thirza Vallois (used by permission). A travel and history guide through Montparnasse; including links to maps.
How to find a (suitable) place in Paris, and other miscellaneous information, by French woman from Brittany, Bénédicte Mahé, who is in her mastère-spécialisé final trimester doing an internship in Paris. Bénédicte shares with students how to find a place in Paris. (French)
My suitable place in Paris, and how I discovered my new arrondissement, by Frenchwoman Bénédicte Mahé who writes about her new apartment in Paris and her new neighborhood; a foreign place waiting to be discovered.
The Left Bank: La Rive Gauche and the Land of Plenty, by author Jan Dolphin. Jan brings us to the Left Bank to mingle with authors and artists, of the "Lost Generation" who appeared in Paris in the aftermath of WWI making the 1920s an era to be remembered from her book Paris from the Heart: Ultimate Walking Tours to Fun, Fashion, and Freedom.
The world of aristocratic Paris, by author Jan Dolphin. Enter the gates of the eighteenth century parc Monçeau and from there discover two historic townhouses: Musée Nissim de Camondo and Musée Jacquemart-André. Excerpts from her book, Paris from the Heart: Ultimate Walking Tours to Fun, Fashion and Freedom.
The Paris Métro: Who, me? Barbara Redmond writes about how in her early travels to Paris she was forced to take the métro in order to truly explore the expansive center of Paris. Includes a French to English vocabulary translations to help travel around the city.
French Lingerie: Mysterious and flirty, by Barbara Redmond who shares her experience searching for the perfect lingerie in Paris boutiques and her "fitting" with the shop keeper, Madame, in a curtained room stripped to bare at Sabbia Rosa. Including a French to English vocabulary lesson for buying lingerie and a directory of Barbara's favorite lingerie shops in Paris. (French)
Text copyright ©2015 Yara Y. Zgheib. All rights reserved.
Illustration copyright ©2014 Barbara Redmond. All rights reserved.
barbara@awomansparis.com