Travel Diaries: Prelude to Lessons in French – Paris (part one)
11 Tuesday Aug 2015
Tags
Abélard et Héloïse, Boulangerie, Centre Pompidou, Chopin, Coeur de France Sancerre French language school, Colette, Edith Piaf, Eiffel Tower, French lessons in France, French Travel, Institut du Monde Arabe, Jean Tinguely, Jim Morrison, Le Marais, Modigliani, Moulin Rouge, Musée d'Orsay, Musée du Louvre, Musée du Quai Branly, Musée Marmottan, Nikki de Saint Phalle, Notre Dame, Oscar Wilde, Paris travel, Père Lachaise Cemetery, Place de la Concorde, Place de la Madeleine, Place de la Republique, Pont de l'Alma, Sancerre wine, Sarah Bernhardt, Stravinsky Fountain
Share it
By Susan Henry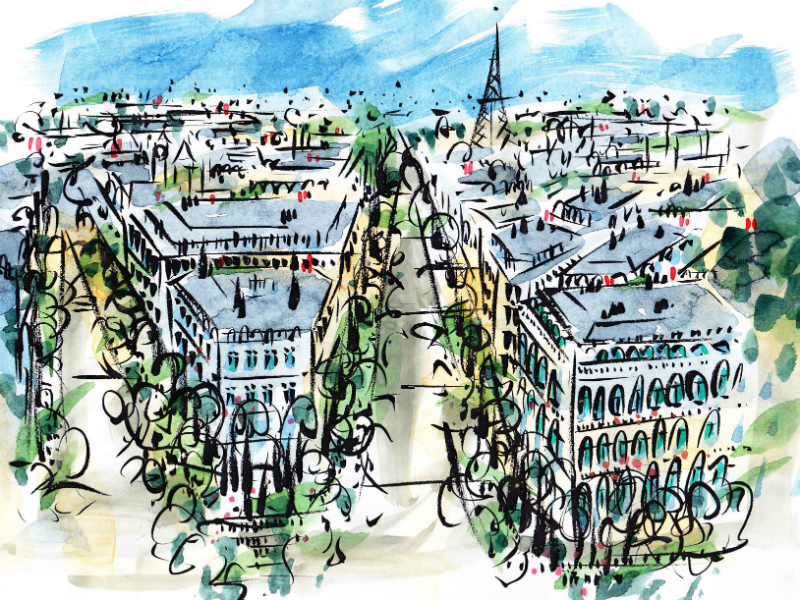 I first heard about bucket lists back in 2008 when the film "The Bucket List" came out. It got me thinking about what I wanted to do when I had the leisure time and resources to consider activities that didn't involve career and domestic obligations. At the top of my list was taking a language immersion class in France to try to improve upon my one year of college French that dated back many years. I love the melody of the language and was envious of my sister – a fluent speaker – who got us around Morocco a few years ago on the basis of her fluency. I doubt that I will ever achieve that level of accomplishment, but if I could travel around Paris and meet my basic needs without speaking a word of English – Mon Dieu !
The impetus for moving forward with this idea came during a vacation in the Palm Springs area in the winter of 2015 when I was visiting my cousin Linda and her husband Rick. Rick is of the philosophy that you can't take it with you – as in money. And so to the Internet I went to spend mine on a language immersion class in France.
After looking through several sites, I settled on a school named Coeur de France, housed in a 16th century chateau located in the Sancerre wine region about 70 miles south of Paris. The program sounded serious and the testimonials from past participants were positive, but the actual decision was made for me when I saw an apartment option offered by the school that was located in a vineyard. The kitchen had a window that looked out on the grape vines and I pictured myself sitting there, sipping wine and studying – getting the verbs right would take a second pour most likely. The application process was pretty easy and straightforward, and to make sure I got the correct proficiency level class, I took their optional placement test – 40+ questions in French. My score put me at Beginner Level 2, but I decided to enroll in the Level 1 class for reasons of class timing – and that I had guessed at most of the answers that I got right. Pity to start a class with bad habits – non ?
After returning to Minneapolis from my California idyll, I had dinner with my neighbor and frequent travel partner Jane and told her about the class. Two glasses of wine later, she too was committed to the program. And so, I will check off the first item on my bucket list in the company of a good friend.
10 Days to Departure
After a morning walk around Lake of the Isles, Jane and I have our first real planning chat about the trip. We had settled on date, itinerary and hotels previously: Fly to Paris on Wednesday, spend the rest of Thursday, all day Friday and half of Saturday reacquainting with the city, then to the town of Cosne-Coures-sur-Loire via train to be met by representatives from Coeur de France. On the return two weeks later, we will stay at the airport for one night but take the train into the city for our last day of France – and hopefully, fulfillment of my dream to do it in French.
Our hotel of choice in Paris is the Hyatt Madeleine at 24 Boulevard Malesherbes. We had several options to consider but settled on this one after reading some of the reviews about the location and amenities. One comment in particular captured our attention: "… a bathroom that made me feel like a princess!" We will be ensconced in a "deluxe twin" for this all-too-short stay.
Up in her condo, Jane has laid out a large map of the city and has started plotting some coordinates starting with our hotel. It looks like we are in walking distance of the main shopping district where designer boutiques and street cafes abound – a triangle bordered by Avenue des Champs-Élysées, Avenue George-V and Avenue Montaigne.
A must-do on our list, even in this short period of time, is to take in some examples of contemporary Parisian architecture. This is a favorite theme of our past travels to architecture-rich cities like New York, and Paris, home to so many architecture wonders – ancient and modern – is no wall flower. Having both previously traveled to Paris and seen all of the famous landmarks, we focus this time is on contemporary works – especially those with designer labels including Jean Nouvel and Renzo Piano. High on my list is the Musée du Quai Branly, designed by Nouvel, with its green walls (literally, plants growing out of them); for Jane it is the Centre Pompidou by Renzo Piano with its inside-out infrastructure. I throw in the Institut du Monde Arabe, also designed by Nouvel, because it looks like a big Moroccan tile (one of my favorite styles).
And what about a boat ride on the Seine at night when the City of Light is on brilliant display? And the Musée Marmottan Monet… and the Père Lachaise Cemetery… and the Marais… and the Saturday Flea Market. So much to do, so little time.
One evening, I take out my map and try to plot all of these venues and find it to be headache-inducing: the map print is so small, even my reading glasses supplemented by a magnifying glass cannot locate some of the places. As my frustration rises, I recall reading something on the hotel website that mentions a very helpful Concierge who will advise on touring plans, so off I go to pen him a note and a plea for help: "Dear Monsieur le Concièrge… can we fit all of this into our short stay?" His answer comes back the next morning – difficult to do it all he says, but maybe possible – if broken down by geographic area. His recommendation:
Half day Thursday: Marmottan Museum, Quai Branly Museum, River Cruise
All day Friday: Père Lachaise Cemetary, Marais, Pompidou Center, Institute of the Arab World
Half day Saturday: Flea Market
Now that we have city areas mapped, we can add or subtract as interests rise or fall, and depending on how we feel. Being a person who likes structure, this works for me – as I am sure it will for Jane. Jusqu'à demain.
June 10: Prelude to Lessons in French
Jane is ahead of me in the boarding queue for our flight this evening. Onboard, she plops down unceremoniously in my window seat 18A with the presumption that "it doesn't matter where we sit, right?" Well, it does – but I'm in my c'est la vie vacation state of mind and settle myself into the aisle seat instead. We have both been whirling dervishes the past several weeks and have had no time to connect except for brief text messages and emails about the trip. Now that we are a captive audience to each other, we fill in the void.
After takeoff, we have our orders ready for the drink cart, and when it comes by I flash my "French in 10 Minutes a Day" book to the flight attendant and tell her "nous voulons deux verres de vin rouge". It turns out she was the one making the French language announcements on the PA, so we are playing with an expert here. We tell her about our language mission in Sancerre and the news travels fast among the crew; soon, each crewmember that passes by our row says something in French to us. We respond in elementary ways – Merci, Oui, Je vais à Sancerre, Un Deux Trois, Bonjour! As coincidence would have it, this same crew will be on our return flight on June 28, so the bar is set high. They promise not to speak a word of English to us – so we better study hard.
It is really impossible to sleep in this upright position – it seems the seats do not recline. I get up a few times and survey my fellow sardines; few are sleeping, most are staring morosely at the video screens in the seatbacks in front of them. Jane however, is snoozing comfortably in 18A, slumped against the sidewall, pillow cushioning her head. Oh, hurry Paris.
At last, the landing gears grind down and soon we are on the ground and heading to Passport Control, where we get our first ogle at beautiful French women. There are uniformed hosts and hostesses directing people to different lines depending on nationality, and they are exquisitely attired in the requisite scarf and chic hair-dos, stiletto heels, slim pencil skirts, close fitting jackets; the contrast to we weary, rumpled travelers is decidedly stark.
Outside, we head to the taxi stand where I confidently employ my French to tell the driver that we are going to the Paris Hyatt Madeleine at 24 Rue du Malsherbes; he looks at me uncomprehendingly. While we stare each other down, Jane pulls out the hotel confirmation letter – the address is 24 Boulevard Malesherbes. Silly me – Boulevard, Rue… I thought such nuances were important only to Google Maps.
The drive into the city is tedious – like sitting in a parking lot; it reminds me of Bangkok. There is no air conditioning in the car, and rolling down the window only lets in nauseating exhaust fumes. Motorcyclists weave in and out of lanes, just missing being crushed by cars and trucks that are also changing lanes to get a nanosecond advance. We note one motorcyclist wearing pink pants and matching pink suede loafers, his groceries peeking out of a box strapped to his rear fender with bungee cords. Oh – and he's smoking, cigarette hanging jauntily from the side of his mouth. The taxi radio is playing something foreign-sounding and I ask the driver what language it is – Ghanian he says. France is even more of a polyglot than the U.S.
Paris in Half a Day (don't try this!)
Finally! We have arrived at 24 Boulevard Malesherbes, and even though check-in is not until 3 p.m., they have a room available and we are able to drop our bags, freshen up and the head out to make the most of this first half-day in Paris. The game plan is to tackle the day 1 itinerary suggested to us by the Concierge: Musée du Quai Branly, Musée Marmottan, evening boat ride on the Seine, and whatever else interests us along the way.
En route to the Branly, we follow Boulevard Malesherbes to Place de la Madeleine and stop at a bistro called "Paris-London," where we take a seat at one of the sidewalk tables with the intention of orienting ourselves over maps and cold glasses of Champagne. I have my laptop with me to capture important notes to journal, but we have arrived just before the lunch hour, so the staff is not at all interested in letting us linger and take up space from the more lucrative lunch crowd. The Champagne is actually really bad white wine (how can that be?) and our small table is cleared while our glasses are still half full. When the waiter gestures for us to squeeze our chairs together so he can make room for another table, we pay up and leave. Not a very good start, we think.
The walk to the museum is through the Place de la Concorde and along the Seine, and is much longer than we thought it would be. That, along with the rising heat, blazing sun, throngs of tourists and gridlock traffic, combine to make this a less-than-relaxing stroll. We keep hoping for a riverside café at which to stop for something cold to drink and a snack but there are none to be found. At the Pont de l'Alma we see a sign for the museum and follow – gladly!
The Branly Museum is along the left bank of the Seine and not obvious even when we are alongside of it. The entire front façade of the campus is lined with high plate glass walls; behind which are lush gardens that look wild and almost tropical… not at all like typical French manicured gardens. In reading some of the history of the design process, we learn that the architect Jean Nouvel tried to hide the buildings to avoid complaints from residential owners in the area; he did a good job – it looks like a park! Instead of one building, the museum is a series of four interconnected buildings that span an entire block and are accessed by walking paths that meander throughout.
On one end is a long building clad in metal mesh-like panels in a rusty red color; in the middle is a roundish-shaped structure with white metal louvers sticking out like flower petals; next to that is a building with different colored cubes jutting out from the façade (similar to the Nouvel-designed Guthrie Theatre in Minneapolis); on the far (north) end is a four-story administrative building with lush green plants growing out of the exterior walls – ferns, ivy, moss, heather. This is the iconic part of the building that is shown in all advertisements for the museum, and is the reason I wanted to see it. It is really quite unique and I love it; Jane is unimpressed, finding it gimmicky and without obvious purpose. Overall, though, this museum looks like an architecture school project where the professor combined the top four ideas from a design competition and glued them together with plants and walkways.
By now we are ravenous, and a restaurant conveniently located within the museum campus beckons us. The setting is really pretty, looking out at the lush landscape and up at the Eiffel Tower that sits on the northern periphery. We sit outside in the shade and order ice teas and Croque Monsieurs. When the order comes, we blanch at the non-French nature of the presentation: the sandwiches are huge – almost half a loaf of bread each; the tea is sweetened Lipton. We both immediately lose our appetites at the sight of so much food and only pick at the filling.
Lunch over, we take stock of how we feel about the rest of our itinerary: We are really dragging, and the thought of touring the exhibits and collections inside the building is not at all appealing. We will content ourselves with having met the 'tour architecture' item on today's checklist.
Speaking of checklists, next up is supposed to be the Museum Marmottan, but it is much further away – definitely not walking distance – and we're too tired to figure out the metro map; instead, we decide to wander back to the hotel – passing through the fashion district – hoping that we can stay awake until at least 8 this evening for a normal sleep cycle. Scratch the boat ride on the Seine, too.
Finally, we're back at the hotel, barely dragging our sore feet and sweaty bodies. The bar looks cool and we decide to step in for a drink and light snack in an attempt to further delay bedtime. Our waiter Olivier – recently arrived to the big city from Bordeaux – is a treat, catering to us and indulging (and correcting) our halting French. We tell him his name is the same as that of a famous actor – Sir Lawrence Olivier – and nickname him "Larry". As we're signing for the tab, Larry comes back crestfallen – the elder Larry died in 1989 (well before the new Larry was born).
Upstairs, Jane wins the toss of the coin and gets to the shower first. My head is bobbing and I can hardly stay awake. Once showered and in bed, it is toes up and lights out until morning.
Paris in a Day
After breakfast this morning, we meet with the Concierge to go over a navigation plan for hitting all of the sights on today's to-do list: architecture interests Pompidou Center and Institut du Monde Arabe, Père Lachaise Cemetary and maybe the Marais district. Monsieur le Concièrge suggests buying tickets on the Open Bus line – the double decker buses with the open air upper decks that cover four different quadrants of the city and that allow you to jump on and off at different sights. We like the idea; Charge it, please.
Bus tickets in hand, we head back to Place de la Madeleine where we jump on the first bus that comes by. We assume we are on the green line that goes by the Louvre, the d'Orsay Museum and Notre Dame. Upstairs, the breeze is wafting, the sun is shining – and the traffic below is snarled. Alas, as the bus passes by the Moulin Rouge, we do a map check and realize that we are on the yellow line that is covering the northern quadrant of the city, not the Seine. At Gare de l'Est, we decide to get off and walk to the Pompidou Center, which is just a few blocks away, so all is not lost.
The Pompidou, designed by Renzo Piano is just as described – a huge square building with its mechanical infrastructure exposed on the outside. Escalators snake up the sides of the building through translucent tubes, metal conduits of all diameters carry electric and water lines, elevators climb the sides like vertical cable cars. Every system appears to be in a different primary color – red, blue, yellow on a white background. It must have been eye-catching when first opened in 1986, but now the exterior shows the wear and tear of years – rusting metal, dirty glass. I really don't like this; Jane, more of an architecture aficionado than I, is more forgiving.
For both of us, the most exciting attraction here is the large water feature in the adjacent square – the Stravinsky Fountain – with 16 water-spouting sculptures intended to celebrate the composer's Rite of Spring opus. The designs by Nikki de Saint Phalle and Jean Tinguely are playful, colorful and intricate. We take a seat at one of the cafés lining the square to order cold drinks and to better absorb this eye candy.
By now, it is 2 in the afternoon and we realize that we will not be able to cover all of the remaining sights on our list, so we decide to split up and hit the ones that most interest us personally: for me, Père Lachaise Cemetary, for Jane the Institut du Monde Arabe. We agree to meet outside of Notre Dame at 4:30 and will text/phone if we are running late or early.
I head over to the Metro station just around the corner at Rambuteau and take the #11 brown line to République where I transfer to the green line that goes directly to Père Lachaise. It is my first time on the famed Paris subway system, and while the ticket machine is momentarily flummoxing, I figure it out and am at my destination in little time. This truly is the best way to get around Paris.
My interest in the cemetery came about from reading Patti Smith's memoir – "Just Friends," in which she credits one of her musical mentors, Jim Morrison, who died in Paris in 1989 and was buried in Père Lachaise. Before I enter the gates, I buy a map and try to locate the graves that I'm interested in seeing: Abélard et Héloïse, Édith Piaf, Chopin, Colette…
The map has hundreds of grave sites plotted on it; the paths through and around them are maze-like, so I sit down on what looks like a curb to figure out a path when a guard comes over gesturing for me to stand up; It appears that I am desecrating someone's grave by sitting on it. At this point, I do not know how to say "I'm so sorry" in French.
Inside, I am immediately struck by the silent beauty of the space and its size – it is huge, over 100 acres; there are supposed to be over one million bodies buried here, not including cremated remains. I start up Avenue Principale and don't even know where to look – there is so much. It is gorgeous; monuments, mini-chapels (some with ornate metal doors ajar and with kneelers inside for visitors paying their respects), headstones (none simple).
At the intersection of Avenue Principale and Avenue Circulaire, I locate Colette (on my list because of a biography of Colette read by my book club). While there, peering at my map, two French women and I engage in conversation – broken English (them) and French (me) about other grave sites; they too are looking for Jim Morrison.
We set out together and along the way run into a young Frenchman who has made several wrong turns also in search of Morrison, so we join with him and voilà – in section 6, we find The Man. Amazingly – this American icon in a French cemetery has more tributes, flowers and trinkets adorning his grave than any other in the cemetery. And, those paying their respects are from a wide variety of nationalities. Who knew? I make a note to self – find out more about this international magnet.
By now, I've figured out that the graves I want to see are those that are also the target of most of the other visitors here, so I just stash my unwieldy map and go where I see the most people – Edith Piaf, Modigliani, Abélard et Héloïse, Oscar Wilde, Sarah Bernhardt, Chopin – I could spend a day in this peaceful, meditative place but it's getting close to my meet-up time with Jane so I head for the exit. If I ever come back to Paris, this place will merit a re-visit.
Meanwhile, Jane has found the Musée du Monde Arabe on the Rue de la Fosse, along the Seine. The south side façade is a series of intricately designed panels that open and close to let in or deflect light; it looks like a giant Moorish screen or series Moroccan tiles; the north side curves to follow the Seine. I wish I had seen this. Next time.
Several text messages and phone calls later, Jane and I reconnect in the plaza in front of Notre Dame. We brief each other on our adventures over a glass of champagne at a sidewalk café and then catch the green line open top bus back to Place de la Madeleine, where we stop in a couple of interesting looking-cafés to check out dinner options but amazingly, both are closing at 6 p.m. A hostess at one suggests Paris-London as a good place for dinner; we hesitate – could it be as bad as the first try? But we're tired and hungry, and it's right on our path back to the hotel.
Vindication is in order and we take back what we said about our first experience. The waiter is charming, the Vodka on the rocks perfect for unwinding from a busy day, and our meal choices really, really good – grilled sea bass with green beans for me, salmon tartar for Jane.
Back at the hotel, we make a last visit to the bar for a night cap; I'm in the mood for something sweet and ask our pet waiter Olivier (Larry) for a cookie perhaps; he brings a plate with seven pastel colored macaroons; Jane takes one; I eat the remaining six. The sugar high will stay with me into the early morning hours denying me much-needed sleep for the third night in a row. Before going to bed, though, we check our train tickets for the next day and alas, instead of the 2 p.m. train that gets into Cosne-Cours-sur-Loire at 4 p.m., we're on the 9:15 a.m. train that gets in at 11 a.m. It is too late to change the tickets to the later train and also to contact Coeur de France for a new pickup time. The Flea Market will not happen on this trip. We hope Cosne offers some entertainment for our four-hour layover.
Day 3 in France – Here we are, on our way to Sancerre's school. (Nous voilà parties à l'école en Sancerre)
Our departure from the hotel is at 8 a.m. for Paris Gare de Bercy station. We arrive early and as it is a small station, there is nothing to do except stand around staring at the monitors to see which track our train will be departing from – and to people watch. For the umpteenth time in our brief stay we see couples entwined in borderline erotic embraces; So Paris is for lovers – but really?
Once our track is posted, crowds start lining up and pushing forward but we stand back since we have reserved seats in First Class and do not need to rush. In fact, we could have dawdled even longer: departure is delayed – a rolling delay it seems but we can't understand the announcements to know the reason or how long it will be. I make eye contact with a man who looks like he might speak English (he does), and who helpfully informs us that it is a mechanical problem; "doesn't that only happen to airplanes?" I think.
After about 30 minutes, we're on our way; the scenery unremarkable and we are a little disappointed. If we've read the train schedule correctly, Cosne-Cours-sur-Loire should be the sixth stop and I make sure to count each one. It really is impossible to understand what the conductor is saying – even the of the name of a station – he is speaking so fast. After the third stop, an agent comes through the cabin – not to collect our tickets (which they never did) but to hand out forms detailing procedures for submitting claims to the railroad company to request compensation for any inconvenience or harm caused by the delay – Pour obtenir une compensation au titre de la garantie ponctualité.
I guess we look apprehensive because when we near our stop, the English speaking gentleman comes by to let us know that our stop is next; sometimes it pays to look helpless.
At Cosne-Cours-sur-Loire, we disembark in a decidedly ungainly manner with Jane first getting stuck in the closing cabin doors; once on the ground, I pass our heavy bags to her then lumber down after them. Lucky for us, there is a conductor watching so we aren't caught in the closing doors and dragged along the tracks, hanging from an ankle as the train picks up speed.
Now the question is what to do with our bags while we go explore the village until our pickup time, which is still hours away. While Jane stands guard outside with our bags, I talk to the agent at the ticket counter in my broken French and manage to explain that we are early, that our ride won't be coming for a few hours and that we would like to store our bags somewhere safe while we visit the town. I seem to have connected with her because she steps away and then beckons me into an office area and points out a place for our bags. I practically hug her. Merci, merci, merci – and many beaucoup Madame!
Cosne (pronounced Kohn) is a sweet little village on the banks of the Loire. Our walk through the small commercial area with shops and professional offices – none of which are open – takes us to the riverbank where we sit for a while on a bench and watch a couple of old men fishing. On the opposite bank is a beach with a few families setting up picnics. We understand that at many places along the Loire, it is very deep and treacherous but here it is calm and even looks shallow. I wish I could go wading – it is really warm out.
Further along the road paralleling the riverbank, we come upon a square with a small restaurant and patio for outside dining. We're not really hungry but not knowing when we will get to Sancerre and a restaurant, we decide to take advantage of the opportunity and pretty setting. There are three or four tables already occupied and we ask to be seated away from the smokers (ne pas fumer s'il vous plait) which is difficult because most of the diners are puffing away or have cigarette packs at the ready next to their plates. The menu is posted on a white board that the waitress brings over for our viewing; she tries to start up a conversation about the selections but stops when she sees our uncomprehending looks. Eventually I figure out one offering – avocado and shrimp – so we both order that along with deux verres de vin blanc (now, our favorite French phrase).
The meal is delicious and we linger over cafés au lait until it is time to head back to the station for our ride.
The train we were supposed to be on arrives right on time at 4 p.m. and we wait at the station exit for our ride; at 4:20 when there is still no sight of a car or driver with a Coeur de France sign, I place a call to the school. Four calls later they send another driver; by the time he comes, we have been in Cosne-Cours-sur-Loire for five hours. A look passes between Jane and I – the rest of this better be really, really good!
After a 30-minute drive through some beautiful countryside, we pull up to a row of buildings in the town of Sancerre. Standing in front of 77 Remparts des Augustins is Laura, a representative from the school waiting to greet us and show us our accommodations.
Mine is exactly as pictured in the photo on the school's website: a large expanse of kitchen windows looking out on vineyards and pastures – very country French, it couldn't be more idyllic and I am very pleased.
Jane's experience is significantly different. The good news is that her apartment is immediately next door to mine in the next building; the bad news is that it is three flights up a narrow stairway that reminds me of the circular stairway on the old Boeing 747s. We look at each other – this can't be safe. Upstairs is an attic apartment that is really cute but the windows are in dormers and all you see is sky unless standing on tip toes right in front of them; knowing the gorgeous view beyond this is not a positive feature.
After showing us how to operate the various appliances and getting our credit card information to cover any damage we might cause, Laura leaves us to figure out how to get Jane's 44-pound suitcase up the stairs. We try but it just won't maneuver around the tight bends so we repack the contents into garbage bags and take them up one by one. The aerobic benefits of this routine aside, I can tell this is not going to work for the long term.
When I awake in the morning, there is a text message from Jane: she has checked into a hotel down the way – the Panoramic Hotel – with views!
Sunday in Sancerre – Regrouping (Dimanche en Sancerre – Restons grouper)
Well, this isn't exactly how we thought this adventure would start but I admire Jane… she has creatively solved her housing problem and is ready to look ahead. I think I would be whining just a little and talking about needing a spa treatment to sooth my stress, but it's a beautiful day and we head into the village for a morning stroll and light grocery shopping with a positive outlook. Our route takes us up a steep rue des Juifs, past a Boulangerie, a Fromagerie, a couple of restaurants and several boutiques; most are closed.
The shop keepers in the village are obviously accustomed to dealing with Coeur de France étudiantes and are very helpful in guiding us through our purchase transactions in the local tongue: the Epicene Casino where we buy some breakfast staples and tonight's dinner of salad fixings and cold chicken (and learn that 91€ in the spoken form is quatre vingt onze), the Boulangerie – Salon de thé/Bar L'Honery where we buy deux baguettes sandwichs avec jambon, beurre et fromage for lunch, the Fournier Père et Fils wine shop where the charming proprietor offers us a tasting of several wines and an education into their provenance (along with a gentle admonition to Jane to stop speaking Spanish and German) and finally, La Fromagerie where we buy three different kinds of goat cheese (les crottins de Chavignon) to go with the wine.
Back at my place, we dine on our baguette sandwiches al fresco under a tree in my backyard. Afterward, Jane heads back to her hotel for relaxation and a nap. I am in dire need of a nap but am beyond tired and cannot sleep; when I can't keep my eyes closed, I move to the kitchen table and open up my laptop to work on my journal – which is how Jane finds me when she returns at the appointed hour of 5:30.
We decide to drink the red pinot noir and it is superb – Le Sourire aux Anges. If we remember correctly the lesson from the wine lady, the wine is named after the vintner's twin daughters Charlise and Margaux. It is kind of encouraging to us that we actually understood that little history lesson en Français! The cheese is equally praiseworthy; we set out the three rounds in a row, then taste test them – mild, medium, pungent; the winner is the pungent one with the ashy rind. Between tasting and sipping, we go over my "French in 10 Minutes a Day" book to get a jump start on tomorrow; our dinner of cold roasted chicken, mache greens, tomatoes and cucumbers is the best thing we've ever eaten!
Bonsoir Jane; bonne nuit Susan; à demain.
Travel Diaries: Lessons in French – Sancerre (part two) published on A  Woman's Paris®.
Acknowledgements: Lee Murphy, student of new media communications at the University of Minnesota-Twin Cities and copy editor for A Woman's Paris.
Remerciements : Julie Valdre, étudiante en Master Traduction anglais-chinois à l'Université Paul Valéry Montpellier et traductrice pour A Woman's Paris.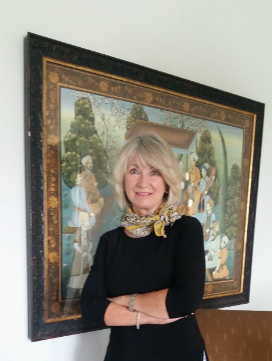 Susan Henry started writing journals several years ago as a way to memorialize fun travel adventures with friends. At first, the journals were of a 'for your eyes only' variety, never meant to appeal to an audience other than those directly involved in a particular trip. Inevitably, the journals were passed around and seemed to strike a note with others who were looking for fun and different ways to spend time with close friends. The sharing of these journals with a broader audience has become as enjoyable to Susan as the experience of the actual adventures.
Susan recently retired from a long career in the airline industry where she held leadership positions in marketing and service operations organizations and where she learned about the joys of travel. Currently, she manages her own small business providing fiduciary services to vulnerable adults and advocates for seniors through her position on the Minnesota State Board on Aging. She lives in Minneapolis where she finds great stimulation from friends, outdoor activities and the city's rich cultural offerings.
You may also enjoy A Woman's Paris® post Travel Diaries: On Where the Heart Is by Yara Y. Zgheib. "They say that home is where the heart is, but my heart is in two places, and nowhere at once," writes Yara. "Never leave your heart unattended on a transatlantic flight. I forget the cardinal rule of safe travel, the one that should be printed in bold on every safety instruction pamphlet, right above 'fasten your seatbelt' and 'do not smoke in the lavatory.'"
Travel Diaries: On A Moveable Feast (Paris) by Yara Y. Zgheib. Only in Paris can a cold and rainy April day be romantic. Yara takes us cobblestone streets and narrow steps; Acrocc bridges and through gilded archways: Into smelly cheese shops and out of crowded Thursday markets: Past the queue of ignorant tourists outside Ladurée and toward the infinitely better Pierre Hermé. "A weekend in Paris is not enough," writes Yara. "Nor is a year, or a lifetime. One more café-croissant express, then she heads for the plane.
The Art Diaries: From Paris to Bretagne by Lilianne Milgrom. An artist and writer, Lilianne Milgrom is Paris-born, grew up in Australia, lived for extensive periods in Isreal, and currently resides in Washington D.C. A Winter's Diary was written during her recent trip to Paris where she curated an exhibition at Saint-Germain des Prés, followed by an extended stay in Dinan as artist-in-residence under the auspices of Yvonne Jean-Haffen Museum. The Art Diaries, first published on AWomansParis.com, are excerpts from her journal A Winter's Diary.
Travel Diaries: Two for the Road – Paris's Line 2 (small-scale adventures on the Right Bank), by Rachel Rixen. By following the arc of the métro's line two that cuts through the heart of the right side from west to east, Rachel sets out to catch a coup d'œil of her northern neighbors in the places that make them feel at home. The sun is hard to come by in Paris's fall and winter months and any occasion to conveniently forget a beat-up umbrella is reason enough to go on a small-scale adventure. 
Travel Diaries: Unpredictably Paris by Barbara Redmond who set off alone that first time in the City of Light, away from fellow travelers, to explore the nooks and crannies of the neighborhoods and shops on foot. After almost ten years of annual visits to Paris, she still has no secret formula for knowing the city. Her ritual is walking and shares chance encounters along the way… 
Travel Diaries: To the South of France with Love. Sara Horsley invites us into her world to share six weeks in Arles, France, during a study abroad program. There, she learned about the French culture and their respect and admiration of artistic expression.
Text copyright ©2015 Susan Henry. All rights reserved.
Illustration copyright ©2014 Barbara Redmond. All rights reserved.
barbara@awomansparis.com