Pack White Pants
02 Tuesday Jul 2013
A Woman's Paris™ in Style
Tags
American fashion classics, Breton striped sailor tops, Coco Chanel, Côte d'Azure, French fashion classics, Jackie Kennedy Onassis, Kate Moss, LBD, little black dress, mariniere, post-World War I France fashion, study abroad, white pants, white trousers
Share it
By Bridget Mulheran
Pack white pants. My aunt Mollie, stylish and fashionably up-to-date, advised me on what to bring on my first trip to Europe, less than two weeks away. I could feel the thrill of excitement as she talked about her year in Switzerland as a college student living and studying abroad. I could imagine my own adventure soon to come. Our vibrant conversation shifted between English and French at such a pace that it was a stretch to keep up with her!
When it comes to European classics, less is more, she informed me. Growing up, my style was a blend of American classics my mother picked out for me, which were the trends I gravitated to most. Sometimes my combinations were hit-or-miss as I was trying on my different selves, discovering an individual style. Now, a college student, I was ready for adventure, to find my groove. Study abroad would provide the perfect backdrop. I didn't pack white pants, but a weekend trip to Paris gave me the opportunity to find a pair.
In Europe, it was hard not to notice the effortless way women wear white, particularly white pants, which I was noticing a lot: sailcloth-cotton jeans, breezy linen trousers, wide-leg wools in high thread counts, and milky-silk pajama pants, worn with black tops, Breton striped pullovers, silk scarves, espadrilles, sandals, or strolling barefoot along the beaches. Oversized sunglasses? De rigueur. Looks with an offbeat, heart-warming style, others that hinted "smarts" or beckoned "flirty." This sense of individual style fascinated me, wherever I traveled.
I've taken a new approach to styling white pants, inspired by the fashion model Kate Moss: uncomplicated and chic in her white skinnies with black boots and blazer. I loved wearing my white Zara skinnies with a long-sleeved black cashmere top, grey fur vest and black suede boots during the cold winter months, or snuggling into a thick knit turtleneck worn over white cotton twill jeans and brown leather booties. And for summer, sleek in simple whites and black adorned with accessories (or not!).
Style icon Coco Chanel, on the Côte d'Azure in white pants, black sweater, espadrilles, and strands of pearls loosely tossed around her neck, popularized the sportive, casual chic look in post-World War I France. And Jackie Kennedy Onassis in her "Jackie" bouffant and style always looked comfortable and feminine in white pants worn with a black top, espadrilles, sandals or barefoot, oversized sunglasses, and her unmistakable Hermès shoulder bag.
Women think about all colors except the absence of color. I have already said that black has it all. White too. Their beauty is absolute. It is the perfect harmony. —Coco Chanel
You could build a wardrobe on Chanel's advice alone: a little black dress and white sporty trousers—magnificent for a woman of any age.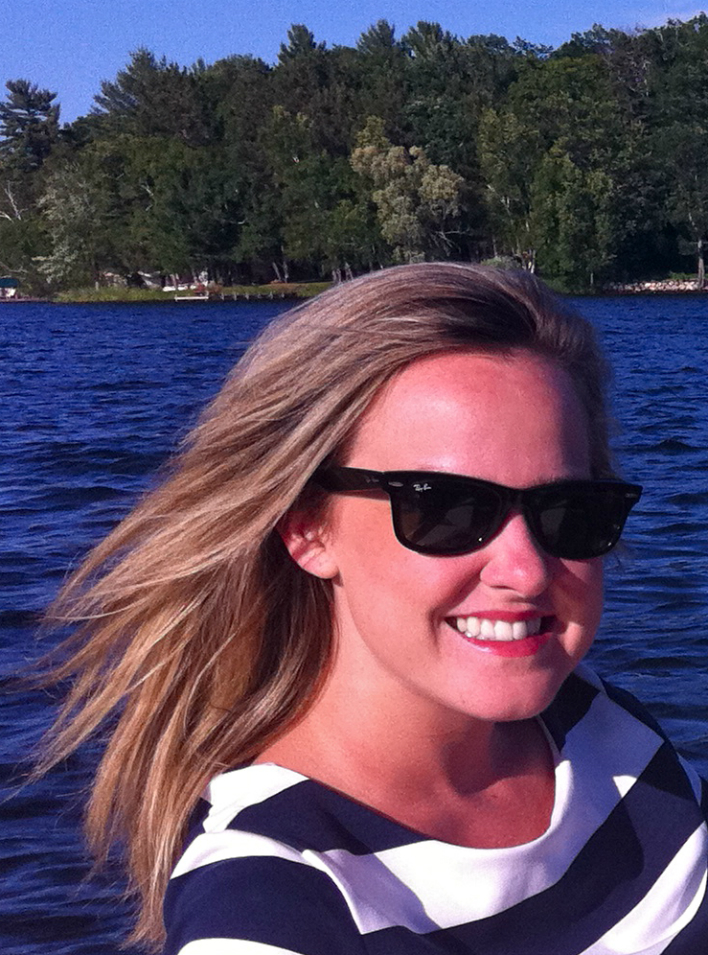 Bridget Mulheran, born and raised in Indianapolis, Indiana, came to the Twin Cities to attend the University of St. Thomas where she received a B.A. in Business Marketing and Minor in Journalism: Visual Communications in 2010. Her first time touring France at the age of 12 made her fall in love with its beauty, ambience, and culture. She revisited Paris during her semester abroad in London and fell deeper in love, especially with the fashions. She lives in Minneapolis and works in the advertising industry, and spends her free time being active outdoors, dabbling in photography and seeking new ways to use her creativity. She is always looking for new opportunities to travel abroad and visit new, unknown places.
You may also enjoy A Woman's Paris® post, Ballet Flats in Paris: And God made Repetto, by Barbara Redmond who shares what she got from a pair of flats purchased in a ballet store in Paris; a feline, natural style from the toes up, a simple pair of shoes that transformed her whole look. Including the vimeos "Pas de Deux Coda," by Opening Ceremony and "Repetto," by Repetto, Paris. (French)

French Lingerie: Mysterious and flirty, by Barbara Redmond who shares her experience searching for the perfect lingerie in Paris boutiques and her "fitting" with the shop keeper, Madame, in a curtained room stripped to bare at Sabbia Rosa. Including a French to English vocabulary lesson for buying lingerie and a directory of Barbara's favorite lingerie shops in Paris. (French)
Paris photo shoot in search of the perfect Moroccan slipper, by writer Lisa Rounds who tells of her adventures in the North African neighborhood of Barbès in Paris searching for the perfect slipper in red, of course, for a Cosmo photo shoot. Lisa shares her story of "living the dream," working for a publishing company in Paris.
"Fatale: How French Women Do It" – Perfume that rocks the room, peeks at the mysterious ways Frenchwomen manage to appear sexy, smart and recklessly chic from the book Fatale: How French Women Do It by Edith Kunz (used by permission). Includes are tips for applying fragrance and a list of 18 key pulse points to consider.
Scarves à la Françoise: The lingua Franca for stylish women, by Barbara Redmond who shares her experience trying on scarves and tying them at the home of her French friend in Lyon. An experience spurred by the ubiquitous nature of women and scarves: our common language.
Text copyright ©2013 Bridget Mulheran and Barbara Redmond. All rights reserved.
Illustration copyright ©2013 Barbara Redmond. All rights reserved.
barbara@awomansparis.co