Falling in love: a tale of French design
10 Tuesday Feb 2015
A Woman's Paris™ in Style
Tags
10 Good Reasons to Learn French, ballet flats Paris Repetto, Bastille Paris, bookshelf, Chanel lipstick, France, French craftsmen, French decor, French designers, French furniture, French homes, French lingerie, French perfume, Hermès scarf, Les Ateliers de Paris, lipstick, Olivier Dollé cabinetmaker Haute Savoie France, Paris, Paris decor, Parisian homes, Viaduc des Arts
Share it
By Bénédicte Mahé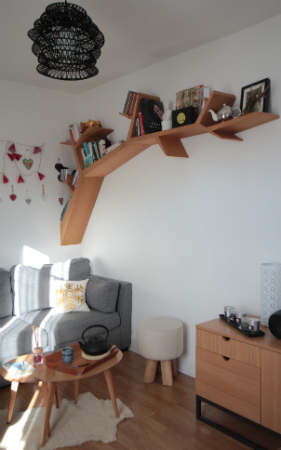 20 months ago, I fell in love. With a bookshelf.
It was actually through my old job that I came across this bookshelf. I was working as a communication officer at Les Ateliers de Paris, an incubator for the creative trades that rents workspaces for emerging graphic/fashion designers and craftsmen in Paris. It was June 2013, not even a month after I started working there, and I was looking at the creations of previous residents when it popped up: the Branch!
I do not know what drew me to it. Maybe it was its clean lines, its organic shape… But it was love at first sight and it never left my heart. From that time on, I decided I would get it when the time came. It was a real investment so I had to save my money step by step.
The designer, Olivier Dollé, is a self-taught cabinetmaker from the Haute Savoie region of France. He spent a year at Les Ateliers de Paris and later opened his atelier not far from it, at the Viaduc des Arts, an old railway (very much like the High Line in New York), which has been transformed into a garden on the top and arched galleries on street level. The Viaduc des Arts starts at the Bastille and is worth visiting. You will find unique and highly qualified craftsmen, some whose trades are incredibly rare and exceptional.
At the time I saw it, I was living in a new apartment but with my student furniture, which I wanted to replace piece after piece with more quality elements. The process of replacing my furniture started shortly after I saw the bookshelf and every item I bought was supposed to fit well with my (far) future purchase.
Since I was so infatuated with it I told my boss and Olivier that one day I would get it for my living room. Seriously, each time I was talking to Olivier I could not help myself and had to mention it. So annoying. But finally, the big day came. I went to Oliver's workshop right before Christmas to order it. We still had to figure out which size would fit best and where it would go, so I had drawn a map of my living room. "Excited" does not quite describe how I was feeling and the fact that I was doing my Christmas shopping as well really gave that day a particular atmosphere. Lucky enough, Olivier had the right size and direction of the branch in store, so he did not have to make it by special request, which saved a lot of time (but clearly, after 20 months, a few weeks did not make much difference).
At the beginning of January, it was show time! I rearranged all my furniture to make room for the bookshelf, which Olivier came to set up. Again, "overjoyed" does not quite relate how I felt that evening. I was cooking in my kitchen to avoid being in the way of the installation but I kept popping my head through the door to see what was happening until I could not handle it anymore and started excitedly, (even impatiently), hopping up and down.
The 2m50-long shelf now fills my living room organically, gives it a slight Scandinavian feel as well as true atmosphere and personality.
I still need to change the decoration above my couch (I want to do a mix of frames), add a floor lamp on the right of my sideboard and switch my dining room table and chairs (it is never enough!), but my feeling of satisfaction is unbelievable. I honestly still giggle with excitement each time I look at it!
Needless to say, I annoyed all my family and friends with this interior design idea for a year and a half and, that not being enough, I keep showering them with my delirious joy since I received it. What do you think?
Addresses
Olivier Dollé, 97 avenue Daumesnil – 75012 Paris, www.olivier-dolle.com
Les Ateliers de Paris, 30 rue du Faubourg Saint-Antoine – 75012 Paris, www.ateliersdeparis.com
Le Viaduc des Arts, starts at Bastille, www.leviaducdesarts.com
Acknowledgements: Alyssa Noel, student of French and Italian, and Journalism at the University of Minnesota–Twin Cities and English editor for A Woman's Paris.
Bénédicte Mahé has studied abroad many times, speaks four languages and earned a Master of Management of cultural goods and activities, as well as a Master's degree in intercultural communications and cooperation. She works in communication and international projects management. Among her interests are drinking tea, cooking (with or without success), reading, traveling, and—of course—shopping. She started her blog Tribulations Bretonnes in 2010 and has been updating it (more or less regularly) since then.
You may also enjoy A Woman's Paris® post French Décor: From spartan to sensatoinal, by Barbara Redmond who explores the world of Parisian Décor from mysterious to minimalist and asks, "Is there a whimsical clash of 19th century formality with 21st century comfort of the 'Style Castaing' known by every Parisienne?" She shares the poetic interiors of Parisian interior decorator Madeleine Castaing, and modernist Eugénia Errázuriz known for the unusual austerity and elegance of her sparse interiors.
The old bourgeois reflex: mixing new stuff with old. "It seems most French women know instinctively how to mix new stuff with old. It's in our genes," recalls Barbara Redmond from a conversation she had with Parisienne Frédérique. "We keep our wardrobe. It's an old bourgeois reflex." Barbara's search in Paris for that one little gesture that makes a look is found in a legendary French handbag, the Cabas tote, made by French designer Vanessa Bruno.
The evolution of lipstick. Melissa Larson takes us on a tour through lipstick; its symbol of glamour and feminity worldwide and the rise of this trend throughout history. And Coco Chanel who was one of those that had much to do with its popularity.
French Candles: Bougies, by Barbara Redmond who writes about buying a package of bougies trouée (candle tapers with interior openings) for her holiday table and about the world of Cire Trudon and the pleasure of forgotten scents. Cire Trudon, founded in Paris in 1643, supplied candles to Marie Antoinette, Napoléon Bonaparte, and other European royals. Including tips on how to keep candles at their best: secrets from our French grandmothers…
A day at the Races: A formal French affair. Parisienne Bénédicte Mahé shares a whole new world that opened to her when she was invited to the Gras Savoye Grand Steeple-Chase of Paris and a very VIP affair. "The wearing of a hat is customary for women," said the inscription on the invitation. Bénédicte was more thrilled by choosing her outfit than she was to actually watch the horses run. But what to wear to this very chic event and posh environment?
Ballet Flats in Paris: And God made Repetto, by Barbara Redmond who shares what she got from a pair of flats purchased in a ballet store in Paris; a feline, natural style from the toes up, a simple pair of shoes that transformed her whole look. Including the vimeos "Pas de Deux Coda," by Opening Ceremony and "Repetto," by Repetto, Paris. (French)
The French Finesse and the Hermès Scarf by Christine Graf who asks, "What is it about the French? She'll put on a scarf and twist it carelessly and she comes out looking elegant. Or she wraps a belt around and voilà—instant chic." Including John Jannuzzi's video I Love My Scarf by Hermès and a book review of The Hermès Scarf: History & Mystique by Nadine Colendo.
"Fatale: How French Women Do It" – Perfume that rocks the room, peeks at the mysterious ways Frenchwomen manage to appear sexy, smart and recklessly chic from the book Fatale: How French Women Do It by Edith Kunz (used by permission). Includes are tips for applying fragrance and a list of 18 key pulse points to consider.
French Lingerie: Mysterious and flirty, by Barbara Redmond who shares her experience searching for the perfect lingerie in Paris boutiques and her "fitting" with the shop keeper, Madame, in a curtained room stripped to bare at Sabbia Rosa. Including a French to English vocabulary lesson for buying lingerie and a directory of Barbara's favorite lingerie shops in Paris. (French)
French Soap: Savon de Marseille, by writer Lauren Ernt who stumbled upon La Licorne, a storefront soap factory in the heart of Marseille and one of the last authentic manufacturers of the famous "savon de Marseille." Lauren writes about her visit and love of this renowned soap for its purity and restorative properties.
Text copyright ©2015 Bénédicte Mahé. All rights reserved.
Illustration copyright ©2014 Barbara Redmond. All rights reserved.
barbara@awomansparis.com