Wine in France: Charles-Erwan Savary on exceptional food pairings with Champagne and sparkling wine (part two)
05 Thursday Feb 2015
Tags
738… or the 733 Récemment Dégorgé, ageing Champagne, Alexander Lobrano Hungry for France, Ann Mah Mastering the Art of French Eating, Asian market for Champagne, Bordeaux France, British market for Champagne, Bruno Paillard Nec Plus Ultra 1995, Bubbly, Burgundy France, Cathedral of Reims France, cellaring wine and champagne, Champagne Ambassador to France Charles-Erwan Savary, Champagne and food pairing, Champagne in France, Champagne tours France, Champagne World War II, Charles-Erwan Savary People and Wine Paris France, David Lebovitz My Paris Kitchen, Dorie Greenspan Baking Chez Moi, Fouché, France, French Champagne, French sparkling wine, French wine, Gevrey-Chambertin France, Goldman Sachs, Jacky Blot Domaine de la Taille aux Loups, Jacques Sélosse Brut Initial Blanc de Blancs, Jacquesson 737, Jean-Robert Pitte wine writer, Krug Grande Cuvée, Larmandier-Bernier Vieilles Vignes de Cramant, Loire France, London School of Economics, Luxury wine events France, Madame Bollinger Champagne, Madame Clicquot Champagne, Madame Jouët Chamapgne, Madame Pommery Champagne, Malbec Argentina, Mireille Guiliano Meet Paris Oyster, Monopole Wine France Charles-Erwan Savary, Montlouis-sur-Loire (Loire valley), Nicolas Maillart Francs de Pieds 1er Cru, Oenotourism France, Paris, Paris Sorbonne University, Patricia Wells Food Lover's Guide to Paris, Philipponnat Clos des Goisses and 1522, Pierre Gimonnet Oenophile Extra-Brut, Pinot Noir-based Champagne, premium wine producers France, rue Mouffetard Paris, Special Prize of the European Champagne Ambassadors' Award, Taittinger Prélude Grands Crus, Talleyrand, Triple Zero Champagne, UNESCO World Heritage Sites Champagne France, up-and-coming winemakers France, US market for Champagne, wine and champagne tasting, Wine and Spirits Education Trust (WSET), wine Chinese cuisine, Wine in France, wine Japanese cuisine, wine Sichuan cuisine, Wine tours France, Wine trends in France, winemaking France, wines of France from Bordeaux and Champagne, women in wine in Champagne France
Share it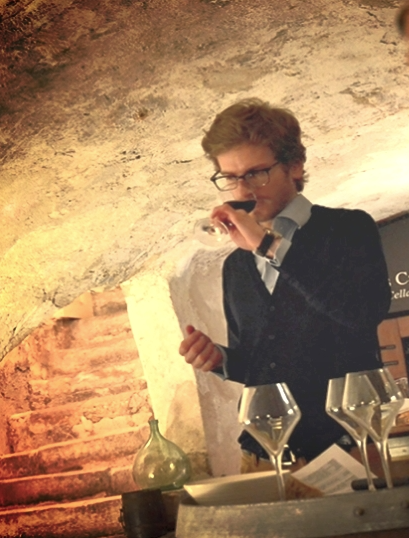 Charles-Erwan Savary, Champagne Ambassador to France and Wine Educator, is the founder and president of PEOPLE AND WINE, which organizes premier tastings for international companies and wine lovers, vineyard tours and consulting solutions to producers and importers. A former associate at Goldman Sachs in the real estate industry, Charles has also developed MONOPOLE WINE FRANCE, an investment-grade wine portfolio management firm offering rare and bespoke alternative investment solutions for individual and institutional investors. A graduate of the Paris Sorbonne University and the London School of Economics, Charles holds a Wine Educator certification from the Wine and Spirits Education Trust (WSET). In 2010, he was awarded the Special Prize of the European Champagne Ambassadors' Award and became Champagne Ambassador to France.
PEOPLE AND WINE is a luxury wine event and travel company offering unique and customized experiences holding exclusive relationships developed with luxury brands and premium wine producers with clients across Europe and in the US. For more information, visit: (PeopleandWine.com) (Facebook) (Twitter) (Email: info@peopleandwine.com)
People and Wine
91, rue du Faubourg Saint-Honoré
75008 Paris
Email: info@peopleandwine.com
Tél: +33 6 71 98 88 17
INTERVIEW: Wine in France, Charles-Erwan Savary, Champagne Ambassador to France and Wine Educator, is the founder and president of PEOPLE AND WINE
"I like on the table when we're speaking the light of a bottle of intelligent wine."—Pablo Neruda
GASTRONOME
AWP: How did your interest in wine unfold?
CES: Everything starts with your family; my father drinks wine everyday (moderately!) and when I was of age to taste wine he initiated me. However, it was mostly during my studies that I developed a strong interest and passion in wine; at the Sorbonne I became President of the wine tasting club, and one of my teachers, Jean-Robert Pitte, a great wine writer and for once wine producer, was giving us amazing masterclasses. I then wanted to become like him! I have much respect for him.
Later on, I set up wine tasting clubs in London, organized tastings there, in Paris, Washington D.C., Sao Paulo, New York City, Munich, Istanbul… Wine became the story of my life.
AWP: A little over 12 years ago, you set out to observe and offer some of the best wine and food pairings behind the world's most accomplished Champagnes, wines and spirits—whose sumptuous combinations with taste are as much art as gastronomy. What have you found?
CES: Indeed we have had amazing pairings that transcend both food and wines. This is what I found fascinating: when you find the perfect match (which is as much the success of the chef as mine), there is an alchemy in your mouth that creates a whole new world of aromas and textures; not just the addition of the ones of the wine and the one of the food, but something new giving a higher pleasure.
AWP: With Champagne, for example, in a recent wine and food pairing in Hong Kong, you were drawn to the simplest of sweets and savory combinations: jellies, jams and condiments with chilled bottles of the best French champagnes and sparkling wine. What was the effect that made these flavors, these tastes so inviting and pleasurable to the Chinese palate? Would these tastes be true to the Western palate as well?
CES: It is very à la mode to pair Western wines with Asian food; it has been done a lot with Japanese cuisine, but there is also a whole continent of flavors to explore in the Chinese cuisine. So the pairings here are interesting, you can try the spicy cuisine of Sichuan with a great peppery Syrah from Côte Rôtie, or on the contrary with a sweet wine to balance the spiciness.
There is only one rule: try matches, and try again. You may be surprised with some combinations you wouldn't have thought about. Wine and gastronomy develop your curiosity!
AWP: Which non-French cuisines are making an inroad into pairings with Champagne?
CES: Japanese cuisine is offering a very interesting combination with Champagne, because of the delicacy of savors and the range of possible pairings. As an example, the acidity and saltiness of some extra-brut Blanc de Blancs Champagne is interesting to pair with raw fish (but forget about wasabi).
AWP: What are the great traditional culinary pairings with Champagne?
CES: What has always amazed me when travelling in Champagne is the use of seafood and fish in the regional cuisine. There is no sea nearby! However the chalk that is so important for growing the grapes (like a sponge it absorbs excess of water when raining, and give it back to the roots during the driest months) and storing the bottles (hundreds of kilometers of cellars were dug in the chalk, primarily to extract building stone then reused for storage at perfect and constant conditions of hygrometry and temperature), was the result of sedimentation so there was sea there at some time (millions of years ago) and let's say there is a nostalgia…
More seriously, this is simply a perfect match for many Champagnes, especially the ones with most Chardonnay (including the Blanc de Blancs that are 100% Chardonnay).
Pinot Noir-based Champagne are stronger in flavor and texture and go perfectly on white meat or veal.
Dry salty cheese like Parmigiano will be perfect with an extra brut or non dosé Champagne.
Sweeter Champagne (with higher dosage) matches perfectly with fruity desserts.
The possibilities are endless! And dinners serving only Champagne (3 to 5 different types) are a must-try.
AWP: Are wine and food pairings best left to the professional chefs and Sommeliers or can we make some interesting and pleasing discoveries at home as a hobby? What is the simplest way to start?
CES: Just give it a try. Be curious and audacious. Never let the professionals decide for you! There are just a few basic rules to respect (but remember rules are made to be broken): you walk on two legs, so strong aromas on one side require strong aromas on the other, otherwise you lose the weaker ones; proteins of meat call for tannins; very salty cheese like Roquefort match perfectly with sweet wines; start your dinner with light dry acidic wines and finish with tannic red wines then sweet wines; some foods are very difficult to match with any wine, like garlic, anchovies, asparagus, crudités, yoghourt, citrus fruits, mustard, vinegar, and too spicy food.
AWP: What do you think today's Sommeliers bring to the diner's experience?
CES: Most good restaurants have an impressive wine list; but how many people do know enough about wine to make a clear selection? It is a hard job to choose. So the sommelier is here to guide you according to the meal you want and/or the type of wine you would enjoy more at that time. Trust him/her but ask for the reasons of his/her choice, you will learn at the same time!
AWP: What has influenced your own style of pairing wines and food?
CES: What I pay the most attention to is not the aromas but the structure of the wine: is it balanced, can it age any longer? In the food, I pay mostly attention to the texture of it, and it helps me to find the right wine that has the right structure to fit this texture.
AWP: How do you orchestrate wine from the aperitif through the meal to its final course? Are there some helpful hints that you'd like to share on this topic?
CES: Never serve strong wines as an aperitif, like a sweet wine, a Port, or even worse: a whisky. This would kill your palate for the rest of the dinner. Start with Champagne or a light wine, white or red. The idea is to have a progression: you don't drink a Malbec of Argentina before a Gevrey-Chambertin village. At the same time you also plan a progression in the complexity and age of the wines, so you usually serve the oldest and most refined ones at the end. For each dinner the order of service is a subject of discussion and arbitration.
AWP: Do North Americans bring a different set of expectations to the wine experience than do the French? The Asians? The Italians? The Australians?
CES: I love American tourists; they are always eager to learn, and always have plenty of questions about everything. They are demanding, but in a nice way; treat them well, show them the best of a vineyard or entertain them with a wonderful selection of wines, and they will be grateful. It is a pleasure to work for them.
Each country, of course, has different expectations, but I would rather categorize people according to their curiosity and level of knowledge than by nationality. However, it is true that depending on where you come from you might in general have different levels of knowledge, and it happened to me to explain wine tasting to a group of Asian people who had almost never tasted wine, so you have to start from scratch. Any situation is challenging but you have to adapt to the clientele to satisfy them.
AWP: Do the French have a different attitude toward what they drink?
CES: French usually believe they know a lot about wine, just because they have so many opportunities to drink some. However I can tell you the average knowledge is not very high, and I have found many more knowledgeable people in Japan, the U.S. or the U.K. just to name a few.
AWP: Minding our manners, sociability, conviviality—is there an art to conversation at the French table?
CES: French people love to spend time at lunch or dinner, it is very important in social life. Therefore wine is also at the center of the conversation and people like to speak about it, tell their impressions about it.
Remember this story about Talleyrand and Fouché, ministers of Napoleon 1st: at the end of a dinner after Napoleon's defeat at Waterloo, Talleyrand serves a glass of Cognac to Fouché who drinks the precious liquid in one single motion. Tayllerand, surprised, intervenes: "Pardon me, but this isn't the way one ought to drink cognac. Let me show you. Hold your glass in your hands to warm it up. Then wait a little, and swirl it gently to allow the liquor to release its bouquet. Then bring it to your nose, smell several times…"
"And then?" Fouché added, a little puzzled.
"And then," Talleyrand concluded, "put it back on the table. Only afterwards should you talk about it." 
AWP: Drinking Champagne in France: are there unspoken rules?
CES: No cup, just flute. And don't open the bottle with a heavy "pop"; you should just hear a discrete breath.
THE ART OF LIVING
AWP: Your life has taken you from investment real estate banking for Goldman Sachs to Champagne Ambassador to France organizing premier wine and spirit tastings for international companies and consulting for producers and importers. What inspired you toward a life and career so dependent on taste and the ability to communicate?
CES: Wine has been my passion for more than 12 years. I tried to resist it but couldn't! So finally I fully work in the wine industry, as an entrepreneur, which was also an important motivation for my career change. And I love to teach people about wine tasting, wine history, wine geography, the marketing and business aspects of it, etc. It is a really interesting industry.
Working in the wine business brings me peace, because I feel I can make a real difference and I am close to people: the producers, the industry leaders, and the consumers. It doesn't bring as much money but is much more rewarding in what it brings to balance my life. 
AWP: What is the best part about living in Paris?
CES: 150 km only from Champagne region!
AWP: Describe your own "Paris."
CES: Paris is my hometown even if I lived a few years abroad: London, New York, Istanbul. So I have a particular link to the city.
What I love in Paris is the food it has to offer: fresh markets and caterers are everywhere, offering wonderful things to bring home and cook with your family or friends.
The best moment I like in Paris is when I have left it for a while and come back. It's good to be back home, but you enjoy it more when you get out of it regularly…
One part of Paris I am particularly fond of is rue Mouffetard area in the 5th, my childhood neighborhood; there, you find so many traditional food shops, it is full of scents, especially on Sunday morning. I close my eyes, listen to the noise of the streets and the voice of merchants shouting their best deals, and open my nostrils to get all these scents.
AWP: What makes Paris such an incomparably wonderful city to eat in?
CES: Look around the world for such a concentration of excellent butcheries, bakeries, wine shops, pastry shops, and fresh markets… New York might be number one for restaurants, but Paris is a step ahead for fresh food to bring back home.
AWP: Your life is extraordinary. What's next?
CES: We keep building People and Wine step by step. I want to give people more unique experiences around wine. We already offer concepts about wine and gems, wine and perfumes, wine and arts, wine and chocolate… with the best brands in their own field, and we want to keep that on.
We also want to offer travellers (especially from the U.S.) the chance to discover the vineyards in an exclusive format, meeting top producers and enjoying rare moments.
Moreover, we are working on innovative wine apps to help the consumers to make a choice in retail shops.
Last but not least, we want to expand our services in investment-grade wines for investors, collectors and amateurs.
Contact us if you have a project in the U.S. or anywhere else!
Charles-Erwan Savary: Ten Champagne and Sparkling Wines to recommend
Champagne:
Larmandier-Bernier Vieilles Vignes de Cramant
Pierre Gimonnet Oenophile Extra-Brut
Philipponnat Clos des Goisses and 1522
Nicolas Maillart Francs de Pieds 1er Cru
Bruno Paillard Nec Plus Ultra 1995
Taittinger Prélude Grands Crus
Jacquesson 737, 738… or the 733 Récemment Dégorgé
Krug Grande Cuvée
Jacques Sélosse Brut Initial Blanc de Blancs
Sparkling Wine:
One more affordable sparkling wines outside Champagne that I like a lot:
Montlouis-sur-Loire (Loire valley), Jacky Blot Domaine de la Taille aux Loups, Triple Zero
Acknowledgements: Alyssa Noel, student of French and Italian, and Journalism at the University of Minnesota-Twin Cities and English editor for A Woman's Paris.
Part One: Wine in France: Charles-Erwan Savary, Champagne Ambassador to France, wine educator, and founder of "People and Wine" (part one), published on A Woman's Paris®.
You may also enjoy A Woman's Paris® post Wine Lovers' Choice: 154 Wines of France from Bordeaux and Champagne. Is "tasting stars" on your list for great food and wine pairings? Not sure what wines to try next? We, too, like wine lovers from around the world, have a special love affaiar from wine "where sudden friendship springs," as John Gray said. We sip the wine and find dreams come through. Aren't we always looking for clues that there is a "star" behind the recognized labels, for personal, unforgettable moments? Become a part of our conversation. We celebrate the art and ideas of people from every place and every heritage.
Dorie Greenspan's "Baking Chez Moi" proves that there are no frontiers when it comes to goodness (excerpt & recipes). A "culinary guru" and author of the award-winning Around my French Table and Baking: From My Home to Yours, Dorie Greenspan returns with an exciting collection of simple desserts from French home cooks and chefs. Baking Chez Moi is the culmination of all of Dorie's discoverigs, and irristible collection of radically simple desserts inspired by years of travel through France, incorporating the country's traditions, specialties, and seasonal ingredients as well as the recipes shared by talented home bakers and pastry chefs. Including recipes for Double-Chocolate Marble Cake, Edouard's Chocolate Chip Cookies, and Green Tea Sablés.
Mireille Guiliano's "Meet Paris Oyster" on the Parisians' love for them (excerpt) – part one. Mireille Guiliano, a former chief executive at LVMH (Veuve Clicquot), is "the high priestess of French lady wisdom" (USA Today) and "ambassador of France and its art of living" (Le Figaro). She is the author of the #1 New York Times bestseller French Women Don't Get Fat: The Secret of Eating for Pleasure, as well as French Women Don't Get Facelifts. With her characteristic wit, wisdom, and storytelling flair, Mireille will soon have you wanting to eat oysters at least every week. Including a recipe for Oyster Vichyssoise. (A Woman's Paris interview with Mireille Guiliano)
Ann Mah's "Mastering the Art of French Eating" on the perfect steak frites the French way (excerpt) part one. Ann Mah, a food and travel writer whose articles have appeared in the New York Times, Condé Nast Traveler, the International Herald Tribune, South China Morning Post, Fodor's guides, and other publications, shares her gastronomic adventures in France during a yearlong post in Paris. She discovers the true stories behind the country's signature regional dishes, exploring the history and taste of everything from boeuf Bourguignon to buckwheat crêpes. Including recipe for Bavette aux Échalotes (Skirt Steak with Shallots). (A Woman's Paris interview with Ann Mah)
Patricia Wells' "The Food Lover's Guide to Paris" on Restaurants, Bistros, and Brasseries (excerpt). Patricia Wells, author of the award-winning Bistro Cooking, and for more than two decades the restaurant critic for The International Herald Tribune, takes readers, travelers and diners to the best restaurants, bistros, cafés, patisseries, charcuteries, and boulangeries that the City of Light has to offer. Including Willi's Wine Bar's Bittersweet Chocolate Terrine—the irresistible chocolate dessert that is one of Patricia's Paris favorites. (A Woman's Paris interview with Patricia Wells)
David Lebovitz's "My Paris Kitchen" — quirks, trials, beauty, and joys of life in Paris (excerpt). Ten years ago, David Lebovitz packed up his most treasured cookbooks, a well-worn cast-iron skillet, and his laptop and moved to Paris. In My Paris Kitchen, David remasters the classics, and introduces lesser-known fare. Through his recipes and stories we get insight into his delicious and extraordinary world. Including David's recipe for Salted butter caramel-chocolate mouse. (A Woman's Paris interview with David Lebovitz)
Alexander Lobrano's "Hungry for France" – My appetite for France (excerpt). Hungry for France: Adventures for the Cook & Food Lover by acclaimed food writer and Paris-based author Alexander Lobrano. Every food lover's ultimate dream is to tour the countryside of France, stopping off at luxurious inns with world-class restaurants and sampling fresh produce and regional specialties from local markets. Hungry for France offers just that with Lobrano sharing his thirty-plus years of exploring every corner of this gastronomically rich country with readers. Including a recipe for Layered Ratatouille Gratin. (A Woman's Paris interview with Alexander Lobrano)
A Woman's Paris — Elegance, Culture and Joie de Vivre
We are captivated by women and men, like you, who use their discipline, wit and resourcefulness to make their own way and who excel at what the French call joie de vivre or "the art of living." We stand in awe of what you fill into your lives. Free spirits who inspire both admiration and confidence.
Fashion is not something that exists in dresses only. Fashion is in the sky, in the street, fashion has to do with ideas, the way we live, what is happening. — Coco Chanel (1883 – 1971)
Text copyright ©2015 Charles-Erwan Savary. All rights reserved.
Illustrations copyright ©Barbara Redmond. All rights reserved.
barbara@awomansparis.com